Car Hire San Francisco Airport
Search for Car Rental in San Francisco Airport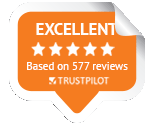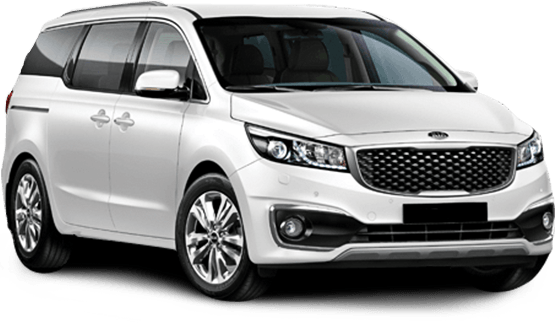 Explore San Francisco with car hire from DriveNow

San Francisco has long been one of the entry points into America for those travelling from Down Under. It's also routinely mentioned as one of Australians' favourite US cities, compared favourably with
Sydney
, and filled with all sorts of fantastic activities and seaside locales to check out.
But what lies within the city limits is not all that's attractive. Besides plenty of fantastic fun to be had in San Francisco itself, you can also set out for the trip of a lifetime from the City by the Bay. Northern California's cultural centre is conveniently situated on the famed Pacific Highway 1 route that has produced hundreds of thousands of stories, selfies, and amazing holiday memories for those who have cruised through its scenic surrounds.
Whether you're sticking closer to San Fran or looking forward to getting out and about and seeing what the west coast of the United States has in store for you and your travelling party, DriveNow can hook you up with awesome car, truck, and
campervan hire in San Francisco
so you can live your holiday dreams to the fullest. With plenty of options from some of the best car rental brands in the world, you'll have quick, cheap car rental in San Francisco at your fingertips.
There are no booking, admin or other associated fees for the service, which lets you compare the rental car rates in San Francisco from one of the widest ranges of familiar and trusted US brands. We search the lowest rates from Alamo, Avis, Budget, Dollar, Europcar, Hertz, SIXT and Thrifty so you can get the best deal possible.
Once you have entered in all the required fields, an email will be sent to you confirming your car hire. There is no need to provide an upfront payment or supply credit card details when booking (unless a prepaid option has been chosen). Simply bring your credit card to the rental company desk at San Francisco Airport or from one of the conveniently located city branches and you can drive away.
Getting Your Hands on Car Rental at San Francisco Airport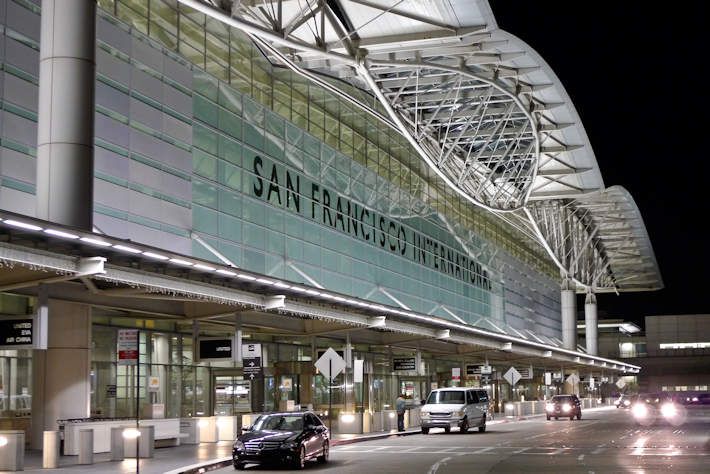 The international terminal at San Francisco Airport greets thousands of Australians each year
Source: Håkan Dahlström

Airport
Information
Address:
San Francisco International Airport San Francisco, CA 94128
Code: SFO
Telephone: +1 650 821 8211
Location:
San Francisco Airport is located about 20km (12.3 miles) south of San Francisco
No. of Terminals: 4
Timezone: GMT/UTC -08:00
Along with Los Angeles Airport, San Francisco Airport has welcomed perhaps more Australian travellers than any other location in the United States. As one of the main international hubs for Qantas, United, and other major airlines flying to and from the sunburnt country, many-a-visitor has started their great American adventure right here.
San Francisco Airport has four terminals, three of which are dedicated to domestic travel. You'll most likely be focusing your attention on the international terminal, in which you'll go through customs, grab your bags, and get ready to start your adventure in earnest.
While traffic can be beastly, San Francisco is such a sprawling metropolis with so much to see and do that having your own set of wheels is just about the only way to guarantee you'll cram everything in to your limited time in the States. Car rental at San Francisco Airport is perhaps the easiest way to get the keys that will unlock all the various pathways awaiting you.
To pick up your car hire at San Francisco Airport, you'll need to take a quick, simple ride on the AirTrain Blue Line. You can hop on in either section of the international terminal (as well as every domestic terminal and parking garages), and the train runs 24 hours a day, 7 days a week. This will take you to the rental car centre. It is there you'll get to quickly and conveniently grab your San Francisco car hire and hit the road. Avis, Budget, Enterprise, Hertz, and Thrifty are just some of the fine car hire options at San Francisco Airport available to you.
Getting your San Francisco car rental taken care of at the airport gives you peace of mind and lets you get your trip started in earnest. Check it out if you're travelling into SFO or other major airports in the US, including Orlando Airport, JFK Airport in New York, and even Honolulu Airport in Hawaii.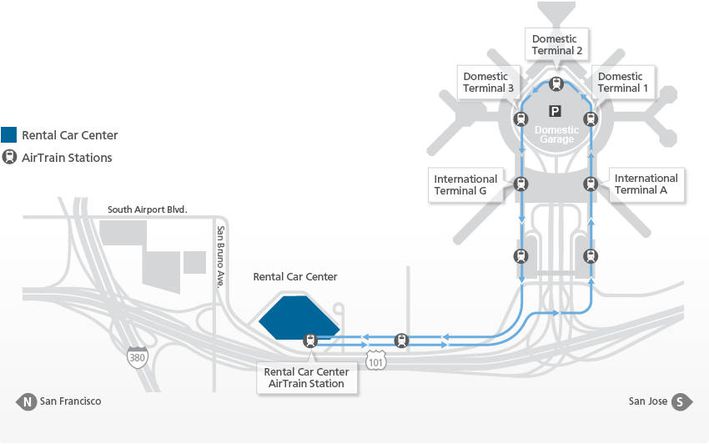 The SFO car rental centre is a short ride on the AirTrain Blue Line from the international terminal
Source: flysfo.com
If you're headed to the city centre, it's pretty much a straight shot up US-101S. From there you'll be able to make your way to your accommodation and/or start ticking things off your to-do list!
Where to Stay in San Francisco
A city as huge as San Francisco is going to have a ton of great places to stay. As with most other major cities around the world, you won't have any trouble finding your stupendous 5-star hotel options from leading hoteliers. But don't feel like you have to stay in the glitziest, most glamorous place if that doesn't suit your budget or idea of a great holiday.
While the BART and Caltrain systems, as well as buses, do provide some public transport options, they are not super-efficient in some areas of the city and its immediate surrounds. Access to a hire car in San Francisco opens up lots of options, giving you the freedom to take advantage of more of the city's superb stays.
The Scarlet Huntington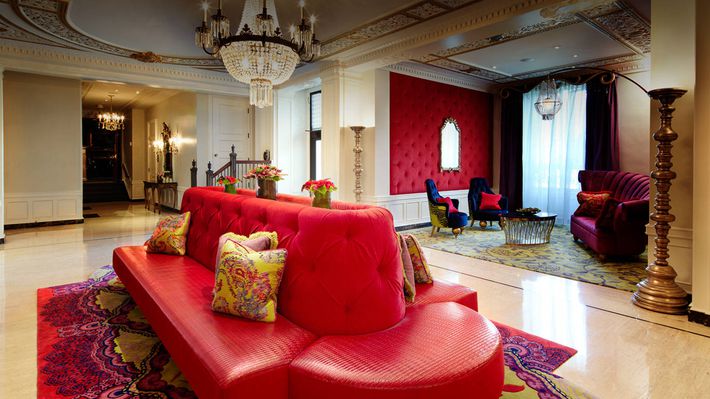 The Scarlet Huntington's boutique feel and grand designs combine for a comfortable, fun stay
Source: thescarlethotels.com
Nob Hill, just north of downtown San Francisco, is one of the finer parts of town, and the Scarlet Huntington reflects that without being too stuffy. Those looking for a minimalist stay need not apply, as the Scarlet is decked out with oversized plus furniture in vibrant colours. This chic boutique is loud without being abrasive, graceful without being pretentious.
The Metro Hotel
The Haight-Ashbury district, which sits to the west of downtown San Francisco, played a massive role in the counter culture uprising of the 1960s and 1970s and is a great place to explore during your trip. If you feel like staying in the area, the Metro Hotel will give you what you need for a comfortable stay without breaking the bank. An added bonus: you'll be a short walk from the massive Golden Gate Park.
Inn at the Presidio
The Presidio is one of San Francisco's unfairly underrated spots. This national park, which used to be an Army base, is just a 15-minute drive in your San Francisco car rental from downtown and also sits at one end of the famed Golden Gate Bridge. The Inn at the Presidio is in the heart of this urban oasis, offering 22 rooms of boutique luxury for travellers. Simultaneously contemporary and rustic, the large balconies of this refurnished officers' quarters will give you a chance to bask in the golden sunshine as it cascades down on this beautiful red brick building.
The Argonaut Hotel
Situated in the historic Fisherman's Wharf district at the northern tip of San Francisco, the Argonaut Hotel plays up the seaside location with nautically-slanted room designs. Once out of your quarters, you and your mates can enjoy the fun shared space of the hotel lobby, delicious seafood from the in-house restaurant or, of course, everything Fisherman's Wharf and the surrounding area has to offer. Perhaps the only downside is that parking your San Francisco car hire here might cost you a bit, so check the rates before diving in.
San Francisco Highlights to Check out During your Trip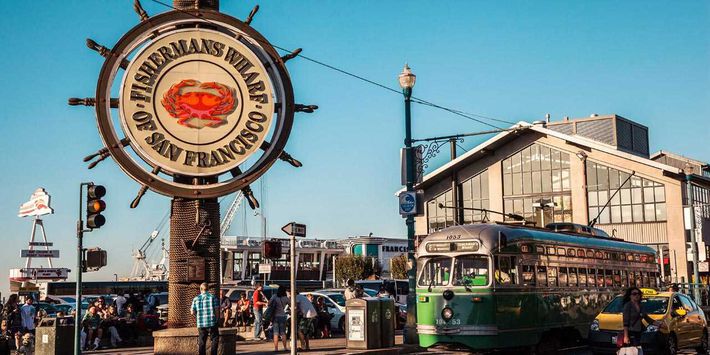 The buzzing, vibrant atmosphere of Fisherman's Wharf makes it a great place to spend an afternoon
Source: visitcalifornia.com
San Francisco has become a favourite for Australian travellers for a variety of reasons, one of which is that there is just so much to do. With an array of fantastic attractions in and on which you can spend as long or as short as you'd like, you certainly won't run out of things to do and see in the City by the Bay. Here are a few of the highlights that have made San Francisco the idyllic holiday city for so many.
The Golden Gate Bridge
Perhaps the most famous landmark in the city is the Golden Gate Bridge. One of the most well-known structures in the entire US, this awesome piece of architecture stretches 2.7km (1.7 miles) from San Francisco to Marin County over the Golden Gate Strait. As part of the iconic US-101 highway route, you can of course drive your San Francisco car hire over the bridge, but doing so means you won't be able to take in the amazing views. Our recommendation? Lace up those runners and walk over it. Just make sure you keep your head on a swivel – you won't be the only one strolling (or cycling) along the Golden Gate! Also pack your long sleeves, as it can get quite windy on the bridge.
The Museum of Modern Art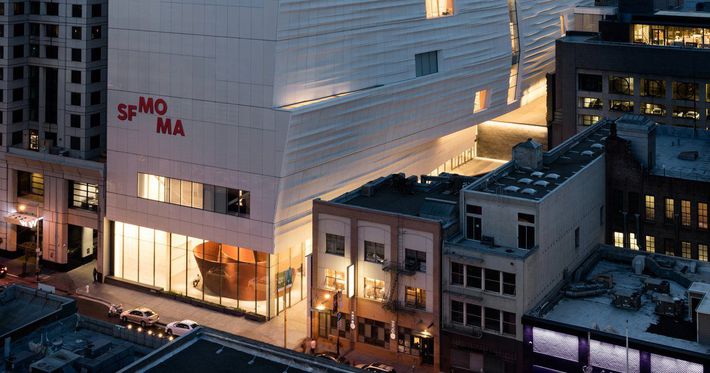 The San Francisco Museum of Modern Art will enthral art experts and novices alike
Source: www.sfmoma.org
Even if you don't consider yourself a big art or museum fan, the San Francisco Museum of Modern Art is well worth your time. There you'll find stacks of old photographs detailing the founding of San Francisco and giving you a glimpse into what made SF the glorious city it is today. And you don't have to be stuck inside the confines of traditional museum walls the whole time. Head outside to take in the glorious Living Wall, which stretches more than 9 metres (30 feet) into the air and covers a massive 408.8 square metres (4,400 square feet). It features more than 19,000 individual plants.
Fisherman's Wharf
Another one of the city's highlights is the buzzing, vibrant Fisherman's Wharf, particularly PIER 39. The Wharf is an awesome seaside location that provides awesome views of everything from the Golden Gate Bridge to Alcatraz Island. Here you'll find thousands of locals and tourists checking out said views as well as the beloved colony of sea lions that have called the area their home for more than 20 years. You can catch them soaking in the sun's rays on small floating wooden docks. Once you work up an appetite, you'll have a huge variety of awesome seafood options to choose from in the area. If you've got a sweet tooth, head to the original Ghirardelli Chocolate manufactory. This company, born in San Francisco, has become famous the world over for its amazing treats. Here you can see where it all started!
Hit the Streets
One of the best things you can do with your car hire in San Francisco is cruise the famous steep streets that lead down to and up from Fisherman's Wharf. Make sure to also hit the section of Lombard Street between Hyde Street and Leavenworth Street. It is well-known for its eight super tight hairpin turns. Just don't be in a hurry to get down it!
Of course, tackling these monsters on foot is also an option, but you could be left huffing and puffing by the end of your climb!
Some of the Best Things to Eat and Drink in San Francisco
Walking the Golden Gate Bridge or trekking up and down the famed hilly streets of San Francisco can cause quite a rumble in your belly. And even if you don't spend hours logging miles on foot, you're still going to want to fill your face with great food and drink – it's holidays, after all! Here are some of the best eating and drinking options in the San Francisco area so you can narrow your search a bit.
Burritos
Source: sf.eater.com
The people of San Francisco have become some of the foremost authorities on this classic Mexican fare, and they've got the food trucks and tacquerias to prove it. No need for luxurious gourmet dining when it comes to getting your burrito fill – just find where the people make the lines wrap around the building outside and you're probably in the right place.
While there are dozens of amazing options, one of the most iconic and crowd pleasing burrito joints in San Francisco is La Taqueria on Mission Street in the Mission District. What the spot lacks in flair and fancy it more than makes up for in simple, delicious burrito action. Pair your dish of choice with a frosty can of Tecate (just one if you're driving!) and some chips for a fulfilling culinary experience that won't break the bank. Just make sure you come with cash, as La Taqueria doesn't take cards!
If you can't make it all the way to La Taqueria's Mission District location, just keep your eyes peeled when you're cruising around the city in your San Francisco car rental. There are dozens of great food trucks regularly whipping up fantastic fare.
Seafood
Being so close to the coast, you're going to want to get your fill of amazing seafood when you're in San Francisco. There's all sorts of spots at all sorts of price points, so, pardon the pun, the culinary world really is your oyster during your holiday. While there are dozens of awesome options, here are two that we fancy.
Anchor Oyster Bar on Castro Street in the Castro district has been servicing locals and visitors for more than 40 years. With just a handful of tables and a small bar, the intimate setting is an excellent environment in which to dive into bowls of clam chowder and piles of your favourite shellfish. If you want your seafood with a side of amazing views, Waterbar on the famed Embarcadero is situated just near the start of the San Francisco – Oakland Bay Bridge, and its outdoor seating gives you a great look at it in all its lit-up glory.
Devil's Teeth Baking Company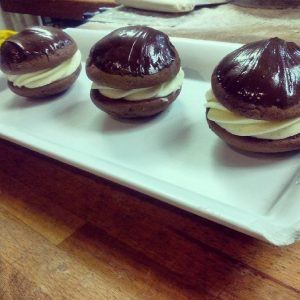 Source: www.devilsteethbakingcompany.com
Sounds sinister, tastes terrific. San Fran is not always lauded for its beachside environments, as its at-times colder summer temperatures take away a bit of the lustre that comes with spending a day in the sand. But it would be a shame to forego the shore totally, especially when you can swing by Devil's Teeth Baking Company to grab a cup of coffee and a delicious brekkie sandwich, pastry, or other baked good while you're there! Hit up this great spot on Noriega Street, just a few blocks from Ocean Beach, and stroll down to the water as you chomp and sip away.
Hit the Road with Car Rental in San Francisco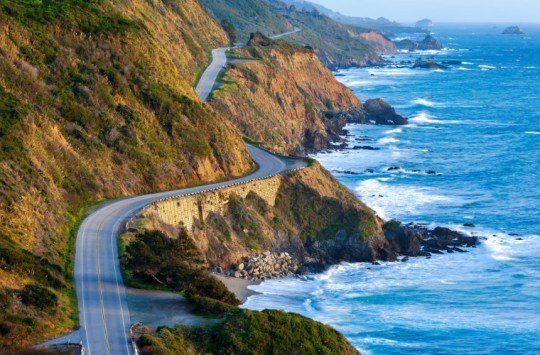 Having your own rental car means easy access to this section, and others, of the Pacific Highway
Source: travelblog.viator.com
Cruising the city streets isn't all that a rental car in San Francisco is good for. It's also a fantastic way to get outside the city limits and see some of the other exciting parts of the country. With USA car hire in San Francisco and other major cities in that part of the world, you can tailor your road trip experience to your schedule and bucket list, hitting the locations most important to you and your band of travellers.
Pacific Highway
Perhaps the most iconic road trip in all of the United States, cruising on the Pacific Highway has been the dream of domestic and international travellers for years. Luckily for you, a cheap hire car in San Francisco can help you turn your dreams into reality!
One of the best things about motoring up or down State Route 1 is that there are so many places to see, stop, and stay that you can amend your trip to fit into your time and monetary budgets. For the most classic experience, start in San Francisco and head south down to LA, dropping your hire car off at the Los Angeles Airport before heading home. Or you can broaden your horizons, setting course for the Pacific Northwest. This route will take several days, but the rewards are worth the drive. You can drop your hire car off at Seattle Airport upon completion of your voyage if you so choose.
Whether you're heading north or south, the Pacific Highway is your gateway to the road trip of a lifetime.
Las Vegas
Set your sights for Sin City! The biggest adult playground in the world is a bit of a drive, but if you're looking to keep costs down or simply prefer the open road to the sky, feel free to hop in your car hire in San Francisco and head toward the strip. While not too far away as the crow flies, your drive will cover around 917km (570 miles) because you'll have to skirt around national parks and forests.
The bulk of your time will be spent on 1-5 South, CA-58 East, and 1-15 North. All in all, the trip will probably take about 9.5 – 10 hours when you factor in traffic, road work (of which there always seems to be at least some), and stops for petrol and food along the way. But once you get there and see those bright lights, time will mean next to nothing!
And, if you think your body and mind won't be able to take anymore after your trip to Vegas, you can just drop your hire car off at Las Vegas Airport on your way back to reality.
How to Compare Car Rentals in San Francisco with DriveNow
Any trip to a city as cool and laid back as San Francisco needs to be totally stress free - which is why hiring your rental car with DriveNow makes so much sense. DriveNow can help you find and book the best deal on a San Francisco Airport car hire, making your trip as easy as possible.
San Francisco is an extroverted and dramatic city bursting with activities, so there are plenty of things to keep you busy, whether you want to enjoy one of the weekly summer neighbourhood fairs or parades, or visit one of the many contemporary art galleries such as the San Francisco Museum of Modern Art or the Oakland Museum of California.
The Golden Gate Bridge is an icon of the city, spanning 1.7 miles and is one of the seven wonders of the modern world. Fisherman's Wharf may not contain the same novel excitement of its heyday and a bit touristy these days but it's still a top draw card. Equally a tour of what must be one of the world's most notorious and well known prisons, Alcatraz, will leave a lasting impression on any visitor.
Renting a car in San Francisco means you can easily get from one location to the next with minimum hassle. To make your trip even easier, you can book your car from the comfort of your own home using DriveNow's free and simple online system.
There are no booking, admin or other associated fees for the service, which lets you compare the rental car rates in San Francisco from a range of familiar and trusted brands. We search the lowest rates from Avis, Hertz, Budget and Europcar so you can get the best deal possible.
Once you have entered in all the required fields, an email will be sent to you confirming your car hire. There is no need to provide an upfront payment or supply credit card details when booking (unless a prepaid option has been chosen). Simply bring your credit card to the rental company desk at San Francisco Airport or from one of the conveniently located city depots and you can drive away.
Our friendly Reservations team aims to provide top notch service and are here to answer any questions you may have about hiring a car in San Francisco.
DriveNow compares car rental prices at San Francisco Airport and other locations across the US to help you find the best deal that meets your needs.
Why Use DriveNow for Car Hire in San Francisco?
Need more reasons to book your car rental in San Francisco using DriveNow's easy to use comparison tool?
DriveNow has been in operation since 2003, comparing the best rental prices for the travelling public
DriveNow's search engine constantly monitors the rates offered on car hire in San Francisco and elsewhere in the USA to publish the very latest pricing
To make it as straightforward as possible, we show the prices in US dollars, so you know exactly what to expect on arrival
Once you confirm your booking and lock in your rates, you then know how much you need to set aside
There aren't any booking, admin, or agency fees included in the quoted price, so you know what you will be getting when you book
Please note that you may be subject to a young driver surcharge. When making your DriveNow booking use the comments field to include any concerns you have and our Reservations team will confirm any ancillary costs that may or may not be applicable.
Car Rental San Francisco FAQ
Can I Hire a Car with Automatic Transmission?
Yes, most car rentals in the US are automatic.
Will I Need an International Driver's Permit to Drive a Rental Car in San Francisco?
If your licence is printed in English, you can rent a car in San Francisco. However, if it is printed in another language, you will require an International Driving Permit, which must be carried alongside your original licence at all times when you are on the road.
What Road Rules Should I Be Aware Of?
In the US, traffic stays on the right. Speed and distance are measured in miles and fuel is referred to as gas. Fuel is cheaper than most European and Australasian countries.
The speed limit is set at 65mph on most highways in California. However, in certain areas this increases to 70mph so keep an eye out for speed signs.
When driving in other areas, you need to watch out for signs, as they will indicate the fastest speed you can travel in optimal conditions.
San Francisco Airport Car Rental Locations
Discover amazing experiences in San Francisco Airport