Car Hire Las Vegas Airport
Search for Car Rental in Las Vegas Airport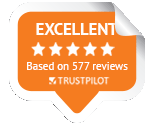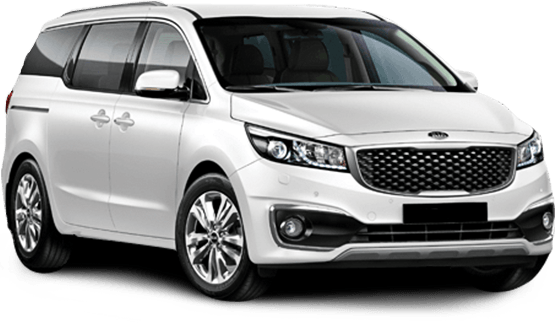 Explore Las Vegas with car hire from DriveNow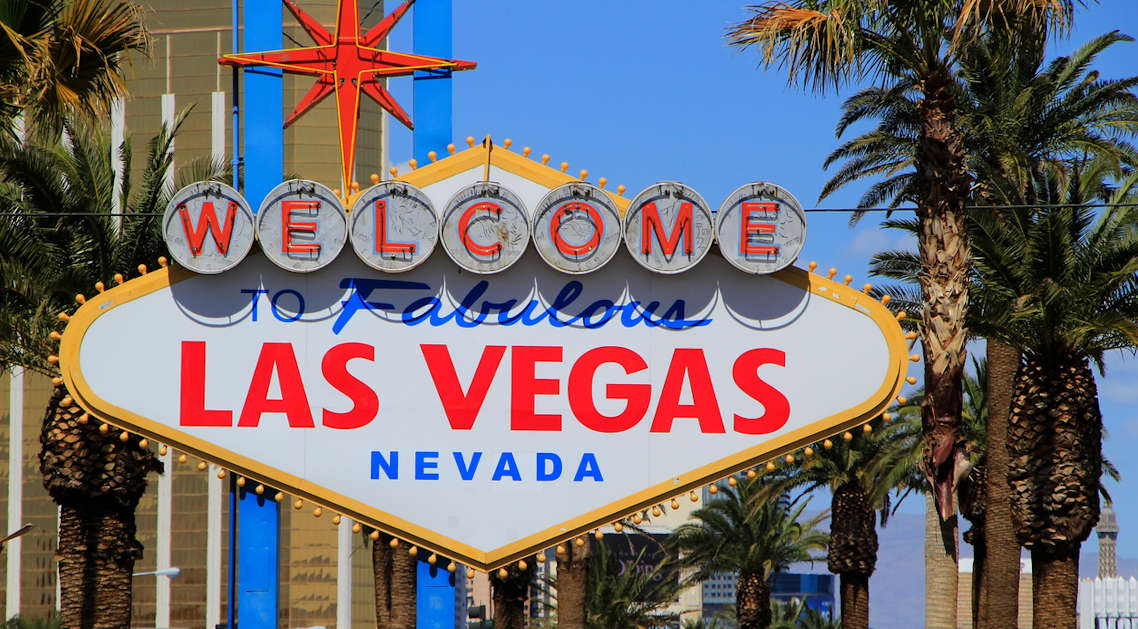 Get Busy Under the Glitz and Glamour of Sin City with Car Hire in Las Vegas
Bright lights. The ding ding ding of features on hundreds of pokie machines. Amazing athletic and artistic feats from global superstars. And a nonstop party that goes on long after you hit the sheets. That's right, we're talking about Vegas, baby. Vegas.
The place that's been called the world's biggest adult playground is one of the most sought-after destinations in the
United States
, The fabled Las Vegas Strip of mammoth hotels and casinos has seen more action than most streets in the country, with a lifetime of stories taking place on its pavement and in its buildings throughout the years. Just strolling through all of the incredible entertainment options could be reason enough for a visit. But then you throw in lavish accommodation, luxurious poolside settings, a pumping nightlife scene, and some amazing eats, and you've got an adult dreamland.
However, that's not all Las Vegas has going for it. Taking advantage of quality car rental in Las Vegas can show you a totally different side of that part of the US. You can road trip to one of the greatest natural attractions in America – the Grand Canyon – or cruise to California and check out Los Angeles, San Francisco, and other cities along the breathtaking Pacific Highway 1.
Test your luck in the casinos, not on the road! Let quality Las Vegas car hire help you keep your holiday on your terms.
Get Your Trip Started with Car Rental at Las Vegas Airport
Airport
Information
Address:
Las Vegas International Airport, 5757 Wayne Newton Blvd, Las Vegas, NV 89119
Code: LAS
Telephone: +1 702 261 5211
Location:
The airport is located around 4 miles south of the Las Vegas Strip
No. of Terminals: 2
Timezone: GMT/UTC -08:00
While a drive from San Francisco Airport or Los Angeles Airport certainly isn't out of the question, there's nothing wrong with flying into Las Vegas Airport and making your way to your hotel from there. You'll know you're in the right spot when you see pokies along the concourse of the two terminals. Just be careful with your bank balance if you end up having a long delay!
There are two terminals at McCarran Airport — Terminal 1 and Terminal 3. These two buildings are not connected, so take a look to see where your flight is landing or taking off from so you're not out of sorts.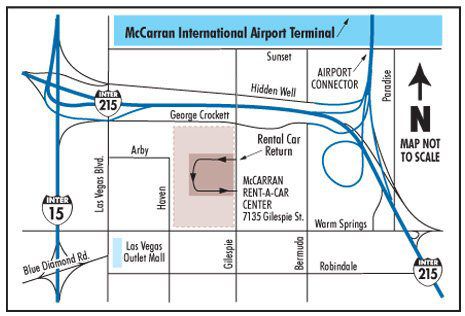 Car hire at Las Vegas Airport requires a quick ride on a shuttle to the McCarran Rent-a-Car Centre
Source: mccarran.com
Once you land, you'll need to take an easy, free shuttle ride to the McCarran Airport Rent-a-Car Center. If you're in Terminal 1, pick up your bags at baggage claim and follow the signs to ground transportation on Level 1. The shuttle will be at the centre median outside doors 10 and 11. From Terminal 3, head from baggage claim to ground transportation on Level 0. You'll find transportation outside West doors 51-54 and East doors 55-58. Look for the official blue-and-white shuttles and hop on. Once you're at the rent-a-car center, you'll pick up the keys to the car you've chosen. Alamo, Avis, Budget, Dollar, SIXT and Thrifty all have rental cars at Las Vegas Airport for you to pick up, so you won't be short on fantastic options.
In Vegas, what you need is never too far away. That starts with your entry into the city. McCarran Airport is just a 10-15 minute drive from the action-packed Las Vegas Strip. After getting your car rental at Las Vegas Airport taken care of, you'll pull out of the McCarran Rent-a-Car Center and get onto 1-15 North. You'll take that all the way to Flamingo Road, where you'll turn off onto the Strip. Then the real fun can start.
Stay and Play During Your Stay in Great Las Vegas Accommodation
For the ultimate Vegas experience, you're probably going to want to stay in one of the amazing hotels and casinos sitting on the famed Strip. Just 10-15 minutes in your Las Vegas car hire from McCarran Airport, you won't have to waste too much time grabbing your bags off the carousel after your flight and setting them down in your room. While there are heaps of great places to stay, here are a few choice options for your trip to the Strip.
Vdara Hotel and Spa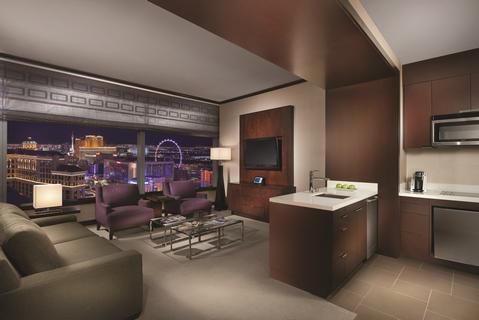 A penthouse suite at the Vdara Hotel and Spa could be just what the doctor ordered
Source: www.vdara.com
Need to step away from the hustle and bustle of Las Vegas Blvd? The Vdara Hotel and Spa gives you a chance to do that without pulling you too far from the fun and excitement the city is known for. Sitting a block off the main thoroughfare, the luxurious, spacious suites and penthouses are more apartment than hotel accommodation. And don't worry about missing anything; walkways connecting the Vdara to the Bellagio and the Aria Las Vegas mean you're just a few steps from being back in the thick of things.
The Palazzo
If you're looking to spend some time on the dancefloor or crave a party atmosphere, you might want to look into a stay at the ? The Palazzo. This Vegas staple is home to some of the hottest clubs in the city. And to top it off, there's a handful of excellent places to sit down and treat yourself to a meal. Oh, yeah, and the luxurious rooms will provide a comfortable home base in which you can rest up so you have the juice to do it all over again.>/
JW Marriott
The JW Marriott Resort and Spa Las Vegas offers something a bit different than many of the other hotel options in Sin City. That's because it's not packed in with the major casino hotels, but rather sits about 24 km (15 miles) northwest of them near Red Rock Canyon. The extra space out there is put to good use, with a full golf course, gardens, and easy access to outdoor activities including mountain biking, hiking, and climbing. The distance back to the gaming floors is no big deal, as you can be in the heart of the Strip in just about 20 minutes in your Las Vegas car rental.
Feast on Some of the Best Restaurants in Las Vegas
Vegas has just about anything you want when it comes to dining options. You can hit up some quick and dirty takeaway, find a $5 steak in a hole in the wall, stuff your face at a buffet, or go all-out on some of the finest dining you've ever come across. Your mood, and perhaps your performance at the tables that day or night, will of course determine where you pull up a chair.
Joël Robuchon


Joël Robuchon manages to stand out in a city full of incredible culinary wizards
Source: mgmgrand.com
In a city of excess like Las Vegas, there are dozens of high-quality restaurants that claim to be the best of the best. But The Joël Robuchon, in the MGM Grand on the Las Vegas Strip, might have the clearest, most legitimate claim to the crown of them all. The French restaurant's namesake and chef has been lauded by culinary critics and diners from around the world, and just one dish into the 16-course degustation menu will tell you why. And the jaw-dropping, exquisite dishes served up in front of you is matched by the opulent environment in which you'll be sitting.
Pizza Rock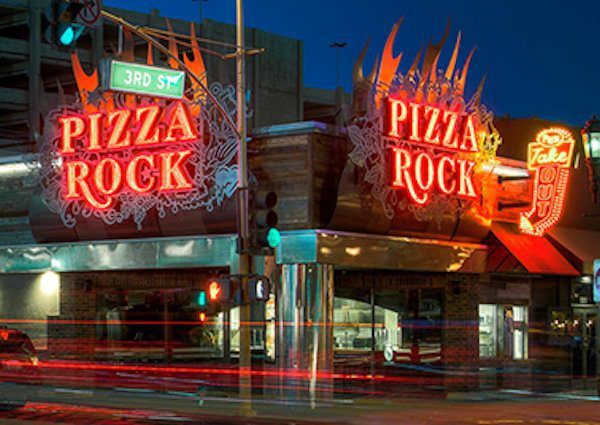 Pizza Rock is a local favourite for quality pizza, whether you're eating in or taking away
Source: Tony Gemignani
Heading back to your hotel in your Las Vegas car hire after a long day gambling, shopping, and touring the Strip? Celebrate big wins or commiserate about your losses with a slice from Pizza Rock which serves up delicious pies just a short drive off the main drag. Just head north on Las Vegas Blvd and hang a left on East Ogden Ave. Once you hit North 3rd St you're there. Don't let the casual atmosphere fool you—these dudes are serious about their pizza.
Buffets

The buffet at the Wynn Las Vegas features 15 live cooking stations and a comfortable atmosphere
Source: Wynn Las Vegas
If you're long on hunger and have plenty of time 'til the next game you've wagered on gets started, a trip to one of the many buffets found in the casino hotels on the Las Vegas Strip is calling your name. There are plenty of strong options, with most of the heavy hitters in the area boasting their own take on the classic concept. You'll find just about every type of cuisine imaginable, from seafood to BBQ, Italian to Mexican, and more. And almost every one has a plethora of desserts for you to dig in to if you've saved enough room!
Other Mama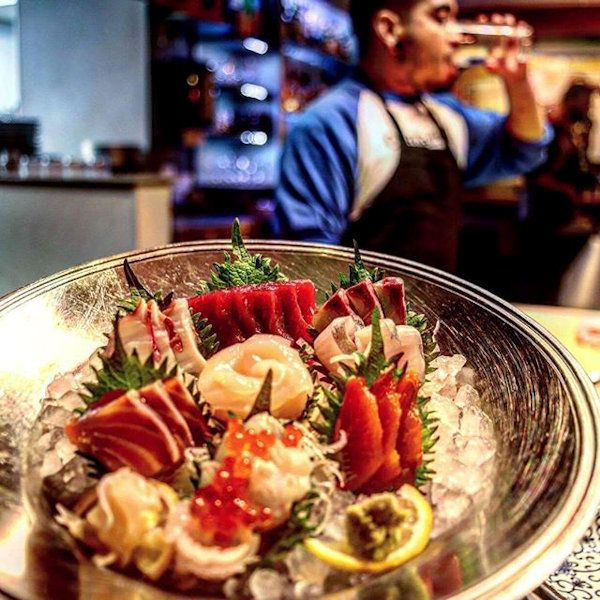 If seafood is your game, Other Mama is a name you need to have on your list
Source: othermamalv.com
If the amazing chefs throughout Las Vegas think it's worth travelling for, Dan Krohmer and the crew at Other Mama must surely be onto something! The place to turn for delicious fresh oysters and other creative takes on trendy seafood dishes, Other Mama serves up a fun atmosphere and fantastic flavours. At about 13 km (8 miles) from the Strip, you'll be thrilled with your decision to grab car hire in Las Vegas.
Places to Go and People to See: Great Las Vegas Attractions
Las Vegas is sure as heck not short on things to do, that's for sure! While it gets big wraps for all of its exciting gaming opportunities, it also has an enormous amount of other attractions for you to enjoy. Here are just a few things to check out.
Canvas the Casinos
Even if you don't find the rush of risking money gambling to be all that appealing, the casinos in Las Vegas can provide hours of entertainment that won't have you relying on Lady Luck. That's because these gaming meccas also house incredible architecture and other attractions within. Watching the fountains at the Bellagio light up at night is unmissable. For those who don't mind a bit of height, the mock Eiffel Tower at the Paris Hotel and Casino and the outdoor roller coaster at the New York-New York Hotel and Casino are worth a try. And even just walking through the lobbies and outer concourses of these mammoth buildings is worth it (considering it costs nothing to do so!)
See a Show
Outside of Broadway in New York (not the casino, mind you), you'll be hard-pressed to find a bigger collection of live acts than the one in Vegas. From all-star performers taking up residencies stretching for years to amazing acts from companies such as Cirque du Soleil, there's certainly no shortage of astounding entertainment every single night of the week. And that doesn't even count the international touring acts that sweep through town on a regular basis.
Gaming
If you want to bet on it, there's probably a way to do so in Vegas. Table games, pokies, sportsbooks; it's all ready and waiting for you! If you really think you know how to hold 'em and fold 'em with the best of them, try to schedule your trip around the famous World Series of Poker. This tour features dozens of events each year and helped create poker's massive spike in popularity the last several years.
Buckle Up and Hit the Road: Trips for You and Your Car Rental in Las Vegas
Taking a trip to Las Vegas is an exhilarating experience to be sure. And while the bright lights and constant excitement are certainly a plus, they can wear you down if you're not careful. Luckily for you, you can get away whenever you're ready. Car hire in Vegas can put you in position to set off on the open road for adventure, leaving the party behind for others to enjoy.
Here are just a few of the great road trips you can take when you set yourself up with quality car rental in Las Vegas.
The Grand Canyon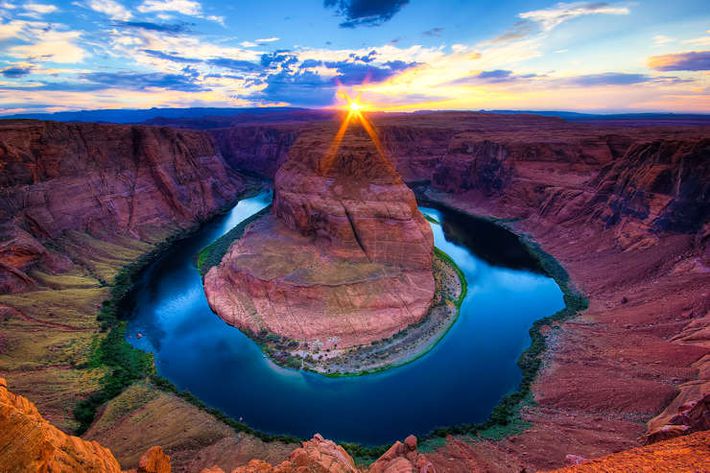 A drive to the Grand Canyon is one of the most popular trips for those holidaying in Las Vegas
Perhaps the most popular natural attraction in the country, the Grand Canyon has provided millions of visitors a breathtaking backdrop for adventure and quality holiday memories. While there are helicopter tours that will take you there from Sin City, hopping in your Las Vegas car rental and covering the distance isn't so bad. You're looking at anywhere from 4-6 hours depending on which part of the Canyon you want to check out. One strong option is to rent a motorhome in Las Vegas and make the road your home during your journey!
Head West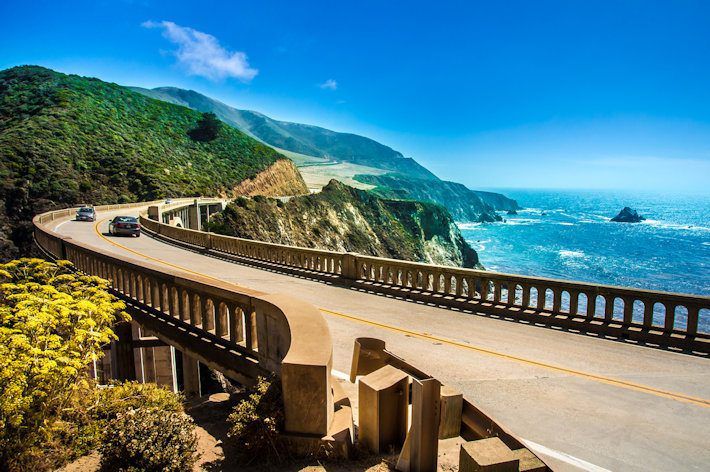 The Pacific Coast Highway is hard to beat when it comes to stunning road trips
Make tracks for the beautiful settings and even more beautiful people of Los Angeles with car hire in Las Vegas. The coast is calling, a little more than four hours' drive away. Once you're there, the rest is up to you. Take a trip north up the stunning Pacific Highway 1 to San Francisco to enjoy one of the most scenic drives in all of the United States.
The rad road times don't have to stop there, either. If you want to spend longer on the road, you can rent a motorhome in in Vegas, Los Angeles, or San Francisco and lay your head wherever you stop on your voyage. Or drop the hire car off at Los Angeles Airport, hop on a plane, and head to the east coast to check out Orlando or New York. Or, squeeze in one last stop to Honolulu before you head back to Australia. Your options really open up when you head west.
Stay Close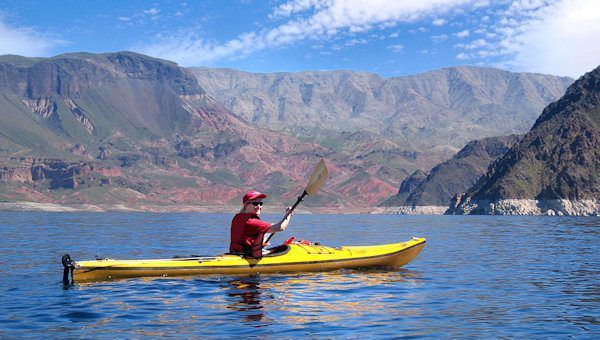 Beat the heat with a short drive to Lake Mead
Source: National Park Services
You don't have to completely leave your Vegas digs to put some space between yourself and the city. Lake Mead is about 50 miles east of Las Vegas and provides a nice big body of water in which to swim and boat if you have the right equipment. And the Hoover Dam is only about 40 miles away. With some great spots less than an hour's drive in your Las Vegas car rental, you're never too far from fun!
Compare Cheap Car Hire in Las Vegas with DriveNow
With DriveNow, you can easily find a hire car in Las Vegas from one of the biggest and best car suppliers in the world. Our strong partnerships with brands such as Dollar, Enterprise, Thrifty, Budget, Avis, and Hertz mean that you'll be able to compare a huge variety of quality vehicles on your favourite device at your own convenience. It's easy to sort the available rental cars in Las Vegas by make, model, size, price, and more. That way you can make sure you're getting the keys to the vehicle you need at the cheapest possible price.
In addition to a huge range of vehicles that you can easily sort and compare, you'll also get good, honest pricing. Don't worry about getting stung by nasty hidden fees. With DriveNow, the price you see is the price you get. And our price-matching means you'll know you're getting the lowest price possible. You don't even have to supply credit card information when you make your reservation. That way you can keep your funds ready to go for Vegas, whether you want to buy in at the casino or pick up tickets to any of the great shows taking place on stages around the city every single night.
Why Use DriveNow for Car Rental in Las Vegas?
Select from Australia's widest choice of rental brands and vehicles
Free booking service with no fees or charges
100% Australian owned and operated
Objective and impartial comparison of rates and vehicles from Australia's top rental brands
In most instances pay when you collect the vehicle not when you book
Free booking service with no fees or hidden charges (excludes young driver surcharge)
Comparing car hire in Las Vegas since 2003
Easy, quick access to a car hire in Las Vegas gives you one less thing to worry about on your holiday. We've been helping Australians get vehicles they need for more than a decade and are ready and waiting to help you compare and find the right fit.
Ready to book? Simply enter your dates of travel, decide on the make and model of your Las Vegas hire car, and place your reservation. It's that easy!
Las Vegas Airport Car Rental Locations
Discover amazing experiences in Las Vegas Airport