Car Hire John F Kennedy Airport
Search for Car Rental in John F Kennedy Airport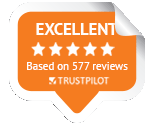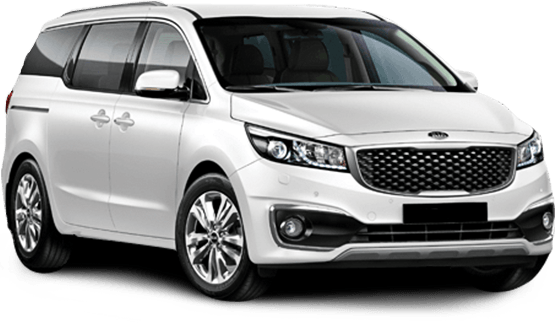 Explore New York with car hire from DriveNow
There no doubt about it: New York City is one of the most popular cities in the world when it comes to international travel. The iconic Big Apple is a dream destination for millions; the buzzing atmosphere, romantic past, and cultured present are the stuff legends are made of. The City that Never Sleeps has something for just about everyone, with its aforementioned moniker showing off just how vibrant the lifestyle is at all hours of the day and night.
And, even if you don't want to stick around New York for too long, the city is often a great place to kick start your
USA
experience. It's a wonderful introduction to the east coast of the country, putting you within driving distance of plenty of other awesome locations. Grab car hire in JFK Airport and cruise down to Beantown, where you can drop off your wheels at
Boston Airport
(BOS, also known as Logan International). Or your New York Airport car rental can take you on a tour further down the east coast to historic Washington, D.C. Once you've seen the sites of the nation's capital, drop your hire car off at
Dulles Airport
(IAD) and take to the skies for your next stop.
Before we get too far ahead of ourselves, you of course need to get to New York! Here's a bit of a guide to JFK Airport, your first port of call and the magical gateway to a storybook USA holiday.
Getting Your Bearings: An Introduction to JFK Airport
Airport
Information
Address:
John F. Kennedy International Airport, Queens, NY 11430
Code: JFK
Telephone: +1 718 244 4444
Location:
JFK Airport is located 15 miles from Times Square in Manhattan
No. of Terminals: 6
Timezone: GMT/UTC -05:00
New York is comprised of five storied boroughs—Manhattan, the Bronx, Brooklyn, Queens, and Staten Island. JFK Airport is located in the southern main portion of Queens. New York's other major airport, LaGuardia Airport, sits in the northeastern section of the borough.
One of the biggest airports in the country, and placing in the top 20 in the entire world in terms of busyness, JFK Airport has a whopping 6 terminals. Despite that number, the terminals are numbered up to 8, as Terminals 3 and 6 were demolished.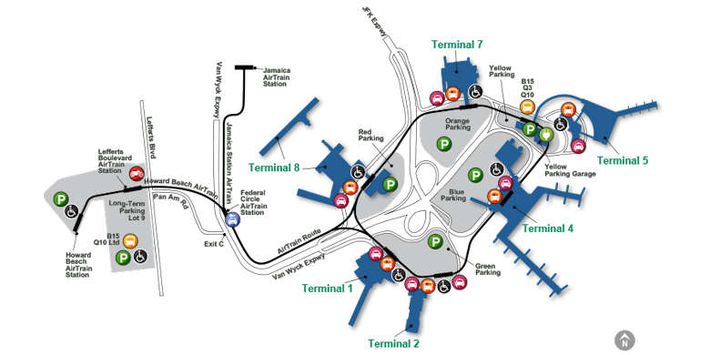 The massive JFK Airport services more than 50 million passengers every year
Source: JFK Airport
With so much action, it might seem like it's hard to get around. But that's certainly not the case at JFK Airport. That's because the entire precinct is linked by a convenient AirTrain system which connects all of the Terminals for an easy travelling experience.
Grab the Keys: What You Need to Know about Car Hire at JFK Airport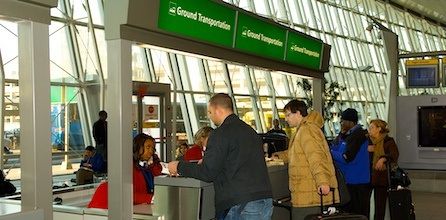 Collecting your car rental at JFK is a breeze
Source: JFK Airport
New York City, much like Los Angeles, London, and other major international tourist destinations around the world, can be a nightmare for drivers. Jam-packed traffic can make it seem like peak hour 24/7, and aggressive cab drivers who've spent years on the streets can lead to tight, white-knuckle steering wheel grips.
But that doesn't mean picking up car hire at JFK Airport is necessarily a bad idea. Getting the keys to a New York rental car means you have the power to escape the city for other incredible destinations along the eastern portion of the United States.
In addition the aforementioned major cities of Boston and Washington, D.C., you can head further northeast to picturesque Portland, Maine, an idyllic getaway location that is often overshadowed by the hipster haven of the same name in Oregon. Or you can cruise northeast to the US side of Niagara Falls to see one of the world's most popular natural attractions.
Whatever your plans, the first move to make is picking up your car hire at JFK Airport. With some of the most popular brands in the world offering JFK Airport car rental, including Avis, Budget, Dollar, Europcar, Hertz, Thrifty and Enterprise, you can make a reservation with confidence that you'll be getting a quality vehicle for your journey.
And you won't have to go far to get your car rental. There are either counters for rental car companies or courtesy phones you can use to contact your supplier. Even better is that these are often located near baggage carousels, so you won't have to go on a wild goose chase to get your things and your keys.
Once you're sorted out, you'll take the AirTrain to Federal Circle Station to pick up your ride and be on your way. One thing to keep in mind: you'll encounter tolls during your travels in and around the city. Many of the suppliers offering New York car hire at JFK Airport will provide E-ZPass tags, so make sure to bring this up if the person helping you with your reservation doesn't mention it to you.
A Guide to the Essentials at JFK Airport
No matter which airport you're in around the world, there are a few bits of knowledge that you like to go in armed with so you can have a better feeling of the environment in which you'll be spending time waiting. Here are some of the most important pieces of info that can come in handy when you find yourself killing some time at JFK Airport.
Wi-Fi
Whether in an airport, out sightseeing, or trying the hottest local restaurants and bars, Wi-Fi connectivity can be a pivotal part of your day-to-day when you're travelling overseas. Luckily for you, it's easy to connect to the Wi-Fi in JFK Airport. Just choose the Boingo Hotspot network, open your browser, and select Get Online Now. You'll get free Wi-Fi access to contact family and friends, surf the web to learn more about your upcoming itinerary, browse social media, or whatever else you need.
Eating and Drinking in JFK Airport


The amazing burgers are more than worth the wait at the iconic Shake Shack
Source: Shakeshack.com
Whether it's a quick snack to keep you going or someplace to sit down and relax for a bit with a nice meal and glass of wine or pint of suds, JFK Airport's restaurants, cafes, and convenience stores can give you what you need. Each of the six terminals has plenty to choose from both before security screening and after you pass through the detectors, so you won't be stuck without options no matter where you are.
Terminal 1 is known for having the biggest food court, so if you're facing a long wait it might be a good idea to post up there to take full advantage of all of its options.
Much like its west coast counterpart In-N-Out Burger, Shake Shack is an east coast mainstay serving up cult favourite burgers, fries, and other fast food delicacies. You and your travelling party can get a taste of the good stuff without leaving the halls of JFK, with Terminal 4 the place to be. The genius behind Shake Shack, Danny Meyer, also has placed a Blue Smoke in the terminal for those hankering for some American BBQ action.
For those looking for a drink to commemorate amazing holiday memories, the BRKLYN Beer Garden in Terminal 2 has more than 20 beers on tap for you to choose from. You can also find a range of top-shelf spirits if you're looking for something a bit stiffer, and the food from chef Laurent Tourondel puts this spot a step above most standard airport fare.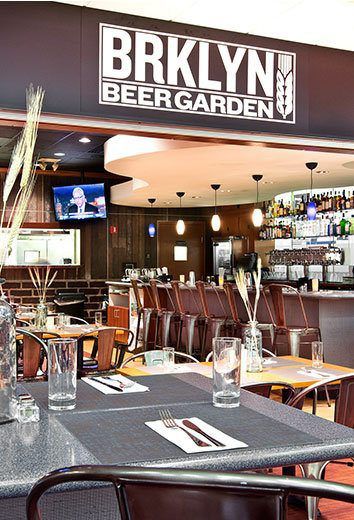 For a tasty glass of your favourite beverage and a great meal, pull up a chair at BRKLYN Beer Garden
Source: JFK Airport
Shopping at JFK Airport
Much like the food and drink options, each of the six terminals at the airport is going to have at least a spot or two in which you can drop a bit of cash. But, if shopping is your preferred way to spend time while waiting to board your flight, your best option might be the range of shops found in Terminal 5. The highlight for many is Muji to Go, the beloved Japanese store that houses all sorts of goodies, from office supplies and computer cases to clothing and other pieces.
For those looking for something a bit more upscale with which to celebrate holidays, there's a Hermés location in Terminal 1 full of the elegant, ornate pieces the high-end shop has become known for around the world.
Terminal 2 is a bit sparse in terms of good shopping options, while Terminal 7 features a range of popular clothing and accessory retailers that puts some standalone retail centres to shame.
Prepare for Hols with DriveNow's Free, Cheap JFK Airport Car Hire Comparison
If your US trip starts in New York City, DriveNow can help you get things rolling with convenient car rental at JFK Airport. Our online car comparison service lets you take care of business well in advance of your arrival. Simply hop on your favourite device and search for vehicles based on the features that are most important to you, whether they be price, size, make and model, or something else. Then you'll get a view of what's available, so you can find what suits your wants and needs best.
You don't even have to pay anything until you pick up the keys to your JFK Airport car hire. And, when you do, don't be worried about getting stung with any surprise fees. The price you see when you make your reservation is the one you'll pay when you pick up your vehicle. We've got more than 14 years of experience helping Australians find transportation for their holidays all over the world, and our strong partnerships with major rental car suppliers mean you'll be working with a trusted company that can help you out if times get tough.
Why Use DriveNow for Car Hire at JFK Airport?
We have partnered with all of Australia's top rental brands to maximise your choice
Booking is made directly with the rental provider
Guaranteed lowest rates
Comparing car rental since 2003
Immediate email confirmation and locked in rental rate
Guaranteed lowest rates
Take a bite out of the Big Apple with car hire at JFK Airport from DriveNow. Knowing you have easy access to a rental car gives you the power to travel outside the city, taking in other parts of the magnificent USA and helping you create the overseas holiday you've always dreamed of.
John F Kennedy Airport Car Rental Locations
Discover amazing experiences in John F Kennedy Airport