Car Hire Honolulu
Search for Car Rental in Honolulu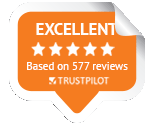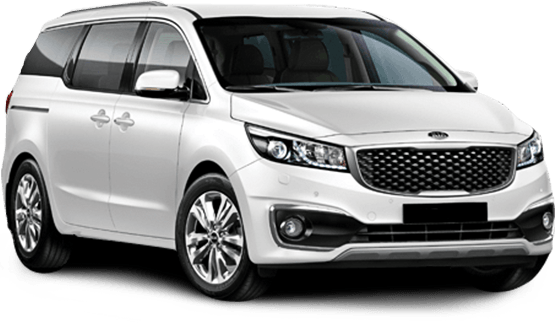 Explore Honolulu with car hire from DriveNow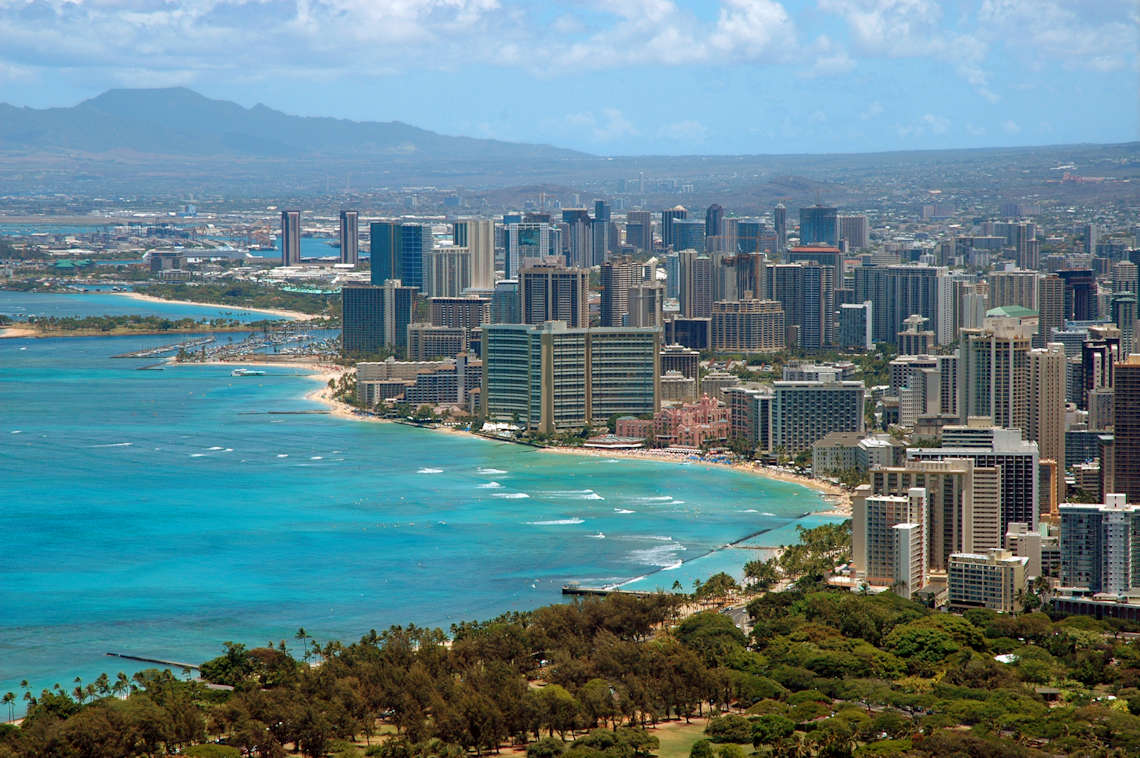 You've seen the beaches Australia has to offer. Now it's time to find some fun in the sun on the other side of the world. With cheap car rental in Honolulu from DriveNow, you will be perfectly placed to enjoy the sights and sounds of this holiday mecca.
Once you arrive on Hawaii's golden shores, you will be greeted with the smell of beautiful Plumeria. There are plenty of activities to keep you occupied, from exploring hidden beaches, to surfing, kayaking and learning to Hula – you will not be bored.
Honolulu, as with the rest of
Hawaii
, is one of the most desirable vacation spots in the world and a fantastic getaway for Australians looking to escape the grind. Meaning "sheltered harbour" or "calm port", Honolulu, which sits on the island of O'ahu, offers a taste of Pacific culture as well as a bounty of incredible weather, beautiful beaches, and outstanding scenery and natural attractions combined with a laid back (or is that leid back?) attitude. With access to a Honolulu car rental, you can explore this slide of paradise on your own terms.
Hawaii's capital city, also its largest, is a must-visit destination in its own right. But the fact that it can be part of the beginning or end of a great North American trip adds to its considerable weight as a holiday hotspot. Many major airlines have great deals to the
United States
that include stopovers in Honolulu, affording you a taste of O'ahu without having to stretch the budget or upset your itinerary. With cheap car rental available every day at other key holiday destination points around the US, including but not limited to
Los Angeles
,
San Francisco
,
Las Vegas
,
JFK Airport in New York
, and
Orlando
, you can pick and choose where you go without having to worry about access to dependable transport.
With a beautiful island environment to explore and proximity to a boatload of other excellent holiday locations, Honolulu can be as big or small a part of your trip as you like. Just make sure it's in there somewhere if you have North America in your sites.
How to Compare Car Rentals in Honolulu with DriveNow
Aloha and welcome to beautiful Hawaii. Why not make your journey to this exquisite paradise all the more pleasurable by hiring a car in Honolulu with DriveNow?
DriveNow offers a free comparison and booking website to help you find and compare the latest deals on car hire at Honolulu Airport and in downtown Honolulu itself.
Our Hawaiian car rental partners include Avis, Budget, Hertz, and Europcar, ensuring you a great choice of vehicles from companies you know and trust.
With no deposit, credit card details, booking or cancellation charges, booking ahead is not only a great way to secure a cheaper price on car rental in Honolulu but it comes at no cost or risk. If you need to make changes to your booking or cancel it there are absolutely no fees or charges.
Make your booking online before you travel and lock in a low rate so you know how much your credit card will be charged when you pick up your car of choice on arrival. A confirmation email will automatically be sent out with the details and costs of your rental vehicle.
With so many fun activities on offer in the Hawaiian capital, it is no wonder so many choose to book their car rental in Honolulu Airport ahead of time using DriveNow's free and simple service.
DriveNow compares the cost of renting a car in Honolulu and at Honolulu Airport to make it as simple as possible to book the best available rental deal.
Why Use DriveNow for Car Hire in Honolulu?
Here are some other reasons to consider booking a hire car in Honolulu with DriveNow:
DriveNow has been in operation since 2003, comparing the best rental prices for the travelling public
DriveNow's search engine constantly monitors the rates offered on car hire at Honolulu Airport and elsewhere in Hawaii to publish the very latest pricing
To make it as straightforward as possible, we show the prices in US dollars, so you know exactly what to expect on arrival
Once you confirm your booking and lock in your rates, you then know how much you need to set aside
There aren't any booking, admin, or agency fees included in the quoted price, so you know what you will be getting when you book
Get Cheap and Easy Car Hire at Honolulu Airport
Airport
Information
Address:
300 Rodgers Boulevard, Honolulu, HI 96819
Code: HNL
Telephone: +1 808 836 6411
Location:
Honolulu Airport is located about 9.7km (6 miles) northwest of Honolulu
No. of Terminals: 3
Timezone: GMT/UTC -10:00
For most travellers looking to get a taste of the Hawaiian life, the Daniel K. Inouye International Airport will be the first port of call. The largest airport in Hawaii, more than 20 million pass through its gates each year on their way to adventure.
Once you arrive from overseas, you'll want to catch a shuttle back to the main terminal if staying on O'ahu or to the interisland terminal if heading elsewhere. These shuttles will drop you near escalators and elevators that take you to the baggage claim area so you can collect your things and get rolling.
DriveNow's car rental at Honolulu airport gives you a chance to get behind the wheel of a dependable ride that can help you see all of the best things this magical city, and the rest of the island, has to offer. Choose from quality makes and models from Avis, Budget, Enterprise, and Hertz, to find a ride that suits the size of your party and your needs. Then just pick up the keys to your Honolulu Airport car rental at the registration counters located in the baggage claim area and get ready to fly high on your Hawaiian adventure.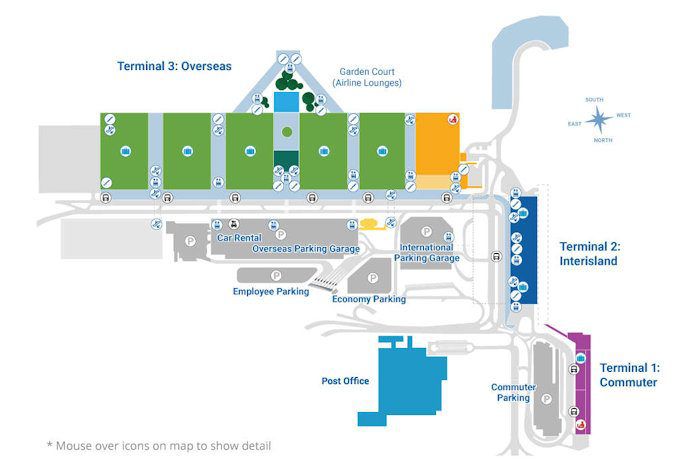 Grab the keys to your Honolulu airport car rental near baggage claim on Floor 1
Source: airports.hawaii.gov
The drive to the city is a pretty short and simple one, as you'll take Interstate H1 East to HI-92 East. Stay on that for about 6.4km (4 miles) and you'll more or less find yourself in downtown Honolulu. If you're headed to the popular vacation beachfront town of Waikiki, where you'll find many of the most popular resorts and hotels on O'ahu, just continue on HI-92 East for another 1.6km (1 mile).
The Best Places to Stay in Honolulu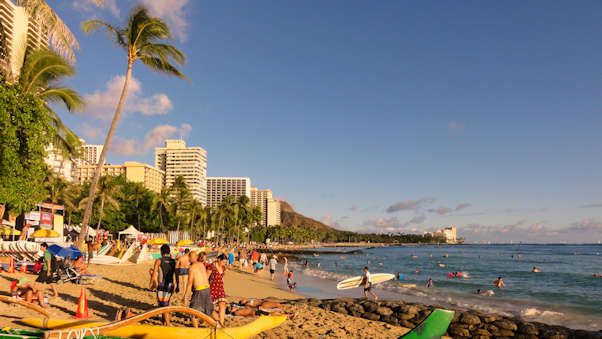 One look at Waikiki makes it easy to see why it's such a popular stop for tourists
Source: Cristo Vlahos
One of the greatest things about having access to cheap car rental in Honolulu is that the entire island of O'ahu provides excellent driving excursions that won't eat up massive chunks of your trip. So while there are plenty of places to stay in the city centre of Honolulu itself, you're not limited when it comes to deciding on the ideal hotel or serviced apartment. Feel free to expand your search outside downtown to the other amazing areas nearby.
Waikiki
Waikiki, situated on the southern coast of O'ahu, is perhaps the most well-known spot for tourists visiting this exceptional part of the world. If you move south down the coast from Honolulu, it's just about 5.15km (3.2 miles) to many of the finest accommodation options in Waikiki. While you can make the 45ish minute walk into town if you're keen, you're probably better off leaning on your Honolulu car hire or shuttle service to get you to and from town.
There is a stack of great places to stay in Waikiki, and it can be hard to pick which ones are the cream of the crop, as many provide similar incredible views, optimal service, and awesome amenities to help you get the most out of your Hawaiian adventure. Here are a couple choice options to consider.
Halekulani
For something at the top end of the spectrum, the Halekulani is hard to beat. This staple of Waikiki boasts all the extravagance you've come to expect from a five-star masterpiece. You'll have beach access just a few steps outside your hotel, serene surroundings in which you can unwind, and the famous "seven shades of white" design, in which rooms are made to complement the breathtaking scenery, not compete with it. You will have no problem bringing your Honolulu hire car either as there's plenty of undercover parking for hotel guests.
Ohana Waikiki East
Part of the popular Outrigger family of Hawaiian accommodation, the Ohana Waikiki East presents a more moderately priced option that still delivers many of the best parts of staying in Waikiki. Although you're not right on the beach, you're a quick walk across the street from it and will still have mouthwatering views from your room, as well as quick access to all the action of Kalakaua Avenue.
Outside Waikiki
Although Waikiki is certainly a dreamy spot in which to stay during your vacation, there are other areas in Hawaii that are plenty worth checking out if you want to get outside of the popular area. Here are a couple options if for whatever reason Waikiki doesn't fit your budget or your idea of the perfect place to stay.
The Kahala Resort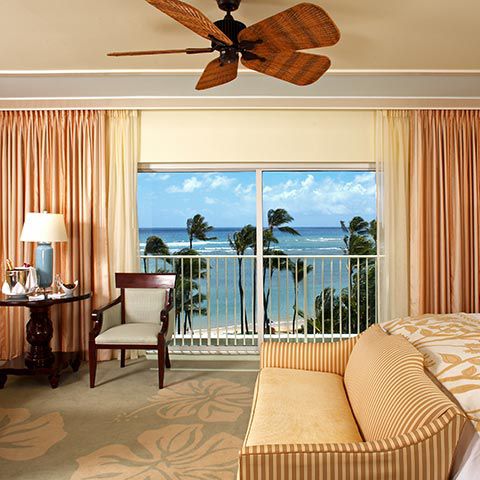 The Kahala resort is sure to please travellers both young and old
Source: Kahala Resort
For those who want to venture outside the popular Waikiki area and need something that can cater to all members of the family, the Kahala Resort in Kahala is an outstanding option. In addition to amazing seaside views, you'll find plenty for the whole family to do and see. The access to swimming spots is there, but the Kahala takes it to the next level with marine life experiences that will put a smile on your family's faces. The highlight is the Dolphin Quest in which guests get to splash around with dolphins in a natural ocean water lagoon. If that's not enough, the Keiki Club for Kids provides outdoor learning experiences for children so they can find out more about Hawaiian culture.
A bit quieter than the busy Waikiki district, Kahala is about 8km (5 miles) further around the south coast than the main tourist jaunts. That puts it firmly within a short driving distance to town with your Honolulu car hire.
The Best Things to do in Honolulu
If you're taking a trip to Hawaii, you most likely are ready for fun in the sun and all sorts of outdoor activity. Honolulu and the rest of O'ahu have that in spades, with something for just about everybody looking for a breath of fresh air. Here are just a few of the many great options for you and your travelling party to consider during your Honolulu adventure.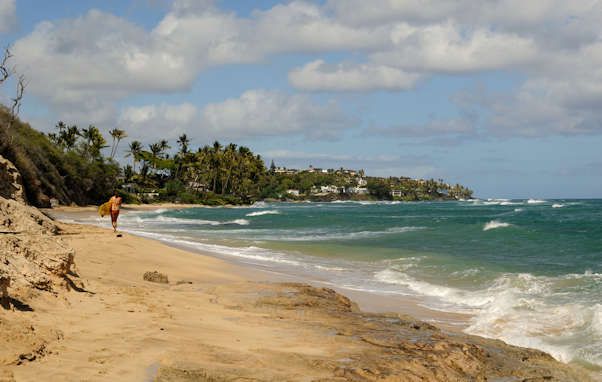 Diamond Head Beach resort gives you space to stretch your legs
Source: Daniel Ramirez
Beaches
Of course the sunny, sandy coast of Honolulu and the rest of the island is where you'll most likely be spending a lot of your time. You can't go wrong with many of the fantastic coastal areas around O'ahu, all of which are within a relatively short drive in your Honolulu car rental from wherever you are.
The Seven Mile Miracle section of the North Shore is particularly enticing for those looking to catch some waves on their surfboard. Diamond Head Beach Park, a short walk along the south coast from Waikiki, offers a bit of respite from some of the busier parts of the island as well as sandy strolls that give you a taste of what the south coast of the island is all about. If you want to see what the east side of the island has going for it, hop in your Honolulu rental car and make tracks for Makapuu Beach Park, where you'll find the picturesque Makapuu Lighthouse and tide pools in cooled lava rocks.
History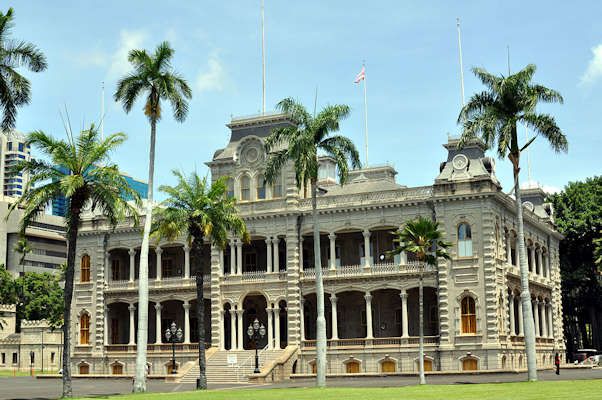 Learn about Hawaii's heritage at the 'Iolani Palace
Source: Don Ramey Logan
You know what Hawaii's like nowadays. But you can get a glimpse into its past with a trip to 'Iolani Palace, the residence of the land's final monarchs. At this restored National Historic Landmark, you'll learn about King Kalakaua and his sister Queen Liliuokalani and their reigns while living in the palace.
Or you can tour the site of one of the most devastating attacks in US history. The Pearl Harbor memorial sites around Honolulu are well worth a visit if you consider yourself a history buff. In addition to a museum, you'll also find an off-shore attraction in the U.S.S. Arizona memorial, the final resting place of the 1,102 killed in the Japanese attack. You'll be shuttled to the site by the U.S. Navy for an once-in-a-lifetime experience.
Shopping
Pick up some goodies for yourself or those you've left behind in Australia with some of the finer shopping experiences in Honolulu. The Ala Moana Center, the world's largest outdoor mall, is a one-stop destination for an amazing selection of shops and restaurants in Waikiki. You'll find your favourite international brands as well as unique local offerings.
The Best Food and Drink in Honolulu
Such a relaxing environment calls for a steady dose of delicious food and drink to match the serenity. Read on for a selection of some of Honolulu's finest culinary highlights, sure to satisfy even the most discerning of palates.
Poke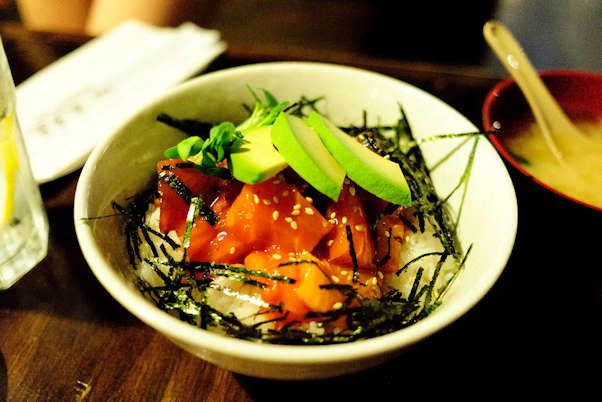 Don't leave the island without trying a poke bowl
Source: Mike Saechang
This delicious dish is steadily making its way around the globe, and one bowlful will make it easy to see why. The concept is fairly simply to those who like sushi; raw fish is cut into cubes and seasoned in any manner the creator conceives before being added to a bowl filled with sushi rice, vegetables, and other crunchy textures. But the results of this simple dish speak for themselves.
There are dozens of spectacular spots all over the island, but chances are you'll be sufficiently satisfied if you procure poke from Ono Seafood, Alicia's Market, or the counter at the back of Tamura's Fine Wine & Liquors (trust us!)
Bar Leather Apron
Not every single thing on O'ahu is nestled next to the sea. Bar Leather Apron in downtown Honolulu is a tiny, cosy bar that is huge on flavour and innovation when it comes to crafty cocktails. Get lost in the city's largest collection of whiskeys or grab one of the tasty cocktails oozing with Asian inspiration. Contact them ahead of time to make sure you've got a spot, and be sure to leave the Honolulu car rental back at the hotel so you can properly savour the alcoholic delights on offer.
Leonard's Bakery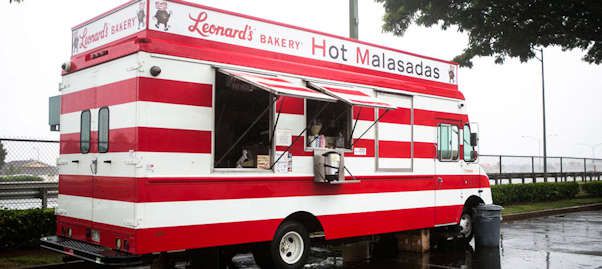 Whether at the Leonard's brick and mortar location or their food truck, you've got to get your hands on some hot, fresh malasadas
Source: leonardshawaii.com
Malasada is a legendary doughnut-type pastry that is available throughout Hawaii, but Leonard's Bakery might just be the best place to grab one when in Honolulu. The brick and mortar base in Kaimuki is worth a visit, though the Malasada Mobile food truck stationed in Waikele Shopping Center in Waipahu can also introduce you to these fried dough treats.
The Pig and the Lady
You'll find great Vietnamese in Honolulu's Chinatown district when you step into The Pig and the Lady, a wildly popular eatery brought to you by chef Andrew Le and his mother Loan Le. The establishment's meteoric rise from pop-up shop to farmer's market stall to permanent residence came thanks to its consistently delectable, yet not overly stuffy, Vietnamese cuisine.
Alan Wong's Honolulu
Don't let the location of this iconic upscale eatery confuse you. Alan Wong's Honolulu sits on the third floor of an office building and doesn't feature the majestic coastal views of some of its contemporaries. But what it does feature is an amazing menu that's been thrilling diners for more than 20 years. Highly recommended if you're looking for something on the upscale end of the spectrum.
Unforgettable Road Trips in your Honolulu Car Rental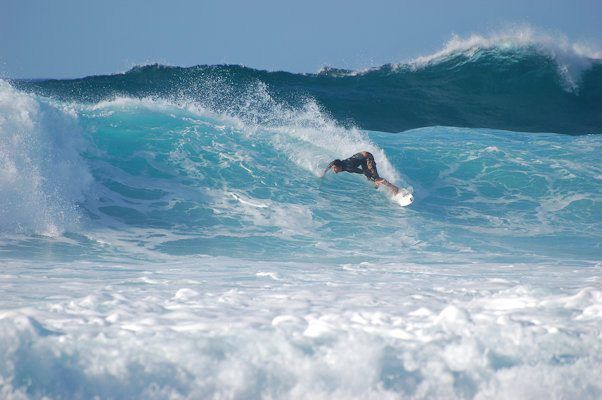 For surfers, it's hard to get much better than the Banzai Pipeline on Honolulu's North Shore
Source: Mandolin Davis
With such an accessible island full of amazing things to see and do, it only makes sense to have car hire in Honolulu. Unlike other popular holiday destinations, you won't have to spend hours driving to get to the most attractive spots on the island. Here are a few quality excursions that you can spend a day on with cheap car rentals in Honolulu.
La'ie Point State Wayside
This outpost on the northeastern part of O'ahu is worth the simple hour's drive up the coast. From Honolulu you'll take HI-63 North and follow it when it turns into HI-83. This will take you up to the La'ie Point State Wayside state park. If you have the guts, one of the most intriguing options at La'ie Point is cliff diving into the ocean. However, if you don't feel like plummeting into the sea below, the views from the clifftop are a completely acceptable substitute.
Hawaii Kai to Kailua
This short and sweet route won't chew up days of your limited holiday time but still provides a compilation of outstanding scenes to enjoy. This drive along HI-72 will elevate you above sea level to give you a delicious vantage point from which to take in all the crashing waves, glistening beaches, and craggy volcanic rock formations. Bags not being the driver for this one so you can stare out the window without worries! Of course, you can always hop out for an extended taste of this fantastic natural beauty.
Once you hit Kailua, Lanikai beach and the Lanikai pillboxes await for all your swimming, lounging, and hiking desires.
North Shore
Bet you can guess where this place is! The North Shore is on the opposite end of O'ahu as Honolulu and Waikiki, but, as with other areas of the island, it doesn't take all day to get to. This part of Hawaii is especially quality if you fancy getting on your board and catching some waves, as the Seven Mile Miracle stretch of coastline up in the North Shore provides some of the best surfing in the region, if not the entire world. The Banzai Pipeline off the coast of Ehukai Beach is a particular fan favourite.
If you want to extend your time in the North Shore, a beach bungalow at Ke Iki can be quite rewarding. Situated smack dab in the middle of the Seven Mile Miracle, you'll get your own detached accommodation, with the soothing sounds of the crashing waves just outside your backdoor.
Honolulu Car Hire FAQ
Is There an Age Restriction on Hiring a Car in Honolulu?
In the USA, most car rental companies require drivers to be between the ages of 25 and 70 to hire a car.
However, some rental car companies will hire their fleet to those between the ages of 21-25 on the proviso they shell out for an additional surcharge fee. This group may also face restrictions in the type of car they are permitted to hire.
It is advisable you check the total price breakdown to determine whether you will face these costs.
Will I Need an IDP to Hire a Car in Hawaii?
In the USA, including Hawaii, you can drive using your original driver's licence as long as it is a full licence with no endorsements.
If it is printed in English, you do not need an International Driver's Permit (IDP) but citizens of non-English speaking countries will require one.
Make sure you carry your licence with you at all times on the road.
What Road Rules Should I Be Aware Of?
Drivers keep on the right in the US and Honolulu's roads provide no exception.
Another thing to bear in mind is that distance and speed are measured in miles and fuel, known as "gas", is delivered in gallons. Typically, you will need to pay for gas before filling your tank.
Honolulu Car Rental Locations
Discover amazing experiences in Honolulu