Car Hire Edinburgh Airport
Compare and Book Edinburgh Airport Car Hire with the latest rental rates and deals. Instant booking confirmation locks in your car hire price with no fees and no cancellation charges.
Book your Edinburgh car hire now and save your energy for exploring Scotland's beautiful capital city and its surrounding areas, rather than queuing in long lines or wrangling with public transport.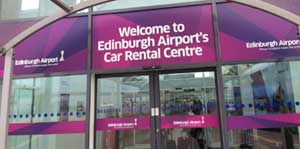 Collecting your hire car at Edinburgh airport is very straight forward with the Edinburgh Airport Car Rental Centre a short 5 minute walk from Arrivals to the left past the new Tram stop. Here you'll find all the rental companies under one roof allowing for a quick check in and then walk through the back doors to collect your car. Dropping off is easy with key collection boxes located to the left of the rear doors allowing you to drop and run. This is one of the easiest and smoothest ways of picking up a rental car at an airport anywhere in the world.
Edinburgh's airport sees over 9 million passengers through its doors every year, making it Scotland's busiest airport and the sixth biggest in the UK.
While it is only eight miles (12 km) west of the city centre, having a rental car in Edinburgh organised before you set foot on the tarmac will ensure you have an enjoyable and stress-free time upon arrival. With all the latest prices and specials on car hire at Edinburgh Airport and in the city from leading rental companies including Avis, Hertz, Budget, Europcar and SIXT we can help find and secure the best deal with no admin, booking or cancellation fees, no credit card details and no catches.
Since 2003, and working with only trusted and recognised international rental companies, DriveNow has provided a free unbiased booking service to the travelling public to make it easy to compare vehicles and pricing and then book online to lock in the cheaper rates at no cost and no risk.
Edinburgh gives you the chance to discover history and heritage or cosmopolitan city life. There are many great restaurants to choose from and plenty of entertainment options to keep you busy. Every August sees the running of the world renowned Edinburgh International Festival and its ever popular cousin, the Fringe Festival, the world's largest art festival. Catching the Military Tattoo on the Edinburgh Castle Esplanade is one of the most popular highlights with visitors.
Whether you want to drive to your accommodation to refresh yourself or head straight out to see some local attractions such as the Holyrood Palace, Princess Street, the castle or one of the city's many museums or galleries, let us take the hassle out of your Edinburgh Airport car hire. Organising your rental car before you travel means you don't need to worry about how to get to your next destination or missing out on the vehicle you want. Best of all booking ahead will help ensure you get the cheapest possible rate. Hiring a car is like booking flights - the price rises the closer you get to your holiday particularly during peak summer months.
Common Questions
Which car rental companies are available in Edinburgh?
DriveNow works with the top car companies in the UK to ensure the best rates for your hire car. Our car rental partners at Edinburgh Airport and in Edinburgh itself are Avis, Hertz, Budget and Europcar.
How old must I be to rent a car in the UK?
You can rent a car in the UK if you are at least 21 years old, but there are surcharges for drivers under age 25 and the choice of cars may be limited.
Do I need an international drivers permit (IDP)?
If your licence is in English, and is a full licence, you do not need an IDP when you rent in the UK. However, if it is in another language you will require an IDP. You should carry both your licence and the permit when you drive.
Are there any important driving rules?
Cars on UK roads drive on the left. Distance and speed are measured in miles. However, petrol is measured in litres.
If you are on a motorway, the speed limit will be 70 mph. For major highways, the limit is 60 mph and in urban areas you don't want to exceed 30 mph unless otherwise signposted. Speed limits across England, Northern Ireland, Scotland and Wales are uniform and enforced with speed cameras.
Seatbelts are required, and if you have children under 12 years old or less than 135 cm high, they must be fitted into a child booster seat. This can be included in your rental car booking.
Car Hire Suppliers in Edinburgh Airport
AVIS Car Rentals Edinburgh - Airport (EDI), Edinburgh Airport

Car Rental Centre
Edinburgh EH12 9DN
United Kingdom
Alamo Car Rentals Edinburgh - Airport (EDI), Edinburgh APT

Enterprise Rent A Car
175 Jubilee Road
Edinburgh Sct EH12 9FS
United Kingdom
Budget Car Rentals Edinburgh - Airport (EDI), Bd Budget Edinburgh Airport

Edinburgh Airport
Edinburgh EH12 9DN
United Kingdom
Enterprise Car Rentals Edinburgh - Airport (EDI), Edinburgh Airport

Jubilee Road
Edinburgh Sct EH12 9FT
United Kingdom
Enterprise Car Rentals Edinburgh - Airport (EDI), Edinburgh Corstorphine

Corstorphine Road
(off Downie Terrace)
Edinburgh Sct EH12 7AU
United Kingdom
Enterprise Car Rentals Edinburgh - Airport (EDI), Sighthill

501 Calder Road
Sighthill Shopping Centre
Edinburgh Sct EH11 4AW
United Kingdom
Europcar Car Rentals Edinburgh - Airport (EDI), Edinburgh Airport

Car Rental Centre
Edinburgh Apt 176 Jubilee Road
Edinburgh EH12 9FT
United Kingdom
Europcar Car Rentals Edinburgh - Airport (EDI), Edinburgh West

396 Calder Road
Sighthill EH11 4AS
United Kingdom
Europcar Car Rentals Edinburgh - Airport (EDI), Edinburgh West Long Distance D And C

396 Calder Road
Edinburgh EH11 4AS
United Kingdom
Hertz Car Rentals Edinburgh - Airport (EDI), Edinburgh APT

Ccrc Reception
Edinburgh EH12 9FT
United Kingdom
Hertz Car Rentals Edinburgh - Airport (EDI), Edinburgh West

1 Murrayburn Road
Edinburgh West EH14 2TF
United Kingdom
Keddy Car Rentals Edinburgh - Airport (EDI), Edinburgh Airport

Car Rental Centre
Edinburgh Apt 176 Jubilee Road
Edinburgh EH12 9FT
United Kingdom
Keddy Car Rentals Edinburgh - Airport (EDI), Edinburgh Prestige

396 Calder Road
Sitehill
Edinburgh EH11 4AS
United Kingdom
Keddy Car Rentals Edinburgh - Airport (EDI), Edinburgh West

396 Calder Road
Sighthill EH11 4AS
United Kingdom
Keddy Car Rentals Edinburgh - Airport (EDI), Edinburgh West Long Distance D And C

396 Calder Road
Edinburgh EH11 4AS
United Kingdom
Sixt Car Rentals Edinburgh - Airport (EDI), Edinburgh Airport

Car Rental Centre
Edinburgh EH12 9FS
Gb