Wet'n'Wild
Water World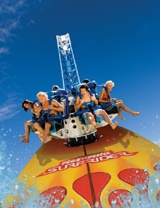 Located right next door to Movie World, and part of the same pass system, Wet'n'Wild last year attracted over a million visitors, making it one of the world's top water parks. And with good reason – it's a great day out, the perfect way for the whole family to enjoy the Queensland sunshine and laidback lifestyle in a fun and safe environment.
Wet'n'Wild has something for everyone – even those who don't particularly like getting wet or wild. But as the name suggests, there's a great deal of watery fun to be had, from adrenaline pumping rides in the Extreme H2O Zone to the surf-side ambience of Calypso Beach.
Year-round fun is guaranteed – even in winter, the weather on the Gold Coast is relatively balmy; and with all pools and slides heated from April to September, you can even enjoy the delights of Wet'n'Wild while the rest of the country shivers. And don't let the rain put you off – you're going to get wet anyway, and the crowds and queues will be less in bad weather!
There's no need to carry cash or worry about your wallet getting soggy. With Splash Cash you simply purchase a waterproof wristband with whatever amount you choose, and use the credit on the band just like your bank account. When it comes to buying lunch or a souvenir, just swipe your wristband to pay. You can download the extra cash back into you pocket at the end of the way.
Facilities
Wet'n'Wild offers a range of dining options with Four food and beverage outlets to choose from, as well as mobile services during peak season. The Surf store provides for swimwear, accessories and photos. Additionally there are electronic Lockers, Coin-operated barbeques, Towel and tube hire, hot showers and ATM/Eftpos facilities.
Opening Hours
Open every day of the year except Christmas Day, 10am-9pm from December 27-January 25, 10am to 5pm from January 26-30 April and 1 September-26 December and 10am to 4pm 1 May-31 August.
Getting There
Wet'n'Wild is located next door to Warner Bros Movie World on the M1 Pacific Motorway, 20km north of Surfers Paradise and 50km south of Brisbane. Take Exit 60 and follow the signs. Free parking on site.
Look out for....
Dive'n'Movies – what better way to enjoy a summer evening than kicking back in a tube watching a new release flick? Dive'n'Movies are included in the normal admission price on Saturdays from September to April and every night from December 27 to January 25.
Surfrider – the most unique rollercoaster on the Gold Coast, and loads of wet action and thrills.
Relax in your own cabana at We'n'Will's Cabana Service. Your own private cabana comes with two soft-cushioned sun lounges, two sun chairs and two stools, as well as complete concierge service and priority access to lockers and Splash Cash.
Further Information
Wet'n'Wild Water World,Pacific Motorway,Oxenford,Queensland 4210Ph: 07 5573 2255www.wetnwild.com.au