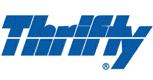 Toyota Camry - 4 Door
(or similar)
DriveNow has the latest drive away Thrifty full size car rental deals including the Toyota Camry with automatic transmission, cruise control, air-conditioning and room for 5 this is an ideal vehicle for families.

You can instantly compare Live Daily rates released by Thrifty on their Toyota Camry fleet against vehicles in the same rental class from Australia's other leading rental companies.

The rate examples below are the lowest available from All DriveNow's partners across their Full Size Car fleets with pickup in the next 15 days. Click and Compare or use the Quote/Book option to select your own travel dates and destination.