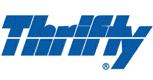 Thrifty Car Hire in Australia
THRIFTY's commitment to deliver the very best in car rental and customer service is made clear in their purpose statement: "Passionate, individual service, every time".
Operating from over 260 locations across Australia, Thrifty manage a fleet of over 11,000 vehicles including cars, vans, utes, and trucks with an average age of just 6 months on their passenger vehicle fleet.
A modern diverse fleet Thrifty offer car rental to cater for every occasion from small economical 'get around town cars' such the Hyundai Getz or Toyota's Corolla to family movers such as the Ford Falcon and for those looking for a 5 seater with a bit of extra the Ford G6E is sure not to disappoint.
Please note that this guide should be read as indicative of the make and model that Thrifty offer in each Vehicle Class. Whilst every effort is made by Thrifty to match your booking request against the vehicle of your choice, Thrifty does not guarantee a specific make or model and actual vehicles offered in each Thrifty Car Rental Class may differ by location. Images are for illustration purposes only.
Thrifty Popular Car Hire Locations