Sydney City Guide
WELCOME to Sydney, Australia's oldest, most premier city in the eyes of the world and certainly the country's economic powerhouse.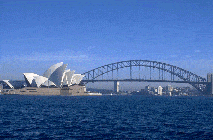 Sydney is a city of contrasts. Culturally exquisite one minute, downright drab and more-ishly grungy the next. One only need look at why it's dubbed the "Harbour City" with its healthy and wealthy arts scene, bayside mansions, beachside cafe culture and some of the hottest shopping and fashion outlets in the world. Yet, just around the corner is the audacious party atmosphere and alternative nightlife of Kings Cross.
The extremes don't stop there. This city lures one and all for its sun-drenched climate, yet at any given moment you'll be scampering for cover from a brief torrential downpour that accompanies a spectacular lightning-and-thunder display. And where else can you relax on the beach in your swimmers one minute, then dress up and dance the next? Or spot a whale on the water then a movie star on the sand? Ride a horse in a paddock or cruise luxuriously along in a limo? Work up a sweat catching a wave in the surf or work up some lovely R&R catching a world-class live act in a grand old theatre like the Capitol.
It's also important to note there's a vast array of cultures in this bustling city, ranging from Europeans to Africans, Middle Eastern to British and with that stems a diverse range of events, entertainment and food.
Cuisine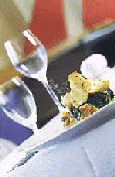 Are you ready to tantalise those taste buds? Sydney offers a mouth-watering gastronomical experience. With world-famous chefs, cutting edge creativity, spectacular views and delicious fresh cuisine, Sydney is a haven for food lovers and has a world class reputation as one of the best alongside London, New York and Paris. The food scene is dominated by an abundance of local, fresh produce, teamed with a breed of young and dynamic chefs who break all the rules, but deliver an exciting range of dining experiences that are unsurpassed.
The city boasts a banquet of world-class restaurants fronted by star chefs and an array of markets, provedores and delis. Diners swarm to the harbourside for a table by the water and, of course, dining under the stars is THE best way to experience those renowned postcard views. There's no place like this city for picnics, too, thanks to its wide open spaces such as enormous Bicentennial Park, a 100-hectare (30 acre) natural heritage site, and it makes it impossible to resist creating your own al fresco meal.
There is a treasure trove of cafes, restaurants and bars that offer the ultimate sea view and beachside favourites include Bondi's famous Icebergs Restaurant and Bar whilst beautiful Balmoral Beach offers the Bathers' Pavilion Restaurant and Cafe.
Other highlights include:
Overseas Passenger Terminal at the Rocks
Set right at the heart of Sydney's Rocks precinct area at the bottom of George Street, the Overseas Passenger Terminal welcomes visiting Cruise Ships to Sydney and is home to two of Sydney's great Restaurants, Quay and Wildfire. Diners are able to feast on a spectacular vista with Sydney Harbour Bridge to the left, the Sydney Opera House directly across Sydney Cove and Circular Quay, home of Sydney's Ferry Services to the right framed by Sydney's CBD.
Recommended:
Quay, www.quay.com.au, (02 9251 5600) info@quay.com.au

Darling Harbour
Set around Cockle Bay Darling Harbour is home to over 50 Restaurants, the Sydney Aquarium, Imax Theatre, Powerhouse Museum, Harbourside Shopping Complex and Sydney Convention and Exhibition Centre with a mono rail looping the precinct and into downtown Sydney. Spoilt for choice there's something for everyone here.
Recommended:
Nicks Seafood, www.nicks-seafood.com.au, (02 9279 0122)
Blackbird Cafe, www.blackbirdcafe.com.au (02 9283 7385)
Shopping
Old meets new. Local meets international. The shopping in Sydney is supreme on a world stage. The city has a creative edge and love of good design that has inspired generations of young designers who have established themselves on the world stage for fashion.
Many home-grown labels to win fans worldwide are Collette Dinnigan, Akira Isogawa, Sass and Bide and Alannah Hill, who operate boutiques in some of Sydney's trendiest suburbs. There is also a wealth of new designers to be discovered at Sydney's suburban markets such as Paddington and Bondi.
There's no doubt Sydney is a big-city shopping experience and visitors are spoilt for choice. The heart of Sydney's shopping centre is the Pitt Street Mall, which is home to the Mid City Centre that has many stylish boutiques. Other complexes and shopping areas include Castlereagh Street, Centrepoint, Chifley Plaza (includes well known designer boutiques), King Street, MLC Centre, Piccadilly on Pitt St, Queen Victoria Building, Skygarden and the Strand. Super shopping precincts can also be found in Darling Harbour, Circular Quay, Bondi and The Rocks. Want to step it up a notch or 10 in class and style? Head to Paddington and Double Bay.
Anything and just about everything can be discovered shopping in Sydney and don't forget there's late night shopping (9pm)on Thursdays.
Arts & Culture
A vibrant arts and culture scene is another of Sydney's strengths. A highlight on the city's calendar is the Sydney Festival, a three week celebration of dance, music, theatre, outdoor exhibitions and visual arts held every January.
As mentioned, Sydney is famous for its parties. Each year is welcomed in with a mighty bang, with New Year's Eve parties engulfing the Sydney harbour foreshore. Thousands of people gather to witness one of the biggest annual fireworks displays on the globe. In February, the city comes alive with the Gay and Lesbian Mardi Gras, which culminates in a huge street parade boasting some of the most outlandish costumes and floats you are likely to see.
Naturally there are stacks of exhibitions and events throughout the year, courtesy of Opera Australia operating from one of the World's busiest Opera Houses and the Sydney Theatre Company as well as the Art Gallery of NSW, the Museum of Contemporary Art and the Powerhouse Museum.
Markets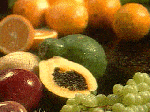 Sydney's market scene is booming and brings the shopping experience back down to earth, especially after one indulges in the glitz and glamour of designer stores and classy boutiques. Aside from Paddy's Markets, Sydney's markets are outdoors and generally found in school and church grounds. Among many, some of the more popular markets include:
Paddy's Market
Probably Sydney's most famous markets is open from 10am to 6pm on Thursday and from 9am to 4pm on Friday, Saturday and Sunday and found under Market City on the corner of Hay & Thomas streets.
The Rocks Market
Generally good quality market in the most amazing setting - arts, crafts, homewares, collectibles with nearby pubs and cafes. The Rocks markets are a mere stroll north from Circular Quay railway station along George Street. These markets operate on Saturdays and Sundays.
Glebe Market
The alternative markets with pre-loved clothing, lots of home made food, arts, crafts and second hand goods. Operates every Saturday from 10am.
Balmain Market
Not as big as others, this is found in the grounds of an old church on the corner of Darling and Curtis Road. Open every Saturday, there's lots of bits and pieces, including clothes and food stalls.
Sydney Fish Market
If you love your seafood, you can't go to Sydney and miss the legendary Sydney Fish Market, the largest of its kind in the Southern Hemisphere and even big enough to operate behind the scenes tours.
Taronga Zoo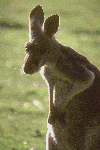 Taronga Zoo
. You needn't go beyond the city centre to have a real adventure and come in contact with some of our most iconic creatures and critters. Taronga Zoo has been about for 90 years and is one of the most beautifully designed in the world. It's about 12 minutes by ferry from Circular Quay and the CBD. (Ferries depart Circular Quay every quarter past and quarter to the hour).
The Rocks
The Rocks
. Sydney's oldest neighbourhood is The Rocks, originally Sydney Cove, where the First Fleet commanded by Captain Arthur Phillip landed in 1788. The Sydney Visitor Centre, housed in the heritage-listed Penrhyn House, should be your first port of call.
The Rocks Discovery Museum
is in a renovated 1850s sandstone warehouse on Kendall Lane and provides insights and other historical snippets of information into Sydney's birthplace. The museum is open seven days a week from 10am-5pm and entry is free.
Sydney Opera House

Sydney Opera House
. Arguably the most beautiful and best-known building in not only Sydney but also Australia - is the Sydney Opera House. Guided tours take place regularly, offering visitors the chance to explore this miracle of architecture and stand where legends have performed.
Sydney Harbour Bridge Climb
Bridge Climb
. Another architectural marvel and Australian icon, the Sydney Harbour Bridge, has seen thousands of people climb to the bridge's peak since BridgeClimb was born in 1998. Now climbers can choose from a new route, called the Discovery Climb, which weaves throughout the bridge's amazing inner structure and allows climbers to touch the rivets that bolt the bridge together before reaching the lookout at its pinnacle. Not for the faint-hearted!
Sydney Aquarium

Meet Jaws and Nemo! Come up close against endangered Grey Nurse Sharks and giant Stingrays in the huge Oceanarium. Watch Seals frolic in the Seal Sanctuary as you walk through underwater tunnels. Located on the city side of Darling harbour, visit
sydneyaquarium.com.au
for further details.
Sydney Tower
Stunning 360 degree views of Sydney, the Harbour and beyond from one of the highest Observation Decks in the Southern Hemisphere. For the adventurous step out onto the external glass-floored viewing platforms 260 metres above the Sydney streets.
Sydney Coastal Walks
Coastal walks. Sydney has many coastal walks to choose from, all offering unique perspectives of the city and connection with nature. The Federation Cliff Walk links the eastern suburbs of Dover Heights with Vaucluse, winding past towering cliffs high above the Pacific Ocean. It is a great way to take in the essence of Sydney's untamed harbour while getting some exercise with breathtaking views. The Bondi Beach to Bronte walk is another refreshing coastal walk, as is the Manly to Spit Bridge trek that passes by eight beaches. The Harbourside walk from Neilsen Park to Rose Bay takes in grand historic homes and modern mansions.
The Essentials - Sydney
Population:4.8m
Temperature: Jan 25C - Jul 16C
Country Code: 61
Timezone: GMT + 10 (Daylight savings observed 1st Sunday October - 1st Sunday April)
Visitor Information: visitnsw.com.au