vehiclePageRef = star-rv-au;AUPEGASUS | supplierCode = star-rv-au | vehicleCode = AUPEGASUS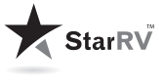 Enjoy the extra space in an expandable vehicle! Luxuriously accommodating 4 adults, the Pegasus RV also has the added feature of the slide out panel in the kitchen and living area, providing over 30% more living space. This vehicle has 2 large beds and the largest fridge/freezer of the fleet, the 3 burner gas stove makes self-catering easy.
Please note: Star RV sources vehicles for this category from a number of different vehicle manufacturers. The images, and layouts shown should be used as a guide only. Specific vehicle styles, layout configurations and interior design may vary to that shown.
Day and Night Floor Plan