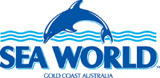 Sea World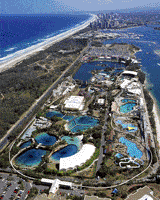 As its name suggests, Sea World's focus is the great oceans of the world and their fascinating marine life, with visitors having the opportunity to get up close and personal with animals such as dolphins, sharks, seals and even polar bears. Add to that great rides, entertaining shows, its own water park and a sunny waterfront location, and it's little wonder Sea World is widely considered the happiest and most satisfying 'world' on the Gold Coast.
As well as displaying rare and beautiful marine creatures, Sea World is an important marine research facility, helping to protect and raise awareness of marine conservation. All of the exhibits are state-of-the-art, ensuring the best care and conditions for the animals, and the park's marine scientists are always on hand to impart information for curious guests. Furthermore, special guest programs allow personal interaction with the animals, joining in on training and feeding sessions and enjoying a close-up view of the animals in a truly intimate and educational experience.
Animal Attractions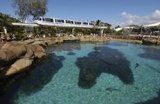 One of the most impressive facilities is Shark Bay, the word's largest man-made lagoon for sharks. Spanning two levels, it provides spectacular viewing opportunities both above and below water, allowing guests to come face to face with the most fearsome predator of the ocean. You can interact as closely as you dare with these creatures; if you're really brave, you can join in the special shark dive experience in the snorkel and dive lagoon.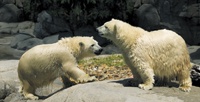 Polar Bear Shores is the only exhibit in Australia where you can see the world's largest land carnivore up close, at rest, at play and even swimming – a surprisingly graceful acrobatic display. Sea World currently has three of these beautiful animals in their care: four-year-old twin cubs Hudson and Nelson, rescued from the wilds of Canada; and six year old Lia. Their home is a climate-controlled replica of the Arctic tundra and includes a cascading waterfall and winding creek, a large pool, an array of climbing rocks and a rock platform, as well as natural materials to dig in and explore.

A highlight of Sea World is Dolphin Cove, the largest sandy-bottom lagoon ever built for dolphins. This habit serves as an educational centre, as well as a stage for dolphin displays and presentations. Sea World also has its own Dolphin Nursery Pool, where you can see delightful dolphin babies bred as part of Sea World's captive breeding program.
Facilities
Sea World offers a range of dining option, from sumptuous buffets to snacks. There are three sit-down restaurants for leisurely meals, a food court offering fast food, sandwiches and drinks, a burger bar, a pie shop and several shops selling coffee and sweets. Additionally there are Several souvenir, gift, clothing and environment shops, a photo centre for photographic requirements, ATM facilities and Lockers.
Theme Park Entry
Opening Hours
Open 10.00am-5.30pm daily except Christmas Day
Ticket Prices
Visit www.themeparks.com.au for the latest pricing and Sea World online ticket deals.
Getting There
Sea World is located on SeaWorld Drive at Main Beach, three kilometres north of Surfers Paradise. Free parking at front entrance, with reserved parking adjacent to main gate for disabled guests.
Other Animal Highlights

A lesser known Australian marine mammal is the Dugong, a delightful and endangered sea creature which earns its name the "cow of the sea" because of its seagrass grazing habits. The two resident Dugongs are called Pig and Wuru, and their home at Dugong Discovery replicates their natural environment of Moreton Bay in south-east Queensland.

Opened in March 2008, Penguin Point is home to 60 penguins, arguably the most entertaining birds on the planet. Watch these black and white soldiers shuffle their happy feet in a state-of-the-art exhibit, climate controlled to replicate their Antarctic homeland.
Further Information
Sea World Sea World Drive Main Beach, Gold Coast Queensland, 4217 (07 5588 2205)
www.seaworld.com.au