Perth Airport Guide
Western Australia is blessed with never-ending sunshine, clear skies, vast and varied landscapes and amazing beaches, not to mention a bustling city that has it all great food, exciting nightlife, fantastic beachside location and arguably the friendliest and most down to earth people on the continent.
Perth airport is a great starting point to explore this dynamic state that is the country's biggest, yet most remote. Conveniently, the airport is a brisk 12km (8 miles) from the city's CBD and has 6 million passengers passing through its gates each year as the major international and regional gateway to the West.
Importantly, it is Australia's closest airport to South East Asia, Africa and Europe and the country's fourth biggest airport for passenger traffic. Like most other major Australian airports, Perth Airport is undergoing some extensive renovation with a grand plan to have both domestic and international terminals consolidated as one giant terminal on the south eastern side of the airfield some time in the next 15 years.
Airlines & Terminals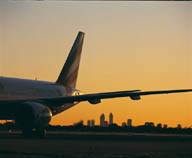 Structured a little differently to your average airport, Perth Airport has several terminals with the main ones being the International Terminal (T1) and Domestic Terminals (T2, T3 & T4). Then there's a bunch of smaller regional service terminals. The International Terminal operates every day of the week and is on the eastern side of the main runway. A newer T2 Terminal serving Alliance Airlines, Tiger Air and Virgin Australia is located next to T1. On the western side of the airport there is T3 & T4. T3 houses Jetstar and Virgin Australia and T4 is exclusively home to Qantas.
The Regional terminals are smaller operations with mainly charters and airfreight services to regional Western Australia and are located on Fauntleroy avenue, Newton and Valentine roads.
The Domestic Terminal's check in is on the ground floor, and those arriving by car will find there's an excellent two minute loading time allowed at the public road for drop off. It also has excellent facilities and services.
Facilities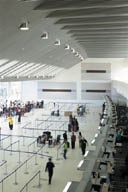 Perth is another airport continually on the improve with its facilities thanks largely due to a conscientious and proactive approach of such initiatives as surveys each year to help management establish what needs to be upgraded or created. On a whole, the facilities could be rated as good to excellent, but, as mentioned, they are always evolving and improving and stand up as some of the best facilities in Australia.
Aside from the standard toilet and shower facilities, the airport is well equipped with baby rooms (soft furnishings, baby tables, nappy disposal etc). Older kids can be entertained by a children's playground outside Terminal 1 on the west side of the building.
There's lost property services in all terminals and baggage lockers available for hire. For money matters, Travelex offers foreign exchange, travel insurance, travellers cheques and money transfers at the airport in both arrivals and departures.
Business travellers and others wanting to check email or click online have wireless internet access available (Wi Fi) in all terminals. In Terminal 1 a high speed service is in the departures lounge and visitors can use the service in the departures lounge of Terminal 3 on the ground floor. Best of all, here you can enjoy a coffee or snack while logged online because the cafes/outlets are within range. Throughout the airport there are internet kiosks with standard rates.
Disabled people are fully catered for at Perth Airport and there's access to all terminals and facilities for those with special needs. Wheelchairs are available on request.
Directions and Transport
Perth Airport is 12km (7 miles) north-east of Perth city centre, a 10-minute trip by car or taxi. Getting there from Perth is a cinch thanks to frequent signs displaying the universal airport symbol to guide you. For more specific directions, if you need to travel to the International Terminal simply drive east along the Great Easter Highway, turn right on Tonkin Highway and travel south-east, turning left at Horrie-Miller Drive. For the Domestic Terminal, it's a cruise east along the Great Eastern and you only need to turn right at Brearley Avenue.
Public transport is available from the airport, with a range of options including taxis, airport shuttle buses and public coach services. Taxis are always in abundance, they can be found at the front of all three terminals. During peak periods there are assistants to ensure a steady flow of taxis are collecting people. As a rough guide, it will cost you about $26 to reach Perth city from the Domestic terminals while a taxi from the International Terminal will set you back about $30 to $35 depending on traffic. To get to Fremantle, you should expect to pay about $50.
Perth Airport City Shuttle has pick-up points near hotels and motels throughout Perth, including suburbs such as Northbridge, East and West Perth, CBD and the Great Eastern Highway.
Shopping and Duty Free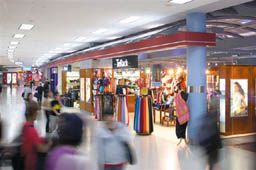 SHOPPING/DUTY FREE Considering its medium size, shopping is surprisingly good at Perth airport and there's several stores to peruse whether they be authentic Australiana bush or beach clothing, gift and souvenir shops, jewellery stores, music outlets or a newsagency to grab a good book or mag to read on a long flight. Then there's some tantalising eateries which include coffee and cake specialists, fast food outlets and even a brew house for those looking for a refreshing ale. Certainly a thumbs up for shopping and duty free here. Occasionally you might find shops are closed, which is a minor downside, but as a general rule stores are open every day of the year and open in Arrivals one hour before and after flights arrive. For departures, stores open two hours before with some stores extending hours for airport visitors. Most shops you visit landside before you pass through the Departure Gate are also available airside after you've passed through Customs.
Accommodation
If you're after accommodation close to Perth Airport DriveNow has partnered with RoomsNow to bring a great range of discounted accommodation covering Perth, the West and right across Australia. All types of accommodation are catered for from 5 star hotels to self-catering apartments and villas.
The Essentials - Perth Airport
Airport Code: PER
Address: Perth Airport, Westralia Airports Corporation Pty Ltd, PO Box 6, Cloverdale, Western Australia 6985
Website: www.perthairport.com
Country Code: 61
Telephone: (08) 9478 8888
Timezone: GMT + 8 (No Daylight savings)

Car Parking Facilities
The airport has long and short-term car parks located directly in front of both Domestic and International Terminals and at the Regional Terminal.