WHAT is sports crazy and overflowing with delicious food, a thriving arts and music scene and has attractions to suit all walks of life? Melbourne, of course, Australia's second biggest city with its 4.5 million residents.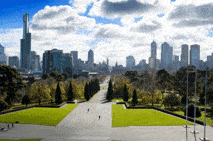 Located in the south-east corner of the country, Melbourne, the state of Victoria's capital city, is renowned for its never-ending supply of major sporting events including the Australian Open tennis grand slam (January), Formula 1 Grand Prix (March) and the Spring Racing Carnival, which includes the Melbourne Cup horse race that "stops the nation" (November). But there's more than sport: think lots of laughs at the International Comedy Festival, family fun of Moomba, a festival on the banks of the Yarra River which winds through the heart of the city, the tastes and tipples at the Melbourne Food and Wine Festival and home-makers' dream day out at the Melbourne International Flower and Garden Show.
Where to Stay?
The different flavours provided by Melbourne's collection of neighbourhoods mean there are plenty of great options for your travelling party. Whether you want to get amongst the late-night eating and drinking culture in Melbourne's bustling CBD, or want a more civilised, mature approach to your time in Melbourne, you'll be able to find it all with just the slightest bit of digging.
Southbank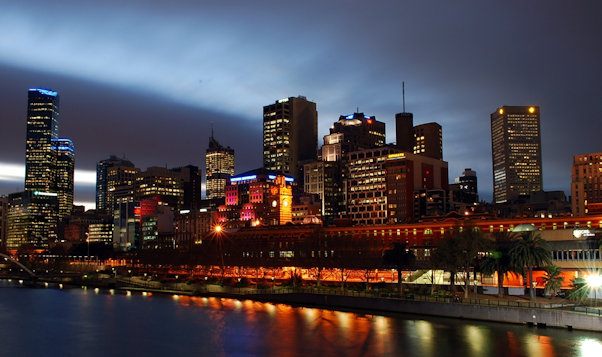 Southbank is situated along Melbourne's magical Yarra River
As you might guess from its name, Southbank sits conveniently on the south bank of the Yarra River, just across from the Melbourne CBD. It's a great, centralised location that puts you within shouting distance of all the nightlife and action of the city.
If you think bigger is better, it's hard to go past the Crown Melbourne. As with similar properties in Perth, you'll find everything from great restaurants, spa and swimming spots, as well as a pulsating casino in which to spend time when you're not out and about in the city.
The Langham is another spot for those looking for some high-class luxury. This five-star fortress on the Southbank Promenade mixes elegance with fine personal details, giving you all the benefits of a big-time hotel with the intimate feel of smaller accommodation.
Staying in Southbank can be an especially great idea if you have a hire car in Melbourne. With access to so many arterial roads, including but not limited to Clarendon Street, Kings Way, and the West Gate Freeway, you can be cruising in no time.
Collingwood and Fitzroy
The home of the fabled Smith Street and its host of restaurants and pubs, the suburbs of Collingwood and Fitzroy are perfect encapsulations of what Melbourne is all about. A short drive in your rental car from the Melbourne CBD, this area has everything from fine dining to grimy holes in the wall with loud music and cheap drinks.
You might be better off looking for an Airbnb if you want to stay in or around this area. There are plenty within walking distance, making it an easy commute by foot after a night in the courtyard at the Fitzroy Beer Garden or jamming buttons and wiggling joysticks at Pixel Alley.
Art Series Hotels
The Art Series Hotels drop you into some of the most popular, thriving cultural hotspots of the city. The five locations –The Blackman, The Cullen, The Olsen, The Schaller, and The Larwil – are each named after a different artist and designed with that artist's style in mind. A favourite for everybody from business travellers to those checking out Melbourne on holiday for the first time, The Art Series Hotels' attention to detail and friendly staff make them some of the picks of the Victorian capital's hotel scene.
Where to eat and drink
Fill your stomach and whet your whistle with some of the absolutely astonishing food and drink options available in Melbourne. With dozens of outstanding eateries and drinking spots in just about every suburb, it's hard to go wrong.
Melbourne's Best Breakfast and Brunch
Brunching in Melbourne amongst flannel shirts and Coke-bottle glasses has become a bit of a stereotype, but that doesn't make it any less delicious. Here are some of the best ways to get your day started.
Lune Croissanterie
Legend has it that people line up at Lune Croissanterie as early as 4:00am on weekends, four hours before it is officially slated to open. Once you get a taste of these amazing, baked-in-house, flaky pastries, you'll see why that's not as crazy as it sounds. These bad boys are so delicious that they prompted none other than the New York Times to ask if the world's best croissant is made in Australia. You can eat in or take away, but don't blame us if the goods don't make it all the way to your destination!
Rustica Sourdough
Located just around the corner from Lune, Rustica Sourdough is yet another entry into the great list of restaurants in and around Fitzroy. Giant portions mean you won't leave hungry, and the matcha latte puts a tasty, green twist on a classic breakfast drink. The all-day menu's highlights include rich delectable delicacies such as lobster eggs benedict and French toasted jelly donuts with raspberry jam and pistachio ice cream.
Archie's All Day
If we had the means (and by that we mean belly space), we might actually spend all day in here, as the name suggests. A great place for just about any meal, not just brunch, Archie's on Gertrude Street, just a short walk west from Smith, puts its own special touch on classic favourites.
This is perhaps most evident on their amazing breakfast menu, which dolls up standard fare and makes it irresistible. Just try walking past the sidewalk tables and those chowing down at the counter against the front window without getting jealous of the crispy poached eggs with kim-chi and edamame, or The Godmother, a glorified egg (and bacon if you want) sandwich with tasty chilli.
Of course, night time is the right time to visit Archie's as well. That's when you can take advantage of their great beer list and incredible cocktails. We can happily prescribe the Dr. Pepper, which tastes exactly like the classic US cola. Grab some small plates to share and enjoy!
The Best Burgers in Melbourne
If your idea of the perfect meal includes a meat patty slapped between the two ends of a bun, you'll have no shortage of choice choices in Melbourne. The city is home to a bevy of burger joints that are sure to slay your cravings.
Huxtaburger
Huxtaburger has five Melbourne locations, making it easy to get your hands on one (or more!) of their amazing beef or chicken burgers. The toasted buns are an appreciated extra touch, as are the incredible tasty beef patties and extras.
Caught in that awkward in-between meal time where it's too late for lunch but too early for dinner? Not to worry. Grab a mini burger for that perfectly sized snack that will keep you going for another couple hours.
8bit

Battle hunger better at 8bit
Source: eat8bit.com.au
Combining tasty burgers with the classic arcade games of yore, 8bit, in Footscray and the Melbourne CBD, is a great place to grab a bite to eat and connect with the inner child living inside of all of us. You'll also find tasty milkshakes, hot dogs, and an array of greasy, gratifying sides.
Award Winning Restaurants in Melbourne
You know those famous chefs you see on TV and read about all the time? Well, many of them have established restaurants in Melbourne, all of which you can check out after a short drive in your Melbourne car rental. Just don't forget to book!
Attica, perhaps the most acclaimed restaurant in all of Melbourne, is located in Ripponlea which is about 9km (5.6 miles) from the Melbourne CBD, and showcases the culinary wizardry of Ben Shewry through incredible tasting menus.
One of the main men behind the ongoing success of Masterchef Australia, George Calombaris plies his trade at The Press Club on the fabled Flinders Street in the Melbourne CBD. He and his crew have been putting together amazing Greek dishes for more than a decade, piling up awards along the way.
Shannon Bennett's Vue de Monde has risen up toward the pinnacle of the Melbourne dining scene both literally and figuratively. Sitting on level 55 of the famed Rialto building, you'll have trouble tearing your eyes away from the view to enjoy all the action taking place in the open kitchen.
Another acclaimed Melbourne institution not to be missed is Stokehouse. Located on the famous St Kilda Beach, this one of a kind eatery is also the world's first 5 star, green star restaurant. Enjoy sweeping views of the water as you settle down for a relaxed lunch or dinner. The menu, created by Executive Chef Richard Ousby and Head Chef Ollie Hansford, is seafood inspired with a focus on fresh, clean, zesty, and light. Getting a table at this popular spot is no easy feat, so make sure you book well in advance.
Shopping
Often referred to as the shopping capital of Australia, Melbourne offers a vast array of choice from major department stores to boutiques and specialist shops. Chapel Street offers local and international fashion labels with price tags to match. Melbourne Central located between La Trobe and Lonsdale Streets has over 180 shops on 6 levels designed around the glass encased Shot Tower. On the other side of the Yarra, The Southgate complex located between the Victorian Arts Centre, Concert Hall and Crown Casino complex, provides a mixture of up-market fashion, food, furniture, jewellery and Australiana products.
Within central Melbourne there are several arcades and malls, foremost among these is the Bourke Street Mall with David Jones and Myer department stores along with many other major national retailers. Elsewhere the arcades and mails tend to be more specialised, the Galleria Shopping Plaza with it's emphasis on Australia retailers, Australia on Collins for up-market shopping and the oldest arcade, Royal Arcade between Little Collins, Bourke and Elizabeth streets, home of Father Time and the statues of Gog and Magog.
Elsewhere suburban Melbourne offers vast shopping malls such as Chadstone, Southland and High Point all offering a wealth of choice in retail pleasure! Chadstone would be the pick of the bunch through sheer size and choice from up-market specialised retailers to everyday cheap and cheerful outlets.
Markets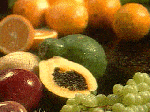 A must is the markets. Queen Victoria market located on the edge of the CBD has something for everyone with a wide array of fresh food, fruit, meat, vegetables and other goods. One of the world's largest outdoor markets with over 1000 stalls the market has celebrated over 125 years of operations and a very popular weekend activity.
Other markets include South Melbourne, Pharan market off Chapel Street and for those looking for second-hand goods checkout the Camberwell market on a Sunday.
Things to do in Melbourne
The diversity of events and attractions in Melbourne is what makes it one of the most attractive cities in Australia to visit. Here are just a few of the things you can do to fill the days on your trip.
Melbourne, The Sporting Capital
Once crowned the sporting capital of the world, Melbourne is home to a busy calendar of world-class sports events. In addition to professional rugby league, rugby union, netball, and basketball leagues, these three codes help make Melbourne the sports mecca it is.
AFL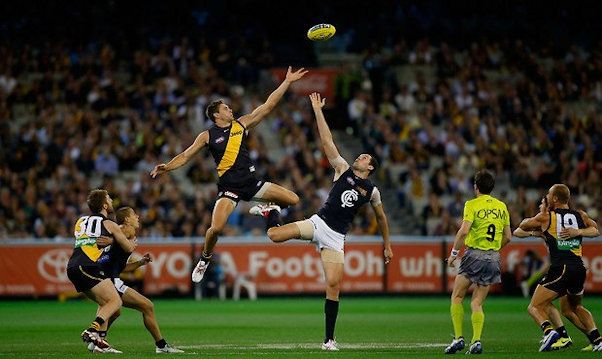 Two ruckmen compete in a game of Australian football
Source: afl.com.au
AFL is more than just a sport in Melbourne. It's a religion. It's a way of life. It's an all-encompassing pastime that envelops much of the city between the months of February and September. Matches at the fabled Melbourne Cricket Ground average around 45,000 fans, no small feat for the city's size. But the real spectacle is the AFL Grand Final. The event, and the week leading up to it, are so huge that the city has a unique public holiday on the Friday before the game.
Melbourne Cup
The "race that stops a nation" is truly a site to behold. The crown jewel of the Melbourne Cup Carnival, the race is run on the first Tuesday of November each year. Flemington Racecourse is the place to be that week, as thousands descend on the grounds in their finest – pastel patterns, ornate hats, and all. Much like the AFL Grand Final, Melbournians get an extra public holiday for the race, though much of the rest of the country takes it easy in anticipation of the event, too.
The Australian Open
Kicking off the sporting calendar each year, the Australian Open takes over Melbourne for several weeks, drawing in thousands of viewers to the precinct surrounding Rod Laver Arena. Whether packing into the main courts, posting up at the smaller outer courts, or just watching on huge screens outside, tennis gurus and casual fans alike get swept up in the fuzzy green ball action.
Look at the Laneways
Hidden amongst the backstreets and buildings of Melbourne is a series of laneways that hold all sorts of fun secrets. Leaving no space wasted, these corridors host amazing artwork and designs as well as one-of-a-kind boutique shops, cafés, and restaurants.
Centre Place might be the most popular of the bunch, though there are plenty of others well worth a stroll. Meyers Place is a particularly fun place to be as the night grows darker, while there's no mistaking the classic lightning bolt logo adorning the appropriately named AC/DC Lane.
Take the Tram
A symbol of a time gone by, Melbourne's tram system is still a great way to get around. Even if you've (quite wisely) taken advantage of DriveNow's car hire in Melbourne, spend an afternoon riding around on the city's trams for a taste of public transport a bit different from other parts of Australia.