vehiclePageRef = lucky-au;Rookie | supplierCode = lucky-au | vehicleCode = Rookie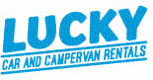 Lucky offers a well-equipped fleet of great value campervans for rental so you get to see Australia without spending a fortune. If you are looking to have an Aussie adventure than hiring a campervan is the best way to do it. You travel at your own pace on roads that transport you some of the most unique landscapes in the world. Be your own tour guide - it's just easier when you rent a campervan.
Please note: Lucky sources vehicles for this category from a number of different vehicle manufacturers. The images, and layouts shown should be used as a guide only. Specific vehicle styles, layout configurations and interior design may vary to that shown.
Day and Night Floor Plan