GoCheap Motorhomes Campervan Hire in Australia
GoCheap Motorhomes is a 100% Tasmanian owned and operated campervan rental company based in Hobart. Established in 1999, GoCheap Motorhomes offers travellers affordable motorhome and campervan rental in Tasmania with branches in Launceston, Devonport as well as Hobart where it is close to airport.
Being Tasmanian owned and operated, Gocheap Motorhomes provide a distinctly local approach to campervan hire in Tasmania and can offer inside tips on where to go and what to visit. The GoCheap Motorhome fleet includes Mercedes, Ford and Iveco based vehicles offering a range of campers from compact 2 berth campervans to luxury 6 berth motorhomes.
All vehicles come with unlimited kilometres and can be used to explore right across Tasmania on sealed roads and should the unexpected occur you are fully covered by RACT Roadside Assistance.
For those looking to explore Tasmania on a budget GoCheap Motorhomes have a range of vehicles that will meet all your travelling needs backed by local knowledge making for the perfect partner for your Tasmanian Campervan holiday.
GoCheap Motorhomes Campervan Hire Fleet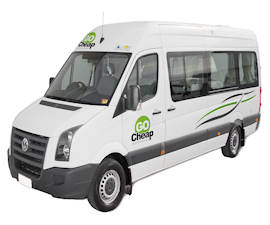 Double bed (2.10m x 1.50m)
2 burner gas stove
CD/Radio
Cab Over Bed (2.10m x 1.40m), Rear Dinette(2.1m x 1.3m)
3 burner gas stove
CD/Radio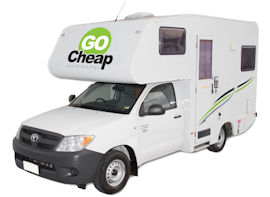 Double bed over Cab (1.90m x 1.4m)
3 burner gas stove
Radio/single CD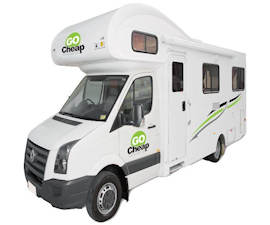 3 Double Beds (2.10m x 1.50m), (1.90m x 1.50m), (1.90m x 1.30m)
3 burner gas stove
CD/Radio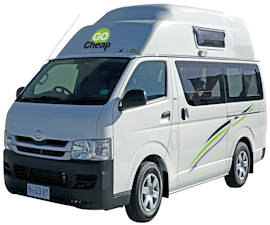 Double bed (1.90m x 1.67m) Over-head Single bed (1.94m x 1.36m) weight up to 70kg.
2 burner gas stove
CD/Radio