Dreamworld on the Gold Coast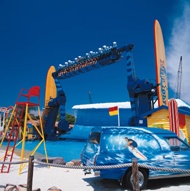 For more than three decades, Dreamworld has been Australia's favourite theme park bringing joy to more than 30 million guests from around the globe.
Home to more than 40 rides and attractions including the park's famous Big 7 Thrill Rides, Wiggles World, the all new DreamWorks Experience, exciting live shows, a host of characters plus more than 500 native Australian animals, there is something for everyone at Dreamworld.
Dreamworld has many facets – it's a fun park, a wildlife world and even a television set all rolled into one full-filled package, with something for everyone in the family. Combine it with a visit to neighbouring WhiteWater World and you'll have the perfect holiday experience, with something that will appeal to every member of the family.
Dreamworld is also home to some of the world's most threatened species – white and gold Bengal and Sumatran tigers, who live in their own sanctuary, Tiger Island.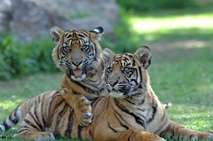 This is the largest interactive tiger facility outside the United States and visitors can watch these magnificent, rare animals play, wrestle and even swim with their handlers without the constraint of wire and steel bars. Look out for Indah and Rahni, adorable baby Sumatran tiger cubs born at Dreamworld in March 2007, as they bounce around the park on daily walks with their handlers.
Animal Attractions
The wildlife encounters continue at the Australian Wildlife Experience, home to over 800 native animals and birds. Have your photo taken with adorable koalas and kangaroos and meet another rare and handsome fellow – Frank, the world's only known blue-eyed koala. This adorable little guy was born in April 2007, but it's only recently that he's ventured out from his mother's pouch and revealed his incredible blue peepers.
Facilities
There are over 13 restaurants, cafes and snack bars to keep hunger at bay during your visit to Dreamworld. There are also many shops for souvenirs, camera essentials, clothing and merchandise.
Theme Park Entry
Opening Hours
Open 10am – 5pm all year round. Extended trading hours during holiday periods. Closed Christmas Day
Ticket Prices
Visit www.dreamworld.com.au for the latest pricing and Dreamworld online ticket deals.
Getting There
Dreamworld is located on the Pacific Highway at Oxenford, about 25 minutes north of Surfers Paradise and 40 minutes south of Brisbane. Ample on-site parking.
Did you know?
Two great parks in one location. Dreamworld and WhiteWater World are the only parks on the Gold Coast where you can walk from one park to the next, as many times as you like during the day. Twist, turn and spin at Dreamworld in the morning and cool off in the afternoon at WhiteWater World. Leave your belongings in a locker and forget lugging it around all day.
Further Information
Dreamworld, Dreamworld Parkway, Coomera, Queensland 4209. Ph: 07 5588 1111