Darwin Airport Guide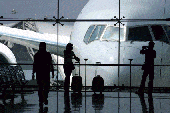 DARWIN International Airport is the gateway to Australia's Northern Territory, a state that is the culturally diverse heart and soul of the country's Red Centre and Top End.
Humid and tropical, Darwin is set on a rocky peninsula on the Australian north coast and is renowned for being a survivor, having endured fearsome elements thrown at her by both nature and man - cyclones (1890s and 1974), an onslaught of bombing in World War II and the annual raging torrents and floods brought on by the wet season (November to April).
As the largest city on a coastline stretching 5,600km right across from Cairns and down to Perth and geographically closer to Indonesia and Singapore than Melbourne or Sydney, Darwin is ideally placed as Australia's gateway into South East Asia and has regularly flights to all major destinations in the region.
The airport is located just 13 kilometres from Darwin's town centre just off the Stuart Highway that runs 2,800km (1700 miles) south to Alice Springs and Adelaide in South Australia. In an unique Australian partnership the civilian airport shares the Airport's infrastructure with the Royal Australian Air Force and visitors can often be treated to the spectacle of RAAF jets sharing the same runways as their passenger aircraft.
Darwin airport is the perfect launching pad from which to begin adventure in northern Australia. The airport is small, but practical, fully serviced and pleasant facilities make it enjoyable to use.
Airlines & Terminals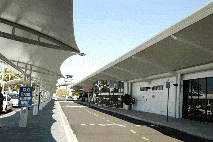 Darwin International Airport operates from the convenience of a single terminal with the right wing of the building dedicated to international traffic and the left wing to domestic. The main terminal is a bright and breezy building opened in 1991 and undergone continual improvements ever since.
Domestic services are dominated by Qantas, Virgin Blue and Jetstar with newcomer Tiger Airways set to make inroads into the Australian market as well as offering flights into South East Asia. International services include the aforementioned carriers and also Indonesia's Garuda and Merpati Nusantara airlines, Royal Brunei and Air North.
Facilities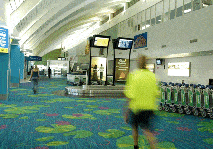 For a smaller sized airport, the terminal is excellent value and is packed full of services.
ATMs and foreign exchange through Travelex are available on the ground floor, first floor and in the international departures lounge. There's plenty of options when it comes to food and drink with Aromas Cafe located in both the Domestic and International Departure lounges and the Fannie Bay Ale House in the Domestic Departures Lounge.
Duty Free shopping has recently been revamped and there are excellent bathroom, shower, baby change and disabled facilities. As with all Australian Airports, Darwin operates a smoke-free zone however there are smoking areas and smoking is also permitted in the Public Viewing Deck on the first floor.
Internet kiosks and wireless services are available within the terminal and both Aromas Cafes and Fannie Bay Ale House offer internet services as well.
An excellent feature worth knowing about is Darwin airport's Dial-a-Name service, on the ground floor of the terminal near Gate 7, that connects you to a tourism service of your choice.
In what is a bit of an airport rarity, baggage trolleys are free of charge at Darwin and trolley stands are found in the baggage collection hall, drop off & pick up zones and in the public car park.
Car/Campervan Rental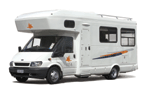 The Northern Territory covers an extraordinary large area, think Spain, France and Italy combined, and there's no doubt that the best way to explore the Top End is with your own means of transport. 4 Wheel Drives, Campervans and l luxurious motorhomes are extremely popular as homes on wheels.
In partnership with Australia's leading Campervan & 4 Wheel Drive Holiday providers, Drivenow has a huge range of vehicles at exceptional rates to provide you with the best deals and greatest choice.
If it's a car that you're after, Drivenow has secured the latest available deals from Darwin's leading rental companies including Avis, Budget, Europcar, Hertz and Thrifty. Simply book your vehicle with Drivenow prior to your trip and the rest is easy once you arrive at Darwin airport. Drivenow's modern rate screen allows you to compare rates right away in one simple and clear view. The booking process is quick, secure and easy with everything up front and no hidden charges, fees or surprises. An email confirmation provides you with all the details of your booking and where to collect your vehicle.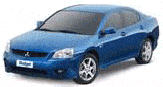 The car rental companies are located on the ground floor in the Arrivals Hall near the baggage collection area of the airport.
Currently Drivenow has great rates
Directions & Transport
Darwin central business district is a 13km or a 10-minute drive south west of Darwin Airport.
If public transport is required, a taxi zone is located at the front of the terminal. It will cost you about $25 to $30 to get to the city centre. According to the official website of Darwin airport, Darwin Airport Shuttle operates daily between Darwin Airport and city accommodation, and other locations upon request. Fares are $10 one way and $18 return. Additionally there is a private hire rank is located at the front of the terminal for all limousine transport. Note that limousines does need to be booked prior to transfer.
Shopping/Duty Free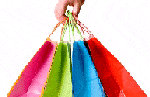 JR Duty Free kicked off its operations at the airport at the beginning of February 2007 and is proving a hit with visitors. Choose from a range of duty free products including technical accessories and video equipment, opals, watches, cameras, liquor, men's and women,s fragrances, fashion stores, cosmetics and souvenirs.
JR Duty Free is found in the International departure/transit lounge and arrivals, both on the first floor. Duty free purchases can be ordered prior to leaving Australia and collected from the Arrivals Store on your return.
A combined gift store and newsagent in the Domestic Departures & Arrivals Lounge offers newspapers, books, Outback fashion, Aboriginal goods, souvenirs, luggage and other merchandise.
A recent addition, Viva La Body, brings a little personal pampering to Darwin Airport with a stylish and extensive range of natural products that include skin and foot care, soaps, essential oils and much more. Viva is located on the first floor between the International and Domestic Lounges.
Accommodation
Opened in 2005, Darwin Airport Resort is just 350 metres from the Terminal and open 24 hours a day catering for all travellers. Accommodation ranges from business suites, deluxe and executive bungalows and even a majestic honeymoon suite. The resort feel lends itself to a relaxing environment and offers a variety of dining options and activities.
Roomsnow.com.au also offers a wide selection of Darwin Accommodation.
Darwin Airport Terminal Map
Tourist Information
Tourism Top End (08 8945 3386) operate a Booking service located in the Arrivals area for tours, charters, accommodation and airport transfers.
Darwin Duty Free Shopping
Order your duty free from the JR Duty Free Shop when leaving Australia and collect at the arrivals store when you return. See the JR Duty Free website for more details.
The Essentials - Darwin Airport
Airport code: DRW
Address: 1 Fenton Court, Marrara Northern Territory
Website: www.ntapl.com.au
Country Code: 61
Telephone: (08) 8920 1811
Timezone: GMT + 930 (Daylight savings does not operate in the Northern Territory
Tourism Information:Tourism NT (Toll Free) 13 67 68, +61 (08) 8951 8471.

Car Parking Facilities
The airport offers a single facility for both short and long term parking
Rates commence at $2 rising to $10 per day for the first 7 days and $7 per day thereafter
Payment is via a fully automated system with Pay Stations located in the terminal or via Credit card used on entering and exiting the car park
Cash is not accepted at the exit gates.
Darwin Wharf Precinct
This bustling precinct offers an array of shops, restaurants and bars for local and visitor alike, hosts visiting Cruise Ships and includes live entertainment over the weekend. Built on Stokes Hill Wharf the precinct is located in Darwin Harbour a 5 minute walk from the town centre.
Aquascene at Doctors Gully
Feed the fish in Darwin Harbour in the heart of the city. Times vary with the tides. Phone (08) 8981 7837
Mindil Beach Sunset Market
A Darwin tradition, join the locals every Thursday and Sunday evenings during the Dry Season (Apr-Oct) at Mindil Beach to celebrate more than 60 stalls of exquisite ethnic cuisine as the sun sets over the sea.
Barramundi Fishing Park
Experience the thrill of catching one of Australia's most exciting game fish the Top End's Barramundi. With professional guides and a billabong stocked with 3000 fish catching a fish is guaranteed followed by a great barbecued dinner. Just 30 minutes from Darwin at Bowhunter Road, Howard Springs. 0417 683 468.
Darwin Crocodile Farm
Meet Snowy McArthur, the world's largest white Crocodile at feeding time at 2.00pm daily at the Crocodile Farm 40kms south of Darwin on the Stuart Highway. Adults $10, Children $5. Phone: (08) 8988 1491