Camperman Campervan Hire in Australia
Camperman Australia offer an affordable range of campervan rental vehicles for budget travellers from 8 locations along the East coast of Australia and in South Australia.
With over 20 years experience in the industry Camperman Australia specialise in Toyota HiAce campervans catering for up to 5 people and have vehicles equipped with shower and toilet facilities.
A range of 8 different campervan models come fully self-contained with all inclusive rental rates. This includes as standard one of the industry's lowest excess insurance rates making Camperman Australia an ideal choice for families or couples looking to explore Australia on a budget.
Camperman Campervan Hire Fleet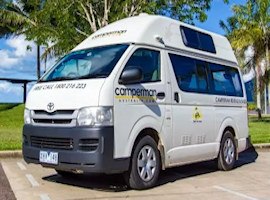 Double bed (1.90m x 1.50m) Single bed (1.85m x 1.38m)
2 burner gas stove
No Bathroom
AM/FM radio & cassette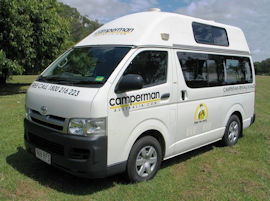 Double bed (1.90m x 1.50m) Single bed (1.85m x 1.38m) 2 man tent and camp mattresses included
2 burner gas stove
No Bathroom
AM/FM radio & cassette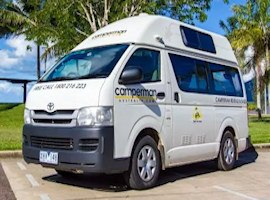 Double bed (1.90m x 1.55m) Single bed (1.85m x 1.38m)
2 burner gas stove
No Bathroom
AM/FM radio & CD player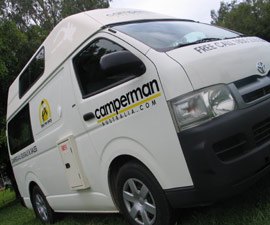 Double bed (1.90m x 1.55m) Single bed (1.85m x 1.38m) 2 man tent and camp mattresses included
2 burner gas stove
No Bathroom
AM/FM radio & CD player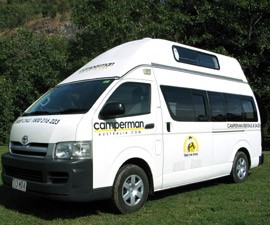 Double bed (2.000m x 1.74m) Double bed (2.00m x 1.37m) (Rooftop suitable up to 200kg) 2 man tent and camp mattresses included
2 burner gas stove
No Bathroom
AM/FM radio & CD player
Camperman Campervan Hire Promotions