vehiclePageRef = Britz;4Berth | supplierCode = BritzUS | vehicleCode = 4BERTH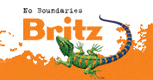 This home on wheels is a great freedom machine to explore the USA. Perfect for families, Mum, Dad & the kids, or even two couples will enjoy the open road in this complete Motorhome with mini kitchen and bathroom.
Please note: Britz sources vehicles for this category from a number of different vehicle manufacturers. The images, and layouts shown should be used as a guide only. Specific vehicle styles, layout configurations and interior design may vary to that shown.
Day and Night Floor Plan