vehiclePageRef = Britz;Frontier | supplierCode = Britz | vehicleCode = Frontier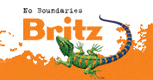 Other campers will be 'orange' with envy when you pull up in this brilliant campervan! The large windows around the living area will provide you with an awesome view each morning. Enjoy!
Please note: Britz sources vehicles for this category from a number of different vehicle manufacturers. The images, and layouts shown should be used as a guide only. Specific vehicle styles, layout configurations and interior design may vary to that shown.
Day and Night Floor Plan