vehiclePageRef = Britz;Venturer Plus | supplierCode = Britz | vehicleCode = Venturer Plus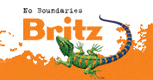 The Venturer Plus is designed with you and your growing family in mind! Room for 2 adults and 1 child, this cleverly designed vehicle comes with toilet, shower and kitchen facilities. Must be 21 years of age or older to drive this vehicle.
Please note: Britz sources vehicles for this category from a number of different vehicle manufacturers. The images, and layouts shown should be used as a guide only. Specific vehicle styles, layout configurations and interior design may vary to that shown.
Day and Night Floor Plan