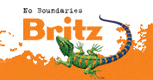 Britz Campervan Hire in Australia
BRITZ are the largest supplier of Campervan, Motorhome, RV and 4 Wheel Drive rental vehicles in Australia. The Britz Campervan fleet is designed and built to their own exacting specifications and incorporates features and ideas supplied via customer feedback.
Britz operate branches in 10 locations across Australia which are located within easy reach of local airports making for a convenient pick up or drop off point whether you have flown in from interstate or overseas. Branches are well equipped with multi-lingual and experienced staff, storage and shower facilities and Internet Cafe services.
The Britz fleet offers a wide range of vehicles and options to suit all styles of travel and budget, ranging from the luxurious 6 berth Frontier Motorhome through to versatile Hitop Camper. If you're looking for adventure off the bitumen, Britz bring excellently equipped 4 Wheel Drive Camper options with the in the 3 berth Bushcamper and tent equipped Safari 4 wheel drive.
Britz is a division of Tourism Holdings Limited one of Australia's leading Tourism operators with over 20 years experience in the travel industry.
Learn more about the Britz Rental fleet by selecting below or compare vehicles with the Britz Campervan Fleet Guide.
Britz Campervan Hire Fleet
Britz Campervan Hire Promotions
Britz locations
Insurance Options and Vehicle Bonds
The excess insurance reduction options are highly recommended for peace of mind in the event of an accident. These daily rates vary, full details are available during the selection and booking process.
A Bond is required on any vehicle hired at pick up. If paid by Credit Card this will be debited and reimbursed on return of the vehicle. The Bond reflects (and is reduced by) the insurance excess option taken. If no excess option is taken a bond of $7500 is required. Bonds are deposited directly with Britz.
Debited Bonds are payable at vehicle pick up directly to Britz who charge a surcharge fee for Credit Cards. Tip - ensure you have funds available on a credit card to cover any bond.
Change & Cancellation Policy
If you need to change or cancel your Britz Booking, contact the DriveNow Reservations team on 1300 547 214 or (+61) 3 9095 7460 or via email at savemore@drivenow.com.au.
We will organise and confirm the change or cancellation of your booking with Britz before close of business on the next business day and advise you via email of that cancellation and any fees that may be applicable per Britz's conditions.
On the Road - What's Included
Britz vehicles are well equipped with the essentials. There are some variations depending upon the features of the rental vehicle. In essence you can expect the following:
Unlimited Kilometres
Vehicle insurance with Excess
Customer Roadside Care 24 x 7
Travel Wallet & information Pack
10% Discount at BIG4 Holiday Parks
No Additional Driver Fees
Complimentary Starter Kit
On the Road - What's Not Included
Optional extras available from Britz include the following, generally charged on a per rental basis these include:
Outdoor Table
Outdoor Chair
Satellite Phone
Tent
Child/Booster Seats
4WD Recovery Kit
Fan Heater
Sat-Nav GPS
Awnings
First Aid Kit
Pre-Purchase Gas or Fuel