Brisbane Airport Guide
Want a good reason to fly into Brisbane airport? Well, we could give you a thousand, but let's start with the fact it is smack in the middle of the east coast of Australia, possibly the most popular travel destination in the world. And that alone immediately translates to millions of visitors flying into Brisbane Airport.
Needless to say, Brisbane is one of those airports you find yourself in that rare situation where you don't mind flight delays. After all, Brisbane and surrounding southern Queensland region is the country's most popular holiday destination - rainforests to discover, pristine beaches and nearby island paradises for R&R, theme parks for lots of play and a thriving capital city with an exciting nightlife, great shopping and superb food.
The airport itself is indeed the beginning of the journey. The duty free shopping is terrific, the airport facilities world class, accommodation can be found 5 to 10 minutes away, car parking is convenient and the terminals are a breeze to navigate.
Most exciting of all is what beckons for Brisbane Airport for the future. The ultimate vision is to turn it into an Airport City. Today there are 8000 people working there every day, but the plan is to have 25,000 people there by 2020. Spread over 970 hectares, a 24-hour global trade and commerce centre is planned.
Brisbane Airport is motoring along and driving towards exciting times indeed!
Airlines & Terminals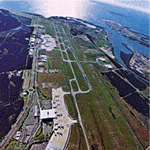 This world class airport is curfew free, meaning it operates around the clock, and is staking it's claim as one of the premier aviation hubs in Asia Pacific, so it's little wonder there's an extensive range of airlines passing through regularly. There's more than 16 million passengers a year experiencing the fine facilities at Brisbane's terminals and travelling on more that 26 international and 7 domestic airlines.
Brisbane Airport has three terminals, International, Domestic and a cargo terminal. Along with Sydney, Melbourne and Perth, the airport has had its terminals modified and improved to cater for the Airbus A380. There's an inter-terminal train service linking domestic and international terminals and these depart every 15 minutes at a cost of just $4 (show your boarding card for your connecting flight and travel free of charge).
The international terminal is a beauty, with check-in located at level 4 for all of the airlines, monitors and info display boards are clearly visible. There's a good selection of bars and cafes here and then after passing through the yellow arches to security screening and immigration there's a heap of Duty Free Shopping stores to peruse on level 3. This is also where the departure lounge is located. In 2008 new check-in and arrival facilities were completed with around 50 more retailers, a new multi level car park, a couple of extra baggage claim carousals, two new Airbus A380 gates and loads of other nips, tucks and new additions to make it an overall better experience for passengers.
The Domestic Terminal's check in is on the ground floor, and those arriving by car will find there's an excellent two minute loading time allowed at the public road for drop off. It also has excellent facilities and services.
Facilities

Forever improving itself, Brisbane Airport has all essentials covered throughout its terminals including showers and toilets, baby change rooms, baggage trolleys everywhere, public pay phones (including TTY for hearing impaired on level 1 and 2), internet kiosks and even a multi-denominational prayer room on level 4.
There's a vast array of specialty retails stores on level 3 and a range of bars, cafes and shops on level 4 of the International Terminal while all these can be found on level 2 of the Domestic Terminal.
The Visitor Information Service and bookings desk (07) 3406 3190 on Arrivals L2 has a terrific reputation for being particularly helpful and is operated by Southern Queensland Tourism and offers a booking services for accommodation, tickets for bus and rail services, tours and theme park www.theme-parks.com.au tickets and passes.
For money matters, exchange facilities can be found as soon as you arrive at the airport, there's a wide range of credit card services available and automatic teller machines/EFTPOS, including those for foreign bank card holders who simply need to look out for the Maestro symbol.
A technology savvy airport, Optus Wireless Connect is available. If you have a few hours on your hands during transit you can't go wrong with the highly regarded departures lounge facilities, with comfortable sofas and television, while there's also some writing desks available for use.
Car Rental
There's no better way to explore this beautiful part of Australia than to have your own means of transport. Snare the best deals with DriveNow the home of discounted last minute car hire and campervan rentals in Brisbane.
The idea behind DriveNow is pretty simple, to make things as easy as possible for you, book your car or campervan rental on the net, jump on your plane, hopefully relax for an hour or three, jump off the plane, grab your luggage, sign and pick up your car rental keys and you're off!
The six car hire company desks are found at both international and domestic terminals. Customer service desks in the International Terminal are on level 2 and Domestic Terminal desks are on the ground level just beyond the baggage claim areas and easy to find. All Queensland's leading rental companies are present including, Avis, Budget, Europcar, Hertz, Redspot and Thrifty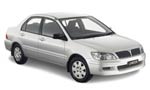 DriveNow's innovative rate screen lets you instantly compare rates, vehicles and suppliers in a clear, concise and no-nonsense manner. The booking process is quick, secure and easy with everything up front and no hidden charges, fees or surprises. An email confirmation provides you with all the details of your booking and where to collect your vehicle. DriveNow covers all airports in Australia, none more so than Brisbane, providing travellers with the perfect vehicle for hiring a car.
Directions and Transport
Brisbane's central business district is only 15km away from the airport (or a 20 minute drive) and there are several ways to get about including bus, train, limousine, corporate car or taxis. Signage is excellent, so you simply need to follow the 'city' signs all the way in. Don't forget there could be a small toll to pay on the Gateway Bridge. The airport is conveniently located right near the Gateway Motorway which is the main route linking Surfers Paradise and the Gold Coast to the South and Noosa and the Sunshine Coast to the North.

Brisbane has a super efficient Airtrain service which is linked to arrivals and departures via its all weather International Station. This is the fastest and most budget-friendly means of reaching Brisbane CBD. It's a swift 22-minute trip from the domestic terminal and costs only $12 one way. It's handy to know discounts are available for pre-booked fares online www.airtrain.com.au or by phone (07) 3216 3308. Keep in mind it's a 90-minute scenic trip to the Gold Coast Gold Coast for those wanting to venture a little further. Train services run from 6.15am to 7.30pm every day.
Taxi rides to the city will set you back about $35 and that obviously depends on traffic and weather conditions and the time of the day, but this is a good average. There's one centrally located rank outside the Domestic Terminal and another at arrivals on level two of the International Terminal. Two cab companies operate at Brisbane airport and there's always one nearby.
There's plenty of bus services transporting customers door to door to Brisbane central, the Gold Coast and Sunshine Coast. Coachtrans is the main one that meets all major flights every day and operates services to the Brisbane Transit Centre (Brisbane CBD) for $9 or to your hotel door for $11. Coachtrans also goes a bit further and travels to the Gold Coast via the Gateway Bridge "to all hotels from Sanctuary Cove to Coolangatta" according to Brisbane airport's official website. Coachtrans can be contacted on +617 3238 4700. Sun-air bus services run daily every hour to the Sunshine Coast and cost $44 one way.
Shopping and Duty Free

Though not up to the might of Melbourne and Sydney, Brisbane airport has some great shopping for travellers and is by no means small. The airport prides itself on providing passengers with great competitive shopping with its 32 stores in the International Terminal, including the first travel agency to be located at an Australian airport.
Don't forget that one of the great things about Duty Free in Australia is that not only can you enjoy the spoils of duty free when flying out of the country, but you can also purchase products on arrival, which is quite unique, whether your on your way home Down Under or you are an overseas visitor.
Accommodation
If you're after accommodation close to Brisbane Airport DriveNow has partnered with RoomsNow to bring a great range of discounted accommodation covering Brisbane, Queensland and right across Australia. All types of accommodation are catered for from 5 star hotels to self-catering apartments and villas.
Photographs courtesy of Brisbane Airport Corporation www.bne.com.au
Australian International Travellers
Gold Coast Theme Parks
A quick and easy way to purchase tickets for Movie World, Sea World, Wet'n'Wild Water World and Paradise Country is at Warner Village's Them park website,
www.themeparks.com.au
.
The Essentials - Brisbane Airport
Airport Code: BNE
Address: Brisbane Airport, Banksia Place, Brisbane Airport, Queensland 4007, Australia.
Website: www.brisbaneairport.com.au
Country Code: 61
Telephone: (07) 3406 3000
Timezone: GMT + 10 (No daylight Savings)