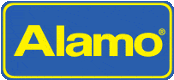 Alamo Car Hire in Australia
Australian Owned and Operated, Alamo operates a large fleet of the latest models ranging from compact to large sedans, SUV's and minibuses. They regularly renew their fleet; the average age is just nine months. All vehicles are automatic, air-conditioned with CD players and most have safety features including airbags and Automatic Braking System. With a minimum renter age of just 21, they can rent to almost anyone.
To ensure customer satisfaction and product integrity the vehicle fleet at Alamo is regularly serviced and vehicles are professionally cleaned and inspected between rentals.
At Alamo they pride themselves not only on their quality service but also their impeccable and reliable fleet.
Please note that this guide should be read as indicative of the make and model that Alamo offer in each Vehicle Class. Whilst every effort is made by Alamo to match your booking request against the vehicle of your choice, Alamo does not guarantee a specific make or model and actual vehicles offered may differ by location. Images are for illustration purposes only.