Car Hire Barcelona
Search for Car Rental in Barcelona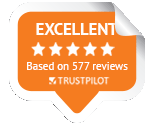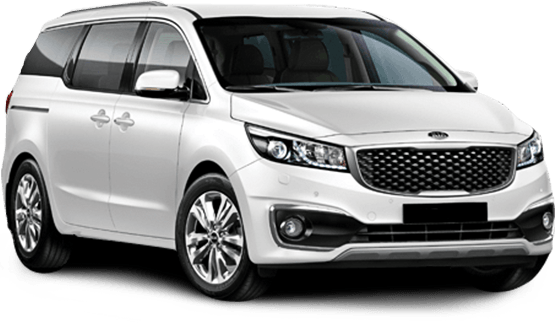 Explore Barcelona with car hire from DriveNow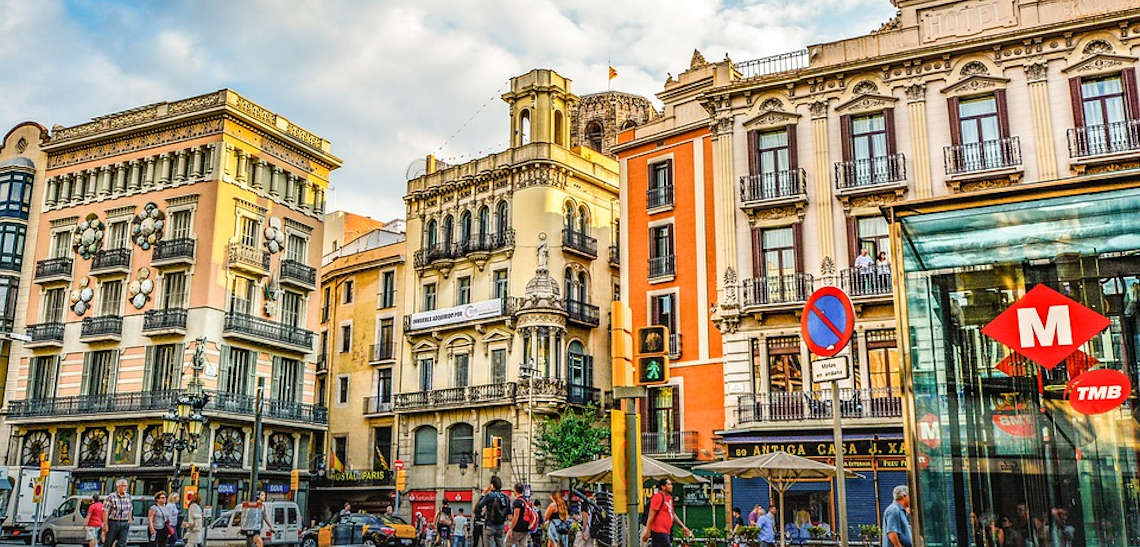 The buzzing Barcelona is one of the most visited cities in the world. With a combination of mind-blowing European architecture, historical masterpieces, and a relaxed, friendly atmosphere, Barcelona has something to offer almost every traveller. For art and history buffs, this city is a playground. With some of the world's most famous artists and creatives hailing from the Catalonian capital, you can work your way through a seemingly endless supply of artworks, monuments, and landmarks, or discover the stunning corners of the city that inspired them.

Foodies can expect a treat with a trip to Barcelona, too, with vast quantities of traditional tapas and cava bars to sample as well as trendier, modern restaurants and drinking holes. And if neither food nor culture really get you going, then at least there's a fantastic climate, glorious sandy beaches, and the hype of one of the world's most famous football teams.

Whether you're in Barcelona for business or pleasure, hiring a car to get yourself around is a wise choice. Having your own set of wheels means that not only is your transport to and from the airport taken care of, but you can also forget about the stress of public transport timetables. With DriveNow's unbiased comparison service, you can compare car rental in Barcelona from some of the most trusted and reliable suppliers, and pick a car that suits your needs, size, and budget.

So what are you waiting for? Make organising your trip that bit easier by booking your car hire in Barcelona in advance with DriveNow.
Find and Compare Cheap Car Hire in Barcelona with DriveNow
If you're looking to rent a car in Barcelona, the smart choice is to book with DriveNow. We partner with some of the most popular and reliable rental car operators in Europe to bring you a wide selection of makes, models, and sizes of vehicle. From this great selection you can then use our user friendly system to pick the car that suits you and your travelling party. Once you've made your booking, the work is done! You can pick up your hire car in Barcelona city itself or at the airport once you've touched down.
On top of this great selection, we also offer great pricing on your rental car in Barcelona. We search the web for the lowest vehicles available on your chosen dates, and never add any additional fees either before or after your booking.
Why Use DriveNow for Car Rental in Barcelona?
DriveNow has been comparing rental pricing since 2003
100% free booking service with no fees or hidden charges
We've been helping travellers get the best deals on car hire since 2003
Immediate email confirmation and locked in rental rate
Includes all taxes and levies (excludes young driver surcharge and optional extras)
Whether you're in town for a few days or a few weeks, you'll want to make sure your travels are as smooth and hassle free as possible. Take the first step to ensuring this by booking your hire car with DriveNow today, and get your holiday planning off to the best possible start. Heading to Barcelona as part of a bigger trip? DriveNow can sort you out with car hire in Paris, Berlin, London, and Rome, as well as hundreds of other destinations in Europe and worldwide.
Treat Yourself to A Tremendous Hotel Stay in Barcelona
With creative wonders and artistic masterpieces everywhere you look in Barcelona, you don't want to put a downer on your trip by staying in a grubby room. But that doesn't mean you'll have to break the bank, either! Check out some of these great places to stay in Barcelona to suit a range of tastes and budgets.
Europark Hotel
If you're in town to soak up some sights and enjoy the hustle and bustle, check out the Europark Hotel in the heart of modernist Barcelona. This is a mid-price-ranged hotel that offers stylish interiors, relaxing services, and an excellent location. If you're feeling fancy, the hotel also offers extra touches like penthouse suites and in-room massages. At just a two minute walk from the major Girona metro station, the city is at your fingertips even if you want to give your Barcelona hire car a rest.
Hotel Brummell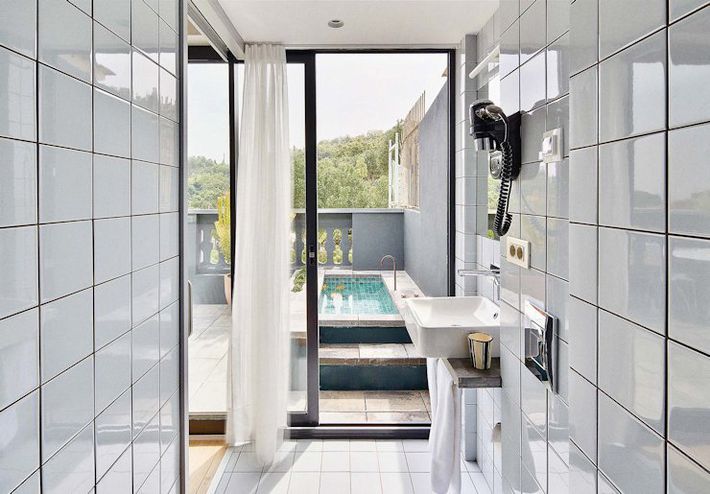 Treat yourself to the tropical inspired interiors of the Hotel Brummell.
Source: Hotel Brummell
Sometimes we just want to push the boat out a little. Whether it's a birthday, anniversary, or you just fancy somewhere towards the top end of the scale, Hotel Brummell can deliver a top quality experience for you. With a relaxing, creative, and tropical inspired interior housed in an 18th century building, it might be just as tempting to stay in the hotel for your whole trip as it is to get out and explore!
The Corner Hotel
Another hotel that really pulls out all the stops is The Corner Hotel in the Example neighbourhood. This hotel is right in the heart of one of Barcelona's trendiest areas, complete with elaborate architecture, top restaurants, and vibrant nightlife. Staying at The Corner Hotel will allow you to take advantage of some fantastic amenities including their rooftop terrace and pool.
The Wittmore
Kick back and relax in real style at the elaborate, adults only Wittmore Hotel in the Gothic Quarter of the city. Complete with rooftop sundeck, garden restaurant, and individually styled rooms and suites, this hotel is both traditional and effortlessly cool.
Things to Do in Barcelona
There's a reason why millions of visitors flock to Barcelona every year, and it's not just the great paella. The city is a treasure trove full of incredible monuments, museums, and artefacts, with masterpieces both old and new around almost every corner. Here are some of the top attractions in Barcelona that keep visitors coming back again and again.
Sagrada Familia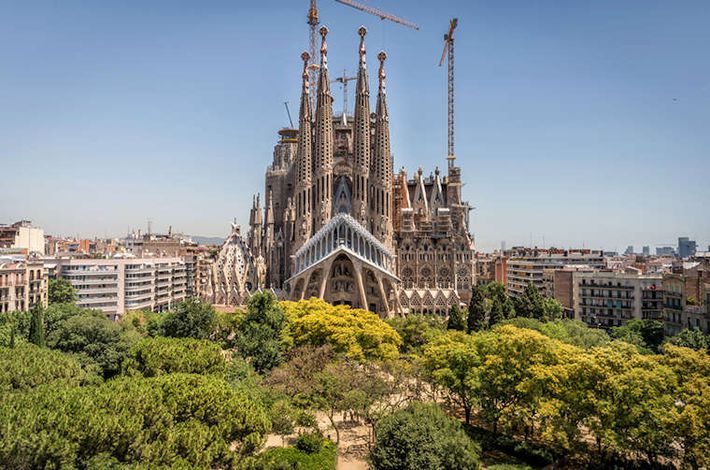 Marvel at the spectacle that is the Sagrada Familia
Source: sagradafamilia.org
The Sagrada Familia is a magnificent Roman Catholic church designed by the famous architect Antoni Gaudi. Despite being unfinished, the cathedral is one of the most impressive works of architecture in Europe and one of Barcelona's most iconic monuments.
Parc Guell
Antoni Gaudi's masterful work is on display once again in the glorious Parc Guell, a network of gardens and monuments that highlight his creativity and skill. This park is a great way to get a good dose of culture while also stretching your legs and enjoying the outdoors.
La Rambla
If you're looking to pick up some gifts for friends and family back home or just fancy a bit of retail therapy, don't miss the famous La Rambla in the heart of the city. This lively street is filled with market stalls selling crafts, jewellery, souvenirs, and pretty much anything else you can think of, as well as the usual street performers and artists.
What to Eat and Drink in Barcelona
If you're a fan of Spanish food and the relaxed, informal style of eating that Europeans love, you'll probably already be excited about the delights awaiting you in Barcelona. You'll find many of the foods typically associated with Spain, like paella, sangria, and fresh seafood, but there are also hundreds of dishes that hail from Barcelona and this region in particular. Some of these include seafood stew, smoky roasted eggplant, and crema catalana, similar to crème brulee. Whether you're looking for a no frills tapas bar to mingle with locals or a 5 star gourmet experience, you'll never be too far away from a bite to eat in Barcelona.

Treat your taste buds to a selection Barcelona's finest foods by sampling them in tapas form
Barcelona Car Rental Locations
Discover amazing experiences in Barcelona