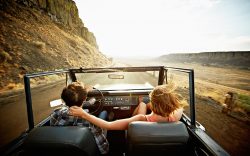 If you haven't yet discovered DriveNow's amazing one way rentals deals then you've been missing out!
Relocation rentals are a win win situation for both parties involved. The rental company doesn't have to pay big bucks to transport a vehicle to another city, while the customer receives incredible deals for as little at $1 a day.
Consider taking up one of the offers below. But you'd better be quick to jump on these limited deals before someone else does!
Auckland to Queenstown
Price: $5 a day
Travel dates: May 4th-8th
Terms: Minimum four days, maximum seven days hire
Do you need to more...
The post Hot relocation deals in New Zealand and Australia appeared first on DriveNow Blog.