Maui Motorhomes in Cairns
Maui Motorhome branch in Cairns, Far North Queensland is just 4km from Cairn's International Airport on the Bruce Highway and close to Cairns city centre.
With the Barrier Reef on it's door step and surrounded by some of the world's oldest Rainforests, Cairns is ideally placed for those looking to motorhome around Tropical Australia or travel down the Queensland Coast, one of Australia's most popular road holiday trips.
Maui Motorhomes make for the perfect Cairns holiday partner, with years of experience, a superb range of motorhome rental vehicles, excellent customer service and local staff that can tell you where to go, what to see and the best way to do it.
The Maui Motorhomes Cairns branch offers bathroom facilities including shower, internet access, Tourism information on what to visit and do in and around Cairns and Far North Queensland, tea & coffee refreshments, lounge & storage areas and television. One thing important thing to note is that all vehicles must be picked up and dropped off by 3.30pm.
Return to DriveNow's Motorhome Hire in Australia Search page to locate the latest deals on Cairns and Far North Queensland Motorhome rental holidays or options to hire elsewhere in Australia.
---
Location Details
ddress: 411 Sheridan Street, Cairns, Queensland 4870
Airport Distance: 4km
City Distance: 4.5km
Pick up/Drop off: Must be made by 3.30pm
>Directions from Cairns Airport
Exit Cairns International Airport via Airport Drive and turn left onto Captain Cook Highway
Continue along Captain Cook Highway for 3km where it becomes Sheridan Street
Total travel time is less than 7 minutes and a distance of 4km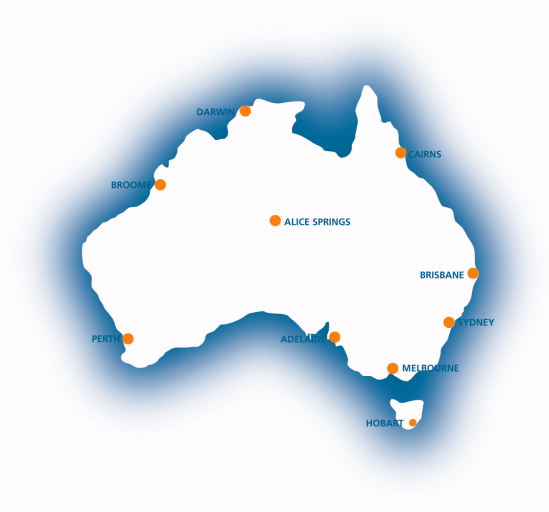 Maui branch map in Cairns
Accommodation
If you require hotel accommodation in Cairns prior or after your road holiday, roomsnow.com.au, offers a wide selection of Cairns Hotel and motel accommodation at substantially discounted rates.
Local Holiday Parks
Big 4 Holiday Parks extend discounted rates to all Maui travellers on powered sites in their Holiday parks across Australia.
BIG 4 - Coconut Caravan Resort corner Bruce Highway & Anderson Rd, Woree, Queensland (07 4054 6644)
BIG 4 - Crystal Cascades Holiday Park Intake Road, Redlynch, Cairns, Queensland (07 4039 1036)
Supermarkets
If you need to stock up before hitting the road the following supermarkets are close to the Maui Motorhomes Cairns branch and accept all major credit cards and Eftpos facilities. If your holiday involves travel into remote or even country Australia it is strongly advisable to be fully provisioned before you leave. The cost of some every day items does rise when shopping in the more remote parts of Australia.
Coles - McLeod and Spencer Streets, Cairns, Queensland (0.5km)
Woolworths - 103 Abbott Street, Cairns, Queensland (0.5km)
Banks
National Australia Bank - McLeod and Spencer Streets, Cairns, Queensland (0.5km)
Westpac - 63-65 Lake Street, Cairns, Queensland (0.4km)
Petrol Stations
Fuel prices in Australia do fluctuate depending up location, particularly in country areas. You will notice that prices change during the week and around popular holiday time such as Christmas and the Easter break.
Expect to pay more for fuel in remote locations. If you plan to travel in remote areas it is advisable to keep you fuel tanks topped up as frequently as is possible (the same principle applies to water supplies as well especially in remote areas).
BP - L K Motors, Spence & Buchan Streets, Cairns Queensland (0.2km)
Shell - Coles Express, Kenny and Draper Streets, Cairns Queensland (0.8km)