Maui Motorhomes Hire in Alice Springs
The Maui branch in Alice Springs is located on the corner of Power Street and the Stuart Highway around 4kms from town and 20km from the airport. The branch supports the full compliment of Maui vehicles including luxurious 6,4 and 2 berth Motorhomes and 4 wheel drive rentals for your Northern Territory holiday.
At their Alice Springs branch, Maui offer bathroom facilities including shower, Television and Internet access, Tea & Coffee, a lounge to relax in before or after your holiday and luggage storage.
With a reputation for excellence, quality of service and equipped with branches located in all major Australian cities Maui have all the bases covered and know Australian Motorhome holidaying inside-out making for the perfect partner to consider in your Australian holiday touring plans.
Click here to return to DriveNow's Campervan Hire Search page to locate the very latest deals available for your the Northern Territory holiday.
---
Location Details
Address: Corner Stuart Highway & Power Streets, Alice Springs, Northern Territory 0870
Airport Distance: 20km
City Distance: 4km
Pick up/Drop off: Must be made by 3.30pm
Directions from Alice Springs Airport
Exit Alice Springs Airport along Halsey Drive towards the Stuart Highway for 3.5km
Continue north on the Stuart Highway into Alice Springs for 8km
Take the 2nd left at the roundabout and remain on the highway for 6km
Depot is on the corner of Power Street and Stuart Highway
Total distance of 19km from Alice Spring Airport with a 15 minute journey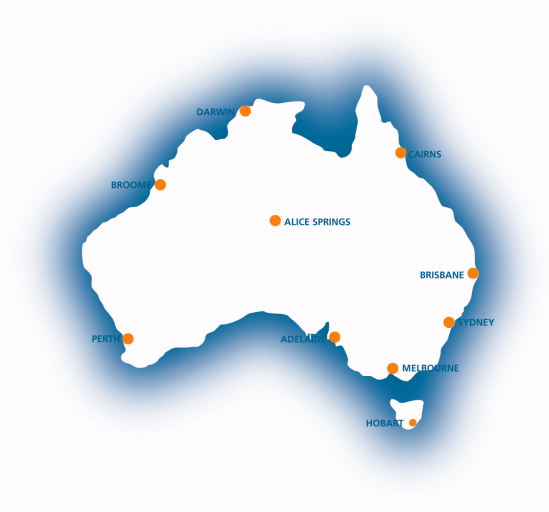 Maui branch map in Alice Springs
Accommodation
If you require accommodation in Alice Springs before or after collecting/dropping off your campervan, our sister site, roomsnow.com.au, offers a wide selection of hotel accommodation in Alice Springs to choose from.
Local Holiday Parks
Big 4 Holiday Parks extend discounted rates to all Maui travellers on powered sites in their Holiday parks across Australia.
BIG 4 - MacDonald Range Caravan Park Heavitree Gap-Palm Circuit Alice Springs Northern Territory (08 8952 6111) 4km south
Stuart Tourist & Caravan Park Larapinta Drive, Alice Springs Northern Territory (08 8952 2547) 2km south
Supermarkets
If you need to stock up before hitting the road the following supermarkets are close to the Maui Alice Springs branch and accept all major credit cards and Eftpos facilities. Kicking off a road trip in a remote location such as Alice Springs makes it strongly advisable to be fully provisioned before you leave. The cost of some every day items does rise when shopping in the more remote parts of Australia.
Coles - 28 Bath Street, Alice Springs, Northern Territory (3.6km)
Woolworths - 40 Hartley Street, Alice Springs, Northern Territory (3.65km)
Banks
National Australia Bank - Yeperenye Shopping Centre 34-36 Hartley Street, Alice Springs, Northern Territory
Westpac - 19 Todd Mall Alice Springs, Northern Territory
Petrol Stations
Fuel prices in Australia do fluctuate depending up location, especially in the country. You will notice that prices change during the week and around popular holiday time such as Christmas and the Easter break.
Expect to pay more for fuel in remote locations. If you plan to travel in remote areas it is advisable to keep you fuel tanks topped up as frequently as is possible (the same principle applies to water supplies as well especially in remote areas).
BP - Stokes St, Alice Springs, Northern Territory (1.8km)
Shell - Coles Express, 1 Gap Road, Alice Springs, Northern Territory (2.9km)