Maui Motorhomes in Adelaide
Located immediately adjacent to Adelaide Airport in the suburb of Brooklyn Park and just 8km from Adelaide city centre, Maui's Adelaide branch is the perfect place to start or finish exploring the great state of South Australia.
Home to some of Australia's best beaches, world famous for it's extraordinary wine regions in particular the Barossa and McLaren Vale, Kangaroo Island, the Fleurieu Peninsula, Flinders Rangers, The Outback, Coober Pedy the world's home of Opals and let's not forget Adelaide itself, the list is endless, South Australia really does have something to offer everyone. The same applies to the Adelaide Maui Motorhome fleet, with luxurious 6, 4, 3 and 2 berth vehicles each ideally suited to ensure your road holiday in South Australia is one to remember.
The Maui Adelaide branch offers bathroom facilities, internet access, lounge and storage areas, television.
With a reputation for excellence, quality of service and equipped with branches located in all major Australian cities Maui have all the bases covered and know Australian Motorhome holidaying inside-out making for the perfect partner to consider in your Australian holiday touring plans.
So Whether you are discovering the delights of Australia's fine wine regions in the Barossa or McLaren Vale,chasing the Outback up the Stuart Highway or perhaps planning the journey of a lifetime around Australia, Maui has a great range of superbly equipped vehicles to meet even the most discerning traveller's needs.
Click here to return to DriveNow's Campervan Hire Search page to locate the latest deals available in South Australia.
---
Location Details
Address: 376 Sir Donald Bradman Drive, Brooklyn Park, South Australia 5032
Airport Distance: 2km
City Distance: 8km
Business Hours: 7.30am - 4.00pm (May-August 10.00am - 4.00pm & Closed Sundays. Closed Christmas Day)
Pick up/Drop off: Must be made by 3.30pm
Directions from Adelaide Airport
Exit the airport along Sir Richard Williams Avenue for 1km
Turn right at Sir Donald Bradman Drive and depot is 200 metres on the left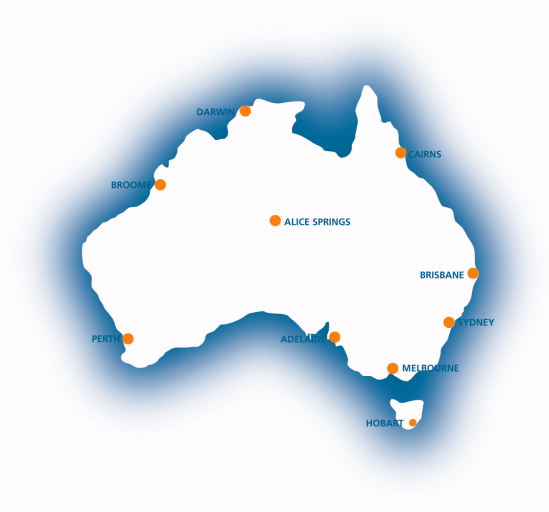 Map of Maui branch in Adelaide
Accommodation
Should you require hotel accommodation in Adelaide prior to or after road holiday, our sister site, roomsnow.com.au, offers a wide selection of Adelaide Hotel accommodation at substantially discounted rates.
Local Holiday Parks
Big 4 Holiday Parks extend discounted rates to all Maui travellers on powered sites in their Holiday parks across Australia.
BIG 4 - Adelaide Shores Caravan Resort 1 Military Road, West Beach, South Australia 5024 (08 8356 7654)
BIG 4 - Marion Holiday Park 323 Sturt Road, Beford Park, South Australia 5042 (08 8276 6695)
Supermarkets
If you need to stock up before hitting the road the following supermarkets are close to the Maui Adelaide branch and accept all major credit cards and Eftpos facilities. If your holiday involves travel into remote or even country Australia it is strongly advisable to be fully provisioned before you leave. The cost of some every day items does rise when shopping in the more remote parts of Australia.
Coles - 303 Grange Road, Findon, South Australia (3.2km)
Woolworths - Cnr Burbridge Road & Bagot Avenue, Hilton, South Australia (1.75km)
Banks
National Australia Bank - Sires Road, Kersbrook, South Australia
Westpac - 159 Henley Beach Rd Mile End 5031 South Australia
Petrol Stations
Fuel prices in Australia do fluctuate depending up location, particularly in country areas. You will notice that prices change during the week and around popular holiday time such as Christmas and the Easter break.
Expect to pay more for fuel in remote locations. If you plan to travel in remote areas it is advisable to keep you fuel tanks topped up as frequently as is possible (the same principle applies to water supplies as well especially in remote areas).
BP - BP Fulham, 510 Henly Beach Rd Fulham, South Australia (2.5km)
Shell - Mile End Transport Terminal, 51 London Road, Mile End, South Australia (2.8km)