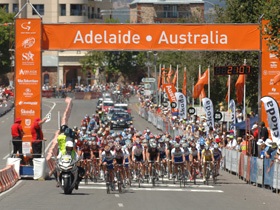 Santos Tour Down Under
The Santos Tour Down Under is the first major event on the cycling calendar, kicking off the year in beautiful South Australia. The nine-day event was first held in 1999, and has quickly grown to be the largest cycling event in the southern hemisphere. Some of the best cyclists travel to South Australia to be a part of this event, including past Tour de France winners and world-class cyclists.
The prestigious event is also a festival of cycling, and offers many activities for everyone to enjoy. Amateur cyclists can get involved in the Subaru Breakaway Series, which gives cyclists the opportunity to ride part of the race route. There are also family days, a children's version of the race and a tour hub, for information, the race on the big screen, and food and drinks.
A great way to get the most out of the Santos Tour Down Under is to hire a campervan, and explore the parts of regional South Australia where the cyclists are. DriveNow is able to compare prices and book your campervan all in one place, ensuring you get the best deal for you. Many campervans offer double beds, all-inclusive kitchens and bathrooms, and plenty of space to relax and enjoy your holiday. The closest pick-up location is in Adelaide.
What
Santos Tour Down Under
When
Saturday 13th January to Sunday 21st January 2018
Where
Adelaide, South Australia.
Getting There
Flights to Adelaide depart most capital cities.
More information
Campervan Ideas
Rent a campervan and see all the action at the Santos Tour Down Under.
Tips
Book early to ensure you get the best deal for you.
Book a Powered Camper site with one of the Holiday Parks below.
Campers are easy to drive and superbly equipped – if you're new to Campervans, you'll be pleasantly surprised with what you get these days.
The closest pick-up and drop-off location is in Adelaide.
Holiday Parks include:
Adelaide Caravan Park 46 Richmond Street Hackney (08) 8363 1566 Adelaide Shores Caravan Park 1 Military Road West Beach (08) 8355 7320 Belair Caravan Park Upper Sturt Road Belair (08) 8278 3540 Brighton Caravan Park 4 Burnham Road Kingston Park (08) 8377 0833 Windsor Gardens Caravan Park 78 Windsor Grove Windsor Gardens (08) 8266 5336