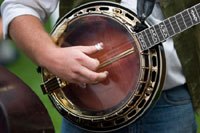 Port Fairy Folk Festival
*** Campervans for the Port Fairy Folk Festival will sell out fast and sell out early. Booking early guarantees a wider choice of vehicles and cheaper rental rate. Visit DriveNow's Melbourne Campervan rental page and lock in a great deal ahead of the crowd. ***
THERE's no doubt that the Port Fairy Folk Festival is one of Australia's leading musical events with over 20000 people attending the event in 2016. 2017 will see the 41st running of the Festival and promises even bigger and better things to come.
With performers from across Australia and around the world, the Port Fairy festival offers a diverse range of folk music and acts along with buskers entertaining down the main street over the long March Labour Day weekend in Victoria.
The ever growing popularity of the Port Fairy Festival means accommodation is harder to come by. Hotel, Bed & Breakfast and house rentals are in great demand and all quickly get snapped up. Another great way to take in the festival is to hire a campervan in Melbourne and drive your bed down with you.
It's a fantastic way to take in the festival, spend time on the road on the way down or returning from Port Fairy, exploring the Great Ocean Road, Western Victoria or the Grampians. What's more Port Fairy offers Holiday Parks with powered sites so you get to experience the Festival, enjoy the camaraderie of camping and relax in the comforts of a modern campervan or motorhome. Many vehicles feature double beds, comprehensive Kitchens, bathrooms and plenty of room to stretch out and relax in. In fact today's Motorhomes have a look and feel of a home from home (albeit on wheels!). The nearest Campervan rental pick-up locations are in Melbourne.
What
41st Port Fairy Folk Festival - attracting performers and visitors alike from around Australia and the world, The Port Fairy Festival is Australia's leading gathering of Folk and alternative musicians.
When
Friday 9th March to Monday 12th March 2018
Where
Port Fairy, 290kms West of Melbourne Victoria, Australia
Getting There
Geelong Freeway then West on the Princes Highway. Scenic route - Geelong Freeway then down to Torquay and west to Anglesea and the Great Ocean Road.
More information
Campervan Ideas
Rent a Campervan and take your bed with you! Explore the Great Ocean Road or head up to the Grampians
Tips
Book Early! - seriously, avoid disappointment, there's not an endless supply of vehicles
Closest Campervan pick-up and drop-off point is Melbourne
There are minimum rental periods - 5 days for Britz, Maui & Mighty
Book a Powered Camper site with one of the Holiday Parks below - again book early they go fast
Campers are easy to drive and superbly equipped - if you're new to Campervans you'll be pleasantly surprised what you get these days
Once you 've booked your Campervan it's a good idea to secure a powered camp site. The Port Fairy Showgrounds have some powered sites, other Holiday Parks in the area include:
Belfast Cove Caravan Park
139 Princes Highway
03 5568 1816
Gardens Caravan Park
Griffiths Street
03 5568 1060
Koroit-Tower Hill Caravan Park
High Street Koroit
03 5565 7926
BIG4 Port Fairy Holiday Park
115 Princes Highway
03 5568 1145
Gum Tree Caravan Park
Toolong Road
(3km east of Port Fairy)
03 5568 1462
Southcombe Park
James Street
Port Fairy
03 03 5568 2677
Catalina Takeaway & Van Park
Princes Highway
03 5568 1608
Killarney Camping Ground
Killarney Beach Killarney
0428 314 823
Yambuk Camping Ground
Carrols Lane Yambuk
0419 006 201