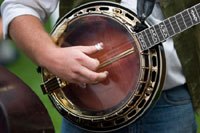 National Folk Festival in Canberra
There's no better a way to take in the National Folk Festival in Canberra than hiring a Campervan and turning the drive to and from Canberra into a Holiday experience itself!
Since its inception in Melbourne in 1967 the Festival has been hosted all over Australia, however in 1992 with logistics becoming an issue a decision was taken to make Canberra the permanent home where it has resided ever since.
The Festival takes place across 22 venues centred on Exhibition Park in the Canberra suburb of Mitchell, 15 minutes north of the city.
As an alternative form of accommodation to the traditional hotel/motel we recommend travelling with your bed and renting a Campervan! Turn the drive to and from Canberra into a holiday and explore more of country New South Wales or Victoria along the way.
For those new to campers, long gone are the days where a campervan was cramped, uncomfortable and painful to drive. Many of today's vehicles come with fully equipped kitchens, large dining and living areas, double beds, shower and toilet equipped bathrooms and flat screen TVs and DVDs to keep the family entertained when needed. As far driving, you'll be surprised as to how easy even the largest 6 berth Motorhome is to handle.
Whilst Easter is one of the busiest times of year for Holiday Parks there are plenty around and almost all will offer powered sites to hook you camper up to. At the festival itself there is a Camper Ground adjacent to the main area which has a dedicated Campervan parking area (this is likely to book up fast).
DriveNow has partnered with Australia's leading campervan rental companies, offering everything from 6 berth luxury Motorhomes through to budget 2 person campers and adventure 4 wheel Drive vehicles. You can review vehicle features and compare rental rates across the widest choice of campers in Australia. The closest locations to pick up and return Campervans will be Sydney and Melbourne. Canberra itself does not have any campervan depots.
Visit our
Sydney Campervan Hire
pages for rates and vehicle availability.
What
National Folk Festival in Canberra - bringing together musicians from across the country and overseas
When
Thursday 29th March to Monday 2nd April 2018
Where
Exhibition Park Canberra ACT
Getting There
Sydney: South on M5, Hume Hwy and Federal Hwy, 290km (3.25 hours). Melbourne: North on Hume Fwy, National Hwy 31, 680Km (7.5 hours). Adelaide: Sturt Hwy, National Hwy 20, 1200km (12 hours). Brisbane: Pacific Hwy, National Route 1 1200km (14.25 hours)
More information
Campervan Ideas
Rent a Campervan, take your bed with you and turn the drive into a Holiday!
Tips
Book Early! - Easter is very busy for campervans. Booking early gets you the cheapest rate and best choice of vehicles
Closest Campervan pick-up and drop-off point is Sydney
Book a Powered Camper site with one of the Holiday Parks below - again book early they go fast
Campers are easy to drive and superbly equipped - if you're new to Campervans you'll be pleasantly surprised what you get these days
Map
Once you 've booked your Campervan it's a good idea to secure a powered camp site. Canberra is well serviced with Holiday Parks that are equipped with Powered sites ideal for Campervans. Just a few examples include:
Canberra South Motor park
Canberra Avenue
Symonston South Canberra
02 6280 6176
Capital Country Holiday Village
47 Bidges Road
Sutton NSW (14 km from CBR)
1800 664 269
Canberra Motor Village
Kunzea Street,
O'Connor ACT
02 6247 5466