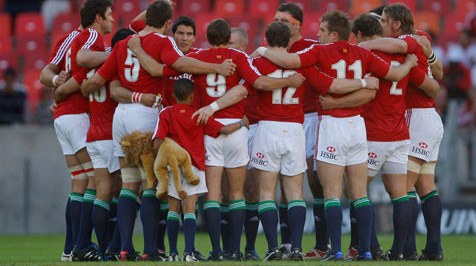 British and Irish Lions New Zealand Tour 2017
Campervan Hire options for 2017 Lions tour of New Zealand.
2017 sees the welcomed return of the British and Irish Lions to New Zealand for a 10 game tour featuring three Test matches, 1 Maori All Black match and 6 provincial games against Super 15 teams across the country.
There's always something special about a Lions tour for both visiting fans and AB supporters and 2017 promises to be no exception with estimates of up to 50,000 overseas visitors hitting New Zealand shores for the games making it the biggest ever Lions Tour of New Zealand.
With so many visitors accommodation will be at a premium and this includes our speciality ... Campervan rentals.
For those who want to explore a little of New Zealand between the hosting cities, happy to take their beds with them and experience more than New Zealand urban life without giving up all the mod-cons then we'd love to recommend renting a NZ campervan with you and your mates. Share the driving, the experience and go home having seen not only some great rugby but also some of the great sights beyond the New Zealand city fringe.
What's more, there's not need to live rough, with campers coming with fully equipped kitchens, bathrooms, bedding to sleep up to 6, space to stretch out with Flat screen TVs and DVD players.
Experience shows campervans rent out fast. The Lions Tour of Australia in 2013 and previous New Zealand Tour of 2005 saw vehicles sell out quickly and those few remaining came at a very high premium.
Whilst it is too early to book yet we strongly recommend booking in mid 2016 in order to secure the best price. Let us know your requirements via email on lions@drivenow.com.au or contact DriveNow Reservations in the UK on 0800 047 0660 and 1300 547 214 in Australia.
Booking early guarantees not only the widest choice of vehicle but also the lowest rate and best of all there is no need to pay for your rental until 6 weeks before pick-up date. With DriveNow you can compare vehicles and suppliers from New Zealand's most trusted rental companies and book online with instant confirmation and locked in rental rate.
If you are looking to fly between cities and hit the games on the run we can also help you find great deals on car hire in New Zealand. Compare rates from New Zealand's top rental brands and book online with no need for any payment until you pick up the car. The same rules apply for cars as campers, the earlier you book the cheaper the locked in rate will be and no down payment means you have nothing to lose.
About DriveNow
DriveNow has been catering for travellers looking for Campervan and Car rental since 2003 and specialises in event bookings such as the Ashes, Lions, Bathurst 1000 and the Tour Down Under.
As Australia and New Zealand's leading online booker of Campervan and Car rental
we offer the widest choice of vehicles and supplier to help you find the best
deal at the best price.
What
2017 British and Irish Lions Tour of New Zealand
When
Saturday 3rd June to Saturday 8th July 2017
Campervan Ideas
Travel with your bed. Rent a Campervan!
| | | |
| --- | --- | --- |
| Date | Fixture | Location |
| 3 June | Lions v Provincial Union VX | Whangarei |
| 7 June | Lions v Auckland Blues | Auckland |
| 10 June | Lions v Crusaders | Christchurch |
| 13 June | Lions v Highlanders | Dunedin |
| 17 June | Lions v Maori All Blacks | Rotorua |
| 20 June | Lions v Chiefs | Waikato |
| 24 June | Lions v New Zealand | Auckland |
| 27 June | Lions v Hurricanes | Wellington |
| 1 July | Lions v All Blacks | Wellington |
| 8 July | Lions v All Blacks | Auckland |