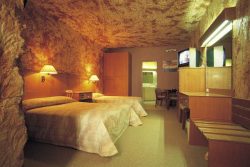 From dogs on tucker boxes and underground houses to a haunted old jail site in Tassie and the Stockman's Hall of Fame, there's something very Australian about these historic sites and monuments where  it's well worth the drive in your campervan rental around Australia. We also give you the lowdown of some great caravan park suggestions where you can park your wheels.
Coober Pedy underground houses, SOUTH AUSTRALIA (pictured)
THIS Outback park is on the corner of the Stuart Highway and Hutchison St in Coober Pedy, only 30km south of the mighty Breakaways. The family owned and operated park has access more...
The post 4 ways to get lost on a road trip at Australia's historic sites and monuments appeared first on DriveNow Blog.