See What the Nifty Fifty Have to Offer with Car Hire in the USA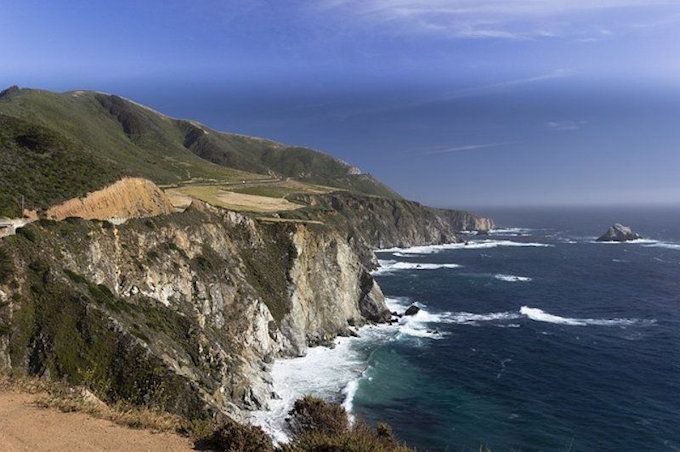 With car hire in the USA you can tour America's scenic countryside
The United States of America is home to an almost endless collection of amazing places to visit, with each of the 50 states containing their own special neighbourhoods and attractions. As with many big countries around the world, the US is like a puzzle, its different regions and their characteristics combining to create a rich tapestry that holds something for just about every traveller.
You've got the towering skyscrapers of major metropolises such as New York City, Chicago, and Los Angeles, balanced with the small Midwestern charm of cities in Missouri, Wisconsin, and Michigan. And there's sensational scenic locations scattered throughout the country, from the expanses of forest in the northwest to the drier, mountainous views of the southwest. No matter your flavour, you're bound to find a laundry list of intriguing destinations in the US.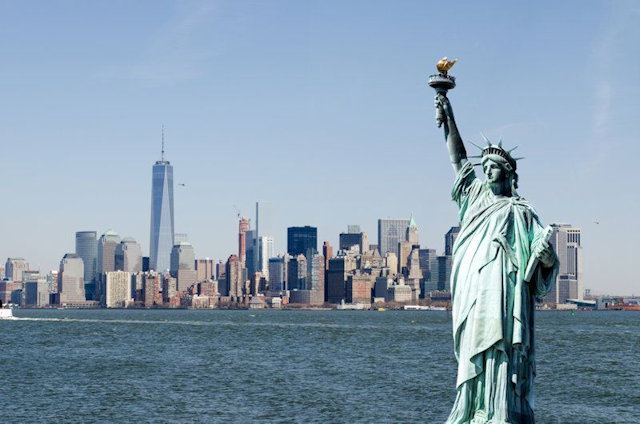 The Statue of Liberty has welcomed immigrants to a new life since 1886
Most of the flights departing to the US from Australia go through one of three major locations. Los Angeles Airport (LAX) and San Francisco Airport (SFO) on the west coast are the first North American ports of call for millions of travellers each year, while Dallas Airport (DFW) in northwest Texas is another major hub for internationals coming to the United States.
Regardless of where you land, there's a good chance you're going to want to travel further afield to get the most out of your big trip overseas. A great way to do this? Car rental in the USA from DriveNow, of course. Having your own set of wheels gives you the power to do everything from restock on crucial supplies, to see all the sites you've earmarked in your travel guides. Campervan hire in the USA even gives you a convenient, comfortable place to sleep if you want to combine your USA car rental with your accommodation.
With so many great places to go, you don't have time to waste relying solely on public transport, which can run late or break down, not to mention the unsavoury passengers you might be stuck with along the way. When you have the keys in your hand, you don't have to worry about such issues. With fantastic makes and models in various shapes and sizes from trusted suppliers such as Alamo, Avis, Budget, Enterprise, Europcar, Hertz, and SIXT, you'll have the backing of our expertise and their experience to keep your mind at ease while on the road.
Put your holiday destiny in your own hands with cheap USA car hire from DriveNow and set course for all of the fantastic parts of North America ready and waiting for your arrival.
Tour America's West Coast
If sunny beaches, vibrant, bustling cities, and access to other top US destinations sound like key ingredients to a dream holiday, the west coast and its surrounding areas could be the ticket for you. In addition to Los Angeles and San Francisco airports, DriveNow has US car hire options in key cities in the west, including but not limited to Seattle, Portland, Las Vegas, and San Diego, so booking a hire car in the USA is a no-fuss proposition. Read on to learn more about these must-see destinations and discover how you can make the most out of your trip.
Honolulu
A stopover on the way to the continental United States is a great time to say "Aloha" to Hawaii, perhaps the most stunning of all 50 states. Not only do you get to see all the immaculate beauty of this incredible state, but you also break up the lengthy itinerary that comes with journeying to North America.
Fly into Honolulu Airport and grab a US car rental to make sure you see all the great parts of the island of O'ahu. You can cover the entire island in about a day with your own set of wheels, though there are also wonderful options for guided tours in helicopters and boats if a four-wheeled vehicle isn't your thing. That being said, the size of O'ahu is perfect for driving, as you won't get fatigued behind the wheel but will still have lots to see and do.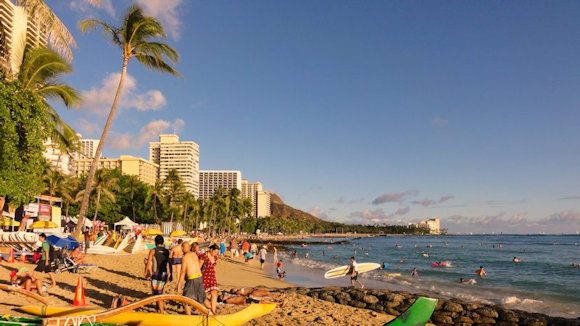 Soak up the sun and surf in Honolulu's famous Waikiki Beach
We recommend basing your stay in Waikiki, a beachfront neighbourhood about 5km (3 miles) southeast of downtown Honolulu. Chill out on Kahanamoku Beach or go visit Ala Moana Beach Park and take a dip at Magic Island Beach. Or lace up your trainers and trek up the stairs at Diamond Head for a short workout that will be rewarded with expansive views of the island. You can also hop in your car and drive up to the North Shore to enjoy its sandy beaches and waterfalls.
Honolulu is a perfect way to get your trip to the US started, and all of its amazing allure is within reach with cheap car rental in the USA.
Los Angeles
Lights! Action! Don't forget your camera.
One of the foremost entertainment capitals in the world, Los Angeles is the place to be if Hollywood royalty, fine dining, and sensational shopping are your ideas of a good time. DriveNow's car hire in Los Angeles can give you the wheels needed to take it all in before getting out of town.
Perhaps the most attractive thing about La La Land, besides the A-list celebrities you'll see around the city at any given time, is its collection of fantastic entertainment attractions. Get up close and personal with the famous Hollywood sign, check out the Hollywood Walk of Fame, or enjoy some of the finer things in life with the glitzy and glamorous shopping options up and down Rodeo Drive. And don't forget to get your hands on some of the amazing bites from the hundreds of food trucks stationed around the city.
The Rest of the Northwest
Another attractive aspect of Los Angeles is that it can be a fantastic jumping off point for wonderful road trips in your USA car rental. Almost no matter which direction you travel, you'll put yourself on course for a tremendous time.
Head to San Francisco, a favourite of many Australians, by driving north up Pacific Highway 1. Just make sure you budget a bit of extra time to get there, as this scenic route, one of the most beloved road trips in the US, is full of scenic stops and beautiful towns in which to stay. Relax in the beachy town of Malibu or take a stroll on the Santa Cruz Beach Boardwalk before reaching The City by the Bay.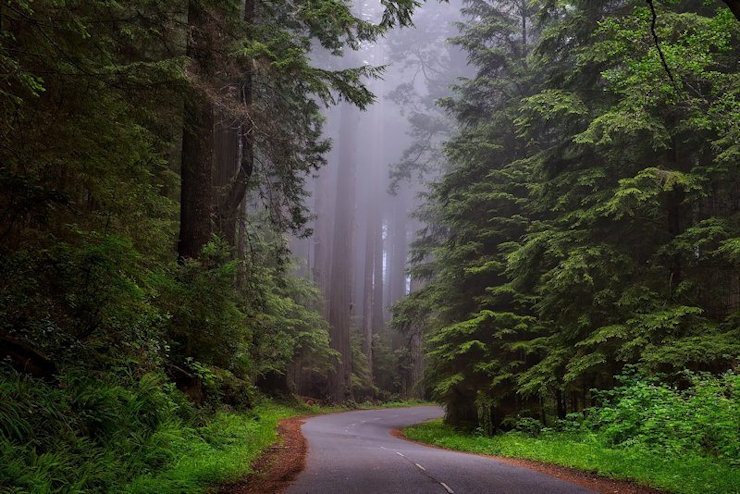 Experience the beauty of Redwood National Park
Don't want your rad road trip to end in 'Frisco? Then keep on truckin' all the way up to Seattle, Washington. Along the way you'll pass through Redwood National Park, as well as some of the fantastic forested areas of Oregon. This portion of the journey is especially great for those who have decided to opt for campervan hire, as you can really get amongst the beauty without having to worry about securing hotel accommodation along the way.
Las Vegas
Las Vegas is well within reach when you have access to a car hire in America. The drive takes about four hours depending on traffic conditions, making it a feasible voyage for you and your fellow travellers if you're looking to stay based in LA most of the time. Alternatively, you can drive to Sin City and drop off your car hire at Las Vegas Airport before jetting onto your next adventure.
Give yourself a couple nights to get your fill of all the action and still have enough time to use your rental car to drive out to the majestic Grand Canyon. Trust us, in a city that thrives on excess, sometimes less is more. We suggest three or four nights' stay.
Travel the East Coast of the United States
Some of the most iconic and most-visited sites in North America rest on the eastern seaboard of the United States. New York City, Boston, and Washington DC, are three worthwhile destinations teeming with culture. Even better is that, with rental cars in the USA from DriveNow, you can check out all three of these great cities on your own time without having to book a stack of internal flights.
Boston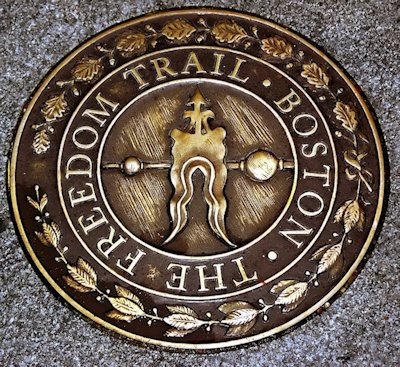 The Freedom Trail is a main attraction in Boston
If you want to check the eastern section of the US, flying into Boston Airport and securing an American car rental is a great way to start your tour. But, before you take I-90 West to I-84 and head for the Big Apple, make sure you spend some time seeing what Beantown itself has to offer.
If history's your thing, Boston is going to knock your socks off. As one of the most important locations in the creation of the United States, there is no shortage of important sites to see. You can cover a lot of them along the 2.5 mile Freedom Trail, which stretches from Boston Common to Bunker Hill. You can also take a trip across the famed Charles River to Cambridge, home to two of the most prestigious universities in the country, if not the world; Harvard and the Massachusetts Institute of Technology (MIT).
The food in Boston is delicious, with some of the finest seafood selections in the country. From the famous Boston clam chowder to luscious lobster rolls that feel like they melt in your mouth, if you like your meals to come from the sea, you're in luck.
New York City
Driving around New York City itself can be a nightmare, so we'd suggest catching public transport whenever possible. But when you're ready to head outside city limits, whether it is for a day or to make tracks for the next stop on your tour of the east coast, having your own set of keys can save you a trip to and from JFK Airport.
Each of the five boroughs in NYC – The Bronx, Manhattan, Queens, Staten Island, and Brooklyn – has its own special features that endear it to locals and visitors alike. Drink in the flavour of the diverse neighbourhoods and communities found within each of these cities, from the hip, urban flavour of The Bronx and Brooklyn, to the museums and fine dining of Manhattan and Queens.
The Empire State Building, Statue of Liberty, Museum of Modern Art – the list of world-class attractions in New York is seemingly endless. For a bit more activity, you can take a stroll through Central Park or walk The High Line, a stretch of previously unused freight rail line above the city that's been transformed into a boardwalk and park.

The High Line is a unique park experience that puts you above the fray in New York City
If you're a sports fan, you'll be in heaven in NYC. The famous Madison Square Garden, known to some as "The World's Most Famous Arena," in Manhattan is home to the classic New York Knicks basketball team, as well as the New York Rangers ice hockey squad. Meanwhile, the Barclays Centre in Brooklyn hosts the Brooklyn Nets basketball team and ice hockey's New York Islanders. New York is also where you'll find the world-famous New York Yankees as well as the New York Mets, both baseball teams, as well as the Jets and Giants of American football.
Washington, D.C.

The Washington Monument is an obelisk built to commemorate George Washington
The nation's capital, Washington, D.C., is the place to find some of the most beautiful, moving, and downright inspiring landmarks in the entire country. Luckily for you, you can see them all with your USA car hire. Leaving from New York City, you'll take the New Jersey Turnpike South to I-295 South into Delaware. Then you'll merge onto I-95 South and make your way to Maryland before hitting your destination.
There's a lineup of fantastic historical sites and landmarks to check out once you're in Washington, D.C. In and around the National Mall on the banks of the Potomac River is where you'll find some of the most important scenes in all of America. The Lincoln Memorial, The Korean War Veterans Memorial, the Washington Monument, and the United States Holocaust Museum are all within walking distance of each other. And, for the more political, the United States Capitol, Supreme Court, and, of course, the White House, also occupy this stretch.
Enjoy the Sights and Sounds of the South
The southern portion of the United States, specifically the section that runs from Texas through the south-eastern section of the country, can sometimes feel separate from the rest of the US. With a sensibility and lifestyle all their own, these states hold some of the most rewarding locations.
Texas

Head to Billy Bob's Texas for a true taste of what Texas is all about
One of the biggest states in the country, Texas is home to several great destinations. We suggest flying into Dallas Airport and road tripping around the state, as there are several cities that warrant a visit. Dallas itself features some great country music venues as well as the almighty Billy Bob's Texas. This spot, which touts itself as "The World's Largest Honkey Tonk," is located in the lively Fort Worth Stockyards district and is home to everything from line dancing classes to performance stages and even indoor rodeo displays.
Austin's hip culture and array of delicious eateries make it another awesome place to spend a few days. The pubs and restaurants lining 6th Street draw patrons of all ages, but it's the food trucks that many consider to be the real stars of the show. In addition to your standard taco and BBQ fare, make a special trip to get one of the monstrous doughnuts from Gourdough's. You can swing by one of their two food trucks or post up in one of their two brick and mortar locations.
And, speaking of BBQ, Austin is one of the foremost authorities in this culinary art. Perhaps the most famous of the Austin lineup is Franklin Barbecue. This joint, east of downtown Austin, has built up quite the cult following, so much so that visitors and locals line up for upwards of four hours just to get a taste. Bring a book, load up the podcasts and grab your spot to get in on that smokey BBQ goodness. After you're done, you can head to Barton Springs, a favoured swimming spot for locals, to cool off. Just remember to let your food digest before jumping in!
New Orleans
Whether you fly or rely on cheap car hire in the USA, you should try to do whatever you can to get to New Orleans to enjoy its funky, proud culture. The living, breathing atmosphere of the city is unique and offers a vibrant backdrop for your stay.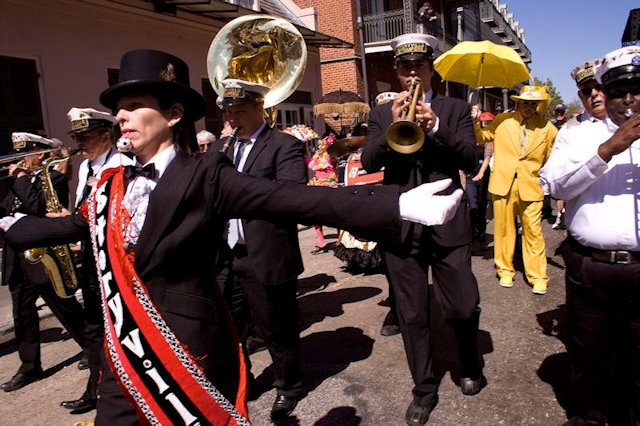 The marching New Orleans Second Line Band
Bourbon Street in the French Quarter gets a lot of hype and is certainly worth checking out for the buzzing atmosphere, but there's a lot more going on in the city than brightly coloured drinks in large plastic cups. The beignets from the famed Café du Monde and a catfish po'boy sandwich will keep your stomach in good stead, and the brass band music ringing out from various establishments and in the streets will be a treat for your ears. Tour old plantations, go on a swamp tour, or walk amongst the grand Victorian homes populating the streets to get a full taste of what this charming, alive city is all about.
Nashville and Memphis
While sitting a bit further north of the southern coastline, Nashville, Tennessee, still offers a strong dose of southern country charm wrapped in a warm, welcoming package. Regardless of what kind of music you're in to, check out a show at the historic Grand Ole Opry. What started out as weekly performances in the 1920s have ballooned out to multiple shows each week, drawing some of the biggest live performers in the country music scene to the hallowed stage. If that doesn't satisfy your musical hunger, you can always take a walk down the Honky Tonk Highway. No need for your US car rental, as this section of Lower Broadway in downtown Nashville is packed with pubs cranking out awesome live music every night of the year. Grab some tinnies and enjoy. You can also pop into the nearby Johnny Cash Museum and learn all about The Man in Black. Nashville isn't called "The Music City" for nothing!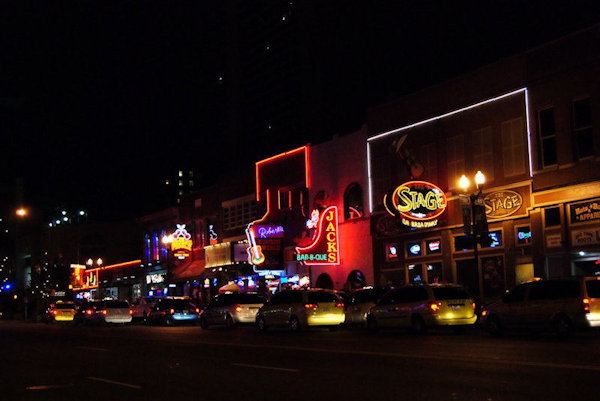 The legendary road known as the Honky Tonk Highway blasts out music 365 days of the year
As with other southern destinations, the food in Nashville is quite a treat, with mouthwatering biscuits, toasty hot chicken, and refreshing iced tea the orders of the day. For a quality southern meal that tastes and feels like it's come straight out of the oven at grandma's house, hop in your rental car and take US-70S West to TN-100 W to the Loveless Café.
Tennessee's other crown jewel, Memphis, is slotted in the southwest corner of the state and also offers a great time for travellers. Beale Street played a big role in the creation of blues music and is still home to a collection of great venues. Come for the excellent tunes and stay for the amazing barbecue, featuring delicious cuts of pork cooked slowly and at low heat so it falls off the bone. If you haven't, make sure to try dry-rubbed dishes to experience different flavours, though it's hard to pass up ribs and sandwiches slathered in delicious sauce. The best option? Get both!
Orlando
If you're travelling with kids and want to give them some memories that will last a lifetime, Walt Disney World could be a great addition to your itinerary. Catch a quick flight to Orlando Airport, rent a car and take FL-528 East to Walt Disney World. There, you and the kids can spend days getting up close and personal with your favourite movie and TV show characters, enjoying fun rides, and learning about other countries in the collection of parks and resorts scattered throughout the sprawling space. With four theme parks and two water parks to fill your days, the hours are sure to fly by.
Compare Cheap Car Hire in the USA with DriveNow
Searching the web for the latest deals on USA car hire can be a frustrating process. That's where DriveNow comes in. We take the headache out of American car rental by comparing prices from leading US car rental suppliers, helping save you time, effort, and money. Through partnerships with major US car hire companies including Alamo, Avis, Budget, Enterprise, Europcar, Hertz, and SIXT, DriveNow brings the cheapest pricing and special deals on hire cars in the USA, all at the click of a mouse.
We don't charge booking or admin fees, and there's no need to provide credit card details when making your booking. Simply book your US car rental and pay when you pick it up. Best of all, by booking in advance not only do you have the peace of mind of a confirmed booking, you can also lock-in the vehicle of your choosing at a great rate. Search, compare, and save on rental locations across all 50 US states including popular tourist locations such as Miami, Baltimore, Denver, Atlanta, Philadelphia, Charlotte, and many more.
Why Use DriveNow to Book Car Rental in the USA?
We always check for the lowest available rental rates from all our US partners
Quick and easy rental rate and vehicle comparisons
We don't charge booking fees
We only partner with familiar and trusted American car rental companies
No deposit or credit card details required when booking
Immediate booking confirmation
Drive-away prices include all taxes and levies (excludes young driver surcharge and optional extras)
Lowest price guarantee
DriveNow has been comparing cheap car rental in America since 2003
At DriveNow we pride ourselves in our customer service and understand that it's not just about finding the best online deal on rental cars in the USA. Our reservations team are there to help and answer your questions. We actively seek your feedback to continuously improve the level of service and support we deliver.
Car Rental USA – FAQ
How old must I be to rent a car in the USA?
The majority of car rental companies require drivers to be over 25 and under 70 in order to hire a car. However some do provide for younger drivers in the 21-25 age bracket, the catch being a surcharge fee and restrictions on the type and size of rental cars available (generally smaller vehicles). As these fees and restrictions vary between rental companies we suggest checking the total price breakdown to determine the costs associated with the younger driver.
What driving license do I require to rent a car in the USA?
You can rent a car using your own driving license as long as it is in English and is full with no endorsements. Non-English language licenses should be supported by an international Driving Permit. Ensure that you carry your license whenever driving as US traffic authorities are sticklers for documentation.
Understanding US Roads
Traffic in the US drives on the right and distance and speed are measured in miles. Fuel, known as "Gas", is delivered in gallons and is generally cheaper than other western countries. It is common to pay for fuel before filling your tank. Whilst speed limits vary between states, Freeways in the West operate up to 75mph (121kph) whilst Eastern States are 70mph (113kph). Some states operate minimum speed limits on their freeways and turnpikes.
Car Hire - Automatic or Manual Transmission?
The majority of rental cars in the US come equipped with automatic transmission.
Car Hire payment
You will be required to pay for your vehicle using a credit card.
Am I required to use a Seatbelt in the USA?
Mandatory seatbelt usage varies from state to state with some states imposing fines for non-seatbelt usage. It is advisable to wear your seatbelt when driving.
Mobile Phones and Sat-Nav Guidance
Many US states prohibit the use of hands-free as well as hand-held mobile phones. Check on local rules when picking up your USA car hire.