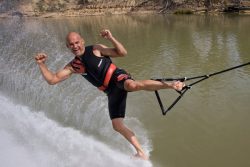 Learn to water ski with a world champ
Where: Echuca Moama, 215km north of Melbourne
IF anyone tells you Brett Sands can walk on water, you had better believe it. This triple world champion and two-time world record holder, who has lived on the mighty Murray most of his life, first put on water skiis when he was just three years old so you'll be learning from the best. Brett Sands Watersports in Echuca-Moama offers lessons in waterskiing, wakeboarding, barefooting and kneeboarding. Take part in anything from hourly lessons to multiple day packages on the calm waters of the more...
The post Four great experiences in Australia for road-trippers appeared first on DriveNow Blog.