Car Hire Tasmania
Search for Car Rental in Tasmania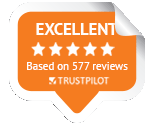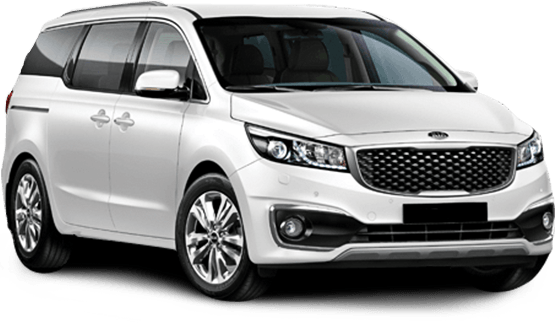 Explore Tasmania with car hire from DriveNow

The island state of Tasmania is one of Australia's most underrated gems. A scenic oasis that feels worlds away from the hustle and bustle of major tourist hotspots like Perth and Brisbane, this slice of paradise that can fulfil many of your most beloved holiday wants.
With a tightknit community feel in Launceston to Hobart and towns in between, Tasmania offers an incredible selection of food, culture, and unforgettable outdoor experiences courtesy of the 500,000+ inhabitants who call it home. If you're after the booming metropolis vibe that comes with major Australian cities such as Sydney or Melbourne, Tasmania might not be the place for you. However, if you crave an enriching experience that will leave both your brain and your belly full and happy, Tasmania and its local wonders are well worth looking in to.
In fact, the size of Tassie is one of the many reasons why the island is such a tantalising vacation location for so many travellers each year. Car rental in Tasmania from DriveNow gives you the tools you need to traverse this small island as you wish. Stay a short drive out of the Hobart or Launceston city limits and buzz into town each day as needed. Or cover the entire island over the course of a week or two, hitting not only its marquee cities but also the breathtaking wilderness in between. Don't want to be confined to traditional accommodation? Campervan hire in Tasmania means you can take your holiday home with you wherever you go.
Next time you're looking to get off of mainland Australia, don't think you have to spend hours and hours in the air to get overseas. The answer to your delightful holiday demands could be closer than you think.
Hit a Home Run in Hobart with Tasmania Car Hire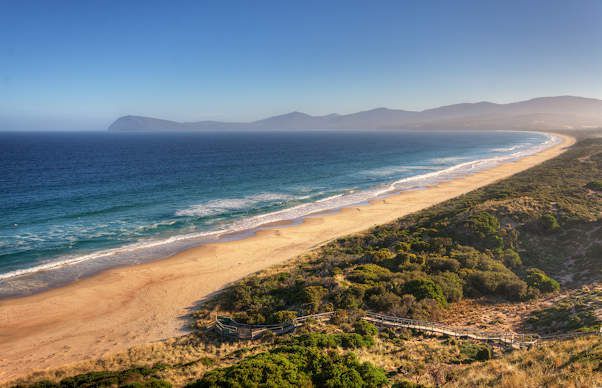 The capital of Tasmania, Hobart represents much of the heartbeat of Australia's island state. For many visitors, the city's small airport is the entry point into Tassie. The building itself reflects much of what makes the state so great – friendly locals, an easy-to-navigate layout, and no need to elbow people out of the way to carve out some space for yourself and your fellow travellers.
After you get your things and grab a quick Tasmania car rental from trusted suppliers such as Hertz, Avis, Budget, Europcar, Redspot, or Thrifty, it's just a quick and easy 17km (10.6 mile) drive into the city centre. Then it's time to get out and about to see what's happening in Hobart.
What to Do in Hobart
One of the best things about Hobart is that it truly is a city for all seasons. You can spend your hours learning about some of the coolest modern art in the world, sample some amazing cuisines, or get in touch with nature on a beautiful, unspoilt island depending on the weather and your mood. And remember, access to your own hire car in Tasmania will make getting to and from Hobart's attractions a far more convenient experience, allowing you the freedom to come and go as you please.
Bruny Island
While the city of Hobart certainly has plenty going on, you'd be a bit crazy to not make your way over to Bruny Island at some stage of your trip. Perfect for an afternoon of cruising or a longer stay in on-island accommodation, the island has some of the most beautiful scenery Australia has to offer.
About a 40 minute drive south of Hobart with your Tasmania car rental sits Kettering and the Bruny Island car ferry called the Mirambeena. The ship leaves every hour or 90 minutes throughout the day, shuttling passengers and their vehicles to Bruny Island through the D'Entrecasteaux Channel in about 20 minutes.
Bring some comfortable walking or hiking shoes, as there are plenty of exceptional elevated viewpoints from which you can get a glorious, uninterrupted 360-degree eyeful of the island. You should also be sure to bring an appetite. Pull your Tasmania hire car over at one of the several great artisanal shops operating on the island to enjoy amazing freshly shucked oysters, delicious chocolate, or even a few sips of wonderful whiskey. Just remember you have to drive back to the car ferry afterwards!
One key thing to remember if you're thinking of going to Bruny Island is that not all car rentals in Tasmania are suitable for travel there. It's important to check in with your car rental supplier to see if they allow you to take their vehicles on the car ferry and around Bruny Island.
MONA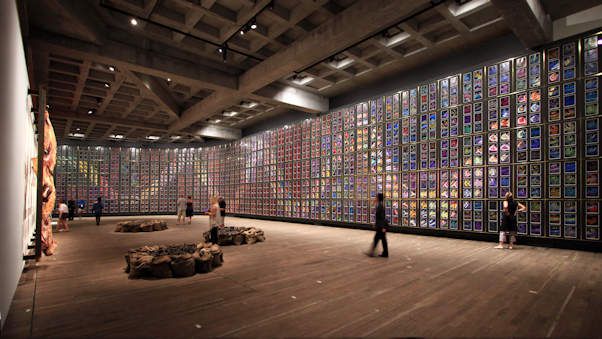 The Museum of Old and New Art (MONA) is an eye-opening experience for art gurus and novices alike. With some of the most interesting, jarring, confronting, and just about any other adjective you can think of pieces, many visitors have exited MONA not sure what to think.
Although its 2011 opening date makes it a relative newcomer in the museum scene, this art hosting space has become one of the most talked about museums in all of Australia. Guided iPod tours for each guest mean you won't be left with that confused, glazed-over look that can come with ambling through galleries. One thing to note is that some of the pieces in MONA feature mature themes, so you might want to think twice about bringing the little ones along, or, if you do, just making sure you cater to their young, impressionable minds during your browsing.
Feel free to use your Tasmania car hire to get to the museum, though the ferry that leaves from the central Brook Street Pier is an easy way to get there without having to get behind the wheel. It also frees you up to enjoy a delicious local Moo Brew or Moorilla wine at the nearby MONA Cellar Door.
Where to Eat and Drink in Hobart
The Tasmania food scene benefits greatly from the many wide open spaces around the island that give farmers and other professionals the chance to develop incredible locally sourced ingredients to be used around the island. These magnificent morsels are on display all over Hobart, with no shortage of fantastic dining (and drinking!) establishments to enjoy. In addition to a handful of wonderful restaurants, cafes, and pubs, including but not limited to the Pigeon Hole Café, the Tricycle Café and Bar, Smolt, and Fat Pig Farm, in which to pull up a seat and enjoy, here are a few alternatives to check out on your trip.
Salamanca Markets
Salamanca Place at Sullivan's Cove on the waterfront of Hobart's eastern edge explodes each Saturday as thousands flock to the bustling Salamanca Markets to get a taste of the region. Even if you aren't planning on cooking up a storm in the kitchen during your holiday, picking up some fruit to snack on or amazing locally produced meats and cheeses for a picnic charcuterie board could be the go for you and your mates. Or you can skip the prep altogether and dig into some of the warm sausage rolls or bacon and egg fare as you stroll. While you're there, pick up some souvenirs in the form of quality handmade soaps, candles, and jams.
Whiskey
If enjoying a few drams is your idea of a good time, you're quite in luck in Hobart. Tasmania is home to some of the finest whiskeys in Australia, and the capital city is rife with great examples. Situated in downtown Hobart, the Lark Distillery Cellar Door is staffed by friendly, knowledgeable locals who will walk you through the amazing options at their disposal. Just a short trip over the bridge back toward the airport is the Sullivan's Cove distillery, another revered whiskey producer from Tassie that can have you inhaling the smoky, peaty flavours of your favourite pours for hours. Just remember that it might be best to leave your Tasmania car hire at the hotel for this one!
Where to Stay in Hobart
Hobart is a welcoming place for visitors in more ways than one. In addition to the smiling shopkeepers and hospitality workers, the city itself is centralised enough that you can walk to many of its liveliest areas so you can save your car hire in Tasmania for longer trips. This convenient city setup also includes a range of strong accommodation options that make planning your trip a breeze.
The Islington
Not quite your own house but also not quite a run-of-the-mill hotel, you'll feel right at home at the Islington, located about 2km (1.2 miles) from the city centre. This boutique accommodation features comfy indoor and outdoor shared spaces, including a wonderful dining area with a crackling fireplace. The rooms themselves are welcoming without being too ornate, and the on-location chefs whip up fresh baked goods that are free for guests at any time of day or night. All this plus private parking for your Tasmania car rental, to boot!
The Henry Jones Art Hotel
If you like to mix accommodation with art, the Henry Jones Art Hotel on the water at Sullivan's Cove is your ticket to a great stay. It's got beautiful, plush rooms. It has amazing views of the harbour and all of its activity. And it's got a collection of art that would make some museums blush. Check out one of the most treasured hotels in Australia if you're looking for a taste of the finer things in life during your Hobart holiday.
The Alabama Hotel
For something a bit more affordable with a lighter taste, the Alabama Hotel in Hobart provides a fun, laid back aesthetic complete with comic book onomatopoeia pillow cases and vintage room accessories that can help erase any of the stresses caused by modern living. You won't find elevators or TVs in this fun downtown Hobart hotel, but you will find Wi-Fi access as well as an in-house bar and a lobby in which you can relax in funky retro furniture.
Launch into Launceston with Car Rental in Tasmania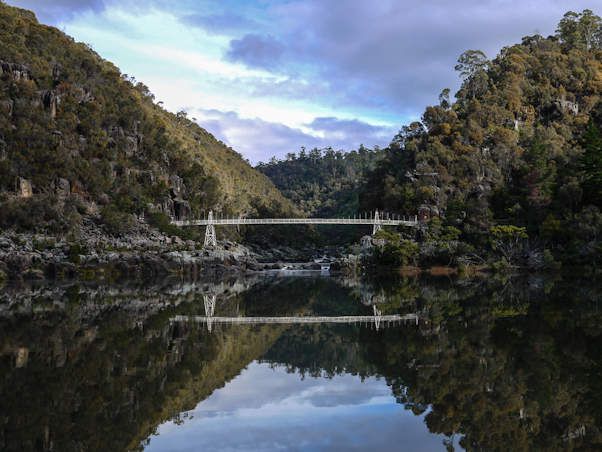 The other major city synonymous with a visit to Tasmania is Launceston. This underrated area has plenty going for it in its own right, with amazing architecture and a plethora of outstanding outdoor activities on its doorstep. When you hire a car in Tasmania, you give yourself the best possible chance to see and do it all and discover some of the hidden treasures Launceston has in store for those who visit.
What to Do in Launceston
If you're going to Launceston, you're going to want to make sure you pack everything you need for outdoor adventure. Even if you're not the type of person always looking for the next adrenaline rush, there's plenty of fantastic fun to be had out in the fresh air. So lace up those boots or trainers, slap on some sunscreen, and get outside.
Cataract Gorge
Just 1.5km (.93 miles) from Launceston's city centre, Cataract Gorge has a bit of everything for those looking for a taste of nature. You can enjoy the many walking trails at the gorge, or, if you feel like putting your feet up (literally!), you can take a comfortable ride on the scenic chairlift that gives you a bird's eye view of the gorgeous gorge's best features. If the weather cooperates, you can also take a dip in the pool at First Basin. All of this just 10 minutes outside of town in your Tasmania car hire.
Ghost Tours
For those who are better suited to urban exploration, Launceston's cityscape provides hours of enjoyment with its classically styled architecture that harkens back to the days of the city being a convict capital. But for a more unique look at this urban landscape, booking a spot on a famous Launceston ghost tour. You'll not only get to see the city centre lit up at night; you'll get to listen to your guide regale you with spooky tales of decades past.
Where to Eat and Drink in Launceston
The number of great restaurants and pubs pumping out great meals featuring locally sourced produce, meats, and dairy can boggle the mind if you consider Launceston's modest size. From finer dining options such as Stillwater, Black Cow Bistro, and MudBar Restaurant to more relaxed environments, the second largest city in Tassie has plenty to offer your taste buds. Here are just a few places where you can refuel with a full meal or just a glass of cold, frosty refreshment.
James Boags Brewery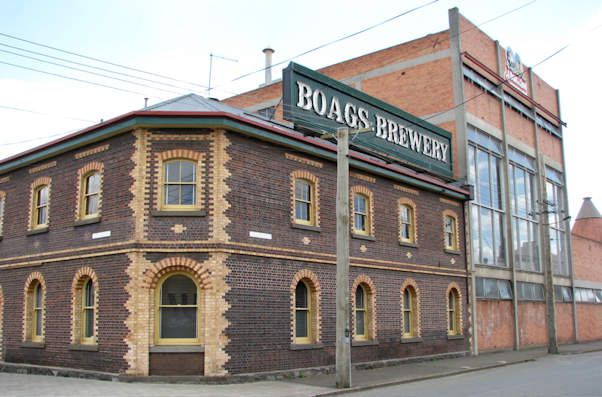 James Boags is one of the most popular names in the Australian beer scene, with this brew served in pubs and sold in bottle shops all over the country. Well you can see where it all started (and where it continues to grow and thrive) by taking a trip to the vaunted James Boags Brewery in Launceston. Here you'll be able to tour the facilities, learning how pure Tasmanian water is transformed into the delicious beer you know and love, before being treated to a free round when your guided walk is complete. Alternatively, you can just pop into the bar at the brewery for a few cold ones if you don't feel like taking the tour.
Harvest Launceston Community Farmers' Market
Although it doesn't carry quite as much prestige or take up near as much space as the famous Salamanca Markets to the southeast in Hobart, the Harvest Launceston Community Farmers' Market is a fine alternative. Like other markets in the region, this is a fantastic chance for you to get your hands on some of the phenomenal local produce that Tasmania has become known for.
Burger Got Soul
Not feeling the fancy stuff and just want something quick that will leave you satisfied? Burger Got Soul is the place to be. This no-frills joint does burgers, chips, and shakes and does them well. With locations in Launceston, Hobart, and Devonport, you're never too far away from a quality feed. The beef and chicken is locally sourced, while the veggie fixins piled onto each burger come straight from nearby markets. If you've got the appetite, we recommend their amazing thick shakes to top everything off.
Where to Stay in Launceston
If you only want to rely on your car hire in Tasmania for longer day trips or multi-night excursions, we recommend you find accommodation near the small but satisfying city centre in Launceston. From award-winning names known and trusted around Australia to smaller, more unique boutique offerings, here are some of the best places to stay during your holiday.
The Sebel Launceston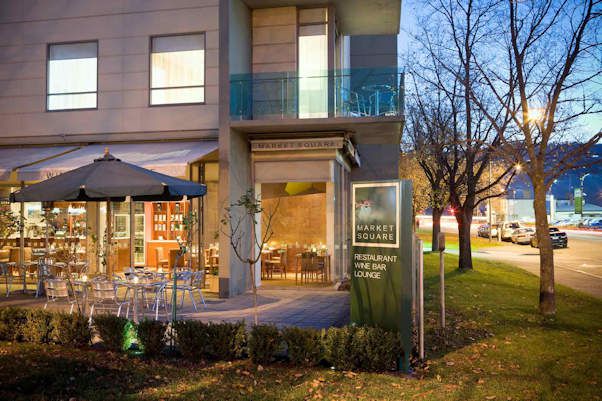 The Sebel name is synonymous with quality, comfort, and dependability, and the Sebel Launceston is certainly no different. Slotted into the corner of John Street and William Street, this hotel will give you a chance to leave the keys behind, as you'll be smack dab in the middle of the city centre, just a short walk from major Launceston attractions including but not limited to the James Boags brewery, the Cataract Gorge, and the Queen Victoria Museum and Art Gallery. Getting the keys to a Sebel suite can make for a sweet Tassie trip.
The Areca
The Areca has everything you could want from your holiday accommodation. A short walk from the city centre, 3km (1.86 miles) from Cataract Gorge, and just about 20 minutes from the Launceston Airport, you're never too far away from key attractions and locations. You'll also get views of the city's skyline and the Tamara Gorge from you room, which isn't ground-breaking but comes with the comfort and amenities you would expect from a quality hotel. All of this is topped off with free off-street parking for your car rental in Tasmania.
The Auldington
For those who like their hotels more on the boutique side, the Auldington in Launceston has small-town charm with the incredible service you'd expect from a bigger, fancier chain. This three-story Victorian building puts you a short walk from town, if you can pull yourself away from the well-manicured grounds surrounding the building. The 18 ensuite rooms don't share the old-world façade of the building, instead offering contemporary furnishings for a comfortable stay. There is also free on-site parking for your hire car.
Traverse Tasmania with Cheap Car Rental in Tasmania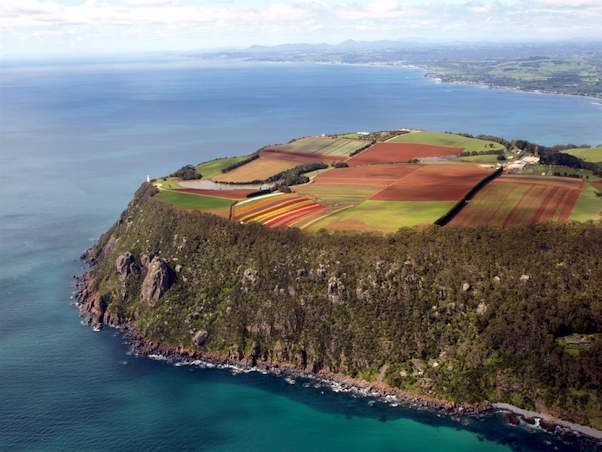 One of the most enticing aspects of making Tasmania your destination of choice for your next holiday is that you can see so much of it without breaking the bank. While the two biggest cities—Hobart and Launceston—get a lot of the accolades when people think about the island state, the rest of Tassie is full of enriching locations that are never more than a handful of hours away. Here are some great spots for you and your travelling party to visit that will take you outside the bigger city limits and into the rest of the state.
The North
See a part of Tasmania that's off the beaten path by taking off northwest from Launceston for the north coast of the state. It's there you'll find cities such as Devonport, Burnie, and Wynyard that offer a bit of a different view of Tassie.
To get to Devonport, you'll actually start out travelling south on National Highway 1 before it curls up toward the coast. Cruise for about 100km (62 miles) and you'll almost be all the way to Devonport, one end of the Spirit of Tasmania car ferry that shuttles drivers back and forth between Tassie and Melbourne. It's not a great idea (and you're most likely not allowed) to take your Tasmania car hire over there though.
From Devonport you can hop back onto National Highway 1 and hug the coast west toward Burnie. After about 46km (28.6 miles), you'll find yourself in this quaint spot. This town of about 20,000 locals features some of the greatest aspects of Tasmania, including delicious local produce and wonderful wilderness nearby. Don't forget to grab some cheese while you're there from one of the many delis.
Wynyard is just a hop, skip, and a jump from Burnie, about 19km (11.8 miles) on Bass Highway/A2. Drink in some seaside views and enjoy some fun in the ocean or take a drive through scenic landscapes, including the wonderful tulips populating the area in an around the city in the spring. Table Cape provides especially amazing views and a tulip farm of its own.
Cradle Country
One of the brightest examples of Tasmania's great outdoor adventure areas, Cradle Country is heaven for those who like to lace up their boots, pack up their bags, and hit the trails. Starting in Devonport, set off on one of the dozens of fantastic walking trails, with different distance and difficulty options for a variety of travellers.
The Overland Track is one of the best-known walks in the hiking community. Better suited for those with a bit of experience spending multiple days and nights outdoors, the 65km (40.4 mile) trek takes about six days to complete. It gets busy between October and May, and walkers must book, pay a fee, and travel from Cradle Mountain in the north down south to Lake St. Clair during that time. There are not restrictions at other times of the year.
Freycinet Peninsula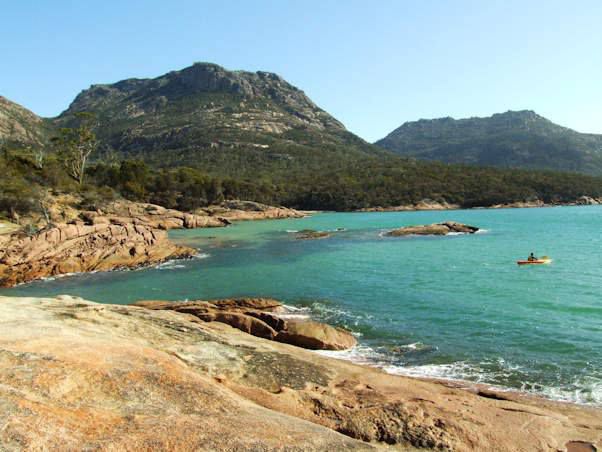 Another awesome hiking opportunity sits on the east coast of Tasmania. The Freycinet Peninsula is largely taken up by the majestic Freycinet National Park. This natural beauty comes in all sorts of shapes and sizes, including gorgeous sandy beaches, pink granite outcroppings, and the iconic Wineglass Bay, home to one of the most photographed locations in all of Australia. There are trails of varying lengths, whether you want a beautiful, quick walk or something more involved that spans several days and nights.
Compare Car Hire in Tasmania with DriveNow
Weighing up whether to rent a car in Tasmania?
DriveNow take the stress and hassle out of arranging cheap car hire in Tasmania. We compare the latest deals on car rental in Tasmania from the biggest and most trusted names in the industry, including Avis, Hertz, Budget, Thrifty, and Europcar. Our easy to use engine is your one-stop-shop for finding the ideal rental car in Tasmania to suit your Apple Isle travel needs. From small cars to family-sized vehicles, to utes, trucks, 4WDs, and SUVs, there is sure to be a vehicle that takes your fancy.
DriveNow has done all the work to provide a straightforward process that lets you easily find, view, and compare the prices of all major car rental companies in Tasmania including popular destinations such as Devonport, Hobart, and Launceston with airport and city pick-up locations.
All prices quoted are driveway with no hidden extras. Book with confidence knowing that you are getting the best deal available backed by DriveNow's Double the Difference guarantee.
Tasmania Car Rental Locations
Discover amazing experiences in Tasmania