Soak up the Sights of Spain with Cheap Car Hire from DriveNow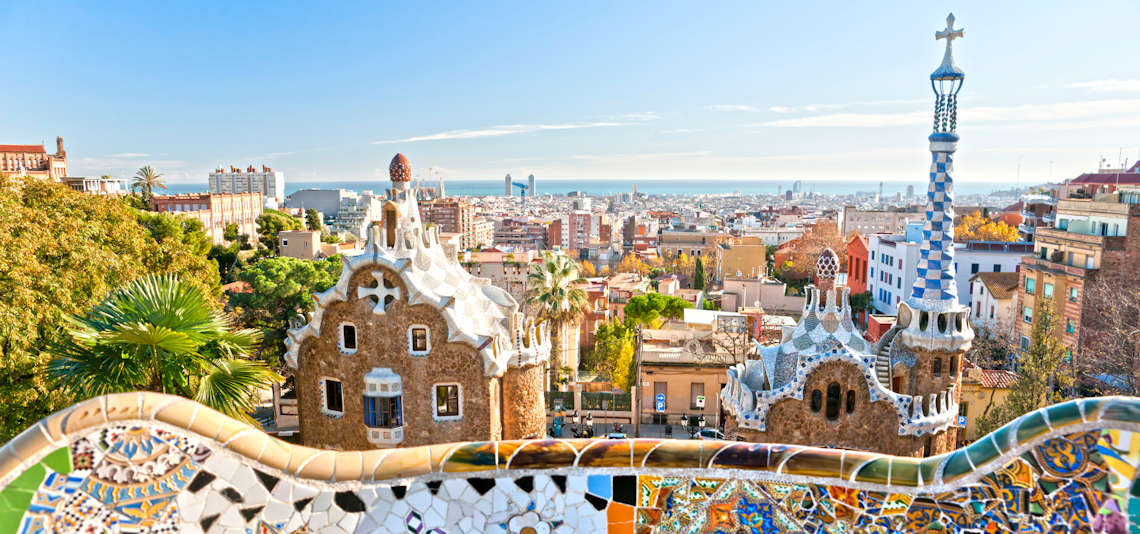 Discover artistic masterpieces around every corner in Barcelona Source: fatiretours.com
With a world famous reputation for glorious weather, delicious food, and unique culture, it's no surprise that Spain is one of the world's top tourist destinations. Visitors have been flocking to the sparkling white beaches for many years, and the major cities are well known for their abundance of things to see and do. However there's even more to Spain than the sangria, paella, and dancing seen on postcards.
If you have time to explore further afield than the top attractions, you'll find a country with vastly different regions, embodied in food, culture, and even language. And it's not all about the beaches, either! Spain is filled with fascinating ancient castles, mountains, and forests to surprise anyone who thinks they have discovered all there is to see.
With so many different activities to do and so many exciting dishes to taste, the best way to explore Spain is to have your own transport. Hiring a car in Spain allows you to plan and change your own itinerary, avoid confusing public transport, and pull over for a picnic wherever you fancy. There are several Spain car rental operators throughout the country, so a quick and easy solution is to book through an unbiased comparison site like DriveNow. Browse from hundreds of different Spain rental cars, pick the one that suits you best, and the hard work is done! Then you can focus on the exciting part of planning where to go first.
Ready for that last part? Here's a bit of help to get you started.
Venture off the Beaten Track with Car Hire in Northern Spain from DriveNow
When many people think of Spain, the first destinations that spring to mind are the Southern beaches or central cities. However, there's a great deal to be explored in the mountainous, medieval north of the country, and ample opportunities for awesome road trips in your Spain car hire. Here are just a few places to add to your list.
Picos de Europa National Park
Discover picture perfect views in Spain's oldest national park Source: turismoasturias.es
If you're looking to sample something a little off the normal Spanish tourist track, this could be just the ticket. The Picos de Europa National Park is located in Southeast Asturias, around 90 minutes from the city of Santander, and home to some of the most stunning scenery in the country. This part of Spain can be a bit chillier than the southern areas, which makes it an ideal place for hiking and exploring.
Rioja Wine Region
For fans of the world famous tipple, it would be rude to pass through Northern Spain without sampling it from the vines themselves. The area is home to more than 500 wineries, as well as museums and hotels built on the wineries, so you can spend as much time here as your heart desires. The wineries also come complete with different activities like winemaking workshops, food tasting, and historic tours.
San Sebastian
Head right to the border between Spain and France and you'll find San Sebastian. Whether you're a die-hard surfer, a fine dining enthusiast, or a history buff, you'll very likely find something that catches your eye in San Sebastian. The city is made up of attractive 19th century buildings and filled with trendy shops, lively bars and world class restaurants, and surrounded by picturesque hills and beaches. Pack your swimmers and bring your best appetite for tapas, and you're set for a good time.
See Southern Spain in your Car Hire from DriveNow
With its long stretches of coastline, famous cuisine, and glorious sunsets, the south of Spain is an unforgettable place to spend a holiday. Whether you want to head straight for the lively beaches, discover ancient cathedrals and castles, or try your hand at flamenco dancing, the south has plenty on offer.
Seville
For an awe-inspiring taste of some of Spain's most impressive cathedrals, churches, and architecture, Seville is a must-do. The city is home to the world's largest gothic cathedral, complete with its magnificent bell tower structure and golden tomb of Christopher Columbus. While you could spend months exploring the ancient buildings and learning about the history of the city, there's also plenty to keep you occupied once you've had your fill of sight-seeing for the day. Lounge on one of the many rooftop bars, embark on a tapas trail, or simply sit and people-watch with a glass of wine.
Granada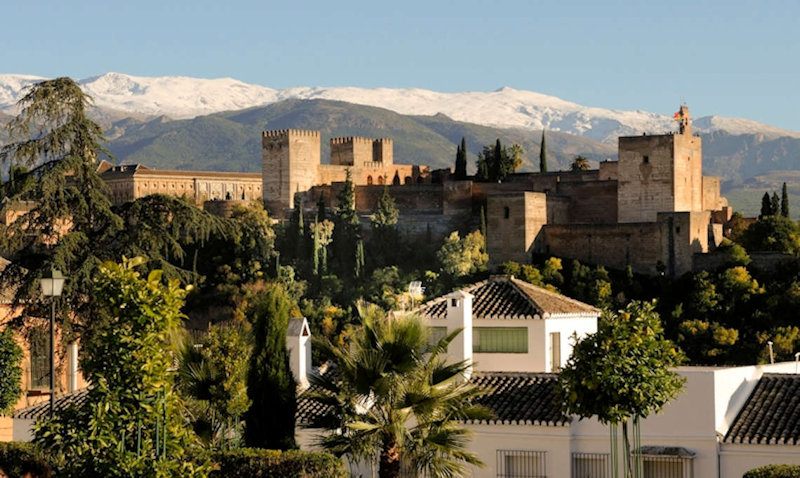 Enjoy history with a slice of jaw dropping background in Granada Source: granadatur.com
Surrounded by the magnificent mountains of the Sierra Nevada and less than an hour's drive from the south coast, to say Granada is well located would be putting it mildly. The city itself is delight to spend time in, with heaps of cathedrals, palaces, and plazas to discover, the most famous of which being the Moorish fortress known as the Alhambra. Spend your days exploring the architectural masterpieces and finding cultural touchpoints wherever you turn, and your nights soaking up the lively atmosphere that attracts university students from all over the world. If the mountains are calling, as they may be given you can see them from the city, it's only 90 minutes' drive in your Spain hire car until you reach the dramatic peaks of the Sierra Nevada.
Cadiz
The province of Cadiz in the very south of Spain is where you'll feel most like you just stepped into a holiday brochure. White stone buildings contrast with deep blue skies, the streets are full of seafood, and you'll see medieval buildings around almost every corner. Cadiz is considered to be the oldest settlement in Europe, and is home to an incredible mix of influences and stories. Pack your sun cream for this one, as the southernmost point in Spain can get rather hot!
Enjoy the East of Spain with Car Hire from DriveNow
The east of Spain is home to two of the country's most famous and well-loved cities: Barcelona and Valencia. Although the cities are worlds apart in terms of what you can do, see, and eat, luckily they are only a 3.5 hour drive in your Spain car rental! Here are just a few highlights of these world famous cities to help you start planning your adventure.
Barcelona
The arty, colourful, and wonderfully unique city of Barcelona has enough for you to see and do to pack multiple trips. A stroll through the city is like an artistic and architectural tour through the ages, with world famous buildings, sculptures, and monuments spanning more than 2000 years. Combine this feast for the eyes with the convenience of 5km of sandy beach, the buzz of one of the world's best football teams, and fiercely passionate, proud locals, and you have a recipe for a good trip.
Valencia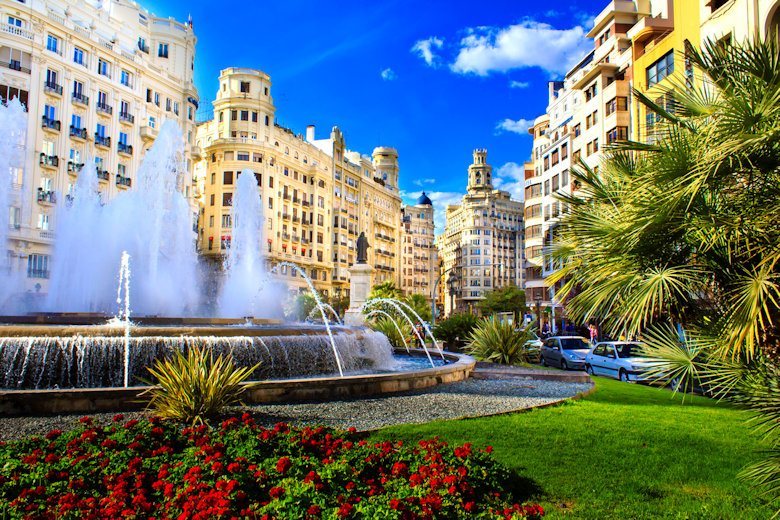 Soak up the lively city of Valencia at your leisure with the keys to your own car hire
Sunny Valencia is one of eastern Spain's biggest attractions, and as the third biggest city in the country there's plenty to do to keep you occupied. The city itself is a mix of historic and modern buildings, with medieval castles and striking contemporary architecture blending seamlessly. Wander around the embellished plazas, sunbake in the park, or head to the clean, white beaches just a stone's throw away from the city. Other highlights of a trip to Valencia include sampling legendary paella, which originates in this part of the country, or experiencing the Fallas festival, an exuberant two week celebration at the start of spring.
Get to the Heart of the Action in Central Spain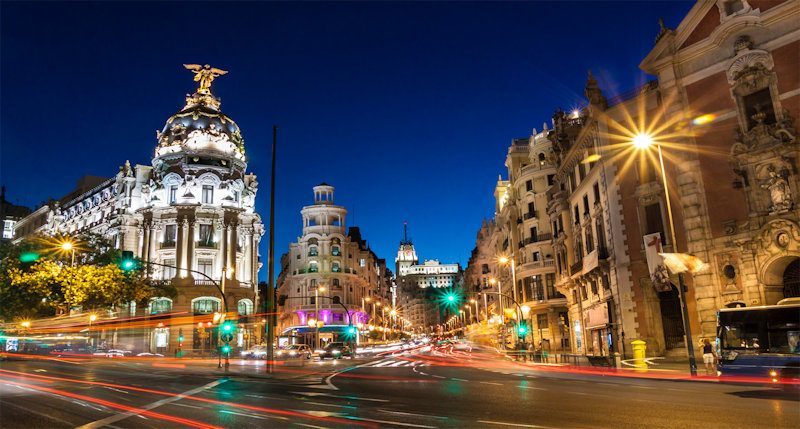 Madrid is bursting with exciting things to see, do, and eat during your Spanish hire car adventure Source: theodysseyonline.com
Head inland from the sparkling coastlines and you'll be en route to Madrid, Spain's enigmatic capital city. Located bang in the heart of the country, it's possible to drive to Madrid in less than 5 hours from most other major cities and visitor hotspots.
Madrid is home to a host of famous museums, stunning architecture, and monuments, with enough last you several weeks. Relax in a rowing boat in Parque del Retiro, take a historic walking tour, or visit the masterpieces of Picasso or Dali in a world class art gallery. Make sure you save some energy though, as once you've had your cultural fix there are still the wonders of Madrid nightlife to be explored!
It wouldn't be a successful visit to Spain without sampling some of their most loved classic dishes. While modern Spanish cuisine has diverted from some of the most stereotypical foods, the old favourites still remain, and you'll find plenty of them in Madrid. Churros con chocolate, tortilla (Spanish omelette), and bocadillo de calimares (calamari sandwiches) are all great choices to enjoy with a glass of wine after a long day of sightseeing.
Compare Cheap Car Hire in Spain for Free with DriveNow
When you're planning a trip to Spain, one thing you don't want to worry about is booking your transport. With DriveNow, you can take care of it in one easy process by reserving your Spain rental car in advance through our simple comparison service.
With more than a decade of experience comparing rental vehicles, we have built lasting partnerships with some of the best rental car operators in Spain. That means we can call upon cars of all kinds of size, make, and model. Simply enter what you're looking for and when you plan to come, and we'll show you what your options are.
And the best part is, on top of all this choice, you also get good, honest pricing. We search the internet for the lowest prices for your chosen dates to get the best deal we can find for you. What's more, there are no hidden fees before, during, or after your trip, so the price you see is the price you get.
Why Use DriveNow for Car Hire in Spain?
Comparing car rental since 2003
Free booking service with no fees or hidden charges
Guaranteed lowest rates
Includes all taxes and levies (excludes young driver surcharge and optional extras)
Objective and impartial comparison of rates and vehicles
We're 100% based, owned and operated in Australia and do not offshore any of our services
Common Questions
How old must I be to rent a car in Spain? The minimum age is 21, however at some locations this can be 23 and young driver fees may also apply (these average around 18 Euros a day and with a 10 day cap). In addition some locations and some suppliers impose further restrictions on the type of vehicles they will rent to drivers aged 23-25. As restrictions vary between suppliers and locations, if you have any concerns about age limits or restrictions please use the comments field and we will confirm any that apply to you. There are no cancellation fees so book with confidence knowing you can cancel at no cost.


What driving license do I require? You can rent a car using your own driving license as long as it is English based - other licenses should be supported by an international Driving Permit. Good advice is to always carry your passport when driving a rental car and ensure you have this available when picking up the vehicle.


Spanish Roads The Spanish drive on the right and distance and speed are measured in kilometres. Fuel is delivered in litres. In built-up areas the speed limit is 50kmh, 90 on non-urban roads, 100 on dial carriage ways and 120kmh on freeways/motorways. Speed limits are enforced with on the spot fines issued.


Car Hire - Automatic or Manual Transmission? The majority of rental cars in Spain are manual transmission although automatics are available.


Car Hire payment You will be required to pay for your vehicle using a credit card.


Am I required to use a Seatbelt in Spain? Yes, all passengers are required to use seat belts. No child under the age of 12 may use the front passenger seat and small children must use child or booster seats in the rear.

Drinking and Driving Spain is very strict on drink driving and severe penalties are applied. The legal alcohol limit is 0.05. Drivers with less than 2 years experience are limited to a lower level of 0.03. In serious cases imprisonment can result.
Using a Mobile Phone whilst driving Like most countries using a mobile phone whilst driving is illegal in Spain with on the spot fines.