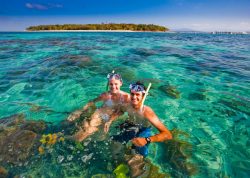 Cairns is the perfect place to explore in a campervan with the kids. Hire a campervan from Cairns Airport. You can also hire a vehicle from Port Douglas. Begin your wild adventure by visiting these five incredible places.
Kuranda Butterfly Sanctuary
The butterfly sanctuary in Kuranda is Australia's biggest butterfly farm. It's also home to the country's largest walk-through aviary. Step inside and you'll be surrounded by about 1500 butterflies. Spot these beautiful insects in all colours, including the magnificent, bright blue Ulysses. Make sure you wear bright clothes and they won't stop landing on you!
Snorkelling at Green Island, off more...
The post 5 wild Cairns adventures for kids in a campervan – DriveNow Blog appeared first on DriveNow Blog.