Get to Know New Zealand with Car Hire from DriveNow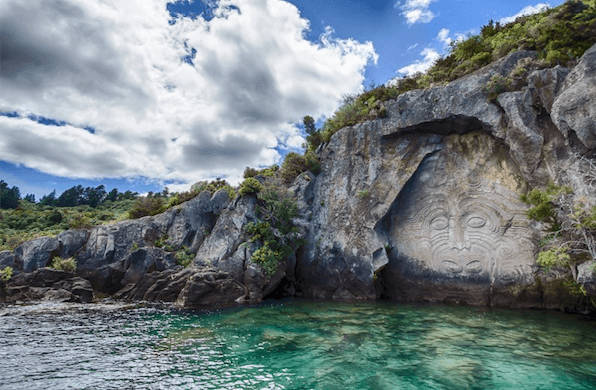 Maori culture and unspoilt nature are amongst New Zealand's many treasures
Welcome to New Zealand! Located at the bottom of the world, this beautiful country is known for its vast green landscapes and wide-open spaces. While the main cities offer a cultural experience of their own, to truly explore the land of the kiwis you need to hit the open road and venture into the countryside.
Comprised of two main landmasses, the North and the South islands, New Zealand spans some 1,600km from top to bottom, with a spine of striking snow-capped mountains and volcanic peaks. The two islands are separated by a deep, moody channel known as the Cook Strait, and for this reason alone, most travellers treat the North Island and the South Island as distinct destinations, often choosing to visit one over the other due to time constraints.
While this isn't ideal, it is a reality. Fortunately, this means that visitors can focus their efforts on touring just one island at a time. The vast majority choose New Zealand car hire to get around and explore this beautiful country. Why? Because both islands boast seriously stunning scenery, which means you might as well start factoring in unscheduled photo stops on your self-drive holiday right now.
A hire car in New Zealand also allows you complete independence and control over your own itinerary. No more sitting on long bus rides or spending a fortune on flights. Travelling by rental car is a great way to take in all of New Zealand's attractions without the stress of navigating public transport.
With a cheap NZ car rental, you can really experience the country's natural beauty in isolation, away from the crowds and at your own pace. Travel to the very tip of the North Island and see the Tasman Sea meet the Pacific Ocean, or venture to the deep south and explore Stuart Island, the 1,680 square kilometre home to around 400 New Zealanders. Be sure to enjoy everything in between, from the world-famous Milford Sound to the picturesque Bay of Plenty.
So which island should you choose, and what are the must-do activities that you need to pencil in? Read on to find out what they both have to offer.
Exploring the North Island with New Zealand Car Rental
Rich in history and Maori culture, the North Island is where the bulk of New Zealand's population resides. Warmer and flatter than its southern counterpart, the North Island is a landscape of sleeping volcanoes, bubbling thermal pools, lustrous crater lakes, subtropical forests, and undulating plains that slope gently down onto sandy shores. New Zealand car hire here is a must, in order to discover hidden beaches, glow worm caves, boutique wineries, and even idyllic offshore islands. If you're flying into Auckland and planning to stay put on the North Island, these are just some of the destinations you simply have to visit.
Auckland
Cosmopolitan Auckland is New Zealand's largest city boasting a skyline studded with skyscrapers, pulsating nightlife, an exciting dining scene, and a multitude of boats (hence the "City of Sails" moniker). Each of its suburbs possesses a distinct personality from fashionable, open-minded Ponsonby to character-filled Devonport across the Waitemata Harbour. Take advantage of cheap car rental in Auckland, picking up your New Zealand car rental or campervan hire in the city or at Auckland Airport to explore the rest of the North Island. Nearby Waiheke Island makes a great day trip destination. This haven of artists and more recently, the rich and famous, brims with galleries, cafes, vineyards and fabulous white sandy beaches. If you want to take your NZ hire car, use the convenient vehicle ferry.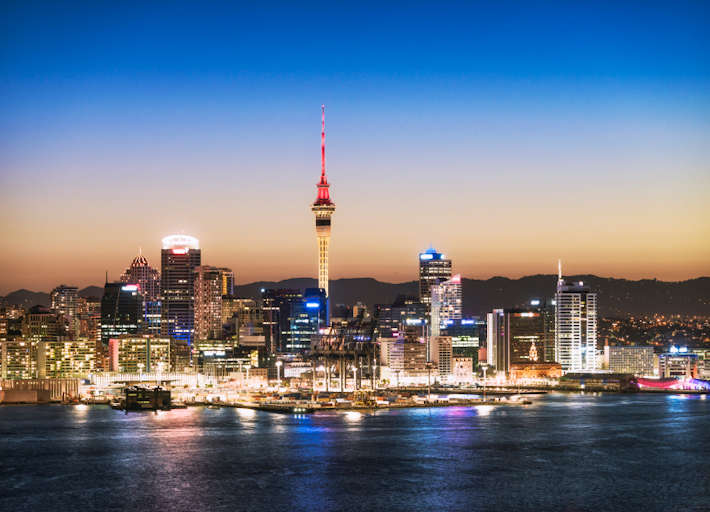 Auckland's beautiful city skyline
Hamilton - Waikato
Director Peter Jackson chose this area to play "The Shire" in his screen adaptations of Tolkien's epic fantasy trilogy "The Lord of the Rings", so you can expect to see lots of pretty green hills. An easy day trip by NZ car hire from Auckland, Matamata is where you can tour the Hobbiton movie set. Alternatively, you can set up base in the vibrant university town of Hamilton, which sits on the banks of New Zealand's longest river – the Waikato. This bucolic town possesses an excellent Zoo, and an outstanding Botanical Gardens.
Interestingly, many of this region's attractions actually lie below ground – the limestone Waitomo Caves are notable for their dramatic stalactites and stalagmites as well as the presence of magical glow worms. Experience these subterranean wonders on foot, by boat, or while black water rafting.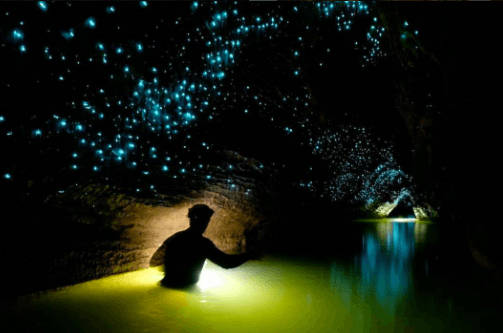 There are so many ways to discover the enchanting Waitomo Caves
Northland and the Bay of Islands
Comprising the top end of the North Island, Northland is still very much a rural region of rolling hills flanked on the west by lengthy straight stretches of sand such as Ninety Mile Beach and fringed by rugged bays and islands to the east, the best known probably being the Bay of Islands. This entire area is an outdoor enthusiasts' dream, offering activities such as swimming with wild dolphins, dune surfing, scuba diving, and even kayaking Maori war canoes! It's also where the historic Treaty of Waitangi was signed, and home to the world's largest kauri tree. Best of all, it is New Zealand's warmest region making it conducive to year-round marine pursuits.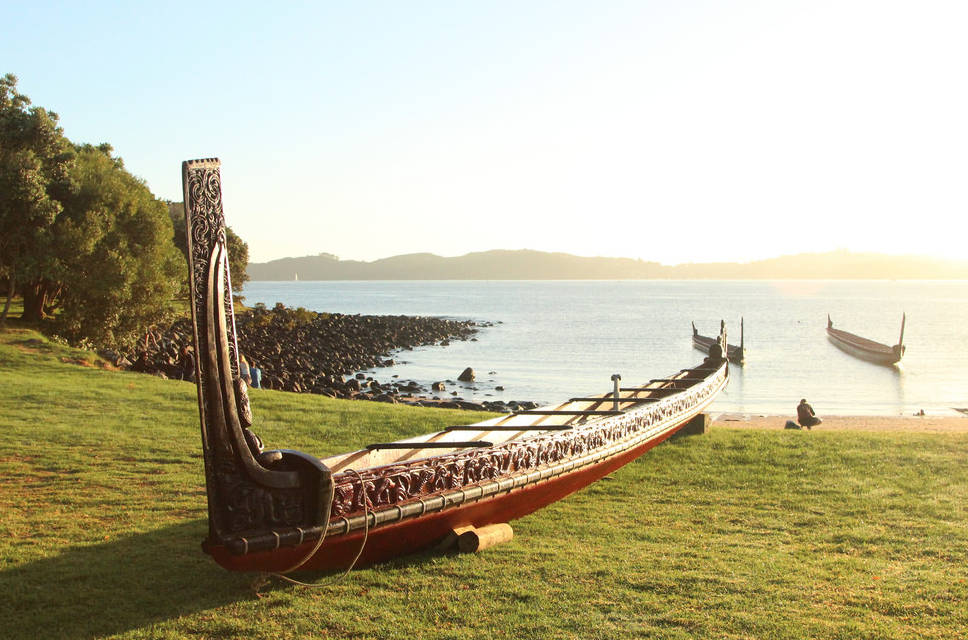 A majestic waka – a traditional Maori war canoe
Coromandel Peninsula
A popular summer getaway for Aucklanders, the Coromandel is visible from the city on a fine day. If you've decided to procure a car rental in New Zealand, this wild and rugged peninsula offers plenty of things to do. Walk or cycle along the picturesque Coromandel Walkway, soak in your own personal "hot tub" on Hot Water Beach and take a cruise to spectacular Cathedral Cove, looking for marine life such as orca and seals en route. The more adventurous might choose to abseil down waterfalls in Sleeping God Canyon or scuba dive undersea caves and marine reserves lying off the coast. The possibilities are endless. Travel in December and be treated to the marvelous sight of pohutukawa – aptly known as New Zealand Christmas trees – in full bloom.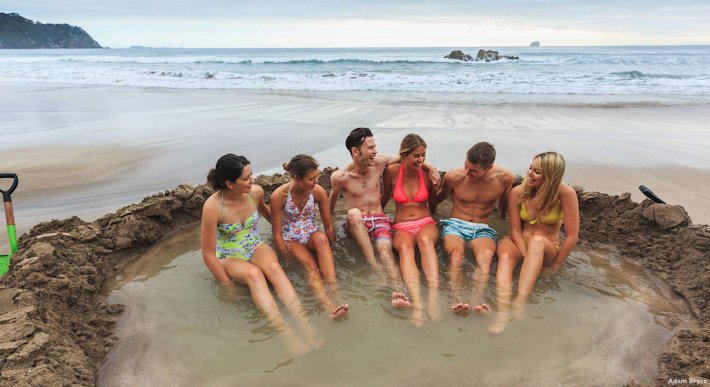 Dig your own pool at Hot Water Beach on the Coromandel Peninsula Source: newzealand.com
Rotorua
Maori culture is alive and well in this town, famous for geothermal activity, waterfalls and vast tracts of native forest. Savour a traditional hangi feast and be awed by fearsome warriors at Mitai Maori Village. For more cultural performances, rare kiwis, boiling mud pools, and the ever-reliable Pohutu geyser, head to Te Puia. Stretch your legs with a hike through the steaming Waimangu Volcanic Valley or cross Lake Rotomahana by boat to see a hundreds of birds and sites inaccessible on foot.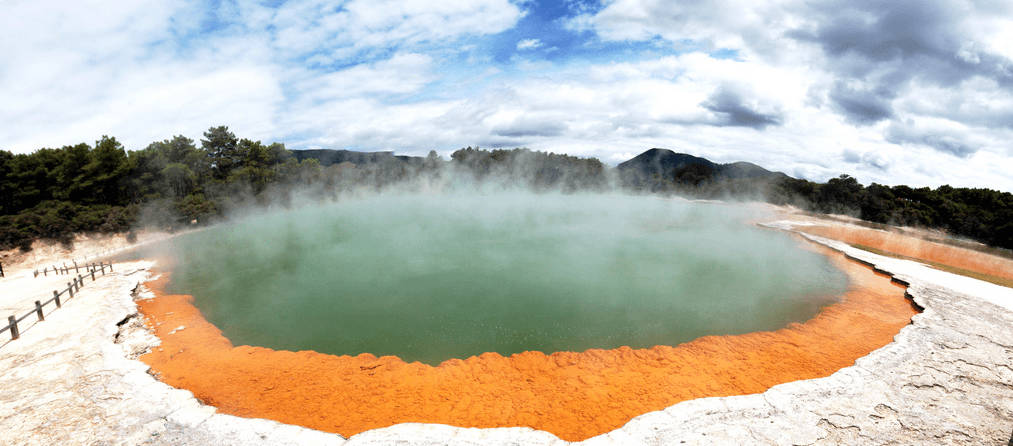 A surreal geothermal spring in Rotorua
Lake Taupo
South of Rotorua and almost smack bang in the centre of North Island lies Lake Taupo, a trout fishing mecca. This expansive sapphire lake is surrounded by a number of thermal springs, some set amid pristine bush. Taupo Debretts is perfect for families with kids, with slides, play areas and picnic facilities, while the Wairakei Terraces offer adults-only soaking pools. The World Heritage-listed Tongariro National Park lies at the lake's southern end, encircling three active volcanoes: Mt Ngauruhoe, Mt Ruapehu, and Mt Tongariro. These three cones comprise just some of the many highlights on the Tongariro Alpine Crossing – arguably New Zealand's greatest one-day walk. Mt Ruapehu is also a well-developed ski resort in winter, with a stunning cliff-top café and two scenic chairlifts that take you 2,020m above sea level.
Hawke's Bay
If you're a wine connoisseur, chances are you've heard of Hawke's Bay, which has been bottling Merlot Cabernets, Chardonnays, and Syrah since 1851. This is a good place to leave your New Zealand rental car behind and hop on a bus or bicycle to taste your way around the region. If you're visiting on a weekend, buy food the old-fashioned way at the Sunday Hawke's Bay Farmers' Market. The city of Napier – an Art Deco gem – hosts the Napier Urban Farmers' Market, where you can treat yourself to fresh baked goodies, then go for a stroll to admire the beautifully preserved 1930s streetscapes.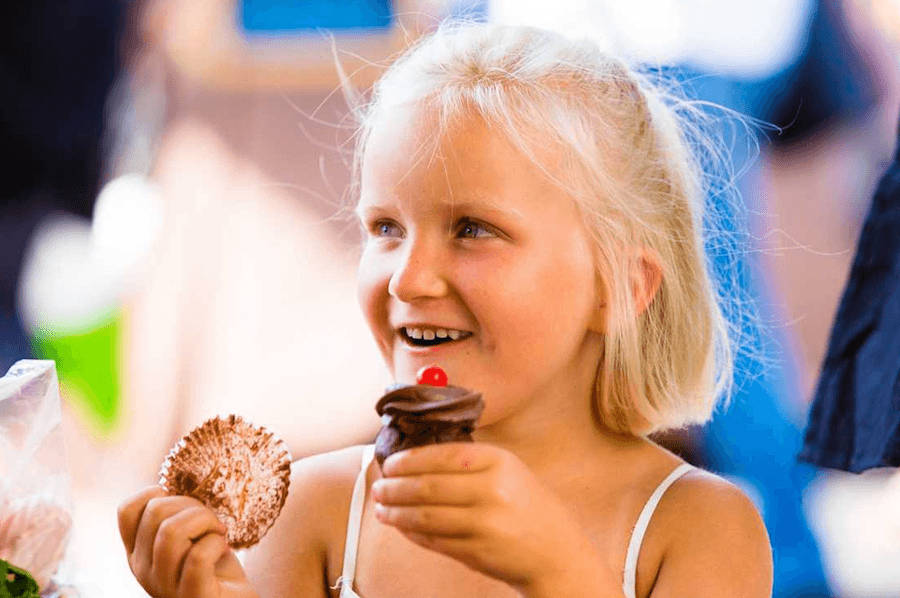 Sweet treats abound at the markets Source: hawkesbayfarmersmarket.co.nz
Wellington
Not many people realise that Wellington is New Zealand's capital – it's compact and almost way too cool to be an administrative centre. Presided over by Mount Victoria, this harbour town is well known for both its artistic and culinary scenes, so why not grab a coffee made from locally roasted beans and wander the picturesque waterfront? The excellent Te Papa museum will enthral visitors of any age with its hands-on displays and interactive exhibits showcasing New Zealand's natural, cultural or historical treasures. No trip to this city is complete without touring the Weta Workshop. This is where you can view movie props used in Hollywood blockbusters such as Avatar, The Lord of the Rings and District 9. Book a car or Wellington campervan hire to travel the length of this stunning city.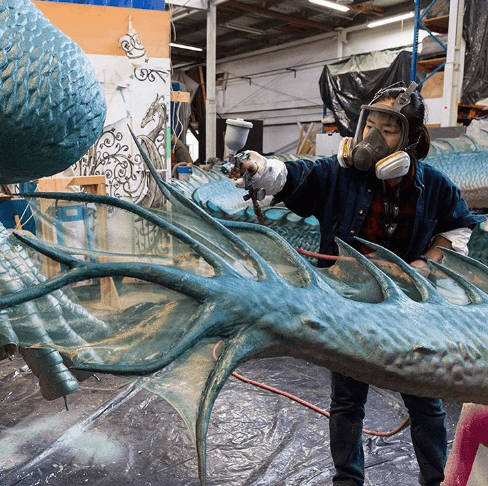 Artist painting a dragon in Wellington's WETA Workshop
Seeing the South Island with New Zealand Car Rental
The South Island tends to hog the spotlight due its jaw-dropping scenery, which includes snow-covered peaks, jewel-toned lakes, and verdant rolling hills dotted with hundreds of sheep. The population of metropolitan Auckland is larger than the entire population of South Island so you're highly likely to have many of the sights to yourself. Most visitors enter the South Island via Christchurch or Queenstown, so we highly recommend organising car hire in New Zealand from these cities if you're planning to get behind the wheel.
The crucial thing to be aware of when driving a New Zealand car rental in the South Island is that you need to keep your eyes on the road – trust us, it's really hard to do this when you're gobsmacked by the views. Also, while distances may look short on a map, always allow more time than you need because roads in this region are narrow, winding and sometimes affected by weather-related hazards such as snow or fog. And of course, we already warned you about those pesky impromptu photo stops. Below, you'll find our guide to the most interesting places to go in the South Island, plus a few tips on what to do while you're there.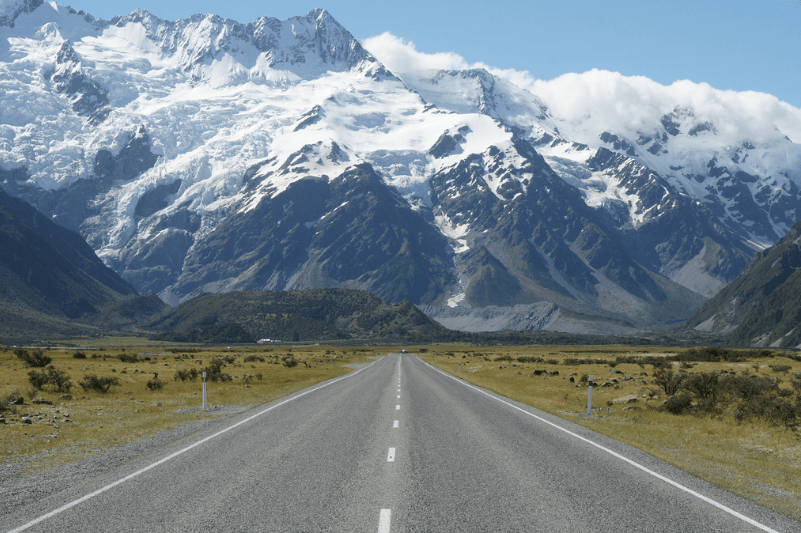 Keeping your eyes on the road and not the scenery can be a challenge!
Christchurch
Reduced to rubble by severe earthquakes in 2010 and 2011, Christchurch has bounced back, with innovative new attractions such as Re:START, a funky shopping centre constructed out of colourful shipping containers and a Cardboard Cathedral. It's also the most exciting place to eat on the South Island, with an eclectic mix of restaurants, cafés, and bars. If you haven't already seen a kiwi, Christchurch's Orana Wildlife Park is a great place to view these flightless birds, while the unique International Antarctic Centre provides fascinating insight into the challenges faced by polar explorers. Booking a cheap car hire in New Zealand or affordable Christchurch campervan rental will grant you the freedom to explore the wonders of this captivating city in comfort and style.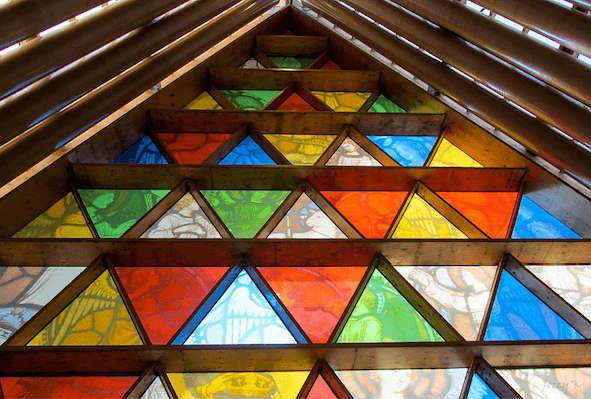 Colourful panes of glass welcome worshippers to Christchurch's transitional 'Cardboard Cathedral'
Marlborough
North of Christchurch lies Marlborough, the country's most renowned wine-growing region. Again, it might be wise to park your New Zealand hire car and go winery-hopping by coach or bicycle. Famous labels such as Cloudy Bay can be found up here, with cellar door tasting experiences on offer.
If you're after some exercise, the Queen Charlotte Track is one of the most scenic walking and biking trails in the region, running the high, forested ridges between Queen Charlotte and Keneperu sounds. Better yet, there's a handy pack transfer service if you want to do a multi-day hike without having to carry all your luggage! Another option is to hire a sailboat or paddle a sea kayak – the waters of these drowned valleys are remarkably calm. For the best of both worlds, consider 'cruising the Marlborough Sounds from the tidy seaside towns of Picton or Blenheim. These voyages allow you to soak up the scenery with a crisp glass of acclaimed sauvignon blanc and a delectable lunch of green-lipped mussels – a regional specialty.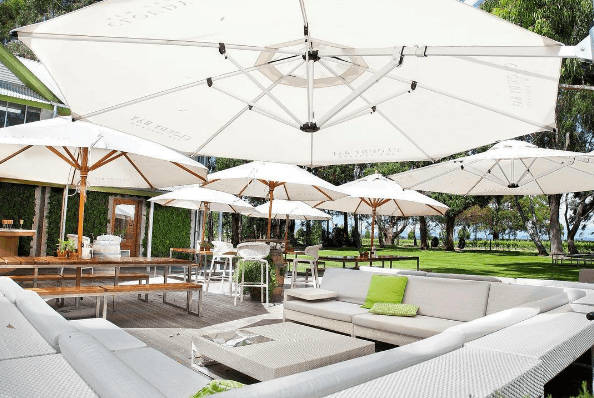 Jack's Bar, an outdoor wine lounge in the Cloudy Bay Cellar Door
Nelson
Encompassing the top north-east corner of South Island, relatively small Nelson is a heavyweight in the national park stakes boasting three, including the tiny but perfectly formed Abel Tasman National Park. This stunning reserve features a 53km-long walking (or in New Zealand speak, "tramping") track that traces the coastline, passing steep cliffs, native bushland and fine, sandy beaches. Sheltered bays up here are also ideal for kayaking or cruising. Beer is big in sunny Nelson, with more craft breweries per head than anywhere else in the country, and so are wines, with pinot noir and chardonnay being of particular note.
West Coast
If you like glaciers, New Zealand's West Coast is where you want to be. Two of the most accessible glaciers in the Southern Alps – the Franz Josef and Fox – await discovery. See these frozen natural wonders by walking to their terminal "nose" or get dropped off on top. Heli-hiking combines the thrill of viewing these glaciers from above with the exciting ability to hike the immense icy formations. Where there are glaciers, there are lakes. Serene Lake Matheson is a popular viewpoint for Aoraki Mt Cook – the country's highest peak. Its tannin-rich dark waters mirror the mountain's imposing snow-topped summit perfectly on a calm day.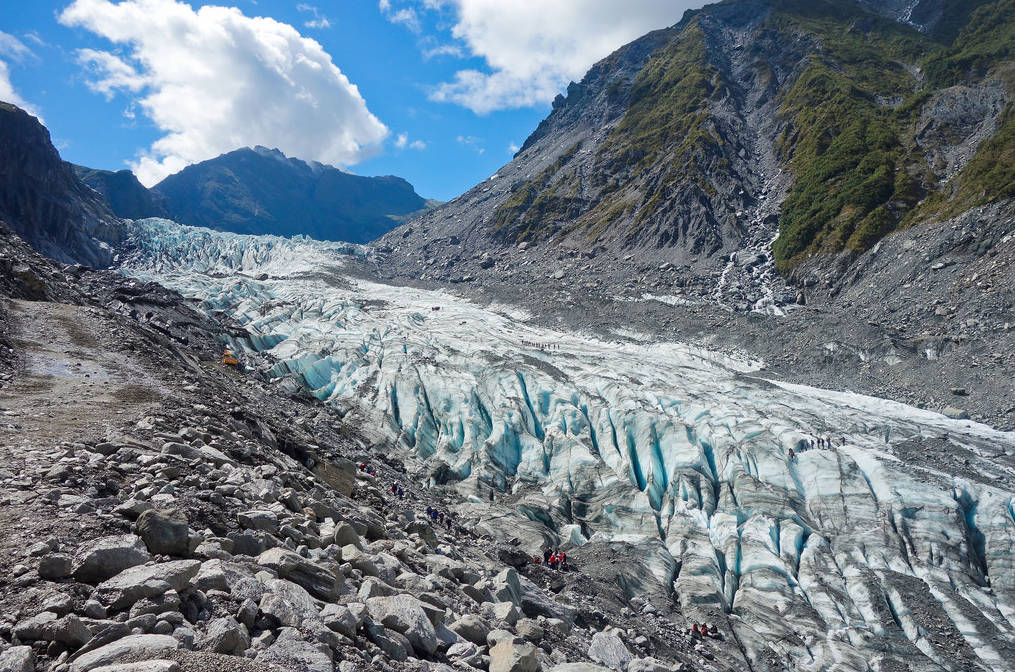 Hike the awe-inspiring Fox Glacier
The photogenic stretch of highway between Westport and Greymouth is known as The Great Coast Road. This is a fantastic drive that you can do in your New Zealand car rental. The trip takes around 90 minutes non-stop, but we suggest you take your time. Stop at the many beaches as well as at the Pancake Rocks near Punakaiki, which are littered with impressive blowholes and best viewed at high tide.
Wanaka
Nestled at the base of the Southern Alps, the resort town of Wanaka is gateway to Mount Aspiring National Park. Wild yet accessible, this huge park harbours fabulous alpine scenery including immense glaciers, beech forests, and glistening snowfields, with "tramping" tracks to suit hikers of all abilities. If you prefer to be out on the water, you can take an exhilarating jet boat ride along some of the region's pristine rivers or traverse the waters of Lake Wanaka – New Zealand's fourth-largest lake – on a stand-up paddle board. All that fresh air is bound to make you hungry; Wanaka is home to an amazing year-round Farmer's market where you'll find everything from handmade chocolates and home-baked pastries to farm-fresh produce, local honey, and ales. If you're thirsty, consider a tour of the Cardrona Distillery, which makes artisan spirits from scratch including award-winning gin.
Fiordland
This World Heritage area in the southwest is home to the crown jewel of the South Island – Milford Sound. The best known of all the fjords that dot this spectacular wilderness region, Milford Sound is a stupendous natural wonder of soaring cliffs, shimmering cascades, and lush mountains, the most distinctive being Mitre Peak. You can drive your NZ car rental from Queenstown or Te Anau to this incredible site, or go by coach, plane, or even helicopter. Most travellers opt to cruise Milford Sound, while the more intrepid may kayak. Whichever vessel you choose, be sure to take a sip of pure glacial water beneath a waterfall and look for penguins, seals and dolphins in your wake.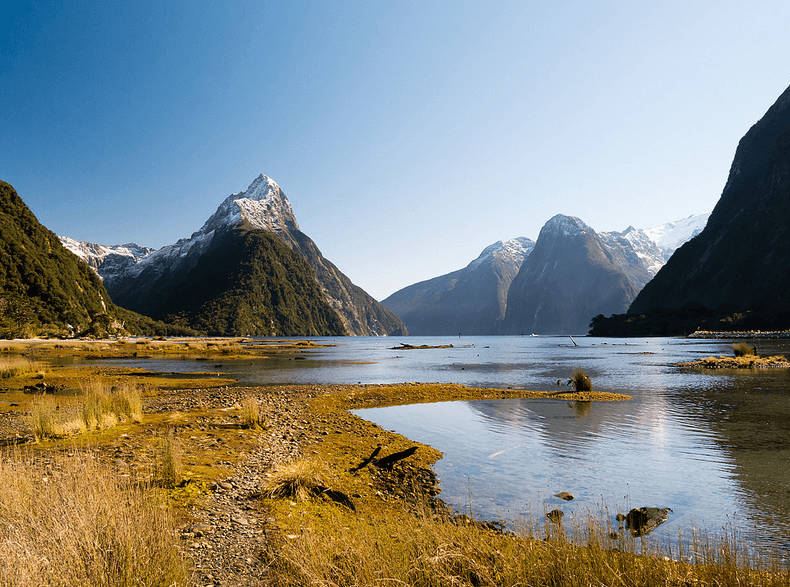 No photograph could possibly do justice to the beauty of Milford Sound
Southland
Aside from being a good base from which to explore Milford Sound, the Southland town of Te Anau is close to the ethereal Te Ana-au Caves. Take a punt into silent limestone grottoes whose smooth ceilings twinkle with tiny lights cast by predatory gnats, which use their bioluminescence to lure prey. You can also charter a boat on Lake Te Anau, the South Island's second-largest lake, or visit the Te Anau Bird Sanctuary to view the rare endemic flightless Takahe.
Right at the bottom of the South Island is Invercargill, New Zealand's southernmost city. Founded in the mid-19th century, the city's wide, remarkably straight streets are lined with character-filled Victorian and Edwardian buildings. It's also home to Queens Park, 81 hectares of luxuriant greenery, where you can quickly lose yourself to nature and learn what a "stumpery" is. If you're partial to oysters, this is the place to slurp them – bluff oysters hail from a nearby port town with the same name, whose annual Bluff Oyster and Food Festival attracts seafood lovers from all over the country, prepared to pay top dollar for these plump, juicy bivalves.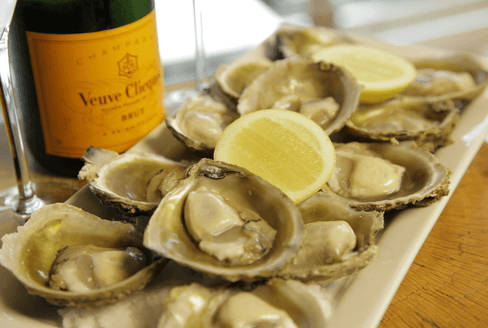 Champagne and plump bluff oysters at Auckland's harbourfront Oyster & Chop Bar & Bistro Source: Oysterandchop.co.nz
Queenstown
Thrill seekers need look no further than Queenstown, touted as New Zealand's "Adventure Capital". The nickname is well-earned given the vast array of activities on offer at this resort town with a spectacular location on the shores of crystalline Lake Wakatipu. Take your pick of adrenaline options from bungee jumping off Kawarau Bridge with the sport's pioneer, to skydiving, jet boating, and mountain biking. For daredevils, Queenstown is a mecca.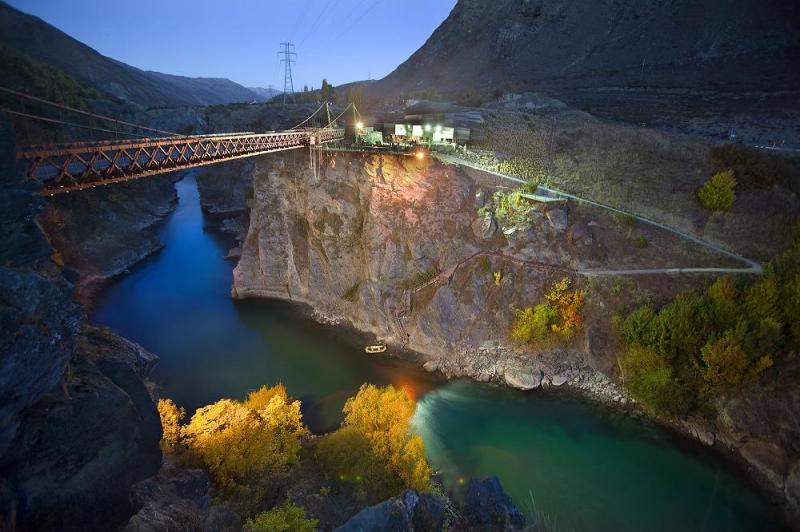 The Kawarau Bridge Bungee Site has been credited as the birthplace of adventure tourism in New Zealand Source: www.bungy.co.nz
In winter, the slopes of Queenstown's Southern Alps turn into a playground for skiers and snow boarders, with four ski fields within easy reach of the town centre. Prefer backcountry? Take a tour of the untouched powder just beyond resort boundaries.
If your pace is a little more sedate, there are plenty of relaxing things to do in and around Queenstown. Ride a gondola up to Bob's Peak, where kids and parents alike will delight in freewheeling along Luge tracks, propelled by gravity. There are day spas, cedar hot tubs with captivating views over the Shotover Canyon as well as gorgeous cycle trails that can take you to all the way to quirky Arrowtown. This former gold rush town has a charming main street and a cute little museum whose displays chart the history of the Lakes District area. You can also experience Lake Wakatipu's profound beauty aboard the 104-year old steamship, the TSS Earnslaw.
Epicures are well taken care of in Queenstown – there are over 150 eateries in this pretty little town. Furthermore the hills and valleys of the Central Otago region surrounding Queenstown are renowned for cool climate varietals, such as Pinot noir and Riesling, with New Zealand's biggest wine cave just 25 minutes down the road.
Dunedin
Historic Dunedin has a Scottish soul, with incredibly preserved heritage architecture which wouldn't look out of place in Edinburgh, especially the elaborate Dunedin Railway Station and the magnificent Lanarch Castle, built on a ridge overlooking the Otago Peninsula. The city is also home to Speight's Brewery, a landmark since 1876, and the handsome Otago University, founded in 1869.
If you're a chocolate lover, you're in luck. Dunedin has a Cadbury factory that churns out much of New Zealand's confectionery. The highlight of their annual carnival is the rolling of tens of thousands of orange candy-coated chocolates – Jaffas - down Baldwin Street, said to be the world's steepest street.
The Otago Peninsula, which encompasses part of south Dunedin is something of a wildlife sanctuary, home to the planet's only known mainland breeding royal albatross colony. Its peaceful beaches are often visited by seals and sea lions, with Pilots Beach being a favourite nesting ground for Little Blue Penguins. Military buffs might like to visit the Armstrong Disappearing Gun at Fort Taiaroa, the only one of its kind still in working condition and housed in its original pit.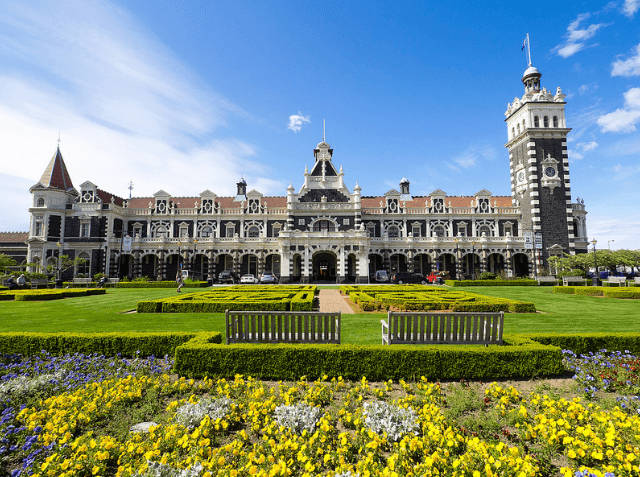 Dunedin's ornate railway station
Compare Cheap Car Hire in NZ with DriveNow
Have you got your New Zealand car hire sorted yet?
DriveNow's online comparison service aims to bring you the very best deals on cheap car rental in New Zealand. Whether you are looking for something small and compact to navigate the country's majestic islands, or are after an SUV or 4WD rental for the whole family, there is sure to be a car to suit your needs. And if you'd prefer to travel by NZ campervan, we compare those too!
With DriveNow's convenient booking process, you can easily compare different prices and locations from leading New Zealand car hire suppliers, including Budget, Avis, Hertz, Thrifty, GoRentals, Europcar, and many more. These providers have branches located all over New Zealand, close to main cities, airports, and other popular landmarks.
At DriveNow we pride ourselves on customer service and understand that it's not just about finding the best deal. Our NZ car hire reservations team are just a phone call away and are on-hand to help guide you through the reservation process and answer any questions you may have. We actively seek your feedback to continuously improve the level of service and support we deliver. The aim of DriveNow is to make securing your ideal rental car in New Zealand as easy and as stress-free as possible, so you can spend your time concentrating on the important things – such as deciding where to visit first!
Why Use DriveNow to Book Your Car Rental in New Zealand?
We always check for the lowest available rental rates from all our NZ partners
Quick and easy rental rate and vehicle comparisons
We don't charge booking fees
We only partner with familiar and trusted NZ car rental companies
No deposit or credit card details required when booking
Immediate booking confirmation
Drive-away prices include all taxes and levies (excludes young driver surcharge and optional extras)
Lowest price guarantee
DriveNow has been comparing cheap car rental in NZ since 2003
Car Rental NZ – FAQ
How Can I Get the Best Deal on Car Hire in New Zealand?
The secret is to book early.
The earlier you book the cheaper the rate. Renting a car in New Zealand is just like buying an airline ticket. If you book during peak periods such as Christmas, Easter, or the school holidays, the prices will be higher. The warmer months, November through to March, are the most popular time for visiting New Zealand and this is reflected in pricing and availability of vehicles. By planning and booking ahead you are able to lock in your rental price and will have the best choice of vehicles. With no booking fees at DriveNow, you have nothing to lose.
How Old Must I Be to Hire a Car in New Zealand?
You must be over 21 to secure a car rental in New Zealand. Drivers in the 21 to 25 bracket will often be required to pay a young person's surcharge fee. Driver licenses must be full and unrestricted and been held for at least 12 months.
What Driving License Do I Require in New Zealand?
You can drive in New Zealand using your own driving license as long as it is in English or has an English translation. Otherwise, you will require an International Driving Permit which will be readily available in your country. All designated drivers need to have their driving license details recorded when collecting their NZ car rental.
Driving in New Zealand
In New Zealand driving is on the left, and all measurements are in metric. Fuel is delivered in litres, and petrol stations will accept all major credit cards.
Speed Limits in New Zealand
In New Zealand highways and freeways are limited to 100kmh and urban traffic to 50kmh.
Speeding Fines in New Zealand
The hirer is liable for all speed and traffic infringements incurred during the hiring period. Rental companies will charge your credit card for any infringements received and may include an administration fee – this often occurs after the hiring period.
Car Hire - Automatic or Manual Transmission?
Both manual and automatic transmission equipped cars are available for hire in New Zealand – the majority are automatic transmission.
Car Hire Payment
You will be required to pay for your vehicle on pickup using a credit card. Excess Insurance reduction and other options can also be purchased when collecting your NZ hire car.
Excess Insurance Options
You can take excess insurance (Collision Damage Waiver) reduction options by paying a daily fee to reduce your liability in the event of an accident. Many travel insurance policies will include this and it's often a cheaper option.
Is it Compulsory to Wear a Seatbelt in New Zealand?
Yes, in all seats.
Child Booster and Baby Seats
Children under the age of 14 are not allowed to travel in the front seat of a car. In the rear seats, all children under 5 must be safely secured in a child seat. Children 5-7 must use a child restraint if available, and children 8-14 must use a safety belt.
Recent New Zealand Blogs