Car Hire Melbourne Airport
Search for Car Rental in Melbourne Airport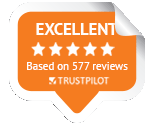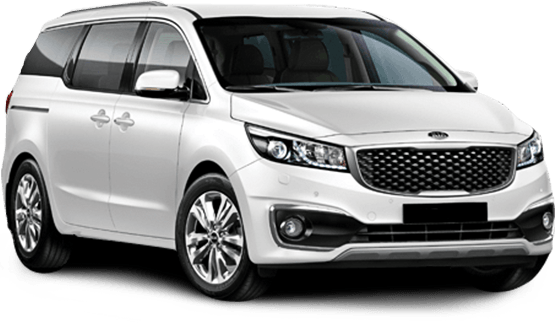 Explore Melbourne Airport with car hire from DriveNow

The city of
Melbourne
is easily one of the top attractions in all of Australia. Whether you're a true blue Aussie taking a domestic holiday or an overseas traveller getting a taste of life Down Under, the capital of Victoria provides an urban flavour that is hard to find anywhere else in the country. The living, breathing culture is highlighted by a thriving art, theatre, and music scene that supports local acts; a die-hard sports scene that has made the city one of the athletic capitals of the world; and a foodie scene featuring world-renowned chefs pushing the boundaries of what can conceivably be served on the plate. And, while it often doesn't grab the same headlines as other Australian hotspots like
Sydney
,
Brisbane
,
Perth
, and the
Gold Coast
, Melbourne isn't too far from the beachy hang you're searching for, either.
So, what are you waiting for? It's time to book in your holidays at the office and go spend some time in the second-most populous city in Australia.
Melbourne Airport is the place to get your trip started. The first thing you need to do is make sure to get there. When you fly into the capital of Victoria, you have a couple different options. When you buy your tickets, you can fly into
Avalon Airport
or
Melbourne Airport
, which is also known as Tullamarine. Avalon Airport is about 55 km from the city centre. While flights are sometimes cheaper to Avalon for this exact reason, such a plan can also require a longer drive into the city. On the other hand, Tullamarine is just about 22 km from the Melbourne CBD. When you have DriveNow's cheap, convenient car rental at the ready, either option can be a great one. But flying into Tullamarine can make your life that little bit easier.
Here is your guide to your first port of call on your trip, from car rental at Melbourne Airport to the site's history and other benefits of this great gateway to this great city.
Your Guide to the Terminals at Melbourne Airport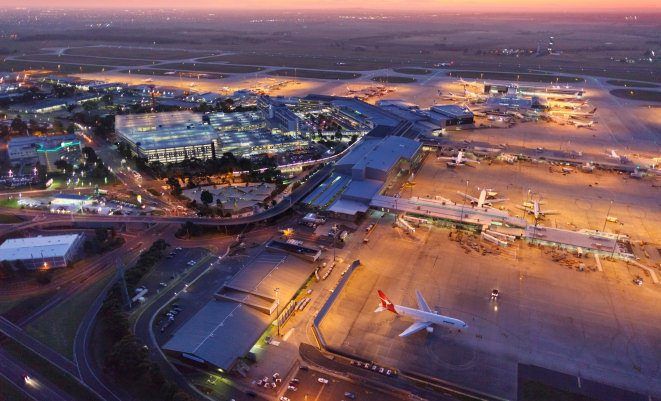 Melbourne Airport is big enough to service millions of passengers but still easy to navigate Source: australianaviation.com.au
Airport
Information
Address:
Departure Drive, Melbourne Airport VIC 3045
Code: MEL
Telephone: +61 8 8920 1811
Location:
Melbourne Airport is located about 22km northwest of Melbourne
No. of Terminals: 4
Timezone: GMT/UTC +11:00
There are four terminals at Tullarmarine, which sounds like a lot. And by no means is it a small structure. But in reality it's not too difficult to navigate. Three of these four terminals are dedicated to domestic flights, which highlights just how popular Melbourne is with those flying within Australia! Qantas operate out of T1; T3 is where you'll be if you have tickets for a Virgin Australia flight or some other smaller regional departures; and T4 is the home of Jetstar, Tigerair Australia and regional arrivals. The missing terminal? T2 is for international comings and goings.
All of these terminals sit under the same roof, so you won't have to take long journeys to get from building to building like you might have to do at some other airports. Instead, you can simply walk from terminal to terminal to get where you need to be, whether that's connecting to another flight or making your way to the Melbourne Airport rental cars.
Car Rental at Melbourne Airport and Getting into the City
Having your own set of wheels is by far the best way to make sure you can see everything you want, when you want, during your holiday. That's why knowing the ins and outs of car hire at Melbourne Airport is such a key part of planning your trip. Luckily for you, getting your hands on the keys of the car you reserved is a pretty easy process, meaning you won't have to chew up valuable hours of your holiday roaming around the concourse or waiting in long lines before you're able to get on your way.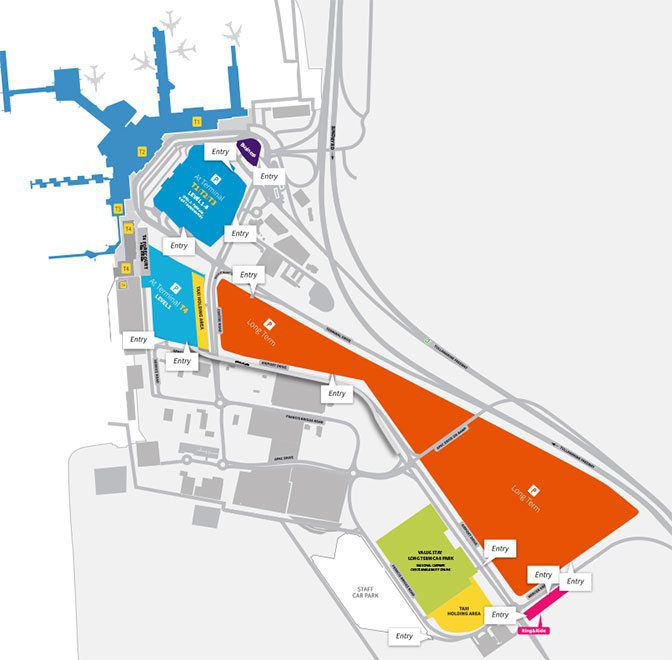 There are convenient spots to pick up your car hire all over Melbourne Airport Source: melbourneairport.com.au
There is a great collection of 10 trusted suppliers when it comes to Melbourne Airport car rental. This includes some of the biggest names in the industry, such as Hertz, Thrifty, Budget, Avis, Redspot and Europcar. Knowing you'll be renting from one of these respected companies offers peace of mind, giving you one less thing you have to worry about when putting your trip together.
You won't have to go far to find helpful staffers from these brands, either. There are offices for each of the aforementioned vehicle suppliers on the ground for of the T1, T2, and T3 car parks. And there are also information desks in each of the three domestic terminals (T1, T3, and T4). All of this adds up to cheap car rental at Melbourne Airport that is easy and convenient for you and your fellow travellers, which is especially important if you're carting around a lot of luggage or have young members in tow.
After you've got the keys, there's only one thing left to do—hit the road, of course! Toss all of your gear into the boot and backseat, buckle in, and make tracks for your accommodation. There are plenty of awesome places to stay in the Melbourne CBD, as well as in the areas just outside of it.
Melbourne CBD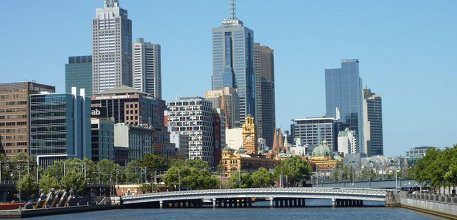 The Melbourne CBD is one of many fantastic areas in which you can stay during your trip Source: travelvictoria.com.au
If you are staying close to the CBD, or just want to make that first stop on your trip, you'll take your hire car and head south via the Citylink/M2/State Route 43. It's one of the main arterial routes in that part of the world, so there will be plenty of signs for you to follow to make sure you're heading the right direction. From there, it's pretty much a straight shot down into the city. After about 16km, you'll split to the left to exit onto Flemington Rd. When that ends, take the roundabout to Elizabeth St., which will take you into the heart of downtown Melbourne.
Port Melbourne
If you're staying in Port Melbourne, to the west of the CBD, you'll still take Citylink/M2/State Route 43 from Tullamarine. Instead of getting off on Flemington, just keep going until you see exit 1W for M1/W Gate Fwy. Hop on there and stick to the left so you can hit Exit W5, then follow the signs to Todd Rd. That will deliver you to Port Melbourne on the banks of the winding Yarra River.
St. Kilda
St. Kilda is another popular neighbourhood in which to stay if you're visiting Melbourne. If that's where you're headed, take Citylink/M2/State Route 43 past the CBD (which will be on your left) and over the Yarra until it ends. There you'll merge onto Kings Way/Princes Hwy. Stay to the right to stay on National Hwy Alt 1. After about 2 km you'll hop off on Lakeside drive, which will lead you down into St. Kilda.
Despite the relative proximity of Tullamarine to the CBD, as opposed to Avalon, there can sometimes be a bit of traffic or road work that gets in your way. Don't be discouraged; instead, just think of all the time you saved back at Melbourne Airport getting the keys!
Restaurants, Cafes, and Bars in Melbourne Airport
After you return your hire car at Melbourne Airport, you might find yourself with some time to kill before it's time to board your flight. Perhaps this is because you've gotten to the airport a few hours early (as suggested) and breezed through check in and security, or maybe it's because your itinerary unfortunately hits a snag and you're forced to wait out a delay.
Fear not! There are plenty of comfortable places in which you can hang out during your wait at the airport. Here are some of the best restaurants, cafes, and bars in Tullamarine Airport, whether you're looking to sit down and kill a few hours or need to shovel in a quick bite before heading to your gate.
Bar Pulpo
Bar Pulpo is one of a collection of quality international restaurants in Tullamarine Airport
While you already know you go to the airport to get transported somewhere else, you might not expect to be taken somewhere else before you even buckle your seatbelt and listen to the safety instructions spiel during take-off. But Bar Pulpo by Movida can take you from the terminals of Melboune Airport to the hip streets of Spain through delicious dishes prepared fresh every day.
This restaurant brings something a bit different to the airport dining scene. Instead of the traditional Aussie pub fare on offer at most terminal restaurants, Bar Pulpo by Movida serves up quality Spanish fare from a menu that wouldn't look out of place in Europe.
You'll have to hit up the international terminal (T2) to sample this sweet Spanish spot's goods.
Brunetti
Whether you're looking for something savoury or want a sweet treat before hitting the air, Brunetti, located in T4 of Melbourne Airport, could be the place for you. These guys put care into what they do, fixing up a range of goodies that can satisfy your stomach regardless of when hunger strikes.
Just want a hit of sugar or a tasty pastry for tea? The staff at Brunetti don't cut corners with their baked goods, making them from scratch every day so you know you won't be getting repackaged junk. Or perhaps you're after something a bit more substantial. Swing by for some homemade pasta or pizza that tastes more like it came from a kitchen in Europe than the halls of an airport.
Two Johns Taphouse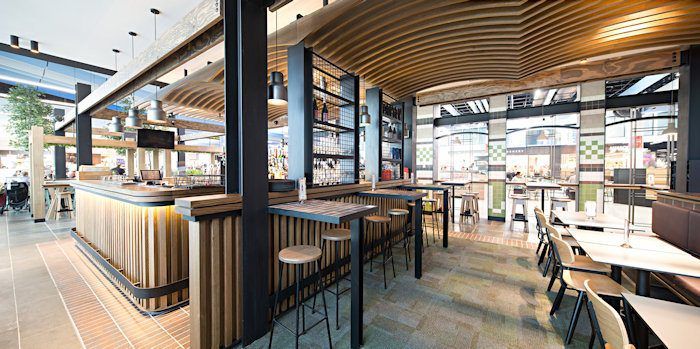 Look back on your favourite holiday moments with a pint at Two Johns Taphouse Source: technet.com.au
What better way to reminisce about all the amazing things you saw in your Melbourne Airport Hire Car than with a few cold ones? Two Johns Taphouse can give you a great backdrop to look back on the trip that was and has a tasty range of local brews. You'll also find wine and spirits to satisfy fellow travellers who might not be feeling the frothies. And it's a great spot if you're travelling solo, as there are plenty of TVs showing big games from around the world.
Tried and Tested
Sometimes you just want to go with what you know, and with so many of your favourites located within the halls of Tullamarine Airport, car hire won't be the only thing you can easily check off your list! It doesn't have to be hard to be healthy when travelling, as you can grab something yummy and quick from Boost Juice in T3 or T4 to keep your body operating at full speed. And Subway in T2 and Sumo Salad in T3 have the salads and sandwiches full of fresh ingredients that you've come to expect from these takeaway staples.
Of course, you can always treat yourself to a sneaky donut at Krispy Kreme in T3 or T4 or some other baked treat at Muffin Break in T2 or T4. Fast food staples Oporto (T4), Hungry Jack's (T2), McDonald's (T3, T4), and Nandos (T2) won't be hard to find, either.
Shop 'til You Drop and Other Amenities at Melbourne Airport
With all the money you'll save on car hire at Melbourne Airport when you turn to DriveNow to sort out your wheels, you'll have plenty of coin leftover to buy yourself some of the finer things in life! Get yourself a little something to remember your trip by at any one of these fantastic retailers found in Tullamarine.
There's no shortage of places to shop at Melbourne Airport Source: architectus.com.au
Clothing and Accessories
Lost something on your trip or just want to add something to your wardrobe that will remind you of your travels? You'll have plenty of options at the airport. Country Road is one of the country's most iconic retailers, and you can hit up the location in T4 if you want to grab some new threads or one of those classic duffels. Looking for something sporty for the summer ahead? Rip Curl (T2 and T4), Surf Dive n Ski (T3), and Sportsgirl Accessories (T3) could have the bits and pieces you need to gear up for the warmer summer months. And Mimco (T4), Siricco (T2), and Trenery (T4) can help you find the right piece to complete your look.
Health and Beauty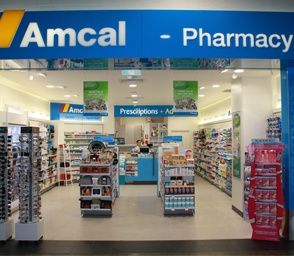 Stock up on everyday vitamins, pain relievers, and DVT assistants at Amcal before taking off Source: melbourneairport.com.au
The right health and beauty products can have you looking and feeling your best when you fly which, let's face it, isn't always the easiest! Grab some pain relievers from Amcal Pharmacy in T2 and T4 to make sure you're stocked up for your trip. Or you can find items that can help you deal with or avoid the dreaded deep vein thrombosis (DVT). To take care of yourself on the outside, Amuse in T4 has makeup and perfume options that can help you spruce up for an important event or keep you looking fresh during your road trip in your rental car.
Tech
Whether you're looking for a new device or just need some protective gear for your phone, tablet, computer, or camera, there are several solid electronics outlets throughout Melbourne Airport. Grab a phone plan for your travels at Optus in T2. Or you can improve or outfit your tech game at Protectabag in T2 or Tech2Go in T3 and T4.
Wi-Fi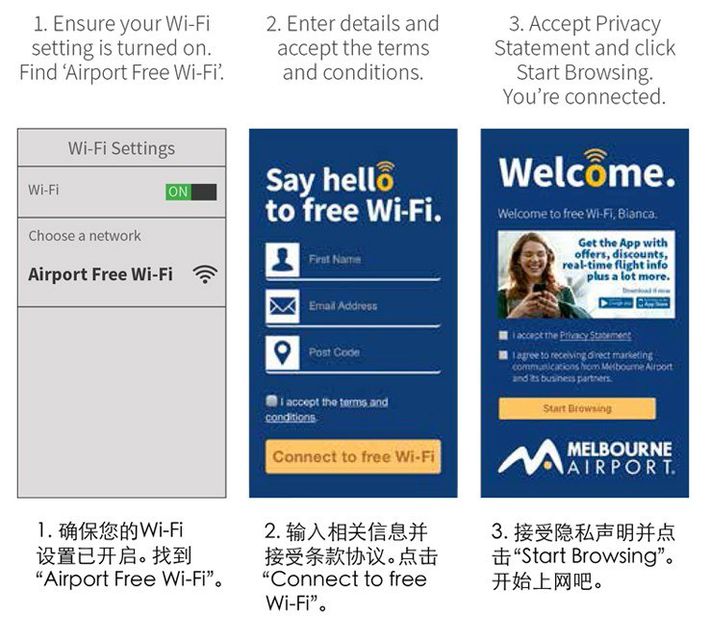 Hopping onto the free wireless at Melbourne Airport is easy Source: melbourneairport.com.au
Perhaps everybody's most pressing point of interest when they're killing time is if there's Wi-Fi to be had. Well, limber up those fingers because there is free wireless at Melbourne Airport! This way you can text, check social media, or even take care of a bit of work while waiting for your flight without having to put a major dent in your data!
Currency Exchange
Need to get your hands on some AUD? Not a worry at Melbourne Airport. You can find currency exchange locations in several spots around Terminal 2, where international flights arrive and depart from.
Then to Now: The History of Melbourne Airport
These days, Tullamarine Airport is a great reflection of the city of Melbourne itself. The Terminals draw in visitors from near and far, and it's the only major airport in the country that is open 24 hours a day, 7 days a week. Much like the citizens of the city, Melbourne Airport marches to the beat of its own drummer, buzzing with activity long after many other airports have shut their doors for the night.
Melbourne Airport has been servicing the capital of Victoria and its surrounding area for more than 45 years, shuttling hundreds of millions of travellers in and out of the state since opening in 1970. But the beginning of the airport goes back much further than that.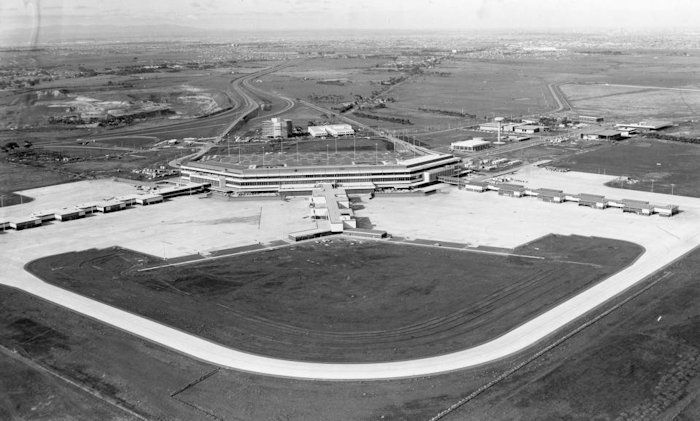 Tullamarine has come a long way from its humble beginnings back in 1970 Source: melbourneairport.com.au
After commissioning a study of the city's need for increased aviation capacity, it was announced in May 1959 that Tullamarine would be the site for a new airport in Melbourne. However, it was five years before the first shovelful of dirt was moved in November 1964, marking the beginning of construction.
In 1970, the airport was opened for international business, with its first official name being the Tullamarine International Airport. The rest of the decade and the next saw the periodic unveiling of flight patterns and different planes travelling to and from Melbourne to major cities around the world, including Christchurch, Chicago, London, Singapore, and New York.
In 1990, work was started on a big-time upgrade of the domestic terminals, helping update the structure for an increasing number of passengers coming in and out of gates each year. The updates have continued in the years since, with a freight apron extension in 1997 and the widening of the north-south runway to accommodate Airbus A380 flights in 2005.
The next major addition came in 2009, when the first stage of major expansions for T2 took place. The work continued through the next year, and by the time it was done, Tullamarine was more than ready for a major influx of overseas travellers. But it isn't only those coming or going outside of Australia that continue to benefit from updated digs. A brand new terminal was unveiled in 2016. In three stages across 2015 and 2016, T4 became a pioneer in aviation transportation. It opened as the first terminal in the world to be a fully self-service operation, in which passengers checked themselves and their bags in on their own.
The construction of T4 at Melbourne Airport signaled the arrival of self-service flying
The airport continues to go from strength to strength, providing smooth transitions for millions of travellers in and out of Victoria each year. According to the Melbourne Airport 2016 report, more than 35 million passengers passed through the gates. Hopefully, for their sake, they took advantage of cheap car rental at Tullamarine!
Find and Compare Cheap Car Hire at Melbourne Airport with DriveNow
If you're ready to hire a car at Melbourne Airport, it just makes sense to use DriveNow. With our intuitive interface, it's easy to browse all the makes and models available and then compare them to find one that fits your needs and budget. You'll get to see what's on offer from some of the biggest brands in the business, so you know whichever option you go with will be backed by a trusted supplier as well as our years of experience in the industry.
There are all sorts of other perks to using DriveNow for your Melbourne Airport car rental. Many of them are centred on our belief in good, honest pricing. When you book car hire at Tullamarine Airport with us, the price you see is the price you get. We don't believe in sticking in hidden fees that pop up when it's time to settle up. When you make your reservation, you don't even have to provide your credit card up front, and we'll find you the lowest price out there. All of this adds up to cheap car hire that keeps money in your pocket, giving you the freedom to splurge on the holiday you want!
So, why use DriveNow to rent a car at Melbourne Airport?
Our Partners - Widest choice of Brands with offices and rental cars on site at Melbourne Airport - no shuttles
Price - Rates are all drive-away (excluding young driver fee and optional extras you may later select)
Trust & Experience - Since 2003 we've been helping travellers compare the cost of car rental at Melbourne Airport
Local - We are Melbourne based. 100% Australian owned & operated and do not offshore our call centre
Need Help? - Our Melbourne based reservations team are here to answer all your questions
Free Services - Our Booking Service is 100% free with no fees or cancellation charges
Instant Confirmation - Booking is quick and easy with instant email confirmation
At DriveNow we compare the cost of renting a car from Melbourne Airport to help travellers find the best deal that meets their needs. It's that simple.
Melbourne Airport Car Rental Locations
Discover amazing experiences in Melbourne Airport