Car Hire Kalgoorlie
Search for Car Rental in Kalgoorlie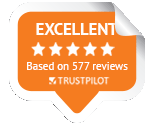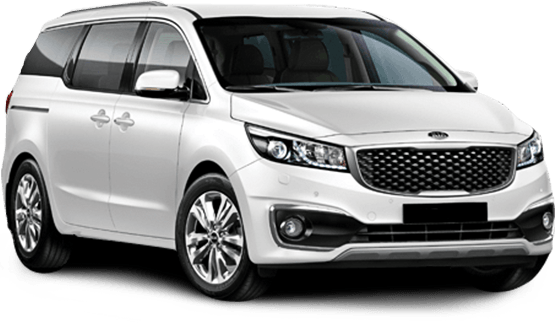 Explore Kalgoorlie with car hire from DriveNow

Soak up the gold rush history of Kalgoorlie during your next trip and experience the wonders of this historic mining town. Considered Australia's biggest outback town, Kalgoorlie is filled with welcoming locals, amazing sights, and activities well worth checking out. It's a seven hour drive east from
Perth
and just a short hour's flight from
Perth Airport
to the
Kalgoorlie-Boulder Airport
. The town is famous for the key part it played in the gold boom of the 1800s, when the valuable asset was discovered, kicking off a frenzy to harvest it. From then on and up till today, gold is still being dug from the grounds in Kalgoorlie.
The town offers a host of things to see and do for travellers of just about every age and interest, all of which can be at your fingertips with car hire in Kalgoorlie from DriveNow. Dive into this guide below and get a bit of insight into a piece of the real Australian outback!
Places to Visit and Things to Do in Your Kalgoorlie Car Hire
When you're in Kalgoorlie, there is plenty to see and do, from tours and walks to flights over the Super Pit to get a panoramic view from the sky and much more. Kalgoorlie is also filled with art and culture that celebrates the creative community and its achievements. Below you'll find a few popular recommendations on what to see and do while in on holiday in this bustling mining town.
Kalgoorlie Town Hall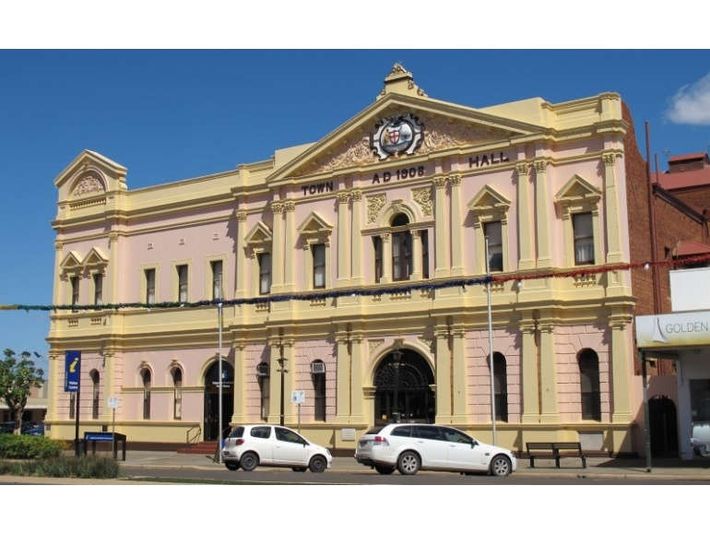 The old Kalgoorlie Town Hall is one of the most popular landmarks in town and one you certainly don't want to miss!
Source: Touring Selector
Located on the corner of Wilson and Hannan Streets, Kalgoorlie Town Hall is one of the most visited landmarks in town. It was built in 1908 as a theatre with an Edwardian style structure, and is filled with a rich decorative interior reflecting the town's wealth during the gold boom era. The Kalgoorlie Town Hall is open Monday to Friday and curates free guided tours at 10:30am every Monday and Wednesday. No booking needed, so you can just walk in and get a strong dose of history!
Museum of the Goldfields
Experience the rich history of Kalgoorlie's gold mining heritage at the Museum of the Goldfields, which is located on Hannan Street. Here you can learn about how people used to find gold, traverse the biggest state collection of gold nuggets and bars, and travel through time to hear the lives of mining families and the adversities they experienced. Relive the past to discover how it was like back then during the gold rush in one of the biggest open pit mines in Australia.
Super Pit Lookout

Explore an active mining site right here in Kalgoorlie at the aptly named Super Pit.
Source: Bahnfrend
Inevitably the most popular attraction in and around Kalgoorlie, the Super Pit Lookout is the second largest gold mine in all of Australia. More than 900,000 ounces of gold are mined from the spot every year with the pit stretching 3.7km (2.3 miles) long, 1.5km (.93 miles) wide, and more than 600 metres (1,969 feet) deep. It is located at the south-east edge of Kalgoorlie, which is just a short 10-12 minute drive from the town centre in your Kalgoorlie car rental. The attraction is open every day from 7am till 7pm with guided tours for visitors. You can even watch the blasts in real time; just call 90221100 for the blasting schedule so you don't miss it!
Take a tour
Take a tour or two from the multitude of choices available, with everything from gold mining excursions and nature walks to indigenous cultural tours. This is a must-do for every visitor interested in Kalgoorlie's deep and rich history. So head to down to the Kalgoorlie Boulder Pure Gold Visitor Centre on Hannan Street to discover the many tour options available in this wonderful town. The staff are very friendly and informative and will happily provide you with advice to ensure that you'll have unforgettable experiences while exploring Kalgoorlie. There is also a nice gift shop at the centre where you can purchase souvenirs from their wide selection. Don't leave your family and friends without a piece of this historic town!
Places to stay in Kalgoorlie
There are plenty of accommodation options in this historic city, from small apartments to a range of luxury hotels. Every visitor is sure to have a place to suit their needs. As Kalgoorlie is a popular town, be sure to plan well in advance and book your accommodation to ensure you are fully set during your time in town on holiday.
Palace Hotel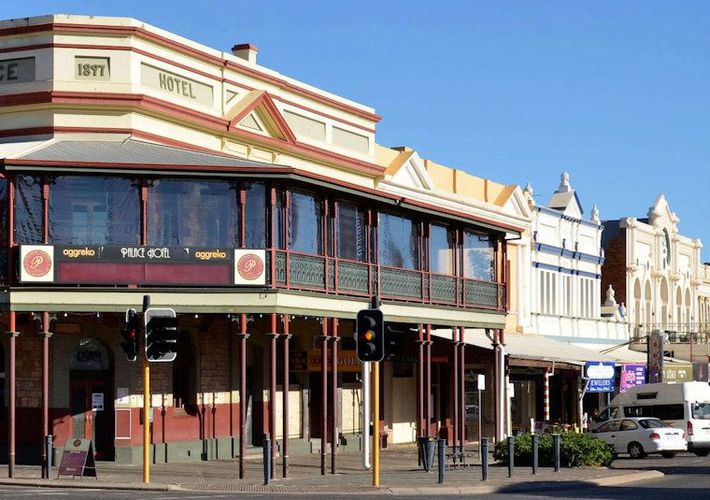 Filled with old world architecture, the Palace Hotel is a snazzy place to stay during your time in Kalgoorlie.
Source: JarrahTree
A renowned hotel due to its historic past, the Palace Hotel, located on the corner of Maritana and Kalgoorlie Streets, is a superb accommodation for your stay. Besides wonderful places to call home during your holiday, the hotel also features three places wonderfully suited for a bite to eat or a quick drink: the famous Balcony Bar and Restaurant, the Hoover Café and Lounge Bar, and the Gold Bar. A regular guest during the past was US president Herbert Hoover who before becoming president was a mining engineer working in the mines of Kalgoorlie for a few years. He donated a carved mirror to the hotel before he left and it still remains at the foyer of the hotel.
Rydges
A four-star hotel, Rydges is in the centre of the town and provides space and luxury to every guest. The hotel is furnished with classy contemporary styles and rooms for every need, including couples or large families. It also offers a great deal of amenities you've come to expect from one of the biggest names in accommodation, including a pool, indoor and outdoor dining areas, meeting rooms, a spa, bed and breakfast options, and much much more!
Ibis Styles Hotel
Also located in the centre of town and close to the airport, is the Ibis Styles Hotel. Here you will be pampered by the comfy rooms and amenities available to you. There is an outdoor pool if you'd like to take a dip and cool down after an activity-filled day, or if you prefer a relaxing meal from the comfort of your bed, they offer room service too. Don't wait too long as this is a popular hotel in Kalgoorlie!
Where to Eat and Grab a Drink in Kalgoorlie
Food options are aplenty in Kalgoorlie, with Australian, Thai, Indian, and Mexican to name a few of the many cuisines this historic town offers. What better way to start or end your day than with a hearty meal before and after all the activities you'll be doing? Don't go hungry; hop in your car rental in Kalgoorlie and venture into one of these recommended restaurants below!
Hoover's Café and Balcony Bar & Restaurant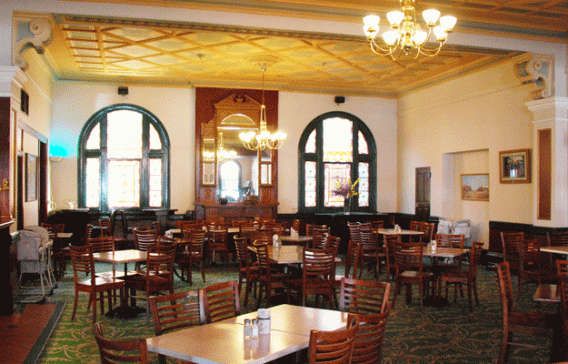 Grab delicious pub grub at Hoover's Café during your stay in Kalgoorlie!
Source: Palace Hotel
If you'd like some pub grub, Hoover's Café in The Palace Hotel serves mouth-watering food. Enjoy your breakfast, lunch, or afternoon tea at the café which is open every day from 7am. The hotel is a grand building with various food options to choose from, and just one floor above the Hoover Café is an amazing restaurant if you're looking to have a more intimate meal. The Balcony Bar & Restaurant serves up seafood and steak, which is their specialty. It is a top-notch restaurant with friendly and attentive staff members to make your dining experience a memorable one. A fantastic way to end a long day of activities we say!
Relish
Located on Hannan Street, Relish is a quaint café that gives off retro vibes with its quirky interior. Said to have great coffee, Relish also serves home-style food with a modern spin during breakfast and lunch hours. Baked goods are also aplenty here with savoury muffins, cakes, and cookies for those looking for something savoury or something to satisfy sweet tooth cravings.
Lemongrass
Lemongrass is another excellent restaurant serving delicious and authentic Thai fare. It is located near Woolworths and next door to Liquorland on Brookman Street. Here, you can also taste a variety of Asian cuisines besides Thai; choices like Vietnamese raw beef noodle soup is an enjoyable dish to satisfy any tummy, while the grilled marinated lemongrass chicken fills you up with its tasty goodness. What's also great is that you can dine in or takeaway, and vegetarian options are also available.
Use DriveNow's Car Hire in Kalgoorlie for an Amazing Holiday Experience
Kalgoorlie is one of the most visited outback towns in Australia due to its bustling and thriving community filled with delightful food, stunning sights, and fun activities full of history. It's the most popular and populated city in the Goldfields region with more than 30,000 people, and is the fifth largest town in Western Australia.
Driving around Kalgoorlie in a rental car is easy, with the town built in an organised and well-planned grid. The town's friendly and warm locals welcome and invite you to a world of historic sights and great landmarks, so no matter how long you stay, you'll definitely find something to experience in this vibrant city.
Hiring a car in Kalgoorlie is simple and quick with DriveNow. We've partnered with some of the top car rental brands in Australia to provide a wide variety of hire car options. In addition, you'll always receive immediate confirmation as well as set hire rate on all choices available. Not amazing enough? We guarantee you the latest and cheapest prices available so you can relax and know that you are taken care of!
Your booking will also be made directly with each car hire provider, giving you direct access without any hassle. Come visit and get a Kalgoorlie car hire with DriveNow to help you get around!
Why Use DriveNow for Car Hire in Kalgoorlie?
We have partnered with all of Australia's top rental brands to maximise your choice
Booking is made directly with the rental provider
Immediate email confirmation and locked in rental rate DriveNow has been comparing rental pricing since 2003
Speak to a local; our reservations team is there to help and based in Australia
Kalgoorlie Car Rental Locations
Discover amazing experiences in Kalgoorlie