Experience Wild and Wonderful Ireland with Cheap Car Hire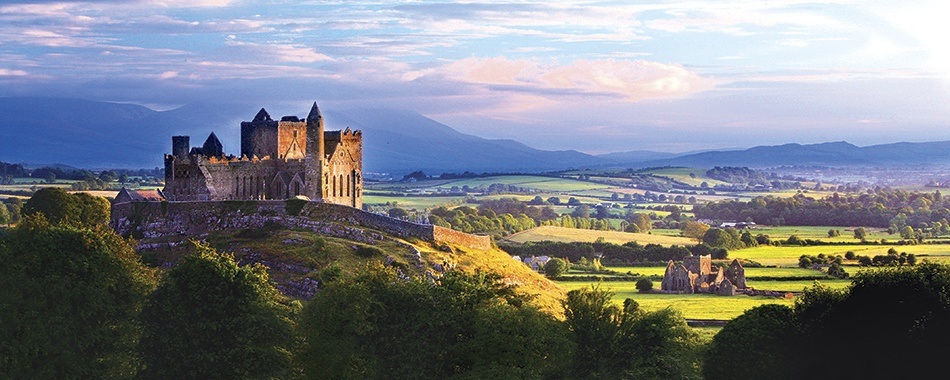 Historic, magical, and mysterious: a car rental trip in Ireland ticks a lot of boxes Source: cietours.com
One of the world's most picturesque counties, Ireland's lush green fields, ancient monuments and warm engaging people make the Emerald Isle one of the most memorable places to visit and offers over 100,000kms of some of the safest roads in Europe.
For visitors from warmer parts of the world, there's something quite special about getting all wrapped up and heading to a cold country. Armed with a new waterproof jacket and the warmest socks you can find, there's nothing the weather can throw at you that will keep you down. Ireland is just the spot for a trip like this, with enough mountain hikes and coastal paths to test out your new boots, but also enough pubs to hide in when the weather inevitably turns too bleak.
While the locals might not see it as quite such a charming characteristic, the unpredictability of the weather is all part of the fun of a trip to the Emerald Isle. You could be in luck and enjoy blissfully warm weather, joining locals to flock to the beaches and enjoy barbecues in the park. Or, you could experience sub 10 degree temperatures and howling winds right in the middle of summer. It's all down to the luck of the (Irish) draw!
No matter what the thermometer or rain gauge say, there's so much to see and do that a few clouds certainly won't stop you. For such a small country, there's a fabulous variety of landscapes, wildlife, fascinating history, and modern visitor attractions to pack into your stay. From the wild coastal cliffs of the southwest to the trendy commercial city of Dublin, there's plenty here to entertain visitors of just about all ages and interests.
Of course a trip to Ireland wouldn't be the same without encountering some of the famous Irish hospitality the country has become so well known for, and for that, the best places to go are ones that involve music, food, and a few pints of Guinness. The legendary welcome of the Irish is a huge part of this country's draw for many visitors, and the towns and cities offer some of the liveliest nightlife in this part of the world.

It would be rude not to enjoy a pint or two in one of Ireland's 7,193 (give or take one or two) pubs! Source: kellehersirishpub.com
If you're travelling to Ireland by plane, your first stop will most likely be Dublin Airport. As the capital city of Ireland, Dublin hosts the largest airport in the country and welcomes flights from more than 180 destinations worldwide. The busiest route is the quick hop over to London, closely followed by Manchester and Birmingham. Belfast Airport in Northern Ireland is also an option, which is a quick flight over from nearby Edinburgh or Glasgow. You can also take the ferry to Ireland from Liverpool, Wales, the Isle of Man, or Cherbourg in France.
However you decide to get to Ireland, the best way to get started on your adventure is to organise a dependable rental car that can keep your holiday on your terms. Whilst the public transport isn't bad, nothing beats running your own trip and making spontaneous plans without having to stick to a timetable. With car hire in Ireland you can make your way around the country at your leisure, stopping off for picnics and photo opportunities whenever you want. Car rental in Ireland is cheap and easy with DriveNow, as you can choose from a range of the most reputable and trusted rental operators and benefit from experience and expertise of professionals to keep you right every step of the way.
Put Yourself in the Heart of the Action with a Trip to the East Coast
When colonisation happened many centuries ago, the east coast of Ireland was one of the first stops for those coming over from the United Kingdom. This influx of settlers means that these days you can find a huge concentration of castles, historical sites, abbeys, and grand country houses that date back to as early as the 12th century. Some of these buildings are little more than impressive ruins these days whilst others are open to tours or even provide accommodation. Being situated closest to Dublin airport and closest to the ferry terminal, the east coast is the perfect launch pad for your DriveNow hire car adventure in Ireland.
Dublin
Even if you have grand plans for exploring the rest of the Ireland or other key cities nearby, it's definitely worth spending some time in Dublin either at the start or end of your trip. The city is hugely popular with visitors from all over the world and, despite its rather lively reputation as a party town for stag and hen parties, there's much more to the capital city than just a great night out. Have a wander around Trinity College, one of the oldest universities in the UK, or take a guided bus tour through the city to learn about its fascinating past. Although it's a relatively small city, there's plenty for visitors to do, including a museum dedicated to the brewing of Guinness! Dublin also has an exciting food and drink scene, with both home grown and overseas chefs delivering twists on classic Irish dishes.
Carlingford Lough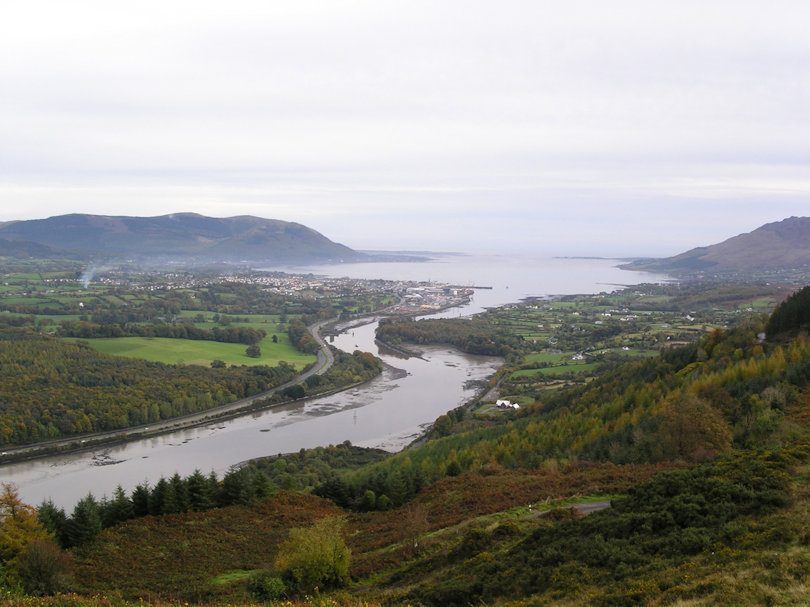 The U -shaped glacial valley that dominates the scenery of Carlingford Lough can take your breath away
Once you've left Dublin, head straight to the coast for your first glimpse of some absolutely magical Irish scenery. Bear north for about one hour's drive and you'll reach Carlingford Lough, right at the Northern Irish border. If it's photo opportunities you're hoping for, then you'll certainly find them here. Carlingford Lough is a flooded U-shaped valley formed by an ice age glacier, which opens out into the ocean. This dramatic setting is the perfect place to enjoy a hike, kayak, or another outdoor activity, followed by sampling some famous Carlingford oysters. The area is steeped in history from both the Viking and Medieval periods, and there are reminders everywhere in the form of castles, towers, and even the architecture of the town itself.
Glendalough
Driving 48km south of Dublin will take you to the valley of Glendalough. The name translates as 'the Valley of the Two Lakes,' which is a simple description for what is actually a beautiful setting. History states that Glendalough was founded as a monastery back in the sixth century by a young man named Saint Kevin. The monastery functioned and expanded for almost 600 years, before most of it was destroyed in the 14th century. These days there are still some fascinating buildings and monuments remaining that can spirit you back to the ages of the monastery, including the 34m high round tower, cathedral, and stone churches.
Exploring the Postcard Perfect South Coast of Ireland
If you thought the Ireland that you've seen in films and postcards couldn't possibly exist, then this part of the country could very well prove you wrong. The fresh air, seemingly never ending untouched landscape, and jaw-dropping natural features are all real and about 100 times more impressive in person than they are on a screen. Get yourself and your Ireland hire car down to the south coast of Ireland to see what all the fuss is about.
The Ring of Kerry
The most famous of the sights in this part of Ireland is the Ring of Kerry. The name refers to the driving route that takes in the highlights of the beautiful area, a road that spans 179km around County Kerry in the southwest peninsula. If you're driving from Dublin, it's worth factoring in an overnight stay to make the most of the scenery, as otherwise it's a solid four and half hours' drive. The town of Kilkenny, 130 km (80 miles) away from Dublin, would be a wise stopping place.
Once you've rested, the first stop of your tour of the Ring of Kerry is Killarney, around 1.5 hours' drive from Kilkenny in you rental car. Highlights of this lively town are the famous seafood, traditional music, and a visit to the majestic 19th Century Muckross House and Gardens. From here, you're ready to hit the open road and take in the Ring of Kerry. It's possible to do the whole trip in a day as the driving should only take around three hours, but the world is your oyster! Be prepared for beaming white sandy beaches, quaint fishing villages, and remnants of ancient buildings, all with stunning views of the wild Atlantic.
Towards the end of the winding road, you'll reach the majestic Killarney National Park, featuring soaring mountains on one side and peaceful lakes on the other. A great spot for climbing and exploring, make sure to factor in some time to take in this natural beauty.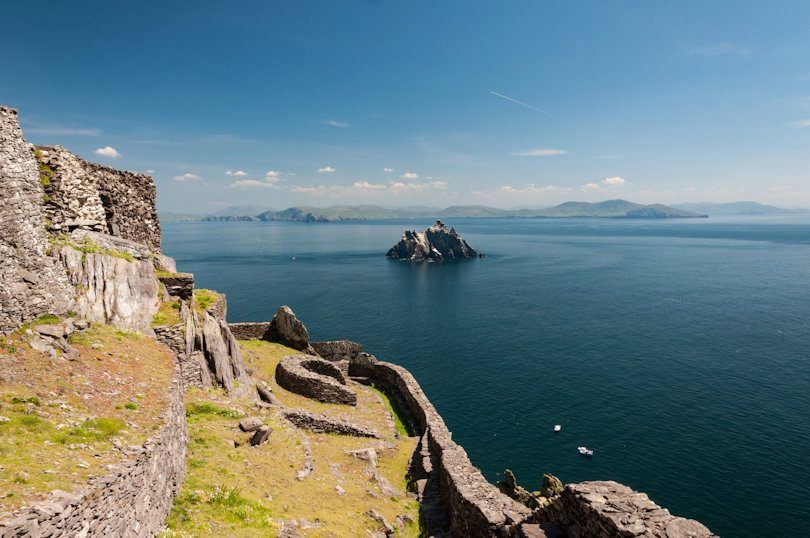 The sun does come out to play! The south coast of Ireland on a beautiful summer's day
Cork
If you took the inland route to get to the Ring of Kerry, it's definitely worth heading back to the coast to explore the lively city of Cork. Known by residents as Ireland's 'real capital,' Cork may be second to Dublin in terms of size, but it more than makes up for it in character. The city played an important part in the Irish civil war, and is known today for being liberal, youthful, and vivacious.
There's plenty to see and do in Cork, from strolling along the riverside taking in the Georgian architecture to sampling the up-and-coming foodie scene. The famous English Market, named by world-renowned chef Rick Stein as "the best covered market in the UK and Ireland," is most definitely worth a visit, showcasing a mix of traditional Cork fodder as well as exciting produce from around the world.
Traditions, Trails, and Tales on the Wild West Coast
If you thought it couldn't get much better than the beauty of the south east, then you're in for a real treat. The west coast of the country has provided inspiration for many a poet, musician, and author, much of which can surely be put down to the wild, rugged, and enchanting nature of the landscape.
The location of the west coast means that it's no longer protected from the unruly Atlantic Ocean, and as a result of wild storms and the incessant pounding of waves, the cliffs, beaches, and rock formations have taken on a much more dramatic appearance than the more sheltered coastlines. A famous way to explore this coastline in all its splendour is to hop in your Ireland hire car and drive the Wild Atlantic Way, 1600km (2600 miles) of stunning cruising. This route goes all the way from the Inishowen Peninsula in the north, right to the south east section of the country in Cork and is the longest defined coastal touring route in the world. Whether you drive it north to south, back to front, or just take your pick and dot in and out, make sure you check out at least some of these great spots.
Connemara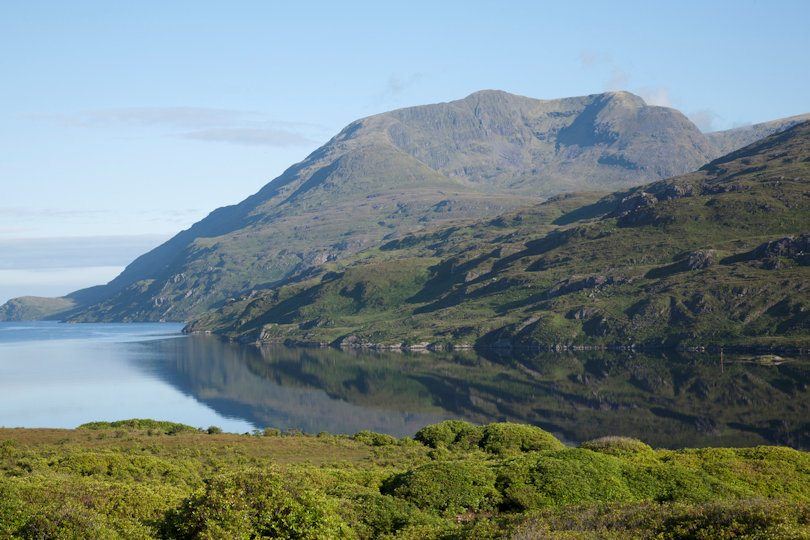 Discover the meaning of remote in the stunning Connemara National Park
Described as "a savage beauty," by none other than Oscar Wilde, Connemara is wild, breathtaking, rugged Ireland at its best. If you've still not mustered up the energy for some hiking during your trip to Ireland, make sure you get to it here. Connemara National Park is a great spot for all kinds of outdoor pursuits, and with the fresh air, vast open space, and magnificent backdrop, it won't feel like exercise! Take a walk in the national park at sunrise or sunset to really catch it at its best. Activities like fishing, pony trekking, and bike riding are also available in this area, and there is a great network of well serviced trails to enjoy.
But it's not just the scenery that attracts visitors from around the world to Connemara. As you venture further away from the east coast, you find that the old traditions and history become more deeply rooted in the people who live there. This means that Connemara has one of the highest numbers of Gaeltacht (Irish speaking) people in the country, and you can expect to hear it spoken in the shops and streets. Don't let that put you off, as finding what you need and communicating with the locals are not issues despite what you might perceive as a language barrier. Traditional music, dance, and storytelling are also very important in this part of the world, so you could be treated to an impromptu music session just by popping into a local pub.
Just 15 minutes' drive from the Connemara National Park is Ireland's only fjord, the Killary Fjord. A walk around this body can be made into a day trip of around 4 hours, and gives you the chance to see waterfalls, lakes, quaint stone huts, and even dolphins if you catch it in the right season!
Donegal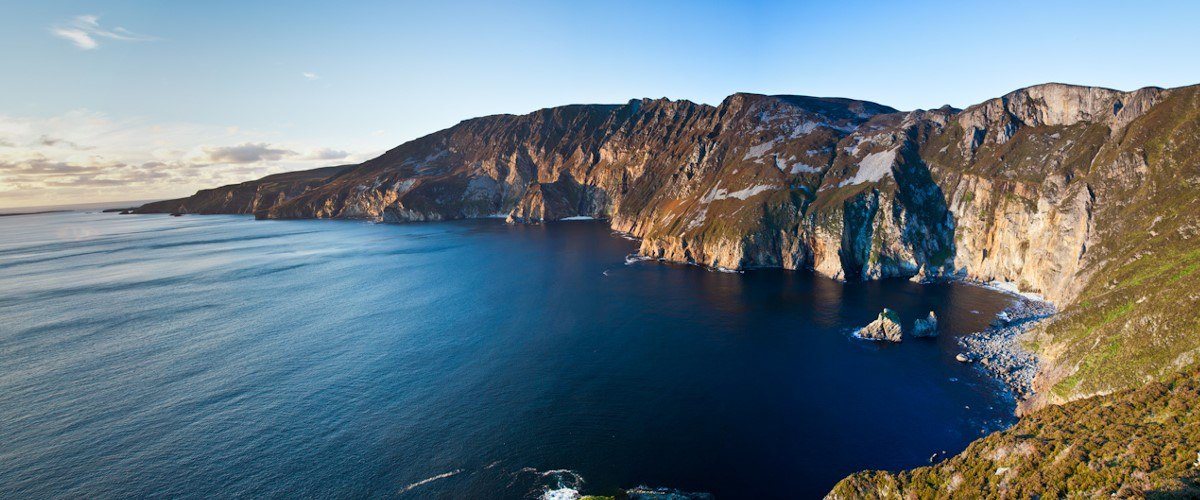 You could fill up several phones with all the photo opportunities in County Donegal Source: donegaltours.com
While it's always good to go where the wind takes you, the fact that Donegal was ranked no. 1 on National Geographic's 'Cool List' in 2017 is a good indicator that you should probably make a stop here. Donegal Town itself is a small but vibrant town located in County Donegal, surrounded by majestic mountains, rolling valleys, and turbulent coastlines. The remoteness and wildness of Donegal makes it feel as if you are the only ones there, a million miles from the hustle and bustle of Dublin just a few hours away. There's yet another national park to check out in the form of the Glenveagh National Park, or the Slieve League Cliffs, which, at 600m high, are some of the tallest in Europe. If you're a keen surfer, head to the nearby towns of Bundoran and Rossnowlagh, both well-known surfing spots with a reputation for good waves. Just be sure to remember your wetsuit, it can be nippy!
Galway
With its numerous complimentary references in films, poems, and songs, Galway has a lot to live up to. Thankfully, the colourful, animated, and cultured city won't disappoint! Built up around an old medieval town, you can feel the history as you wander the streets, and you'll never be far away from a fascinating building with a story to go along with it. It's not just about the past though, as the city boasts a young population made up of a great percentage of arts students. This means you can expect plenty of exciting events, bustling pubs, and a great night out.
How to Compare and Book Cheap Car Hire in Ireland with DriveNow
Céad míle fáilte, a hundred thousand welcomes! Booking car hire in Ireland with DriveNow is quick and easy. Simply select your dates and search to instantly receive the latest prices from leading Irish car rental companies including Avis, Hertz, Budget, Enterprise Europcar, and SIXT.
Whether you looking to hire a car in Ireland for business or pleasure, DriveNow enables you to find and compare car rental in Ireland and prices on one easy to view page and book online with instant confirmation, locked in rates, and no credit card details required (with most suppliers), all backed up by our lowest rate guarantee.
DriveNow's car rental booking service is absolutely free with no booking, admin, or other fees, and the price on your Irish car hire is immediately locked in with your booking and email confirmation. With nothing to pay upfront booking ahead is risk free and ensures you of the best rate, you simply pay with your credit card when you pick up your car in Ireland and the only other costs are optional extras you wish to take at that time.
At DriveNow we pride ourselves in our customer service and understand that it's not just about finding an online booking service and good price. Our reservations team is there to help and answer any questions you may have on hiring a car in Ireland and can be reached on the numbers listed on this page.
Why Use DriveNow to Book Car Rental in Ireland?
Price - We constantly check for the latest prices on car hire in Ireland
Choice - Select from 6 of the world's most trust and renowned car rental companies Ireland
Currency - Prices are shown in Euros so you know exactly what you will pay when you pick up your vehicle
No Booking Fees - What fees? DriveNow charges No booking, No admin nor any other fees
No Credit Card details are required when making your booking (with most suppliers)
Simplicity - Quick and easy with instant rate comparison
Immediate Booking confirmation and locked in rates
Drive away Prices including all taxes and levies (excludes young driver surcharges where applicable)
Lowest Price Guarantee
Trust and Experience - DriveNow has been comparing the best deals in Car Rental for over 10 years
Car Hire Ireland – FAQ
How old must I be to rent a car in Ireland?
The minimum age is 21, however some locations insist that drivers below the age of 25 have held their licenses for 2 years, impose restrictions on the types of vehicles available for under 25s and impose insurance levies. As restrictions vary between suppliers and locations, if you have any concerns about age limits or restrictions please use the comments field and we will confirm any that apply to you. There are no cancellation fees so book with confidence knowing you can cancel at no cost.
What driving license do I require in Ireland?
You can rent a car using your own driving license as long as it is English based - other licenses should be supported by an international Driving Permit. Good advice is to always carry your passport when driving a rental car and ensure you have this available when picking up the vehicle.
Irish Roads
The Irish drive on the left and distance and speed are measured in kilometres. Fuel is delivered in litres. In built-up areas the speed limit is 50kmh, 80 on non-urban roads, 100 on national roads and 120kmh on motorways. Speed limits are enforced with on the spot fines issued and speed cameras. Locations of cameras are available on www.garda.ie.
Irish Car Hire - Automatic or Manual Transmission?
Although the majority of rental cars in Ireland come with manual transmission automatics are available as well.
Paying for Car Hire in Ireland
You will be required to pay for your vehicle using a credit card. A bond will be taken against the credit card unless an insurance waiver option is taken out when collecting the car.
Are seat belts mandatory in Ireland?
Yes, all passengers are required to use seat belts. Small children must use child or booster seats in the rear. These can be hired for a small fee from your Irish car rental supplier - please include requirements in the comments field of your DriveNow booking.
Using Daytime Running Lights in Ireland
Daytime Running Lights are highly recommended by the Irish Road Safety Authority.
Town Parking in Ireland
Many Irish towns operate on street disk parking. This may require that you purchase a parking disk from a local retailer. When visiting a town check what parking system is in place to avoid parking fines.
Drinking and Driving
Ireland is very strict on drink driving and severe penalties are applied. The legal alcohol limit is 50 milligrams per 100ml. The Police, An Garda Siochana, conduct random breath testing and have the right to stop and breathalyser drivers.
Using a Mobile Phone whilst driving
Holding a mobile phone whilst driving is illegal in Ireland with on the spot fines and penalty points.
Penalty Points and on the Spot fines
The hirer is responsible for any infringements and subsequent penalty notices incurred during the period of hire. Most rental companies impose an administration fee when passing on infringement notices. Ireland retains a database of foreign drivers who incur penalty points and should those drivers subsequently apply for a Irish driving license those points are applied against the license.
Irish Touring Information
There are Tourist Information Offices across Ireland offering tips and advice on route planning. Information is also available at www.failteireland.ie. Your Irish rental car supplier will also be able to offer advice on driving conditions and best routes.