Discover the Best of Germany with Cheap Car Hire from DriveNow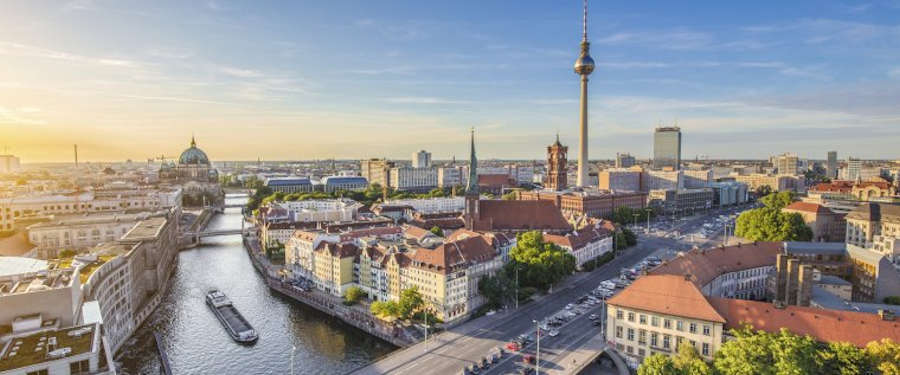 Discover cities full of fascinating architecture and history during your holiday in Germany Source: visitberlin.de
When you rent a car in Germany, you open up stacks of possibilities for exploring the country's finest spots. No more queuing for buses or cutting your adventures short to abide by train times; with your own hire car in Germany you can travel when and where you want. With DriveNow, not only do you save yourself time and hassle during the booking process, but you'll be able to make the most of your visit safe in the knowledge that you've got yourself the best deal on the internet.
With more than a dozen years of experience, we've partnered up with some of the biggest and best car hire companies in the world to build reliable squad of vehicles. You'll find cars from Alamo, Avis, Budget, Enterprise, Europcar, Hertz, Keddy and SIXT to name but a few. That adds up to a massive selection of vehicles from which to choose.
With our free, easy comparison service, you can see what rental cars are available from this great bunch and compare them until you find one that suits. Search by make, model, size, price, and other convenient options to find the right wheels for your trip.
Why Use DriveNow for Car Hire in Germany?
Select from Germany's widest choice of rental brands and vehicles
Guaranteed lowest rates
Quick and easy
DriveNow has been comparing rental pricing since 2003
100% based, owned and operated in Australia
Includes all taxes and levies (excludes young driver surcharge and optional extras)
What does Germany offer?
Cities filled with cathedrals and cutting edge artwork; serene landscapes with endless lakes and snowy mountains; delicious hearty food and drink—whatever you look for in a holiday, Germany likely has something for you.
The central European country is the sixth biggest in the continent and takes advantage of a diverse range of geography borrowed from each of its surrounding countries. With beaches to explore in the north, mountains to climb in the south, and rivers and valleys dotted all over, the hard part is just deciding where to go.
Luckily, the famously efficient Germans have taken care of half of that problem for you, by constructing the well know speedy Autobahns. These high speed motorways can connect you to pretty much anywhere you want to be in a jiffy. That makes choosing to rent a car in Germany an even better proposition.
So now you know you fancy a self drive holiday, the next step is to get yourself some wheels! That's where DriveNow comes in. Hiring a car in Germany is as quick and easy as a cruise down the Autobahn when you use our simple vehicle comparison service. You get to choose from hundreds of sizes, models, and prices with just a few taps of your favourite device.
With the booking all taken care of and a good deal under your belt, you can get down to the more important things; getting excited for your trip!
Venture off the Beaten Track with Car Hire in Northern Germany
Beaches may not be the first thing that spring to mind when you think of a trip to Germany. But the north of the country has plenty of surprises in store for you, with beautiful coastlines being just one of them. Here's what you can get up to in your hire car if you choose to explore this corner of the country.
Hamburg
Located on the River Elbe where it meets rivers Alste and Bille, Hamburg is one of Europe's busiest ports. It's also the second largest city in Germany, home to more than 1.7 million people. There's plenty to keep you occupied in Hamburg, whether you're in town for a long stay or just a few nights. Main attractions include the fascinating Miniatur Wunderland, an incredibly detailed display of the world in miniature featuring flying planes and model railways. The city is also famous for great eats, whether that's in the form of fresh seafood from the fish market or in one of the many modern restaurants that have popped up in recent years.
Rostock
Rostock is a large coastal city in the north east of Germany. While many of the city's most impressive structures were destroyed in air raids during World War II, the city is still an interesting place to wander around. Rostock is home to one of the world's oldest universities, the University of Rostock, and you can explore carefully preserved 15th and 16th century homes for a glimpse into life back then. One of Rostock's most popular features is the nearby seaside district of Warnemünde, widely considered as one of the nicest beaches in Germany.
Schwerin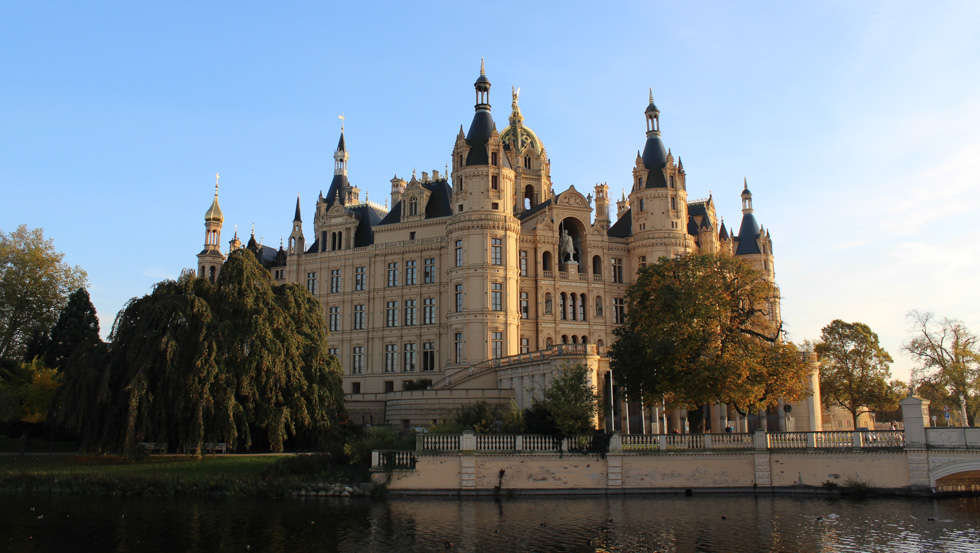 Step back in time with a visit to the magical palace of Schwerin in Mecklenburg-Vorpommern Source: schwerin.com
Take your Germany hire car just one hour east of Hamburg and you'll arrive in the picturesque, peaceful city of Schwerin. The city is surrounded by huge, impressive lakes, making it an ideal spot for those looking for walking and biking trails. The jewel in Schwerin's crown, however, is the striking Schloss, the palace that originally housed the state's Dukes and Duchesses and which currently houses the state parliament. Part of the Schloss is open for visitors, who are free to check out its immaculate gardens and water features.
Experience Culture, Cathedrals, and Countryside with Car Hire in Eastern Germany
One of the great things about Germany is the variety of environments and landscapes that can be found within a relatively short distance of each other. You'll certainly find that in Eastern Germany, with one of the world's biggest party cities only a few hours from serene mountains and valleys. Here's what hiring a car in the east of Germany has in store for you.
Berlin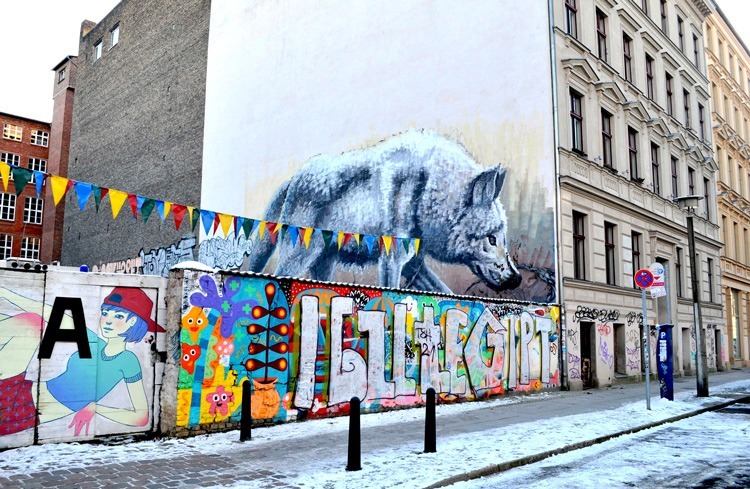 Discover artistic masterpieces around every corner in Berlin, one of Germany's most vibrant cities
Source: berlinstreetart.com
Germany's world famous capital city is often a highlight for visitors to the country. One major pull is the cultural diversity and creativity which is on display, whether that's in the form of street art, food, musical or theatrical performances, or fashion. Berlin has been widely accepted as the creative hub of central Europe and is also the place to be for some of the continent's best nightlife. But that's not to say that you should dodge Berlin if you're more a fan of a quiet night in! The city is overflowing with history, and famous sights like the Berlin Wall and Checkpoint Charlie are just a few of the many fascinating sights, museums, and attractions that will help you get a deeper understanding of the city.
Dresden
Just over 2 hours' drive in your Germany hire car from Berlin Airport, you'll find the handsome city of Dresden, capital of the state of Saxony. The city has more than it's fair share of impressive buildings, with some of the most popular being the Fruenkirche Cathedral and Zwinger, a famous palace and art gallery complete with gardens. The fact that Dresden has such great architecture is even more impressive considering the city centre was all but demolished during the war. The city's proximity to the Czech Republic border also means that it's possible to coordinate visits to the popular city of Prague, less than two hours' drive away in your Germany car rental.
Embrace Your Inner Adventurer with Car Hire in Southern Germany
The south of Germany is home to some of the country's most picturesque countryside, making it a superb place to explore in your hire car. Here's what's waiting for you in the southern lands.
Lake Constance
Straddling the borders of Switzerland, Austria, and Germany, Lake Constance is no small affair. In fact, it spans more than 63km, making it the third largest lake in all of Europe. This part of the country is straight out of the classic alpine postcards, with lush green grass in spring and summer and snow-capped mountains surrounding it in winter. No matter what side of the lake you're on, there's plenty to do to make the most of your surroundings. Visit some of the region's wineries, monasteries, and orchards, or hire a bike to cycle around the water's edge.
Munich
If you or a member of your travelling party enjoys sampling one or two beers, then you've come to the right place. Munich is home to the world famous Oktoberfest, a festival during which thousands of tourists and locals descend on the city to eat, drink, and be merry in traditional German folk attire. The fun doesn't stop during the rest of the year, though, and if you're a beer fan you can visit some of the many beer halls around the city. Of course, Munich is also a great place to check out for more than just beer. There are palaces, castles, gardens, and museums to keep you entertained for weeks, and buzzing bars and restaurants for when you're done sightseeing for the day.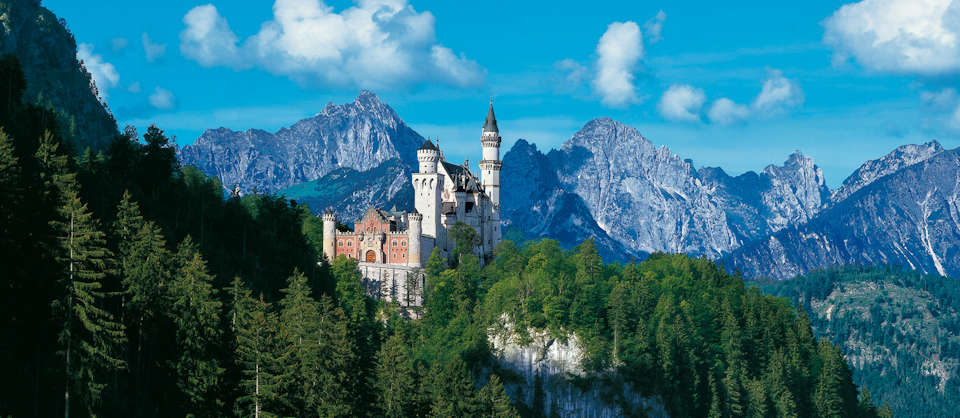 Experience breathtaking views in the foothills of the Bavarian Alps Source: neuschwanstein.de
The Bavarian Alps is one of the most scenic areas of the country, featuring landscapes that are unique to this part of the world. Just 118km from Munich Airport, you can be spirited away to picture perfect surroundings in less than two hours. What makes it particularly special is the many fairy tale-esque castles which are dotted around the valley; buildings which used to be inhabited by real princesses and princes in the area, albeit some more latter day than fairy tale. if you plan on visiting picturesque Neuschwanstein Castle of Ludwig II be sure to pre-book as tickets are limited and this is one of Europe's most popular destinations with more than 6000 daily visitors during the peak summer months.
See if the West Side is the Best Side with Car Hire in Western Germany
With prospering cities to one side and dream-like landscapes to the other, Western Germany certainly shouldn't be overlooked. Here are just a few of the places to add to your road trip itinerary.
The Rhine Valley
Europe's second longest river, the Rhine, travels more than 1200km from it's source in the Swiss Alps to the North Sea at Rotterdam and is still considered today one of the world's most important waterways. The Rhine Valley is another area of outstanding beauty made up of forests, cliffs, and vineyards, with peaceful towns offering quaint idealic accommodation.
Düsseldorf
Just under two hours' drive from the Rhine is the city of Düsseldorf, known for its cutting edge architecture, beer, and fashionable residents. The city offers an interesting mix of new and old, with plenty of fascinating museums and history in the Old Town, balanced by the bustling business district and trendy food and drink venues. Some top attractions in Düsseldorf include the Kunstalle art gallery, the Nordpark gardens and the Rhine River promenade.
What to know when hiring a car in Germany
How old must I be to rent a car in Germany?
The minimum age is 18. However as with car rental in many countries when it comes to younger renters there are often strings attached, Drivers aged 18-24 must purchase Collision Damage Waiver (Excess Insurance Reduction) and may be subject to a young driver surcharge depending upon the rental provider and the location. Some rental companies also impose an upper age limit of 73. If you fall into either of these two brackets flag this in the comments section when making your booking and we will confirm any charges that you may be up for or restrictions imposed before you pick up the vehicle.
What driving license do I require to rent a car in Germany?
Driver licenses must be full and unrestricted and been held for at least 12 months.
You can hire a car in Germany using your own driving license as long as based on the Latin Alphabet (English, French, Italian, Spanish etc). You may also be also be asked to present your passport. If you driving license is based on a non-Latin based character set you will need to obtain an International Driving Permit. Note that all designated drivers need to have their driving license details recorded when picking the vehicle up.
Driving in Germany
In Germany driving is on the right and all measurements are in metric. Fuel is delivered in litres and petrol stations will accept all major credit cards. Many stations allow you to fill up when they are closed using automatic credit card systems. In the past there have been reports of overseas credit cards not being accepted by automated payment systems, whilst these are few and far between today good advice is to fill up during working hours when stations are open.
Speed limits in Germany
In built-up areas the speed limit is 50kmh whilst rural areas are 100kmh. On the Autobahn network there is no speed limit although there are parts of the autobahn and other highways that have limits of 130kmh imposed. In Construction zones speed limits are enforced and Speed Cameras operate.
German Speeding Fines
The hirer is liable for all speed and traffic infringements incurred during the hiring period. There is minimum tolerance regarding speeding - driving as little as 3kmh above the limit is considered speeding and punishable by a fine. Rental companies will charge your credit card for any infringements received and may include an administration fee - this often occurs after the hiring period.
Car Hire - Automatic or Manual Transmission?
The majority of German Car Rental vehicles are manual transmission.
Car Hire payment
You will be required to pay for your vehicle on pick up using a credit card. Excess Insurance reduction and other options can also be purchased when picking up your vehicle.
Excess Insurance Options
You can take excess insurance (Collision Damage Waiver) reduction options by paying a daily fee to reduce your liability in the event of an accident. Many travel insurance policies will include this and this is often a cheaper option. For Austrlaian license holders DriveNow also offers insurance optinos through our partner Hiccup insurance.
Is it compulsory to wear a seatbelt in Germany?
Yes. All passengers in both front and rear seats.
Child Booster and Baby Seats
Any child below the height of 135cm must use an approved child restraint suitable for their weight and height and not sit in the front seat. A child under the age of 3 cannot be transported in a vehicle without a child seat or restraint except in a taxi. Booster and child seats are available for hire from the rental company, please include requests in your initial car rental booking as demand for these is always strong.
General Driving Tips
On autobahns you can only over take on the left, the right lanes are for slower vehicles. Overtaking on the right is illegal.
Take extra care when overtaking on autobahns as some cars travel at over 200kmh and appear very quickly
Don't talk on a mobile phone whilst driving. As with most countries this is illegal in Germany
Speed Cameras operate throughout Germany