Embark on the Ultimate Road Trip with Car Hire in Europe from DriveNow
50 countries. 23 languages. 743 million people: It can only be Europe, the fascinating collection of countries that rarely fails to amaze. Europe is a place that would take multiple lifetimes to explore in full, thanks to its unbelievably diverse collection of cultures, landscapes, cuisines, architectures, and lifestyles.
Europe's natural geography has a little bit of everything. You've got the jaw-dropping mountain ranges of the European Alps, the never-ending coastal cliffs of Italy, the tulip-filled fields of the Netherlands—and that's just the start! In Europe, you'll find a different kind of scenery for every day of the week.
This diversity is even more remarkable when it comes to the culture and history that can be found packed inside its shores. Ancient Roman buildings in Athens, mysterious castles in the highlands of Scotland, fascinating Eastern treasures of Turkey; few can go to Europe without learning something. And it's not only the past which makes Europe a fascinating place to visit. European cities boast some of the world's best nightlife as well as film, art, and music scenes.
And who could go to Europe without sampling some of their world-famous food? There's nowhere in the world that hasn't felt the influence of European cuisines, whether it's the simple, rustic flavours of Italy or the fine details of French dining, and there's so, so much more to be discovered once you scratch the surface.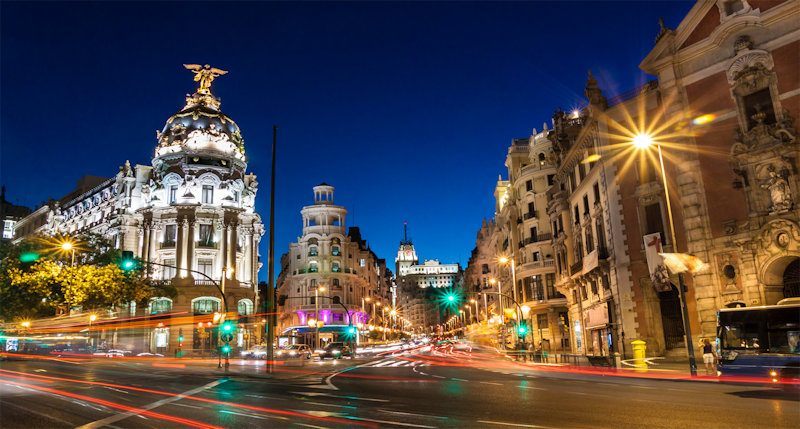 You'll find ancient history, wild nightlife, and everything in between on your Europe car hire adventure Source: theodysseyonline.com
This abundance of things to see, do, and eat does make choosing where to go slightly challenging. Do you want to saunter around the streets of St Tropez watching the rich and famous, or would you prefer to don your hiking boots and conquer every sizeable mountain in Norway? The beauty of Europe is that you don't always have to choose, as the proximity of many of the countries means you can easily travel between them.
No matter how you wish to experience the continent, the best way to ensure you tick everything off your list is by hiring a car in Europe. With your own set of wheels you have the freedom to design, chop, and change your itinerary as you go, without relying on tour operators or public transport. You may have studied French at school 15 years ago, but figuring out timetables and transport gets a whole lot more difficult in a different language!
As there are a huge number of car hire operators working in Europe, the simplest way to make sure you get the right vehicle at a good price is to book through a price comparison site like DriveNow. With a wealth of experience with car rental in Europe, the USA, and around the world, DriveNow has partnerships with the most trusted and reliable operators in the business. Make life easy for yourself and arrange your Europe car hire through DriveNow and get your adventure off to a fast start.
See the Sights and Soak up the Sun with Car Hire in France, Spain, and Portugal
Whether you've planned to rent a car in Europe for a few days or a few months, it can be tricky to decide where to go and how best to spend your time. While there's a lot to be said for going with the flow, there's a huge amount to see and do in Europe, and it can be challenging to fit it in without a bit of planning. Here's a look at some of the places you might explore in your Euro car hire, starting with some of the biggest and most familiar.
France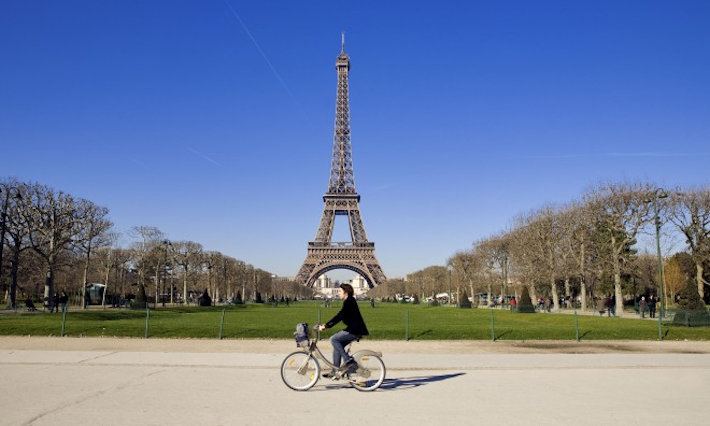 See for yourself what all the fuss is about with a trip to Paris Source: roughguides.com
Car Hire in France For even the least travelled of visitors, it would be difficult not to have heard about France. From day one we're told it's a land of elegant men and women in striped shirts with baguettes in their backpacks, sipping red wine, eating cheese, and listening to accordions. While there is a lot of wine, cheese, and baguettes to be found, there really is a whole lot more to France than just this, and it's all begging to be explored in your Europe rental car.
France is one of those lucky countries that really has it all. There's the world-famous city of lights that is Paris, with all its history, fine food, and romance. Then there are the sky blue lakes and soaring mountains of the Alps, an outdoor lover's paradise. The south of France is almost as famous as the bright lights of the city, known as the classic getaway for sunshine and rural relaxation. And who could forget the glittering coastal towns of Cannes and Nice, where the rich and famous gather to watch sunsets and sip cocktails?
France is a great starting point for your Europe car hire adventure, with a number of international airports ready and waiting to welcome you from overseas. Pick up your euro car hire from the airport or from one of the many pickup points in towns and cities across the country and set off. The country boasts a straightforward and speedy network of highways, but is also home to quiet, peaceful country lanes where you can relax and enjoy the view.
Spain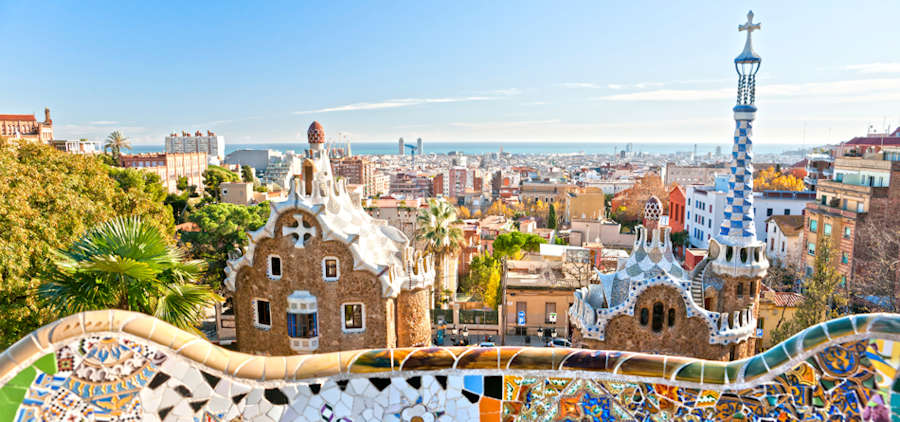 Step into another world with mind-blowing art and architecture in Barcelona Source: Fat Tire Tours
Car Hire in Spain With its glorious climate, deep rooted culture, and focus on the good things in life, Spain has been a popular holiday destination for decades. This is another country with a hugely diverse range of things to see and do, with something for whatever kind of holiday you have in mind.
While some parts of the Spanish coast have gained a reputation for being party towns for visiting tourists, the coast is definitely not something to be scoffed at. Spain has more than 1,600km (1,000 miles) of Mediterranean coastline, dotted with just as many peaceful spots to explore as bustling cities. Famous coastal Spanish towns and cities that are worth a trip in your Europe hire car include Alicante, Valencia, San Sebastian, and Cadiz.
While many visitors to Spain do head to the coast, the country has far more to offer than just sun, sea, and sand. Take a trip in your rental car to the impressive Pyrenees or the Sierra Nevada; mountain ranges with excellent ski resorts in winter and great hiking potential in summer. The north of Spain, although slightly cooler, also has a great deal of historic buildings, rustic landscapes, and the opportunity to explore Spanish life without the buzz of too many tourists.
However if there was ever a time to lap up the tourist attractions, it would be during your Europe car rental journey. Take a trip to Barcelona and tour The Parque Guell, Sagrada Familia, or La Rambla. Float around the pond in El Retiro Park in Madrid, or marvel at the architecture of the Alhambra in Granada. Wherever you choose to visit, there are plenty of memorable and exciting things to see and do.
When you're booking your Europe rental car for your trip to Spain, make sure you get your booking in fast! August is the most popular period and prices can go up, but booking early can ensure you get a much lower price with a great selection of vehicles.
Portugal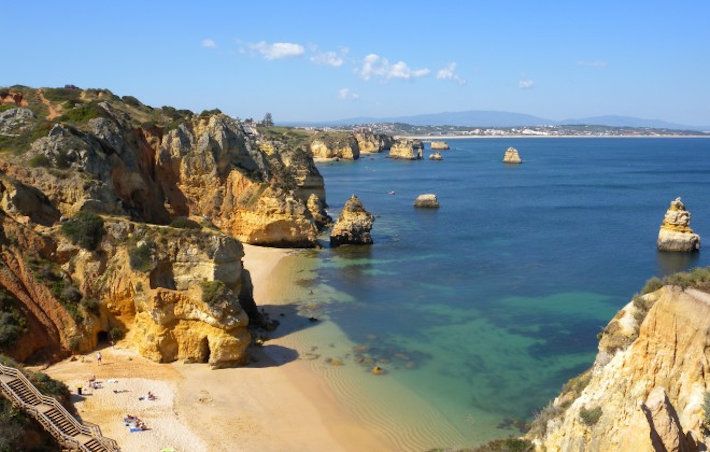 Experience the raw rugged beauty of the Portuguese coastline with rent a car in Europe Source: roughguides.com
Car Hire in Portugal Despite its size, there's nothing to say that Portugal has anything less to offer than its larger, often more frequently visited neighbours. In fact, many Portugal fans would tell you that the slightly less tourist dominated atmosphere will offer you a more authentic, peaceful, and even cheaper experience than heading straight for Spain. Whether you are choosing between the countries or are planning to hit up both during your trip, Portugal is definitely a country that shouldn't be overlooked.
The small country boasts a coastline that is different to any other you'll find, thanks to its positioning on the face of the Atlantic Ocean. There are enormous, jagged cliffs, deserted coves, and tiny islands, many of which are often untouched by visitors.
Portugal's quirky, lively cities are also definitely worthy of a spot on your holiday list. Lisbon is one of the oldest cities in Europe, and its cobbled streets and various distinct regions make it an enchanting place to wander. There's always an excuse to be celebrating, and if you plan your trip carefully you could coincide with Porto's Festa de São João or Lisbon's Festa de Santo António, when the whole city gets involved for an all-night party.
Portugal has everything from historic castles to towering mountains to sun soaked beaches, and the best way to get from place to place is in your rental car. Take your Europe car rental for a road trip through Portugal, and explore its beauty on your own terms.
Discover Castles, Cliffs, and Celtic History with Car Hire in the UK and Ireland
Considering it has some of the most unreliable weather in Europe, you'd think there has to be something really special going on in the British Isles to make it one of the most popular visitor destinations in the whole continent. And you would be right! The United Kingdom and Ireland have a rugged beauty and unique charm that breaks through any cold or rainy weather, bringing visitors back time and time again. Here are some highlights of the good old UK to add to your itinerary.
London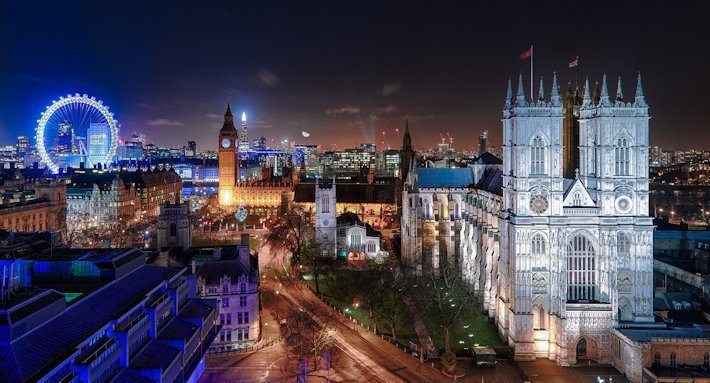 Visit London and be amazed by the hundreds of iconic buildings, museums, and attractions Source: timeout.com
UK Car Hire London is often the first stop on the list for overseas travellers to Europe. With excellent international airports, speedy trains, buses, and motorways to take you to the rest of the United Kingdom and elsewhere in Europe, it's definitely a good starting point.
However, make sure you give London a few days to explore before you head off on other adventures, as the UK capital is one of the most exciting cities in the whole of Europe, and indeed the world!
London caters very well to tourists. You have endless opportunities to admire fabulous British architecture, indulge in high tea, and take photos of iconic landmarks. Some of these hotspots are the famous London Eye, Borough Market, Buckingham Palace, and the many free museums. However it's not just the shiny tourist attractions that make London such an interesting city. The incredible cultural diversity in the city reflects influence from all parts of the globe in the form of food, music, fashion, and ideas.
If you'd rather not test out your new Europe hire car on the roads of London, you can easily pick it up outside the city as you continue on your travels.
Ireland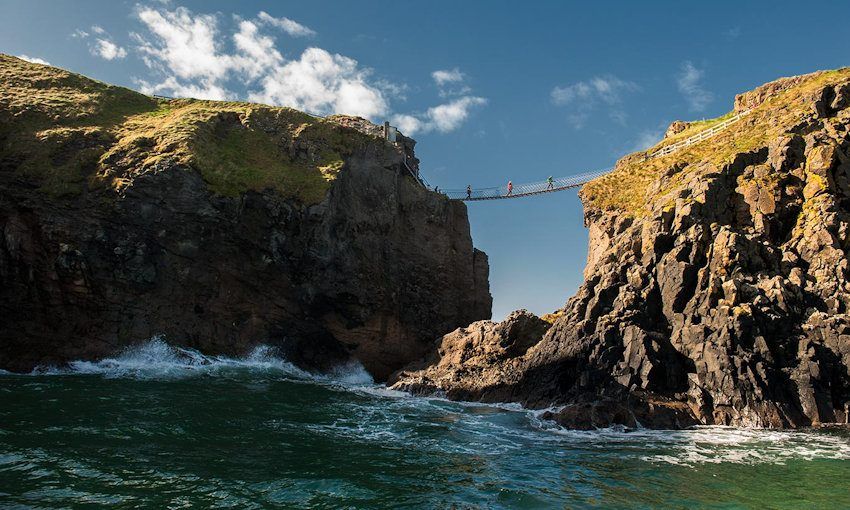 Get your fill of fresh air and sea breezes with a trip to the coast of Ireland Source: ireland.com
Car Hire in Ireland Just a short hop over from London you'll find Ireland, the land of wild countryside, hilarious people, and Guinness. Hiring a cheap rental car in Ireland is a great way to experience the beauty of the landscape without having to share it with bus-loads of other travellers or stress about public transport timetables.
Ireland and Northern Ireland are easily accessible by plane, but you could also hire a car from another part of west coast UK and hop over on the ferry. Many people come to Ireland to sample the rugged, remote, countryside. You can do this with a road trip along stunning coastal drives such as the Ring of Kerry. However Ireland is almost as famous for its nightlife, so if it's good music, conversation, and the choice of thousands of pubs you're looking for, you'll feel right at home on the Emerald Isle.
Scotland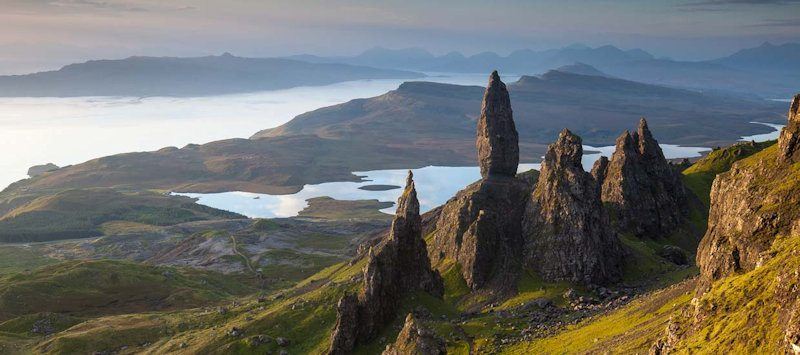 Catch Scotland on a good day and you'll never want to leave Source: isleofskye.com
Scotland is a unique, tough little country that sometimes gets a bit of a raw deal when it comes to the weather. However, once you bypass the occasional rain cloud, you'll quickly realise the country is home to some of the most magnificent scenery on the continent; well worth buying that rain poncho for.
Whether you decide to take a tour of the mountainous northern highlands, hop between the inner Hebridean Islands by ferry, or cruise around the fascinating, friendly cities of Glasgow and Edinburgh, you'll be happy you booked a hire car. The stunning drives through the mountains, lochs, and glens of Scotland are that little bit more special when you're the only one in sight, and that's only possible with your own set of wheels. For the best chance of some sunshine, head to Scotland in May-July. But best pack that raincoat just in case!
Wales
While Scotland and Ireland normally steal the spotlight in terms of the UK's Celtic countries, Wales should definitely not be underestimated. Home to medieval castles, mountainous national parks, and beautiful coastline, Wales is a fantastic holiday location that boasts a slightly more reliable climate than its Celtic cousins! There's plenty of culture to soak up, as the Welsh language is the strongest survivor out of the national languages, and there's a strong sense of pride amongst the locals. Take a trip in your Europe car hire to north Wales, where you'll find the mighty Mount Snowdon, or soak up some sun on the beaches of the south coast.
Experience the Charms of Central Europe in Your Hire Car
From the towering peaks of the Swiss Alps to the mesmerizing street art in Berlin, there's an endless list of treasures to be discovered in Central Europe. If you choose to focus your Europe car hire adventure on this part of the continent, you'll be amazed at how many different landscapes, languages, and traditions you'll encounter in a small space of time. Pick up a one-way car rental from one of the many international airports across central Europe and the world is your oyster! Here are a few highlights worth adding to your road trip itinerary.
Prague

Jump back in time with a visit to one of Europe's most loved cities Source: europeanbestdestinations.com
Speak to European visitors and there's a good chance they'll sing the praises of Prague. The Czech capital is one of the most loved cities in Europe, having captured the hearts of many with its maze of cobbled streets, fascinating art scene, and some of the world's best beer. The city is quirky and surprising, with weird and wonderful architecture and sculptures popping up where you'd least expect it. There's also plenty of scope for learning about the history of the country, with castles, cathedrals, and museums offering an insight into the religious and cultural life of the Czech Republic.
Berlin
Car Hire in Germany While Germany has a huge number of exciting cities, each with their own different stories and vibes, Berlin has gained a reputation all of its own. Whether you go there for a crazy night out, a history lesson, or to enrich your knowledge of modern art, you're unlikely to be disappointed.
The city is recognised as the creative hub of Europe; the spot for up and coming artists, musicians, designers, foodies, and everything in between. To be right at the heart of the action, make sure Berlin is on your list when you're hiring a car in Europe.
Switzerland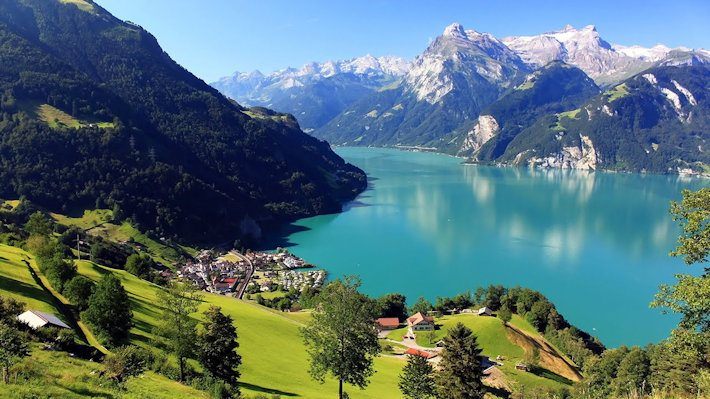 For mind-blowing views like these, make sure you don't skip Switzerland in your Europe car rental trip Source: ace-educationgroup.com
Swiss Car Hire Smack in the middle of France, Italy, Austria, and Germany, Switzerland looks like it could easily be dominated by its comparatively enormous neighbours. However, the Swiss manage to pack an incredible amount into their borders, giving them every reason to be proud of living in such a glorious place.
There are the postcard perfect lakes, the outstanding beauty of the Alps, pristine cosmopolitan cities, and of course, incredible cheese! It's a country of strong traditions, glorious views, and delicious food, making it definitely worthy of a visit. Travelling around Switzerland in your Europe rental car is a real treat, both in summer and winter. Whether you spend a few days or a few weeks, don't forget your camera!
Kick Back and Relax with Car Hire in Southern Europe
For many overseas visitors, heading to Europe is all about escaping the cold Aussie winter and soaking up some well-deserved vitamin D. For this, heading to the south of the continent is your best bet, as it benefits from the warmest climate and most opportunities to lounge by the famous Mediterranean Sea. There are countless different towns and cities to visit in this part of the continent, but here are just a few that feature regularly on the holiday list for Australian travellers.
Greece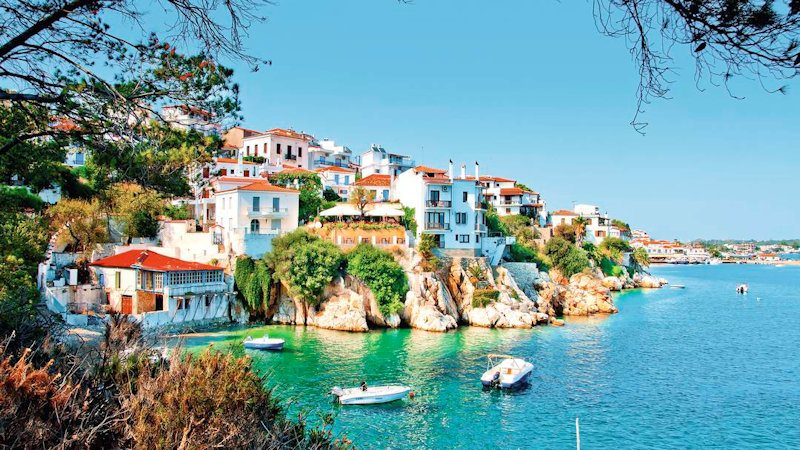 Soak up the sun in the perfect setting with a trip to Greece Source: firstchoice.co.uk
Car Hire in Greece Greece has treasures waiting for you that you won't see anywhere else on the continent. Its magnificent history offers an unbelievable number of historical sites to explore, both in the capital of Athens and elsewhere in the country. Other treasures include the sun baked coastlines, the glorious turquoise waters that surround them, and the culinary adventure that is discovering Greek food.
Whether you decide to tour Greece in your cheap car rental or head straight for one beach and stay there for a month, falling in love with Greece is likely.
Italy

Culture, nature, and food, glorious food: Italy is a real all-rounder Source: insightvacations.com
Italian Car Hire With mountains, lakes, beaches, and an impressive number of outstandingly beautiful cities, Italy has long been one of the most popular holiday destinations in Europe. Its southerly location and ideal climate only add to its appeal, and once you throw in the world famous food and wine, you'll begin to realise why it's such a winner! Whether you choose to explore the sun drenched coastlines of the Mediterranean, gaze at ancient buildings in Venice, or people-watch in the oh-so-fashionable city of Milan, make sure you have a set of wheels to get you from the airport and on to your next destination in style.
Snow, Scenery, and Santa Claus: Escape to Stunning Scandinavia in Your Europe Hire Car
In the past, many car hire trips to Europe have revolved around ticking off the big attractions in the central belt of the continent. However, those days are long gone. Now, people's eyes have been opened to the wonders of some of the lesser-explored areas of the continent. One such area is Scandinavia, the effortlessly cool and mysterious collection of countries with so much to see and explore. Here's where to head to once you arrive in the Land of the Midnight Sun.
Norway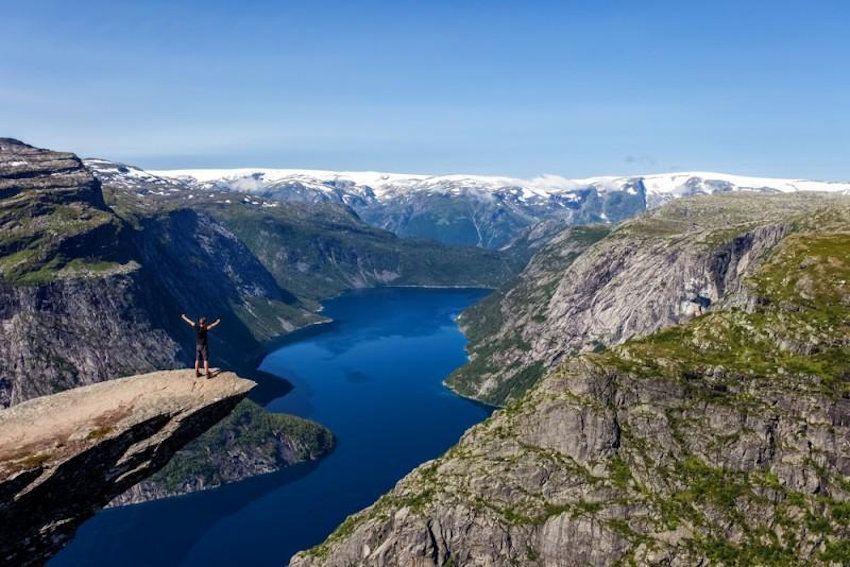 Some views just have to be seen to be believed… just don't fall off! Source: interrail.eu
Car Hire in Norway If it's open space, gloriously fresh air, and dazzling views you're after, you've come to the right place. There are few places in the world that can compete with the epic expanse of natural beauty that you'll find in Norway, so be prepared to have your socks knocked off. The impressive list of natural spectacles includes gigantic glaciers, mysterious forests, jaw-dropping fjords, and, of course, the Arctic coastline and polar bears that come along with it.
As you'd expect, this phenomenal range of natural features is the perfect territory for outdoor lovers. Hiking, camping, canoeing, skiing, and cycling take on a whole new level when they're enjoyed with this backdrop. Norway also offers up the chance to see some of the world's most remarkable wildlife, including reindeer, musk oxen, and arctic fox.
And it's not just about the outdoors, either. Norway also boasts some of the most innovative and interesting cities in Europe, showcasing the famous Scandinavian talent for architecture and design. Whether you have a luxurious city break or a wild camping adventure, hiring a car in Norway is a great option to make sure you fit in exactly what you want to see.
Finland
Visit Finland in summer or winter and you'll not be disappointed. The winter delivers incredible experiences like sledding with huskies, watching the famous Aurora or Northern Lights, and cross-country skiing through snow-covered forests. If that's not enough to convince you, you can even visit the home of Father Christmas in Lapland— who would pass that up?
In summer Finland has just as much on offer, with glorious lakes to swim in, mountains to hike, and a laid back, happy atmosphere that comes with a god dose of vitamin D. Grab a set of wheels from pickup points throughout Finland and get ready to enjoy a unique Scandinavian getaway.
Sweden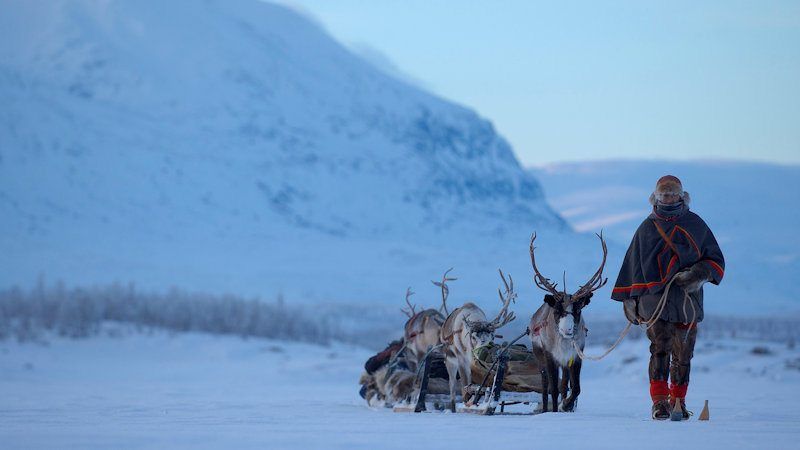 Venture into the Arctic territories and you'll experience a whole new way of life Source: Sweden.se
Car Hire in Sweden Considering its location sandwiched between Norway and Finland, it will come as no surprise that Sweden is also gobsmackingly beautiful. The largest of the northern Scandinavian countries is a perfect spot for an outdoor adventure, with the added bonus of exploring remnants of the land's Viking past. Standing stone structures, ancient ruins, and old cottages are just another part of the landscape in Sweden. The Northern part of the country is even home to some of the world's last remaining Nomadic people, the Sami, who spend their days herding reindeer in the snowy arctic corner of the country.
Compare Cheap Car Hire in Europe with DriveNow
DriveNow makes it super simple to arrange your car rental in Europe. With over a decade of experience in car rental, we work with the biggest and best brands in the market, including Alamo, Avis, Hertz, Budget, Dollar, Enterprise, Europcar, Keddy, SIXT, Firefly and Thrifty among others. From here we can provide you with a huge range of makes, models and sizes for you to select from. That was, no matter what kind of adventure you plan on having, you can choose a hire car in Europe that suits your needs. You can pick up your car from one of the hundreds of airports across Europe or at one of our pickup points within the countries themselves. Want to start at one end of the continent and finish up at another? One way car hire in Europe is super easy to organise and will help you explore as much as you can in the time you have.
In addition to our wide range of vehicles, you'll also get the best pricing on the market. Our comparison service is completely unbiased, and the prices you see are always the best available. Think it's too good to be true? This is all backed up by our lowest price guarantee. You can also be rest assured that there will be no hidden fees, as you won't be charged any extra before, during or after your trip! These great perks all add up to stress free, quick Europe car rental that will help you make the most out of your travels.
Why Use DriveNow for Car Hire in Europe?
We only partner with world renowned brands
We always search for the latest and cheapest available rental rate
We offer the widest possible choice
Free booking service with no fees or charges
Impartial and instant rate comparison
Booking is made directly with the rental provider
Quick and easy
Getting a cheap car rental in Europe is a flexible, fun, and memorable way to explore everything the continent has to offer. We've been helping travellers gain access to the vehicles they need for more than a decade, and are ready and waiting to help you compare and find the right fit.
Ready to book? Simply enter your dates of travel, decide on the make and model of your Europe rental car, and place your reservation. It's quick and easy!