Car Hire Darwin
Search for Car Rental in Darwin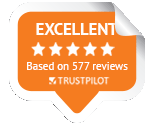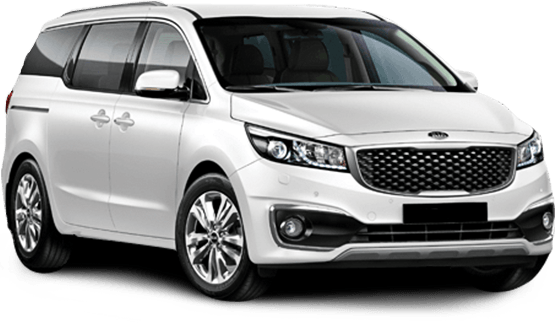 Explore Darwin with car hire from DriveNow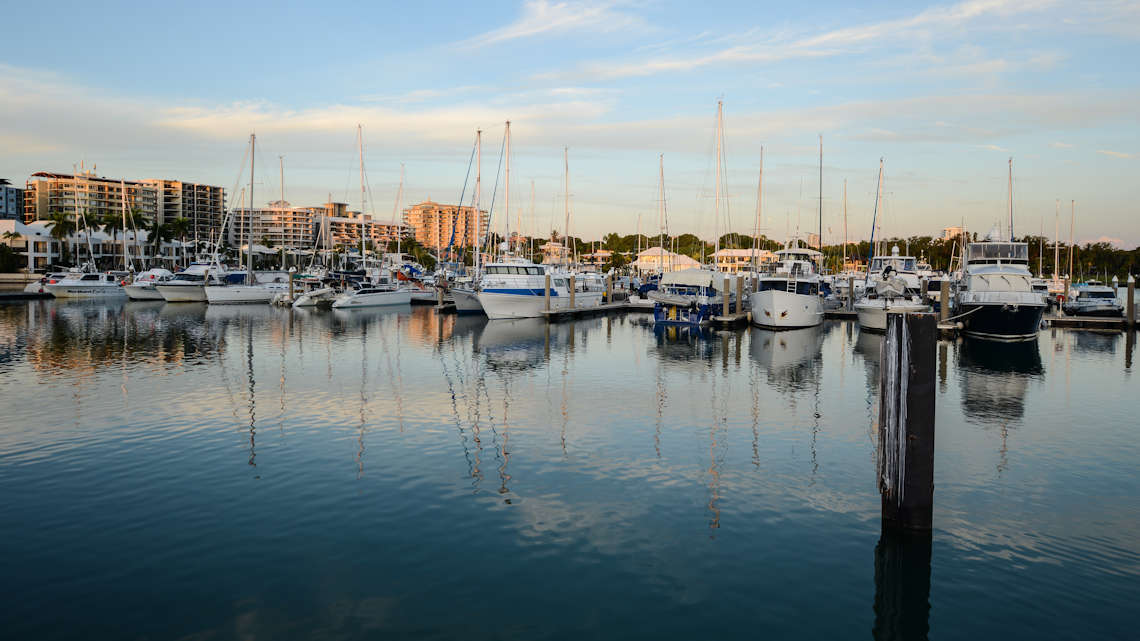 Laid-back, tropical Darwin is the perfect place to launch into the wild beauty of the Northern Territory, and that's if you can tear yourself away from the delights of the city itself. It might seem far away, perched at the very top of Australia, but with domestic and international flights arriving in Darwin daily, there is no excuse not to see this unique part of the country.
Along with natural wonders such as Ayers Rock and Alice Springs, Darwin is a fantastic place to get in touch with some of the lesser travelled areas of Australia. The capital of the NT is your gateway to aspects of this country that help make it so storied. Darwin's mix of amazing natural outdoor areas and rich history provides countless amazing attractions and chances to learn about this great land. Sound like something that might interest you? Luckily for you, Darwin car hire with DriveNow can help you access all of it.
With the convenience of your own Darwin car rental or campervan hire, you're free to explore the sights and sounds of Northern Territory's capital city. Rent a 4WD and drive into Litchfield National Park, hop on a boat to the Tiwi islands, or venture further afield into Kakadu and the Katherine region. Crocosaurus Cove gets you up close and personal with amazing crocs. If that sounds too extreme, enjoy bird-watching in the Mangroves or start a cruise down the Mary River Wetlands. It's no wonder that Darwin is a popular choice with tourists visiting Australia; it truly is a destination for everybody. With the natural beauty of the surrounds, the famous open-air beach markets, and a number of awe-inspiring drives, you're only concern will be if you can fit it all in. Whatever your plans, having keys to your own Darwin hire car makes it all the more possible.
So whether you've already arrived, or are still in the process of planning your trip, this guide will help you to experience the best this city has to offer and make the most out of your Darwin hire car. Read on to discover the top places to stay, learn about the city's emerging foodie scene, and find out what activities are a must-do for a trip of any length.
Compare Car Hire in Darwin with DriveNow
With DriveNow's free comparison service you can quickly and easily compare the best deals on bargain car rentals in Darwin. We partner with the biggest and most trusted suppliers in car hire, including Thrifty, Hertz, Avis, Budget, Europcar, and more, to make finding cheap Darwin car rentals a breeze.
Choose from discount car hire in Darwin city, or if you're arriving by plane, compare car rental from Darwin Airport as well. There's a huge range of vehicles to select from depending on your needs, including family cars, 4WD car hire, and smaller vehicles for the budget traveller. With so many options at your fingertips, you're sure to find the perfect rental car in Darwin to suit your travel needs.
At DriveNow, we've been helping Australians and visitors to Australia find great cars since 2003, and we don't stuff hidden fees into our listings. All of this adds up to great car hire in Darwin that allows you to concentrate on the more important parts of your trip.
Why Use Drivenow for Darwin Car Hire?
We partner with brands you know and trust
booking service with no fees or charges
100% Australian Owned & Operated
Impartial and instant rate comparison
Pay when you collect the vehicle not when you book (In most instances)
Drive-away rates with no more to pay
Comparing car rental pricing since 2003
Driving tips for you and your car hire in Darwin
Hiring a car in Darwin is an excellent way to explore everything the city and surrounding area has to offer. Before you hit the road, take a look at these quick tips to help keep your journey as smooth as possible.
Driving the roads surrounding Darwin during the night is strongly discouraged. There are often wild animals such as kangaroos, pigs, and wild horses on the move at night time that can cause accidents on the road. There are also lots of dark coloured cattle on the roads, which can be very hard to see at night.
If that isn't enough to make you keep your road tripping to daylight hours, there are also road trains to deal with. These huge vehicles travel at upwards of 100km/h (60mph) on the highways and require extra time to slow down; meaning care has to be taken when sharing a road with them. The best idea is to leave the night driving to the trains and keep your driving for the daylight!
Because of the unique landscape in Darwin and the added hazards of animals, you may find that your Darwin car rental operator states slightly different rules and regulations to other parts of Australia. These can include no insurance claims for driving at night, or a limit to the number of kilometres allowed in one day. For more information, check with your chosen operator.
A Brief Introduction to Car Hire from Darwin Airport
Airport
Information
Address:
1 Henry Wrigley Dr, Darwin International Airport NT 0820
Code: DRW
Telephone: +61 8 8920 1811
Location:
Darwin Airport is located approximately 8km north of the city centre
No. of Terminals: 1
Timezone: GMT/UTC +9:30
Unless you're coming overland on The Ghan or an outback road trip, Darwin Airport (DRW) will be your first port of call.
Situated just 8km (a short 15-minute drive) from the city centre in Marrara, Darwin Airport services both domestic and international travel with regular flights departing to popular Asian destinations such as Indonesia, Malaysia, and the Philippines.
In addition to cheap car hire in Darwin city, you can compare car rental from Darwin Airport itself. If you're big on convenience and value for money, this may be the best option for you. The car hire desks can be found on the ground floor, near the luggage collection area of the Arrivals hall. Unlike some of the other big cities, Darwin's airport is easy to navigate, so negotiating the bag carousel and collecting the keys to your new car rental will be a cinch.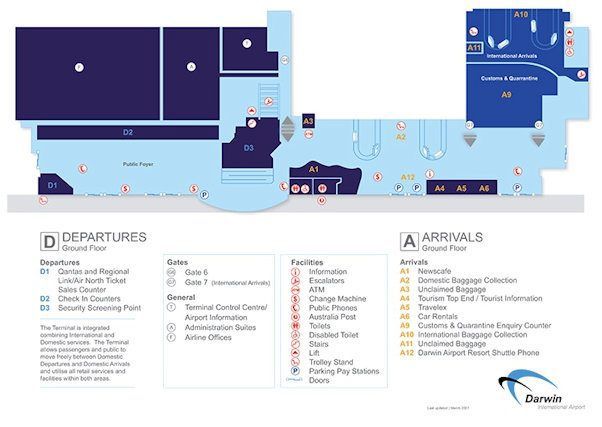 Darwin Airport Terminal Map
Source: darwinairport.com.au
Skip the bus queue, avoid expensive taxi fares, and experience the freedom of being able to explore at your own pace. Not only is it easy, having your own air-conditioned hire car in the wet season is the best way to stay cool and dry. And the dry season? Well, it's pretty hot then too!
Darwin Airport car hire consists of Avis, Budget, Europcar, Hertz, Redspot, and Thrifty counters. At DriveNow, we offer travellers a quick and easy way to find bargain car rentals, and there are no hidden costs – what you see is what you get. The best thing? Pocketing the savings on a cheap Darwin car hire means that you'll have more in your budget to put towards your trip.
Where to Stay in Darwin
With Darwin being such a unique destination, the accommodation is as diverse as the visitors it attracts. From wilderness retreats to minimalist hotel rooms, Darwin has something to suit every taste and budget. And it's not just for the lucky visitors on holiday; business travellers staying in the CBD are treated to sweeping views that rival those of Melbourne or Sydney, with the city's sleek industrial architecture and open green spaces on show.
It's worth keeping in mind that Darwin's population tends to swell during the cooler months, so booking ahead during the June-September period is advised. Arrange your Darwin car hire at the same time to guarantee a competitive rate.
The Palms City Resort

Sit by the pool and soak in the Darwin sun at the Palms City Resort
Source: palmscityresort.com
Situated a stone's throw from the Esplanade, the Palms City Resort receives consistently good feedback from visitors. Sticking to the tropical vibe of Darwin, the resort is well-kept, budget friendly, and conveniently located in the heart of everything. Its close driving distance to some of the best restaurants and cafés in the city, make it an ideal option for those fortunate enough to have a Darwin car rental. For work travellers, the hotel also boasts free Wi-Fi and business amenities. Palms City is just a short stroll from trendy Friday afternoon watering holes, perfect for when you need to loosen the tie and unwind.
Skycity Darwin

Learn why Skycity is drawing in crowds of holidaymakers every year
If holidaying in style is your thing, Skycity Darwin might just be the spot for you. Settle in to your beach vacation with a walk along the promenade, a pampering session in the eight-room spa, or sample the cuisine at one of the many restaurants. With rooms overlooking the tropical landscape, you might not want to leave your hotel room. Only a 25-minute drive from airport, this resort has ample parking for your Darwin car rental. And if you don't mind paying a little extra, you can always leave your vehicle with the hotel's valet.
Darwin Central Hotel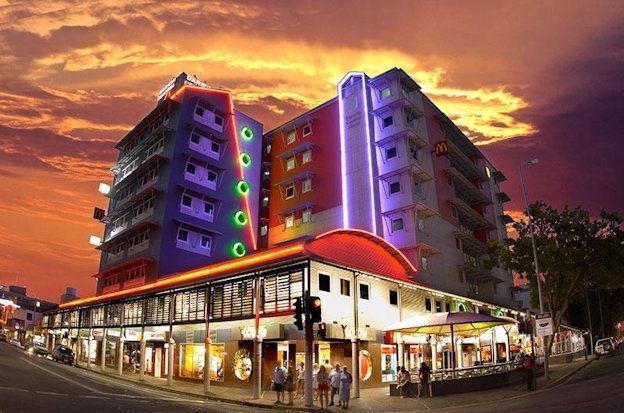 /br> The impressive Darwin Central Hotel is a favourite with Darwin holiday goers
Source: darwincentral.com.au
Another firm favourite, the Darwin Central Hotel is an excellent value pick for vacationers and business travellers alike. With generously sized rooms, friendly staff, and located centrally to the Esplanade, this hotel is a good choice for anyone wanting convenient access to the CBD. Unlike the Palm City resort, Darwin Central has enough parking to easily accommodate your car hire, saving you the stress of having to search for a vacant spot after a long day of sightseeing.
Wildman Wilderness Lodge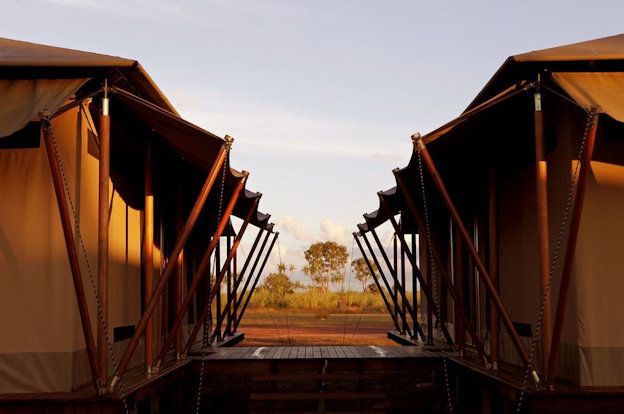 /br> Immerse yourself in Darwin's great outdoors with the Wildman Wilderness Lodge
Source: wildmanwildernesslodge.com.au
You won't even notice the two-hour drive from the airport to the Wildman Wilderness Lodge because the journey is as beautiful as the destination. The multi-award winning lodge is perched amongst the beautiful Mary River wetlands, and is a perfect spot for getting away from it all and immersing in Darwin's picturesque outdoors. A little on the pricier side, the lodge consists of ten cabins and fifteen safari tents. Think white linen, natural colours, and wooden floors, all set around the main building with an infinity pool. When you're not exploring the nearby Kakadu National Park, you'll probably find yourself dining on the sun soaked veranda that wraps around the reception and restaurant. Your hardest decision? Which wine to have with dinner.
What to Do in Darwin
With access to your own Darwin car hire, there's little stopping you from being able to take in the sights and sounds of NT's capital – and there's no shortage of activities to experience either. After all, the Northern Territory is one of Australia's most naturally unique and beautiful locations. From the city to the rugged bush, here are the must-do attractions in Darwin:
Watch the Sunset at the Mindil Beach Markets
There's a reason that locals and tourists flock to the beach to watch the sun sink beneath the horizon – it's spectacular! Every Thursday and Sunday during the April to October dry season, the Mindil Beach Markets create the perfect backdrop for a romantic dinner by the waves.
Selling everything from Thai to Sri Lankan, the markets are a foodie's delight. For those with full stomachs, the market also sells handicrafts, aboriginal artefacts, and brightly coloured clothing. A cheap car hire is a perfect way to get to the Mindil Beach markets; you'll be able to pop your purchases in the car instead of lugging them back to your room.
If you're not in the shopping mood, you can always listen to the music, soak up the atmosphere, and enjoy the main attraction – the sunset.
Face Your Fears at Crocosaurus Cove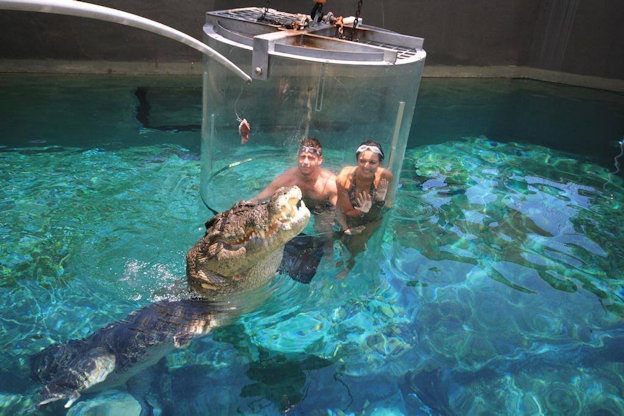 Get up close and personal with a croc at Crocosaurus Cove
Source: crocosauruscove.com
Crocosaurus Cove's ominously named 'cage of death' affords visitors a personal encounter with Darwin's most fearsome creatures. If you've ever wanted to kiss a crocodile, then this is your chance. Step into the safety of a clear plastic tube and get up close and personal with some of the biggest crocs in the world. It's sure to be an experience you never forget!
Crocodiles aren't the only impressive aquatic creature on display; the aquarium also houses some harmless sea life such as barramundi, turtles, and stingrays. If you're travelling with kids, this is a great chance to teach them about Darwin's wildlife and ecosystem. If adult crocs aren't your go, why not introduce them to some of the baby crocodiles. Without the teeth and the scales, the baby crocs are a whole lot less intimidating.
Crocosaurus Cove is just a short distance by hire car as it's situated in the heart of town, making it a convenient choice if you're short on time.
See the Waterfalls of Litchfield National Park
If you can't make it out to Kakadu, there's no better place to experience the Australian bush than Litchfield National Park. With tropical rainforest, sweeping waterfalls, exciting 4WD tracks, termite mounds, wildlife, and rugged bushy scrub, this attraction has it all. If you're an outdoor adventure seeker or simply an admirer of Australia's flora and fauna, this is one stop you will not want to miss.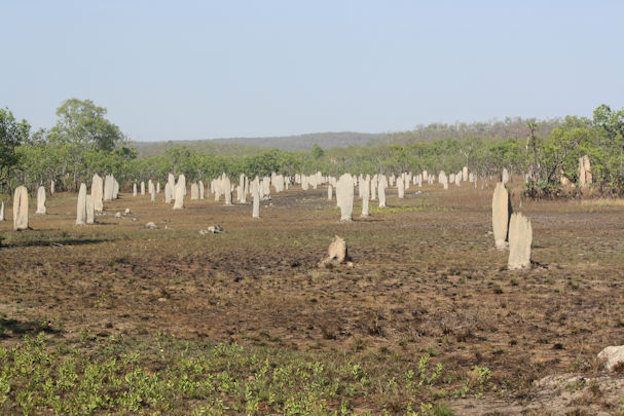 Caption: You're going to love Litchfield National Park
You're going to need a Darwin hire car for this one because Litchfield National Park is one hour's drive from the city. Hopping behind the wheel of your car rental will also mean the freedom to explore the park in depth. Unlike on a tour bus, having your own rental car in Darwin affords you the opportunity to stop momentarily and stretch your legs while you capture an interesting photo or explore an attraction that catches your fancy.
If you're into bushwalking or would simply like to soak up the atmosphere on foot, Litchfield has numerous hikes ranging from beginner all the way to advanced. And when you're feeling hot and sweaty, why not take a dip in one of Litchfield's famous watering holes. Check out the Buley Rockholes for a safe place to swim with kids, the Florence Falls for a jealousy-inducing location to take an Instagram shot, and Wangi Falls for another popular swimming hole. And don't worry; the saltwater crocs don't hang out in this area so you can swim freely.
Where to Eat and Drink in Darwin
Food is such a huge part in any holiday or trip, and despite its small-city status, Darwin does not disappoint. Plating up specialities like crocodile tail, freshly caught seafood, and market-style cooking of every cuisine, even hardcore food-lovers will be impressed. Darwin's close proximity to Southeast Asia also plays a part in the city's diverse food scene. The Mindil markets in particular showcase this multicultural blend with fresh herbs, lime, and spice appearing in samosas, bowls of noodles, and plates of fresh laksa.
And it's not just dinner; Darwin has jumped on the brunch train, with local cafés drawing inspiration from indigenous bush tucker and the fresh produce of the region to make this mid-morning meal a standout.
So where can you find the best bites in Darwin? From speciality coffee shops to food trucks, read on to find out our top picks of where to dine out during your stay.
Budget Eats
Jetty and the Fish
This quirky little red and white trailer serves some of best fish and chips in Darwin. It's not only visitors that love to tuck into a plate at Jetty and the Fish, but locals too, and you'll find that the best way to eat your dinner is on the sand. Make sure you check their Facebook page to see where the trailer is parked for the evening, and be prepared to line up – It's that good.
Alley Cats Patisserie
If you're a big fan of specialty bread and pastries, you can't leave Darwin without visiting Alley Cats. Think fresh macarons, tangy salads made with local produce, and delicious loaves of fresh bread. And if that's not enough, this trendy patisserie also serves up extreme milkshakes. Open seven days a week; you might find yourself back here every day.
Mid-Range
Pee Wee's at the Point

Whet your palette at this scenically located restaurant
With a name you're sure to remember, Pee Wee's is one of Darwin's most chic fine dining options. The beachside setting is the key draw for this restaurant, and with a little luck your table will be a few steps from the ocean. The chefs at Pee Wee's turn out plate-loads of seafood every night; this might be a good time to try Darwin's famous mud crab.
Aboriginal Bush Traders Café
The Aboriginal Bush Traders Café and shop, located in the historic Lyons Cottage, is a 100% not-for-profit enterprise where all the earnings are fed back into community projects. Learn more about the rich indigenous history and culture of the Top End, and purchase your authentic souvenirs. If you're a fan of damper, or would like to try some of this traditional Aussie bread, be sure to ask for a serving of damper with your choice of spread.
A Little Pricier
Char Restaurant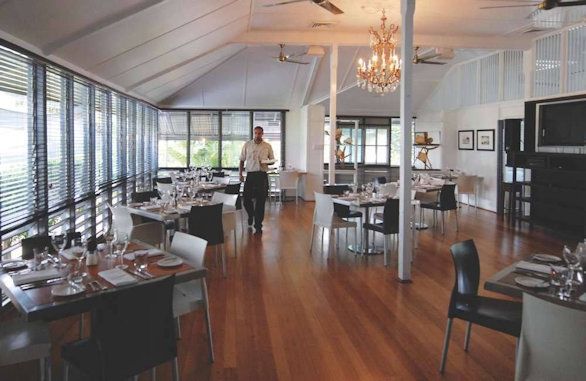 Settle down to a fine dining experience at Darwin's Char Restaurant
Source: chardarwin.com.au
If you like to dress up, you'll be at home at Char Restaurant. This steakhouse and grill is a hip choice for a special occasion or holiday meal. The steaks are prime cuts and served with all of your favourite side dishes. If the budget permits, try the Rib-Eye on the Bone. And perhaps leave the hire car at home because the restaurant has an impressive wine list featuring some of the very best Australian drops.
Hanuman
For authentic Thai and Indian cuisine, Hanuman is both sophisticated and unassuming. This 25 year old Darwin institution is a fashionable favourite with locals. The curries are worth raving about, but the prices are a little steep. It's best to make a reservation for weekend nights because it can get busy in the dry season.
Road Tripping around Darwin in Your Hire Car
The great outdoors are where Darwin shines, and what better way is there to immerse in the beauty of the surrounding countryside than to go on a road trip. With the keys to your Darwin car rental in hand, you're ready to hit the open road and explore the city's untamed outdoors. Read on for some of our top day trips in Darwin.
Drive Darwin to Kakadu in Your Hire Car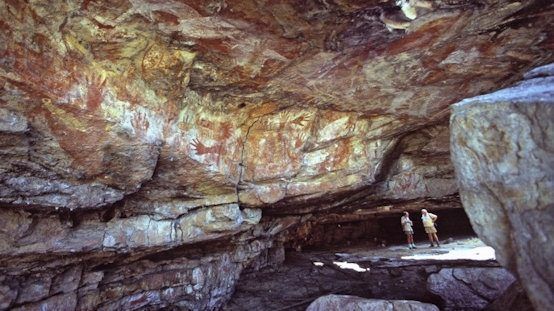 Visit Kakadu National Park on a Darwin day trip
Source: australia.com
If you have a couple of days to spare, and a Darwin car hire with unlimited kilometres at your disposal, why not take a trip to one of Australia's most unique and picturesque national parks.
Kakadu National Park, the largest park of its kind in Australia, features immense beauty and amazing historical significance in the form of thousands of plant and animal species and Aboriginal art dating back hundreds of years.
A World Heritage-lister, Kakadu covers a massive 20,000 square kilometres of breathtaking greenery and open landscapes. Drive yourself and experience all the park has to offer. Once you've picked up your car hire from Darwin Airport or the CBD depot and arranged your accommodation, set in for the three hour trip to Kakadu via the Arnhem Highway.
The park has a lot of popular attractions that you can access by car. If you're looking to go off the beaten track, however, consider hiring a 4WD; this will give you more freedom to explore the difficult to access places. If you're happy with a 2WD car hire, simply follow the main road which runs right through the park. The most trafficked stops are Ubirr, a rocky lookout with Aboriginal rock arts, and Nourlangie, another sandstone formation featuring traditional paintings.
Whatever vehicle you choose, once you enter the park, the advantages of your decision to self-drive in your rental car will become abundantly clear. There's nothing quite like having the ability to stop and take pictures, spend time at a local watering hole, or simply pull over and admire the sunset.
Travel from Darwin to Litchfield National Park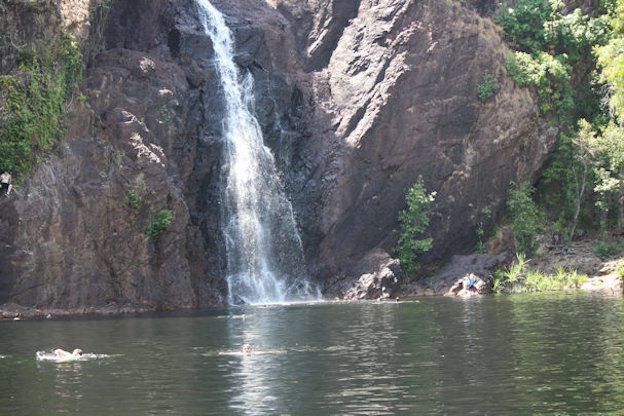 Wangi Waterfalls at Litchfield National Park
If you decide that Kakadu is a little out of reach, or you're just looking for a short day trip to experience some of Top End's natural beauty, Litchfield National Park is a quick and easy drive from Darwin. The park contains plenty of different environments. From the natural sandstone that gives the area a dramatic feel, to the mounds of termites that pop up from the earth, there's plenty to see and do.
The park covers 1,500 square kilometres so a Darwin car hire is the best way to explore the main attractions. Litchfield is best seen over two days but if you're time poor, one day is adequate too. Just make sure to start the day early so you have enough time to discover the swimming holes, waterfalls, and rock formations that the park is famous for. Florence falls, the great Buley Rockhole, and the spectacular Wangi Falls are must-sees.
Road Tripping Top Tips
Take advantage of any refuelling spots on your journey to Kakadu. Make sure to fill up your Darwin car rental before you exit the city.
Avoid driving in the dark. The park is home to a lot of native animals who can wander out onto the road, so keep your eyes peeled for any activity.
Always check to see if your Darwin rental car is allowed to go on dirt or unsealed roads. Any resulting damage might not be covered by your insurance so check the terms and conditions of your car hire agreement prior to travel.
Start and End the Day with Some Fishing
Darwin and fishing go together like fish and chips – it's a perfect match.
You can choose to go out with a fishing charter, or make your way along the coast in a Darwin hire car – just choose your dates carefully because the dry and wet seasons offer very different experiences. Whether you're looking for Barra in the mangrove creeks and estuaries during the wet season, or trying your luck with mackerel along the coast, Darwin is an angler's dream.
There are four main fishing seasons in Darwin: the wet season, runoff, dry season, and the buildup. While the wet season brings heavy rain, it can also lead to great fishing conditions as the floodplains burst with life.
As the monsoon season clears, it's Barra that fisher folk are clamouring for and the creek mouths are full. The dry seasons, however, might be the perfect time to go, if not for the picture-perfect sunsets then for the reef fishing. Snapper are out in force during the dry season so make sure you're equipped to reel in a big one.
Darwin Car Rental Locations
Discover amazing experiences in Darwin