Witness the Wonders of Canada with Car Rental Through DriveNow
Discover views that dreams are made of in Canada's glorious mountains
Source: www.banfflakelouise.com
With world-famous waterfalls, jaw-dropping mountain ranges, and the most donut shops per capita in the whole world, it's no wonder Canada is currently one of the most visited tourist destinations on the planet. A trip to Canada is a hit on many a bucket list, whether it's to explore some of the world's most photographed lakes and hiking trails or to soak up the atmosphere of the laid back but effortlessly trendy cities.
As one of the biggest countries in the world, you certainly won't be short of places to visit during a trip to Canada. Second only to the giant of Russia, Canada is so large that it's surrounded by three of the planet's oceans, meaning there's also a fantastic range of geography on offer for you to choose between. Whether you take a trip in summer to hike around turquoise lakes in Banff National Park or come in winter to have a crack at the world renowned ski slopes of Whistler, you'll struggle not to be blown away by your surroundings.
Most of the flights to Canada coming from Australia will arrive in one of the western airports. These are Vancouver International or Victoria International Airports. Toronto Pearson International and Montreal-Pierre Elliott Trudeau also provide easy entrance and exit from the country.
From wherever you decide to embark on your adventures in Canada, you'll want to make sure you can get around. Hiring a car in Canada is a great way to see the country, and lets you hit everything on your list without worrying about public transport timetables. Got lots of luggage? Save your arms and throw it all in the back of your Canada car rental!
A great way to make sure you get the right vehicle for the job is to book through us here at DriveNow. We compare Canada rental cars from some of the most trusted suppliers in the world to bring you a huge range of options. That way you can have your pick of the bunch and find a car that suits you and your fellow travellers' needs.
So what are you waiting for? Get packing your best flannel shirt, charge that camera (or phone), and get your voyage off to a stellar start by booking your rental car in Canada with DriveNow.
Hiking Trails, Ski Slopes, and Art in Beautiful British Columbia
Need a good old dose of Mother Nature? Got a few adventure sports that you haven't tried? British Columbia is calling your name. You'll struggle to find many other places in the world that can rival the mind-blowing scenery that you'll find in this western corner of Canada, and that's not even all it has to offer. With Canada car hire from DriveNow available in Vancouver Airport, Kelowna Airport, and Victoria Airport as well as numerous locations throughout the province, you'll be covered wherever your itinerary takes you.
Vancouver
Vancouver - one of the world's most multi-cultural and diverse cities has an almost ever-present feelgood buzz Source: tourismvancouver.com
British Columbia's most world famous destinations is the city of Vancouver. Conveniently, it also happens to be in the most westerly corner of Canada, meaning the flight over from Australia is as short as it can be.
Once you've arrived in Vancouver Airport and grabbed the keys to your Canada rental car, the big decision is where to begin! Foodies can get stuck straight in by taste testing their way around the almost overwhelming range of exciting restaurants, bars, and café's that have earned the city culinary thumbs up from all over the world. Or if it's art that you love most about a city, get your camera out and check out the budding creative scene, whether it's in the streets, galleries, or a one-off event.
However what many people come to Vancouver for is its proximity to the glorious mountain ranges that you can glimpse from down in the city. This adventure playground is an outdoor lover's delight in both summer and winter, and is just 30 minutes' drive away in your Canada hire car.
Whistler
A highlight of these mountain ranges for many is the mountain town of Whistler, just north of Vancouver and home to Whistler Blackcomb ski resort. In the winter, this resort is famed for having some of the world's best skiing and snowboarding, with the ideal combination of steep, expansive slopes and reliable natural snow. In summer, Whistler is a mountain biking, hiking, and camping paradise, with vast networks of established trails and equipment specifically for this purpose. If you're not so keen on climbing up or throwing yourself down mountains, a trip to Whistler is still a treat, as the cosy chalet-style layout and alpine atmosphere caters just as well to a relaxing outdoor holiday.
Kelowna
Nestled in its incredibly picturesque lakeside location, Kelowna is a worthy stop off any road trip simply for the photo opportunity. If you're driving here in your Canada rental car from Vancouver, it's a pleasant trip of around 4 hours. Spend hours lazing by the lake, marveling at views, or chasing waterfalls in what is another of BC's most popular beauty spots. The area is also famous for producing excellent wines, with more than 30 different wineries within driving distance of each other. These, of course, come hand in hand with a host of delicious restaurants.
Get an Eyeful of Amazing Alberta in Your Canada Car Hire

You'll start getting used to views like this as you cruise in your Canada hire car through Alberta Source: waterton.ca
As you travel inland from BC, the next province you'll encounter is Alberta. If you have a thing for stunning turquoise lakes surrounded by towering peaks, turns out you're in luck. Alberta does this particular piece of geography spectacularly well, and you'll be treated to not one but dozens of these as you travel around the state. Couple this natural beauty with dynamic cities, lush mountain retreats, and even fossil hunting sites, and you'll see why Alberta is worth adding to your list.
Calgary
Tucked into the southern corner of Alberta, Calgary is a laid back but vibrant city packed with things to check out. If you're heading straight to Calgary from overseas, your first port of call will probably be Canada's third biggest airport, Calgary Airport. From here you can pick up the keys of your Canada hire car and start exploring the city.
There are enough museums and attractions to keep you entertained for weeks if you wish, including Calgary Zoo, the Military Museums and Canada's Sports Hall of Fame. Foodies will definitely not be disappointed here, either, with a booming array of restaurants, pubs, cocktail bars, and breweries for you to tour to your heart's content.
If the great outdoors is what's really calling your name, then don't hold back, as Calgary is a great base for exploring the surrounding mountains and lakes in your Canada hire car.
Banff and Jasper National Parks
If you've come to Canada for lakes, mountains, snow, and forests, listen up. These are all things you will find in overwhelming abundance in the Banff and Jasper National Parks, two of the three oldest national parks in the whole world. If you want to check them out, we implore you to pick this part of Canada, as the colour of the lakes, scale of the peaks, and expanse of nature is enough to knock the socks off even the most seasoned travellers.
Two of the most exceptional lakes are Lake Louise and Moraine Lake, both of which are well worthy of a road trip in your Canada rental car. The two national parks sit side by side on the eastern side of the Canadian Rockies and are an optimal playground for campers, hikers, kayakers, skiers, snowboarders, or just photo snappers.
Edmonton
After all that fresh air and exercise, it's time you check out some more of Alberta's specialities. Edmonton is the capital of the province and home to some excellent opportunities to see how the locals live, sample typical food and drink, and unwind in the city. Head to the West Edmonton Mall, the largest entertainment and shopping complex in the world, to enjoy a bit of retail therapy or pay a visit to their world-famous indoor swimming pool. It wouldn't be Canada without a trip to an ice hockey game, so grab the chance to see the Edmonton Oilers play while you chow down on hot dog or some hot chips.
Livin' Large in Canada's Largest Province: Quebec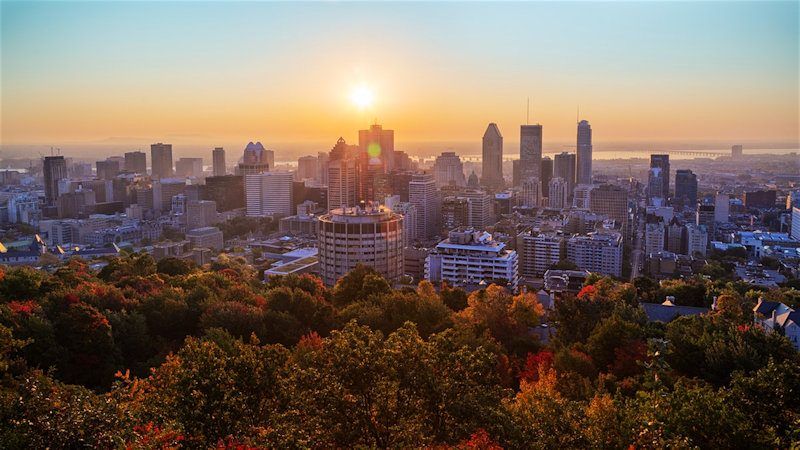 Get a spot of culture with a side of French lessons in Quebec Source: Lonely Planet
Part of Canada's unique charm is the contrast between the different cities, territories, and provinces, in terms of geography, culture, and even language. Quebec is Canada's largest province, a scarcely populated landscape scattered with enormous lakes, waterfalls, and forests. It is also the only province to have a predominantly French speaking population, and the diversity of the population is reflected in the world-renowned arts and music scenes. Fly into Quebec City Jean Lesage International Airport, grab the keys to your Canada car rental and get ready to explore!
Montreal
Montreal is the biggest and most populated city in Quebec, and is both a bustling cosmopolitan capital and a laid back haven for art, music, and food lovers. However you'd best like to explore it, there's plenty to see and do. Wander around the Montreal Museum of Fine Arts, click your fingers to some soul soothing Jazz at an outdoor festival, or enjoy alpine style cheese fondue on a sunny terrace restaurant. A wander round Montreal might bring back memories of Europe to some travelers, thanks to the flashes of 18th century architecture and stunning monuments situated all over the city.
Outstanding Ottawa and the Rest of Ontario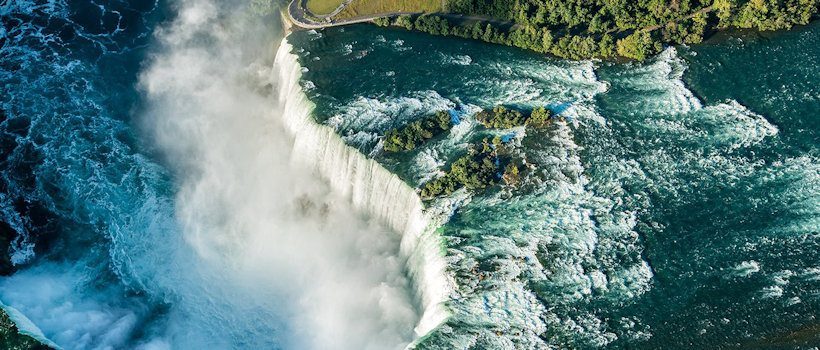 Witness a natural wonder with a visit to the world famous Niagara Falls Source: Niagara Falls State Park
Of all 10 provinces and 3 territories, 40% of Canada's population choose to live in Ontario. While this might have something to do with the fact it is the second biggest province, it also suggests there is something pretty good going on over there. And with its bustling cities, a pleasant climate, and even more of Canada's seemingly endless supply of good looks, you can start to understand this. Here's what you can expect from a trip to Ontario in your Canada hire car.
Toronto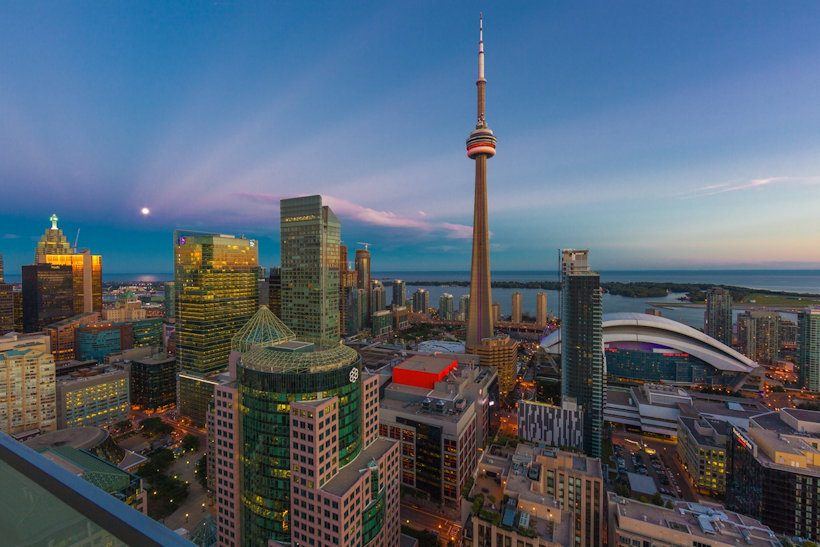 View the world atop of Toronto's CN Tower, the world's tallest building for 32 years at 553m high
If you're flying into Ontario from overseas, your first stop will likely be Toronto Airport. The busiest airport in Canada is just a short drive from the city, meaning when you've hopped in your rental car at Toronto airport you'll be able to start exploring in no time. Whether you plan to spend a few nights in town or are heading out sharpish to explore the rest of Ontario, Toronto is a fun, multicultural, buzzing city in which to spend any length of time. Watch the Toronto Maple Leafs at an ice hockey match before dancing the night away in one of the many bars and clubs. Take in the magnificant views from the viewing decks of the CN Tower and walk across their glass floor 342m above the ground if you dare!
Ottawa
While you're exploring Canada's cities, it would be rude not to pay a visit to the country's capital, Ottawa. About 400km in your Canada hire car from Toronto, Ottawa is a great example of just about everything that makes the country great. You'll find nearby natural beauty of the aptly named Ottawa River and the stunning World Heritage listed Rideau Canal; an array of cultural touchpoints such as Parliament Hill and multiple museums; and all the amazing food and drink options that come with the capital of a major country.
Niagara Falls
Clearly no cruise through Canada is fully complete until you've checked out the world-famous Niagara Falls. This legendary natural attraction is about 538km in your Canada car rental from Ottawa. In addition to posting up to check out the crashing waters, you can also learn a bit more in the nearby history museum or embrace you inner child at several water recreation attractions.
Compare Cheap Car Hire in Canada for Free with DriveNow
When you're trying to tackle a journey as epic as a road trip through Canada, you have plenty of things to plan and worry about. Don't let transportation be one of them! With cheap car rental in Canada from DriveNow, you can find a car that suits your needs and get behind the wheel quickly and easily.
To get started, all you have to do is figure out which features are most important to you. Sort our huge range of hire cars by size, make, model, brand, price, or other facets and see what's available in your chosen destination. You'll get a clear picture of your options, which you can then compare to find one that works best.
Then you make your reservation. Don't worry about taking out a mortgage on your house just because you want to hold a car for your trip—you don't even have to provide your credit card details when you make your reservation and don't pay a cent until you're ready to pick up the keys. And you won't find any sneaky charges, either, as the price you see is the price you get.
Why Use DriveNow for Car Hire in Canada?
Comparing car rental since 2003
100% based, owned and operated in Australia
Guaranteed lowest rates
Includes all taxes and levies (excludes young driver surcharge and optional extras)
Objective and impartial comparison of rates and vehicles from Australia's top rental brands
We're 100% based, owned and operated in Australia and do not offshore any of our services
Common Questions on hiring a car in Canada
How old must I be to hire a car in Canada?
The minimum age is 21, however there are young driver surcharge fees for anyone under the age of 25. As these fees and restrictions vary between rental companies and locations please check the total price breakdown to determine additional costs associated with the youngest driver and used the comments section to allow us to confirm additional fees for your chosen rental location. There is no maximum age limit for renting cars in Canada however some rental franchisees may impose their own local restrictions. If you have concerns about the upper age limit please use the comments field and we will confirm this for you. There are no cancellation fees so book with confidence knowing you can cancel at no cost.
What driving license do I need to rent a car in Canada?
You can rent a car using your own driving license as long as it is in Roman based language (English, French, Italian, Spanish, German etc) and is full with no endorsements. Non-Roman language licenses should be supported by an international Driving Permit. Good advice is to always carry your passport when driving a rental car and ensure you have this available when picking up the vehicle.
Understanding Canadian Roads
Traffic in Canada drives on the right and distance and speed are measured in kilometres. Fuel, known as "Gas", is delivered in litres. Whilst speed limits vary between provinces generally in built up areas the speed limit is 50kmh, highways operate at 80 and freeways 100kmh. Speed limits are enforced by the police with radar and speed cameras.
Car Hire - Automatic or Manual Transmission?
The majority of rental cars in Canada come equipped with automatic transmission.
Car Hire payment
You will be required to pay for your vehicle using a credit card.
Am I required to use a Seatbelt in Canada?
Yes. The wearing of seatbelts is mandatory throughout Canada. Laws on child seats and boosters vary between provinces. Generally child seats are required for children weighing less than 40lbs (18 kilos) and booster seats are required for those under 4' 9'' (145cms).
Using a Mobile Phone whilst driving
Like many countries using a mobile phone whilst driving is illegal across Canada and fines are imposed on those caught doing so.
Read this far? ... Did you know facts on Canada
Did you know that Canada is not only the world's second largest country is also has the world's longest coastline with possibly the world's largest number of islands (literally 1000s) falling under a single country's jurisdiction.
Did you know that Canada stretches over 5500kms from the Atlantic to Pacific Oceans.
Did you know Canada's name comes from the Iroquoian term for village, Kanata, following a misunderstanding between Jacques Cartier and some Iroquois aboriginals.
Did you know that North America's lowest recorded temperature was -63C at Snag, Yukon Territory, on February 3, 1947. That is seriously cold.
Did you know that in 1962 Pincher Creek in Alberta recorded one of the largest and most rapid temperature changes moving from a frigid -19C to balmy 22C in a little over 60 minutes.