Car Hire Brisbane
Search for Car Rental in Brisbane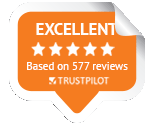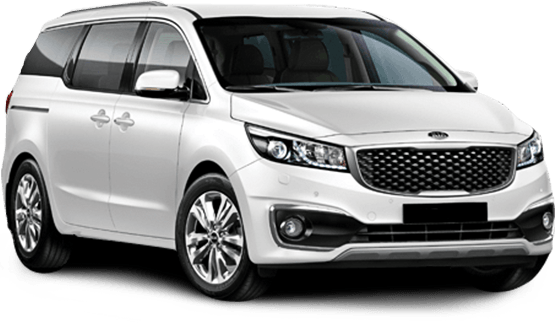 Explore Brisbane with car hire from DriveNow

There can be no doubt that Brisbane is one of the most happening cities in all of Australia. Boasting pristine beaches and scenic seaside destinations, a bustling night life, and some of the best cuisine anywhere, it is little wonder that Brisbane has been voted one of the world's most liveable cities and is a must-see destination with tourists.

At DriveNow we find all the best rates on Brisbane Car Hire by comparing the lowest prices from Australia's widest choice of rental brands. Booking is quick and easy and in most cases requires no credit card details making it easy to lock in a great deal on your car rental in Brisbane or out at Brisbane Airport.

Sound like your idea of a good time?

Read on to discover more about Queensland's capital, and find out how you can best put your Brisbane rental car to use. We explore the best eateries, the hotspots you simply cannot miss, and share some of our favourite places to stay in Brisbane.
Hiring your car in Brisbane - Find out What You Need to Know
DriveNow has your ticket to beautiful Brisbane and beyond. With convenient, cheap car hire in Brisbane, we can provide you with the power to navigate the city and further afield in just a few easy steps.
With DriveNow's car hire in Brisbane, you can easily see what vehicles are available to you and your travelling party. Just choose the dates you're travelling and sort by what features are most important to you, whether it be size, make and model, price or something else. Then pick the vehicle you want and reserve it. The price you see is the price you get, and in many instances you don't even have to provide your credit card information until you get the keys to your rental car in Brisbane.
With dozens of locations around the city, it's a breeze to pick up your car hire in Brisbane with DriveNow. Don't feel like waiting to get into your rental car? That's not a problem, either. With car hire at Brisbane Airport, you can simply grab your luggage, get the keys to your car rental and hit the road for supreme business trip or holiday success.
Why Use DriveNow for Car Hire in Brisbane?
Familiar and trusted Australian car rental partners
Guaranteed lowest rates
Quick and easy
Comparing car rental since 2003
Our local reservations team is based in Australia and there to help via phone, online chat or email
Driving tips for you and your hire car in Brisbane
Ready to start exploring all that Brisbane and beyond have to offer? Make sure you're geared up to navigate Queensland's roads with these driving tips.
Like the rest of Australia, you will generally need to be at least 21 years old to rent a car. In some cases, there may be a small surcharge if you're aged between 21 and 24, so check with your chosen car rental provider before booking if this applies to you. If you are travelling from overseas, you'll also need to make sure your driver's licence is translated into English if it isn't already, so those at the rental desk can be sure you're good to go!
Brisbane is one of several cities in Australia that has toll roads. This means that there are certain points on the road where you'll be charged to pass through with your vehicle. While these charges are often small, it's good to suss them out before you go to ensure you aren't driving through them unnecessarily! There's no need to keep cash handy or get your credit card out, as there will be a tag fitted to your Brisbane car hire that will take note of any bills you need to pay at the end of your trip.
If you do pick up your hire car at Brisbane Airport, the drive to the CBD takes about 20-30 minutes depending on traffic. Hop on Airport Drive/Airport Link/M3 all the way into the city. The drive is approximately 18-20km depending on which route you take.
Where to Stay in Brisbane
With the time and money you've saved on cheap Brisbane car rental with DriveNow, you're free to really explore your options when it comes to selecting from the amazing array of accommodation choices that Brisbane has on offer.
Best Places to Stay in Brisbane CBD
If you want to be in the thick of the action, there's no better place to stay than in Brisbane's city centre. Some of our favourite spots include:
Stamford Plaza Brisbane
Boasting 252 luxurious rooms and unparalleled views of the Brisbane River, the Stamford Plaza Brisbane is definitely on the more glamorous end of the spectrum but in our opinion it is money well spent. If you can rip yourself away from staring out the giant windows, you're a short stroll away from the City Botanic Gardens, which also borders the river.
Royal on the Park
The nearby Royal on the Park is another great choice. The 4-star hotel has great views of the garden and is a less pricey alternative. With air-conditioned rooms, and a swimming pool the kids are sure to love, it's an ideal place to rest and relax during those steamy Queensland days and nights.
Next Hotel Brisbane
For something a bit different, Brisbane has a thriving boutique hotel scene that is sure to hold something that will pique your interest. Set smack dab in the Queen Street Mall, the retail hub of the CBD, is NEXT Hotel Brisbane. This is a particularly sweet spot for working travellers, as the comfortable open-plan rooms and speedy Wi-Fi make taking care of business a breeze.
TRYP Brisbane
To the northwest of the CBD in Fortitude Valley is TRYP. Calling itself "the first art hotel in Brisbane CBD," TRYP was built on the ground of the Royal Antediluvian Order of Buffaloes, which, as if you didn't already know, was a chapter of an international secret society. This is just the start of the intrigue, with bold and fun interiors wherever you look. It certainly fits the landscape, as Fortitude Valley's buzzing music scene has helped breed an eclectic, fun culture in the area. As you can see, four-letter words are nothing to be afraid of when looking for accommodation in Brisbane that's a little out of the ordinary.
Accommodation in Kangaroo Point and Southbank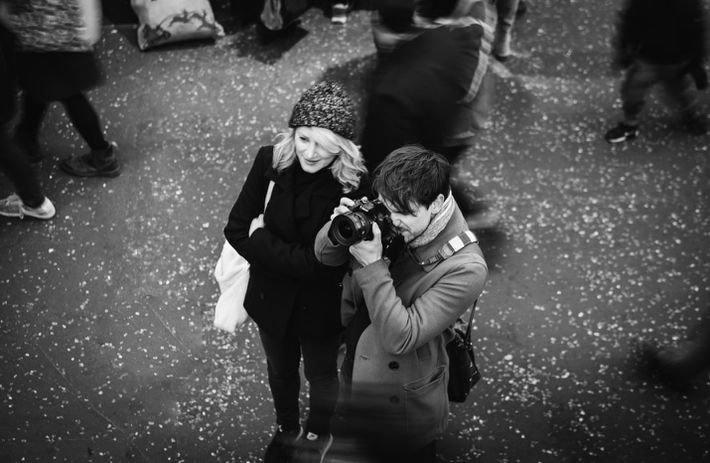 On the other side of the river from the CBD sits Kangaroo Point. Just a short drive over the M3, Kangaroo Point is situated on the banks of the winding water and near enough to all the action that you'll hardly notice the gap.
From more traditional hotel chains to bed and breakfasts and hostels, Kangaroo Point has a broad range of accommodation options to suit travellers of all budgets and tastes.
It's a popular alternative for those who don't want to stay smack dab in the middle of the city but still want to experience all the sights and sounds of Brisbane. With a hire car at your disposal, you will be in striking distance of all the best places to visit.
South Bank, just east of Kangaroo Point on the south side of that bend of the river, is a great choice for families. The South Bank Parklands offers wet and wild fun for kids of all ages, and the Queensland Museum and Sciencentre is chock full of zany, hands-on activities that bring scientific facts and concepts to life.
And don't worry about driving around for hours looking for a parking spot in Brisbane. You can either find a spot for your car rental on site or, in some instances, get some reduced parking rates in nearby lots.
What to Do in Brisbane
It's easy to immerse yourself in the charms and delights of Queensland's capital with a rental car from DriveNow. The ability to access a car hire in Brisbane makes for a convenient, hassle-free travel experience. However, you won't always need to sit behind the wheel to enjoy a good time as there are plenty of nearby attractions that are just a short walk away.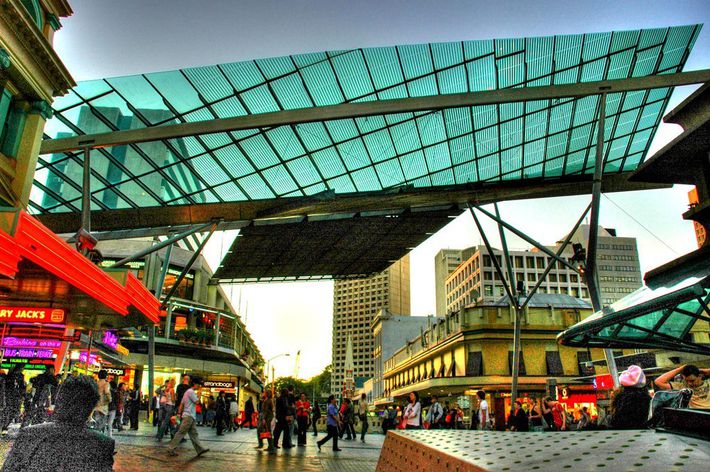 The CBD and its surrounding areas have plenty to do depending on what you're looking for.
Brisbane's city centre presents 2.2 km2 of eclectic shops, state of the art restaurants, and scenic walking paths perfect for strolling along. The main thoroughfare is Queen Street, on which the aptly named Queen Street Mall is located. Running southwest to northeast, you'll find everything from fine shopping to the Brisbane Visitor Information and Booking Centre. Bring some loose change to satisfy the hard-working buskers performing their tales on for onlookers and passersby. On Sundays, the Riverside Markets, located on the east side of the CBD in the financial district, are a great place to grab breakfast and see all the fantastic arts, crafts, clothing and food on offer.
If you do decide to stay at TRYP in Fortitude Valley, you'll be surrounded by a young, happening culture that can only come from an area that has experienced a turnaround driven by youthful energy and exuberance. Formerly a stay away for most travellers, Fortitude Valley has been reborn into a place to head for trendy pubs and eateries. Just a few minutes' drive north of the Brisbane CBD in your rental car, "The Valley" is the place to go for alternative fun that's a bit off the beaten path.
Of course, some people aren't looking for the next big thing, more inclined to get lost in the past and dive into the culture that helped shape today's world. Such travellers are free to do that in Brisbane at Queensland Parliament House, home to some of the threads to the region's rich cultural tapestry. Half-hour tours are available four times a day, Monday through Friday. The O'Donovan Library and Collection is one of the most attractive aspects of the whole thing, with documents holding stories dating back to the settlement of Australia itself.
If you're looking to get away from the more urban aspects of the region, the Bowie's Flat wetlands can provide a bit of peace and serenity without a lengthy drive. This artificial wetland provides some strong walking paths and a bit of calmness that can give you and your fellow travellers a bit of respite from the bustling fun and activity found within the Brisbane city limits. If you're willing to go a bit further away from the CBD, Dennis Lake outside of the Chung Tian Temple in Daisy Hill provides another dose of tranquility. The grassy areas are perfect for a little picnic, and the boardwalks are great for pushing your little travellers around in a pram. If you're looking for a way to still enjoy your trip when it's time for the kids to take a nap, the 20ish minute drive and aforementioned walking paths can help you do just that. You can hop behind the wheel of the car you hire in Brisbane and get to either of these places in less than a half hour, making them as convenient as they are relaxing.
Brisbane's Best Restaurants and Cafes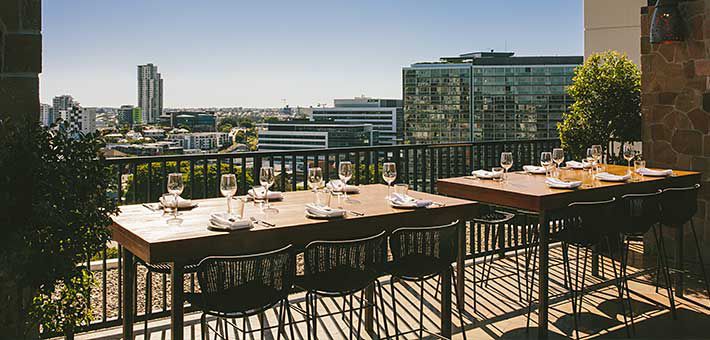 Although it might not benefit from the hype that international hotspots Sydney and Melbourne often receive, Brisbane's happening bar and restaurant scene is certainly nothing to sneeze at. Whether you're looking for a solid pub lunch, an exquisite meal from a hatted restaurant, or simply a place to pull up a chair and treat your tastebuds, there's something for just about everybody in Queensland's capital city.
No visit to Brisbane would be complete without a frosty beverage or a three course meal at one of these popular eateries:
Eleven Rooftop Bar
If you're finishing up at a work conference and want to undo the top button of your shirt or let your hair down, head straight to Eleven Rooftop Bar in Fortitude Valley. The dress code will mean you won't look out of place in your work duds, while the fantastic, seemingly never-ending views of the skyline from the 11th floor vantage point provide a stunning backdrop for catching up with mates or for unwinding with a cool drink after a long day. The Riverbar Kitchen offers similar vibes on ground level.
Brooklyn Standard
On the other end of the spectrum is Brooklyn Standard, hidden away underground in the CBD. If you like your outings loud and fun, this might be the perfect place for you and your fellow travellers. With an American flavour oozing out of every pore of this rocking joint, Brooklyn Standard pumps out live tunes most nights of the week and offers a wall full of splendid spirits waiting to be mixed up and poured over ice for you to enjoy.
ARIA Brisbane
For those with a refined dinner palette, there are several hatted restaurants in and around the downtown Brisbane area that brings a level of sophistication to the city's dining scene. Esquire and Urbane offer upscale, elegant eating experiences in the city, while revered chef Matt Moran's ARIA Brisbane brings the master's attention to detail and commitment to exciting innovation to the Queensland capital.
2FORKS
Of course, there's plenty of watering holes from which to choose if you're looking to be a little kinder to your wallet. If you're a meat-eater, the crew at 2FORKS in Milton is a particularly mouth-watering option. To paraphrase Pocahontas, Milton is just around the river bend from the CBD. A quick cruise in your rental car is all it takes to pulled meats that have been cooked for 10 hours. Then it's up to you to choose how to devour it. Watch the experts put your pork, beef or lamb together in sliders, burritos, nachos and other amazing ways. Then put the finishing touches on yourself, finding that perfect balance of spice and flavour at the seasoning station.
Brisbane's Best Food Markets
Another option for tackling hunger comes in the form of Brisbane's amazing collection of markets throughout the city. Although you might have to get a bit lucky with the timing, if you do find yourself in Brisbane during these gatherings, you can do a whole lot worse than strolling through and filling your eyes with browsing material as you fill your stomach with great eats. The quaint yet hip Bakery Lane in Fortitude Valley is a fun spot in which to hang any day, but the first Saturday of each month sees the space transform into the Bakery Lane Providore Markets. You can decide if it lives up to its tasty name as you sample local breads and spreads for brekkie. Don't be surprised if you find something too good to not take home and put in your pantry. Another great option is the Jan Powers Farmers Markets, located at the scenic Brisbane Powerhouse in New Farm, one river bend east of the CBD, are packed with amazing food stalls. Grab something scrumptious and take in the people and live entertainment in this bubbly atmosphere any Saturday.
No matter your budget, style or taste, Brisbane's burgeoning eating and drinking landscape holds treasures just waiting to be unearthed. Besides the aforementioned establishments, ask your Air BnB host or the attendant at the front desk of your hotel for their recommendations on the best places to eat in Brisbane. Their inside information might lead you to some sumptuous culinary delights.
Brisbane's Great Outdoors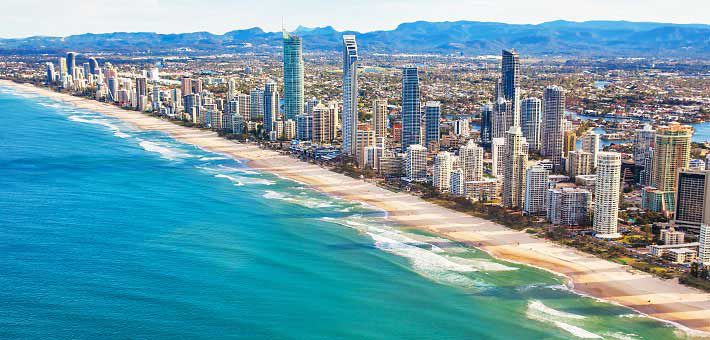 One of the very best things about Brisbane is its location. About 100kms north of the New South Wales border, Brisbane offers you a chance to see some of the most beautiful locations in all of Australia without having to spend too much money and time travelling.
Perhaps the most attractive part of the region is its amazing collection of sparkling beaches. Queensland beaches are renowned for their amazing beauty. The Gold Coast is just an hour south of Brisbane and presents all sorts of opportunities for fantastic fun and wild night life. With a hire car in Brisbane, you can pack up your travelling team –whether it is the little ones and your partner or a crew of your mates – and hit the road for a day and/or night of beachy action.
The popular Surfers Paradise is another seaside destination within 90 minutes' drive south. If the ocean isn't your thing but you're still looking to splash around a bit, Dreamworld is a quick cruise in your hire car down the M1. Slap on the sunscreen and check out all the sweet rides and attractions at the huge theme park.
You can have plenty of outdoor fun away from the coast line, too. Further inland, but still only about an hour's drive from Brisbane in your rental car, is Tamborine Mountain. One of the finest parts of the Scenic Rim region, the Tamborine Mountain area offers a whole heap of exploration options. Tamborine National Park gives you a heaping helping of vibrant wildlife, while the Tamborine Rainforest Skywalk gets you up near the clouds to gaze over the Pacific Ocean.
Another Scenic Rim spot worth checking out is Aratula, a tiny country town from a time gone by. It offers a stark contrast to the contemporary lifestyle Brisbane is teeming with and is a fun trip off the beaten path for those looking for a taste of the past.
With cheap car hire at Brisbane Airport, you can take off for the destination of your choosing upon arrival or spend some time in the great city itself before popping over to one of the wonderful aforementioned areas.
Get Behind the Home Team
It's hard to head to Brisbane without at least hearing or seeing something about the Brisbane Broncos, one of the most successful teams in this history of the NRL. This is especially true if you find yourself in the capital from March through September, when the season's in full swing. If you do find yourself in the area during that time, it might be worth seeing what all the fuss is about. See if you can get tickets to a home game at the legendary Suncorp Stadium. Sit among thousands of the hardcore fans who help make the Broncos the best supported team in the game.
The stadium, which holds around 52,000 people, is an easy drive northwest of the CBD. If you're near river's edge in the CBD, you can get behind the wheel of your hire car and hop on the M3, which hugs the coast of the Brisbane River. A few turns and 10-15 minutes later you'll be at Lang Park, ready to take all the action in. If you have time, make a point of arriving to Lang Park early, and check out all the action on Caxton Street. There you'll find a load of pubs and restaurants buzzing with Broncos backers. The same goes for after the game, though the atmosphere might vary depending on the outcome of the 80 minutes!
Alternatively, if you're up north during cricket season, a trip to the Gabba (the colloquial name for the Brisbane Cricket Ground), could be the way to go. Located in Woolloongabba (now the name makes more sense, doesn't it?), southeast of the CBD on the other side of the Brisbane River, this has been one of the premiere cricket venues in Australia for more than 120 years. Whether it's a Big Bash match with the hometown Brisbane Heat, or longer forms of the game such as an ODI or test, a trip to the Gabba is a must for sports fans and casual observers alike.
Brisbane Car Rental Locations
Discover amazing experiences in Brisbane