Car Hire Brisbane Airport
Search for Car Rental in Brisbane Airport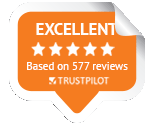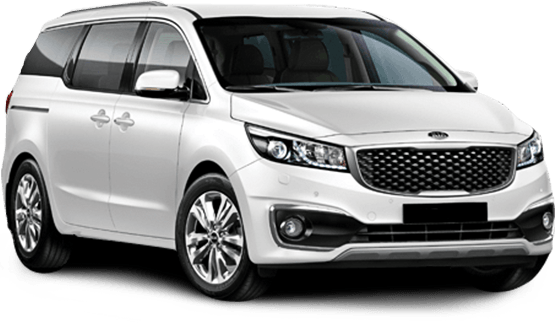 Discover Queensland with car hire from DriveNow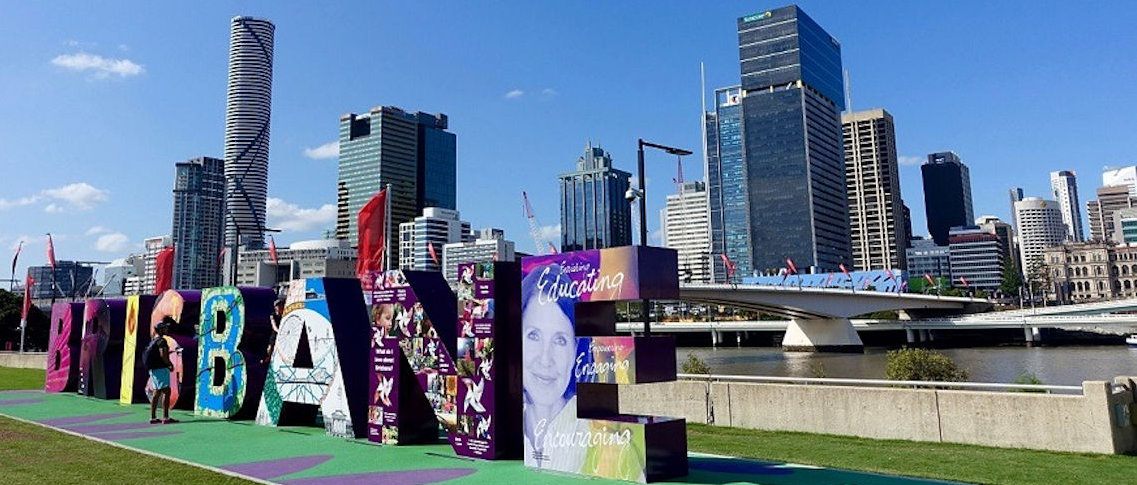 Arriving from just a state or two over or are coming in from overseas, Brisbane Airport (BNE) is your gateway to the city and all it holds. This aeronautical thoroughfare is one of the busiest in all of Australia, shuttling millions of passengers in and out of the state each year. Whether you're looking to dive into all the city has to offer or are just using the airport as a launching pad for your tour of the east coast, picking up a hire car at Brisbane Airport can give you the power to see and do everything on your itinerary in your own time.
Queensland is the home of some of the most beautiful scenes in all of Australia, and the capital of Brisbane is one of the best bases from which to explore it all. Located in the southern portion of the Sunshine State, Brisbane is within a short drive of plenty of hot holiday destinations, including the
Gold Coast
,
Sunshine Coast
, and more. The city itself offers plenty of exciting exploration opportunities, too.
Don't want to hire a car at Brisbane Airport? With several locations for
car hire in Brisbane
, you can pick up your rental from sites all over the city and live your holiday dreams as you see fit. But, as you can see, the convenience of getting the keys to your ride after you collect your bags might just be too good to pass up!
Why Use DriveNow for Car Hire at Brisbane Airport?
DriveNow has been helping travellers get the keys to quality car rental since 2003. In that time, we've built up rock-solid partnerships with some of the biggest car suppliers in the world. That means you'll be choosing from top-notch vehicles from trusted brands such as
Budget
,
Thrifty
,
Hertz
,
Enterprise
, and more. With our convenient car comparison service, you'll be able to sort these beauties by the features most important to you, whether it be cost, size, make and model, or other key aspects. Then you'll have a clear picture of the hire cars at Brisbane Airport that can be ready and waiting for you and your travelling party.


Guaranteed lowest rates


Australia's largest choice of rental partners - brands you know and trust


Booking is made directly with the rental provider


In most instances, no deposit or credit card is required when booking. Pay on pick-up.


Includes all taxes and levies (excludes young driver surcharge and optional extras)


What You Need to Know about Brisbane Airport
For many travellers, Brisbane Airport (BNE) is the gateway to Queensland's capital.
Located in the eastern portion of town, near where the Brisbane River flows out into Moreton Bay, the site has undergone tremendous change since its humble beginnings in 1922, back when it was known as Eagle Farm. Temporarily used as a US military base in the 1940's, it eventually reopened to the public in 1946 and has since become Australia's third busiest airport.
Airport
Information
Address:
11 The Circuit, Brisbane Airport, QLD 4008, Australia
Code: BNE
Telephone: +61 7 3406 3000
Location:
Brisbane Airport is located 13km northeast of Brisbane.
No. of Terminals: 2
Timezone: GMT +10:00
Once you've safely landed and successfully navigated your way past the bag carousel, it's time to get your trip started. In addition to convenient car hire from Brisbane city, DriveNow offers cheap car rental directly from Brisbane Airport so you can collect the keys before you've even exited the terminal. Skip the bus and train queues and hop in to your very own Brisbane Airport car hire.
Brisbane Airport car rental services are located just across the pedestrian overpass from the domestic terminal. The free airport transfer bus can shuttle you between international and domestic terminals.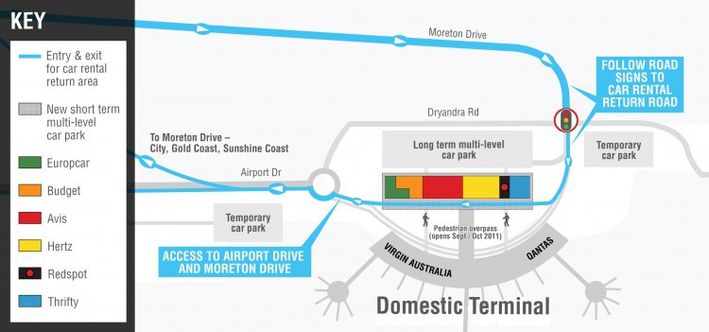 Car hire at Brisbane Airport
When you hire a car at Brisbane Airport, you open up new possibilities for the experience you'll have in Brisbane, south-east Queensland, and beyond if you so choose. With so many exciting opportunities, the last thing you want to do is be stuck inside the airport, running around looking for car rental desks.
Good news; grabbing cheap car hire at Brisbane Airport is quite easy once you get off your flight. There are dedicated desks for both the International and Domestic Terminals, so you won't have to trek all over the precinct to pick up the keys.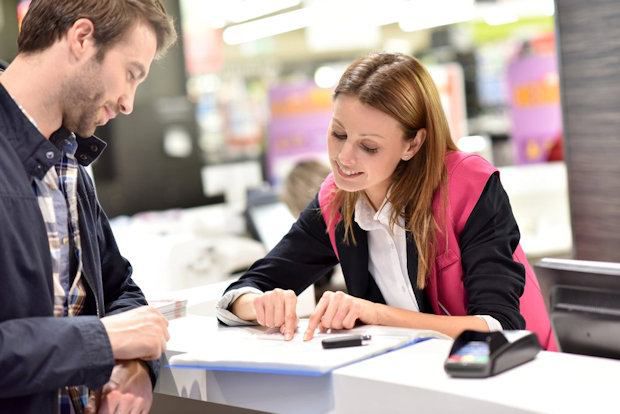 With services in both the International and Domestic Terminals, renting a car at Brisbane Airport is a breeze.
Source: goodluz
If you're coming from another spot within Australia, you'll find car hire desks for Budget, Europcar, Avis, Thrifty, Hertz, and Redspot/Enterprise on Level 1 of the Domestic Terminal. There are desks on both the Qantas and Virgin ends of the terminal near baggage claim.
And it's no problem if you're flying in from overseas, as there are car hire desks for those same companies located on Level 2 of the International Terminal behind Spoon Café.
Wi-Fi at Brisbane Airport
Whether you're just hopping off a flight or waiting to board, being able to connect can be key for a variety of reasons. Maybe you need to tell a friend or family member you've landed or that you're going to be late because your take off time has been delayed. Or perhaps you need to knock out some quick work emails or just want to simply cruise around the internet while you wait in the airport.
Whatever your needs and wants, Brisbane Airport provides free high-speed internet for travellers. You'll be able to access it all over the International Terminal and in the central space of the Domestic Terminal. To connect, hop on your device and find the "BNE Free WI-Fi" network. Just chuck in your details, accept the terms and conditions and you're free to use the web.
Just a note: Qantas has its own Wi-Fi service for its club members, so if you're spending time there you'll need to track down that login information from them.
To make sure your devices are juiced up and ready for action, there are charging stations located throughout both terminals of BNE. Want to add a bit of energy to yourself as well as your phone, tablet, or computer? If you're in the International Terminal, head to Level 4 of the Departure Hall to find some Watt Bikes. These bad boys are free bike riding stations into which you can plug your phone to get some valuable juice while you ride.
Lounges
If you're a valued loyal member of a rewards program with a certain airline or simply want to buck up for access to super comfy waiting areas, Brisbane Airport has lounges from some of the most trusted airlines in all of Australia.
In the International Terminal you'll be able to put your feet up in the lounges from Emirates, Singapore Airlines, Air New Zealand, and Qantas. The Domestic Terminal also has a Qantas Lounge, as well as a Virgin lounge.
If you don't belong to one of those loyalty programs and don't otherwise have access to those areas, you can check out the Plaza Premium Lounge in the International Terminal near Gate 81. There you'll find food, drink, Wi-Fi, work stations, and other comfortable amenities you're used to. You can pay for packages that last 2 or 5 hours.
From Eagle Farm to Brisbane Airport: The History of BNE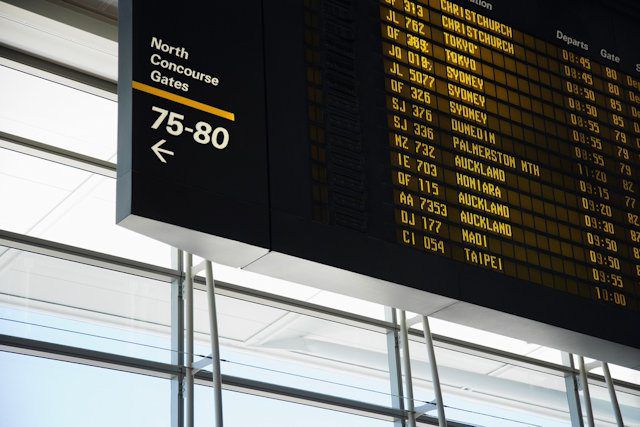 The contemporary Brisbane Airport used by millions today started out as little more than a runway in a muddy field.
Source: iofoto
In 1925, the Commonwealth Government acquired 36 hectares of rural land at Eagle Farm, located about 6km northeast of Brisbane. Just a few months after that, the aerodrome opened, operated by the Civil Aviation Branch of the Department of Defence. However in 1931, flights stopped departing and landing at Eagle Farm due to swampy conditions.
That all changed with World War II. Upon Australia's entrance into the conflict, the Eagle Farm Aerodrome was reopened for use. It became the site of training and military camps, with three hard surface runways created to replace the grassy, muddy field used before. As the war continued, the precinct started looking more and more like the airport in use today, with terminals built to aid in preparation. In 1947, after the end of the war, Eagle Farm became the principal airport for the city of Brisbane.
It served this function until the 1960s, when a drastic rise in air travel created the need for a bigger, better Brisbane Airport. Over the next two decades, Brisbane Airport continued to expand. In December 1975, the new International Terminal was unveiled, with the first flights arriving and departing from New Zealand.
Things really took off in the 1980s, as construction got underway on a brand new Brisbane Airport at the start of the decade. On 30 November, 1987, the first commercial flight took off from the new Brisbane Airport. The Brisbane International Airport was officially opened for business on 19 March 1988, with the final flight taking off from the old airport the next day.
But there was still more innovation to come. In 1995 the new Brisbane Airport International Terminal opened. This building was expanded in 2008, with about 33,000 more square meters added to four levels of the terminal. Since then, there have been continual improvements made to the airport, including but not limited to, car park construction, improved dining and shopping options, and enhanced air travel features.
Eating, Drinking, and Shopping at Brisbane Airport
If you find yourself with some extra time at Brisbane Airport and need to stretch your legs, taking a stroll around the terminals or a transfer to the nearby SkyGate shopping mall to see what you find can get the blood pumping and fill your time. Luckily for you, the eating and drinking options and shopping spaces in Brisbane Airport can provide you with more than mindless wandering. Check out some of the highlights in BNE.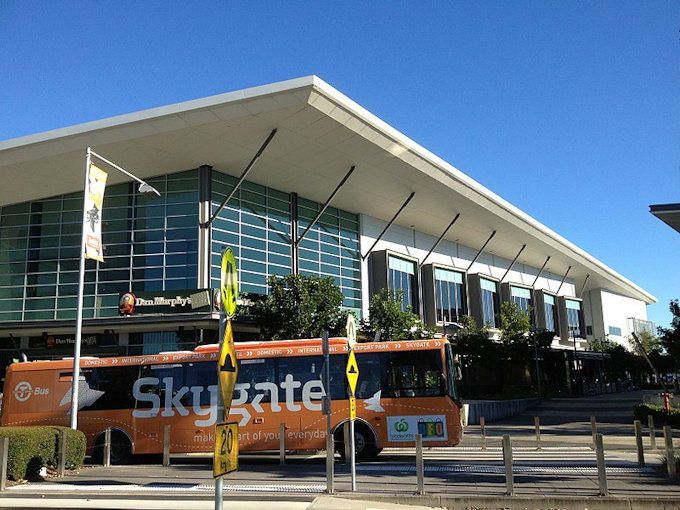 The Skygate, with its huge DFO selection, is an awesome shopping option for those with long waits at Brisbane Airport.
Source: Kgbo
Where to Eat in Brisbane Airport
Whether you're after a quick something before you grab your hire car from Brisbane Airport or board your flight or have a few hours to kill and want to post up for a bit longer, Brisbane Airport has a broad range of options. Here are a few to whet your whistle.
Restaurants and Bars
Windmill & Co. in the International Terminal is a great place to grab a meal before buckling in for your flight. With delicious dishes for breakfast, lunch, and dinner, a view of the runway, and décor inspired by the Old Windmill in Spring Hill, Queensland, there's plenty to see and eat at this spot.
Want to head south of the border while you're north of the Tweed? The Burrito Bar at Skygate is the place to turn for a bit of Mexican food and drink.
If you're killing time in the Domestic Terminal, pull up a chair at the Glasshouse Bar. Here you can get platefuls of delicious food featuring locally sourced ingredients, all of which is inspired by the Glass House Mountains north of Brisbane.
Grab Something Quick
If you're pressed for time or simply don't feel like getting a table and sitting in a restaurant type setting, Brisbane Airport is home to plenty of the classics as well as other spots that are great for a quick cup of coffee or something to shovel into your mouth on your way to or from your gate.
If an aforementioned cup of joe is what you're after, you will be spoilt for choice regardless of what terminal you find yourself in. From Hudsons Coffee in the International Terminaln to Krispy Kreme in the Domestic Terminal, and Caffé Cherry Beans in the Skygate, you'll be able to pick up something quick and cheap without breaking a sweat.
In addition to classics such as Macca's, Hungry Jack's, and Subway, you'll also find Sushi Rail, Sushi Sushi, and Wasabi Warriors for some fresh fish fare as well as Airport Kebabs and Upper Crust for other sneaky selections to fill your belly.
Shopping in Brisbane Airport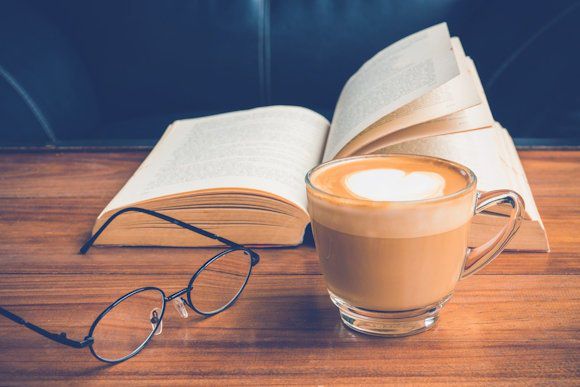 Settle down with a coffee and a book at Watermark Books and Café, or just pick up a new title to read on your travels.
Source: Ko Backpacko
With everything from the bits and pieces you need to be travel-ready to major items that can enhance your flying experience and serve you well for years to come, Brisbane Airport is full of outlets in which to pick up everything from clothing and luggage to electronics and reading material.
Grab a drink and a something to read at Watermark Books and Café in the Domestic Terminal. Take a load off with a new book or magazine and a coffee or grab a companion for your trip and dig in.
If you want to grab some new clothing for your trip, BNE is full of some of the country's favourite retailers of men's and women's wear. Between R.M. Williams, Peter Alexander, Rip Curl, Billabong, Witchery, and more, you can add a little something to your luggage to wear during your holiday or to help soothe your post-trip blues.
Don't be unprepared for travel. Pick up the tech toys you need for a smooth journey, whether it be a new device or some solid headphones from Tech2Go or Gadget that can drown out the wailing baby a few rows up and deliver all the notes and dialogue from songs and flicks Shop. And make sure you have all the meds you need to stay comfortable from Airport Pharmacy and Direct Chemist Outlet.
Getting your hands on a SIM card can be a key first step of arriving in a foreign country, and Optus and Vodafone in the International Terminal and Mobile Central in Skygate Centre can help you get your mobile phone ready for action if you're just setting foot on Australian shores.
Brisbane Airport Car Rental Locations
Discover amazing experiences in Brisbane Airport