Explore the United States with Cheap Campervan Hire from DriveNow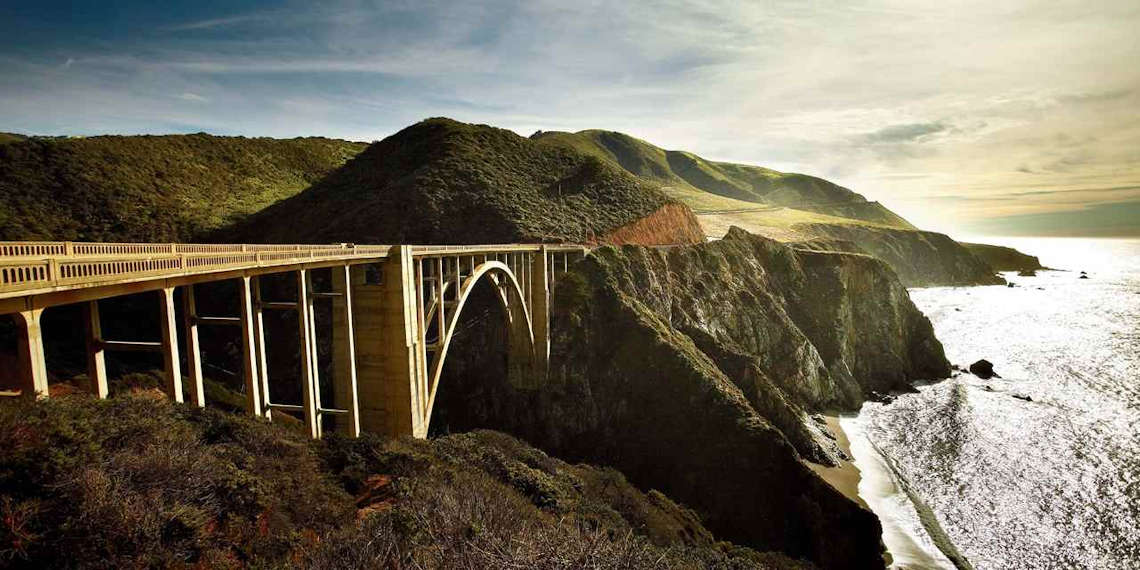 Bixby Bridge on the Californian Pacific Highway is one of the world's most photographed bridges Source: visitcalifornia.com
With amazing cities all over the country and some of the world's most sought after vacation destinations, the United States represents a dream holiday spot for many. But not everybody has the same goal when it comes to an overseas trip. While some like to roam the streets of massive urban areas, others prefer to make their home on the road. For those who find themselves in the latter, DriveNow's USA campervan hire can present an optimal option.
With motorhomes for rent in the USA from a huge range of suppliers, you can pick up your home on wheels and get rolling through the country. For most, this will entail a trip to the western portion of the US. Although you can tour amazing parts of the east with US camper rental in Orlando and New York, your safest bet is probably to focus your efforts on seeing the other side of the country.
With USA campervan hire available in several major cities in the western United States, you can find a great home on wheels that combines two of the biggest aspects of your trip—transportation and travel. This gives you less to worry about when putting your holiday together.
Once you've got that sorted out, all that's left to do is to get going! Unsure where to start? Here are a few strong options.
Hop in Your USA Campervan Hire and Head West
The western region of the United States is tailor made for awesome campervan adventures. With an amazing mix of iconic driving routes and natural beauty in which to stop for as long as you'd like, there's no shortage of itineraries waiting to be created and completed. Here are a few ideas to get your started, though it's hard to go wrong just about anywhere!
Pacific Coast Highway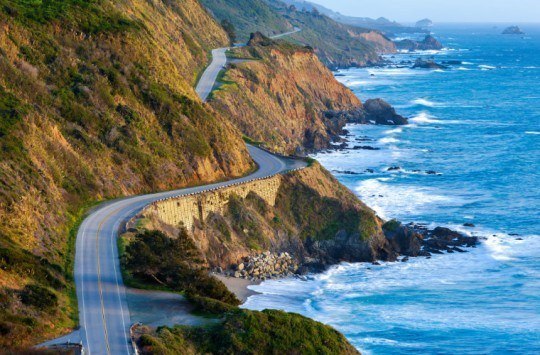 Take a campervan road trip on the Pacific Coast Highway and glide through kilometres of stunning scenery Source: travelblog.viator.com
One of the most loved driving routes in the United States is on the Pacific Coast Highway, also known as California State Route 1. It was built in 1934 and took 15 years to complete. The road stretches 236.5km (147 miles) along California's coastline and features tons of attractions and views. If you're travelling between November and June, you may be able to see blue whales along the horizon
While there are amazing locations to hit throughout the journey, there are a few that have become the stuff of legend amongst road trippers. Rent a campervan in Los Angeles or San Francisco and get ready to have the time of your life.
Carmel by the Sea
Carmel-by-the-sea is an upscale village located in Monterey County in California filled with restaurants, art galleries, beautiful cottages, and a lovely beach. The Mediterranean climate brings a cool summer that is refreshing without being abrasive. This is an awesome spot to park your USA camper hire for a day or two as you enjoy a few days relaxing in this seaside town.
Bixby Bridge
The Bixby Bridge in Big Sur is certainly on the short list of things you must see when on the Pacific Coast Highway. You'll certainly want to have your cameras (whether they be old school devices or just on your phone!) ready for one of the most photographed bridges in the world. One thing to keep in mind is that you can only reach the bridge when travelling from the north. Heavy storms can also cause parts of the motorway through Big Sur to close, so it's a good idea to check for closures before taking off on your trip.
The Million Dollar Highway
Heading inland from the coast you'll find another great drive—the Million Dollar Highway in Colorado. This winding stretch of road that is part of the San Juan Skyway runs through the San Juan Mountains in southwestern Colorado.
Whilst this is a fun drive do take your time, there's a reason this stretch of road is listed on the www.dangerousroads.org website with hairpin bends and unforgiving corners. The 12 miles south of Ouray are particularly steep and twisting. However the road's winding design provides stunning views of the Rockies with photogenic mountain, valley and gorge vistas.
This drive is ideal after the snow has melted, during the summer months or September when the Aspens glisten in the sun. There are various hiking trails, three Victorian mining towns which you can explore, and thermal springs for you to soak in along the highway. That all adds up to plenty of opportunity to hop out of your USA motorhome rental and explore.
You can begin your road trip by renting a motorhome in Denver and then making your way to Durango, the southern gateway to the San Juan Mountains.
Go North: Parade around the Pacific Northwest in Your USA Motorhome Hire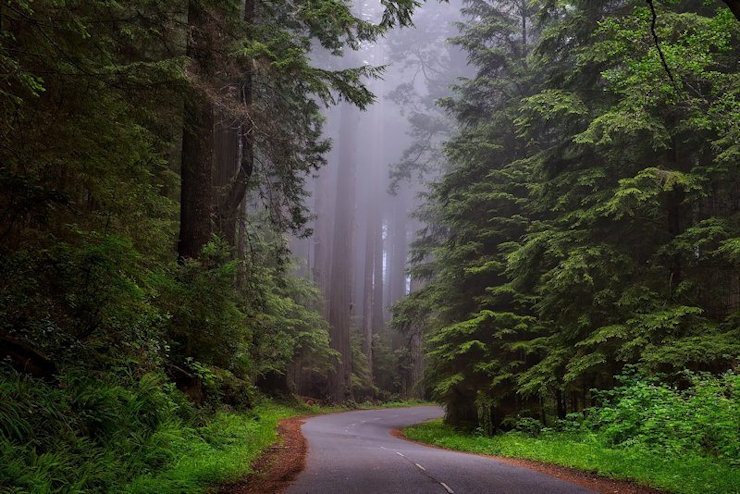 Long, serene drives through towering redwood trees? Sign us up
Many equate the legendary Pacific Coast Highway with the great state of California, which is definitely understandable. But it can also act as your gateway to the wondrous Pacific Northwest. Washington (the state, not be confused with the nation's capital, Washington, D.C., in the east) and Oregon are heaven for outdoor lovers, and those who are ready to get amongst the wooded natural beauty of the country can hardly do better than a motorhome trip through the region.
These two states provide plenty of rustic adventure in an environment featuring beautiful roads through kilometres of towering redwood trees. In fact, the bush surrounds start before you even cross the state lines and leave California. Redwood National Park on the northern coast of the state provides plenty of opportunities to park your US motorhome hire and get out amongst it.
Go for hikes through wooded areas packed with trees that are so big that you might just have to see them to believe in their size. And keep your eyes peeled, because chances are you and your travelling party won't be alone out here. If you're lucky, you'll get to see majestic elk roaming the forest.
Once you get into Oregon, you can take a break from wandering the woods and swing by the delicious Willamette Valley. This hidden gem features a wine region that might not grab the headlines garnered by the nearby Napa Valley, but it's still a great place to try a few glasses of grapes during your US holiday. Choose from more than 500 wineries in the region and just take a moment to relax, OK?
Of course, Oregon and Washington are home to great urban locations, too. The states' best-known cities—Portland in Oregon and Seattle in Washington—are not well-suited for campervan travel, but that doesn't mean you can't park your ride somewhere and get to exploring!
Super Swings through the Southwest USA for Your Campervan Rental
The southwestern portion of America offers up a bit of a different landscape than the west coast. If you like deserts, mountains, and national parks, you should definitely take a drive through this region. With a huge collection of national parks and family-friendly areas in which to stay, you'll be able to build a trip fit for your travelling party.
Route 66
This legendary route has become synonymous with road trips. Running from the Midwest of the country down through the southwest, this iconic stretch, also known as the Will Rogers Highway and the Main Street of America, played a major role in the westward migration of Americans in the 1920s and 1930s. The highway is well-marked throughout and passes through a huge collection of interesting locales and attractions.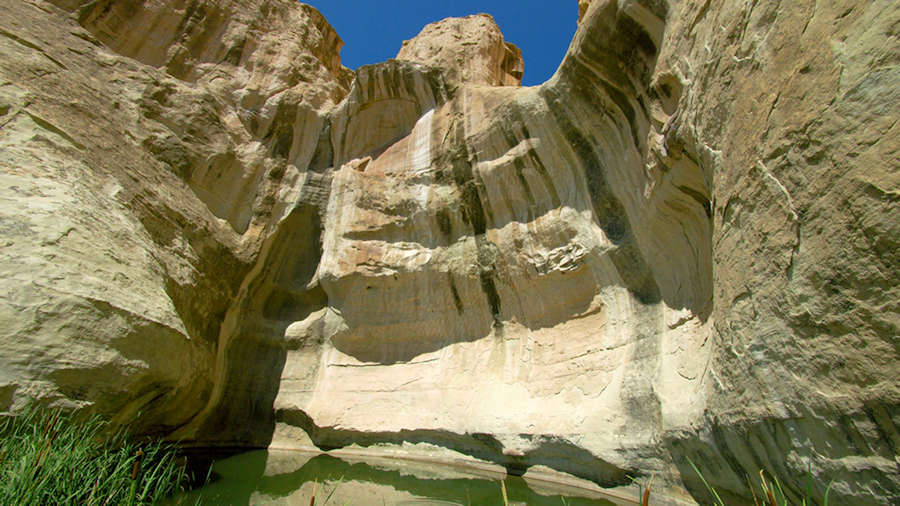 The El Morro National Monument offers a peek into the past for visitors of New Mexico
Source: nationalparks.org/
New Mexico
In New Mexico, Route 66 will take you across the middle of the state. This stretch of the highway will give you a chance to stop off in Santa Fe and Albuquerque, but it's the slight detours that make the trip so appealing. Break off and head for the beautiful El Morro National Monument, also known as Inscription Rock, a breathtaking sandstone bluff carved by travellers thousands of years ago.
Arizona
Like El Morrow National Monument in neighbouring New Mexico, Arizona offers you a glimpse into the past alongside Route 66. Check out old trading posts used by Native Americans hundreds of years ago, and check out the famous Wigwam Motel in Holbrook! Of course, you'll have your own campervan rental to sleep in, but seeing the teepees in person is still fun.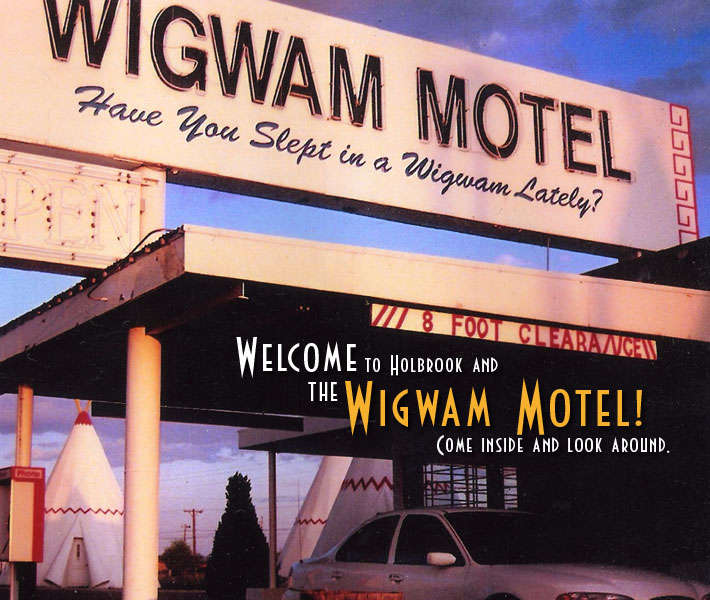 Although your accommodation is sorted, swinging by the famous Wigwam Motel isn't a bad idea!
Source: sleepinawigwam.com
Turn to DriveNow for Campervan Rental Deals in the USA
If any country lends itself so perfectly to motorhome hire it is the USA. There is simply no better way to explore this land of rich diversity than with a motorhome. With a road infrastructure that is both comprehensive and widespread, cheap fuel and abundance of choice the US offers the ultimate for road holidaymakers. There is literally too much to do and explore in one hit.
As is the American way nothing is done in halves and when it comes to renting motorhomes no stone is left unturned ensuring that the US Motorhome Hire market is one of the most luxurious and yet affordable in the world. The idea of renting a motorhome and driving coast to coast in the US is a popular one for both locals and visitors, and with DriveNow we can help you find that perfect vehicle and turn that ideal into a reality.
For further information on pricing and vehicle availability on our most popular destinations visit:
And for those looking to hire a campervan north of the 49th Parallel visit our Canadian Motorhome Rental page.
A bit about us. DriveNow has been comparing and booking Motorhome and Campervan rentals for travellers since 2003. With long established relationships, our partners in the US include world renowned and trusted providers such as Britz, El Monte, Jucy and Roadbear all of whom epitomise the very best in motorhome holiday service and delivery.
Our free, unbiased comparison service enables you to see what campervans are available from this great bunch and compare them to find one that suits. Whether you're after a budget campervan, luxurious motorhome or something in between, we've got hundreds of campervans for hire in the USA lined up and ready to go. Search by make, model, size, price, and features to find the right campervan for your trip.
Whilst the US is no doubt the home of monster Motorhomes with every bell and conceivable whistle there's still plenty of place for more traditional 2, 4 and 6 berth vehicles in the rental market space. Some of the top of the range rentals have slide-outs expanding the vehicle width-ways for extra overnight space and, especially popular with family travel, a down the back separate double bedroom with privacy door. All come with kitchens, bathrooms with showers and plenty of space.
For those looking to explore the US on a budget the Jucy Champ is a great option. This custom built vehicle sleeps 4, 2 on top and 2 below, and comes kitchen equipped with cooker burners, fridge and sink in a surprisingly spacious compact vehicle from as little as US$50 per day in the off-speak season (during peak summer this rate more than doubles).
So for choice there's plenty to look at. Let's tackle local terminology and local referencing - some are obvious and some less so.
In the US, Campervan is not a widely used term. Recreational Vehicle or RV is more commonly used to describe Motorhome vehicles
Berth refers to the number of travellers that can be accommodated in a vehicle - a 4 berth motorhome can accommodate 4 travellers - it does not refer to the number of beds in a vehicle
Petrol is referred to as Gas or gasoline and is delivered in gallons with approximately 3.7 litres to a gallon
Distances are in miles and the US drives on the right
Motorhome hire in the US operates differently to other parts of the world. Particularly when compared to the southern hemisphere where rental pricing is listed as drive-away with only optional extras excluded from the booking price. In the US the listed prices do not include an array of deemed optional - but in fact - essential extras. The US approach slices and dices to provide more options. Cost wise the end result is still often cheaper when compared to other countries but requires that you go through the process of selecting & purchasing options. The rates returned when searching for US motorhome rental on the DriveNow website covers the basic vehicle rental only. Here's a list of the most important optional extras that need to be considered in addition to the rental prices:
Mileage - Rental vehicles come with minimal free mileage - Mileage packages are an essential purchase - the alternative is a per mile charge (from US$0.25).
Convenience Packages - Break down into Bedding, Kitchen and Every Day Essentials packs
Additional Rental items - includes Child seats, table & chairs, generators and satellite navigation devices
Collision Damage Waiver (CDW) and Supplemental Liability Insurance - given how litigious the US can be these are prudent additions to consider in addition to personal travel and medical insurance cover. As a standard policy, a basic insurance policy is included in the daily rental of motorhomes in the US. Most often, these provide cover up to what are termed 'State Mandated Minimums'. This affords only the most basic of cover to property and individuals and the hirer will be exposed to costs in an accident. All companies offer additional insurance liability reduction options, most commonly termed Supplemental Liability Insurance, Collision Damage Waiver.
Our Reservations Team are here to help with any questions you may have and assist with your booking. Thank you for considering DriveNow in your US holiday plans and enjoy your adventure!

Common Questions on US Motorhome hire
How old must I be to rent a motorhome in the US?
This varies - 25 through to 79 is the norm. Some providers such as Jucy allow from 21.
Can I change my Booking?
Yes, however there may be a cost. DriveNow charge no fees for any booking amendments, however the rental companies themselves do impose conditions. Some offer one free change 60+ days before travel whilst others charge $50 per change which rises the closer to your pick-up date.
What happens if I need to cancel my Booking?
DriveNow does not charge any cancellation fees, however the rental companies charge a sliding scale of cancellation fees depending how far out from departure date the cancellation is made. This ranges from 20% to 100% of the booking cost.
Travel & Medical Insurance
Anyone travelling to the US needs to consider travel insurance particularly comprehensive medical insurance. The quality of medical treatment is world leading - so is the cost - it is astronomical and insurance cover is essential.
Collecting your Motorhome
If you arrive off an international or trans-continental flight for safety reasons some providers do not allow collection of your motorhome home on the same day. You need to contact your rental provider by phone generally between 8.30am and 10am on the day of your pick-up to schedule a pick-up time. Allow a minimum of 1 hour for collection as they show you through the vehicle.
Travel Restrictions
There are varying travel restrictions imposed where vehicles cannot be taken. Breaching these restrictions voids insurance cover and may incur additional costs. These do differ between suppliers so check when collecting your vehicle. Travel is restricted in:
Death Valley - The name gives it way - due to extreme summer temperatures of up to 60C, travel is not permitted between May and September
New York City & Manhattan - No travel
Quebec, Montreal and Ottawa - risk of motorhome theft means vehicles are not to be parked within city limits
Alaska & North Canadian Provinces - Some restrictions, El Monte permits use but at hirer's risk - limited cover
Mexico - some suppliers have blanket bans whilst others (El Monte) allow at hirer's risk with purchase of Mexico Auto Liability Insurance. No cover for repairs, loss of use - limited cover
Off-road - No travel on unsealed, gravel or logging roads & tracks
Drive Through and Parking structures - due to risk of overhead damage vehicles cannot be taken through Drive Thrus or within parking buildings
Can I get a refund on unused Mileage Packages?
No. Mileage packages are paid for when collecting your rental vehicle and unused mileage is not refunded.
What happens if I have a traffic or parking violation?
Report it to the rental company when dropping off your vehicle. As the hirer you are liable for all such fines. Failing to report these at drop-ff will incur an administration fee. This fee along with any late charges and the fine will be charged to your credit card.
Smoking in vehicles?
All vehicles are smoke free with high cleaning charges applicable.